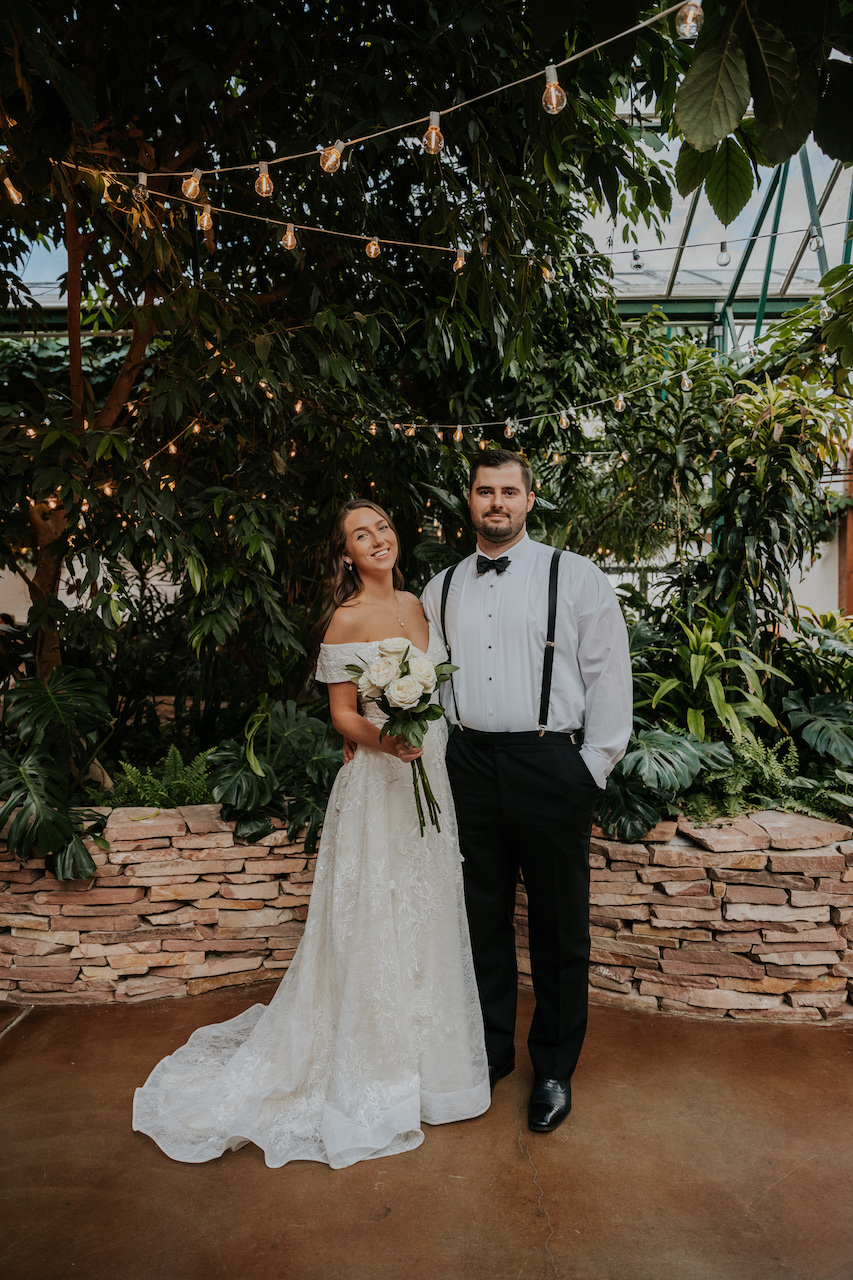 14 Jul

Real Wedding: Regan & Nick
Simple & Elegant Greenhouse Wedding
Real weddings are so inspiring! To get you in the mood to plan, we asked real brides to spill the details on everything from getting engaged to finding their wedding dresses to the special touches and surprising moments that made their celebrations completely one-of-a-kind. ICU nurse & one of our Frontline Fierce winners Regan tied the knot with her high school sweetheart, Nick, in a simple and elegant greenhouse wedding! Read on to see more details from their special day!
Briefly tell us how you and your fiancé met! How did you know that he was the one?
Nick is my high school sweetheart! Both Nick and I were lifeguards at Farmington city pool when I was 15 and he was 16. We started out as friends, then got closer over the summers at the pool. Over time we started spending more time together outside of our summer jobs and eventually started dating in high school. We fell in love and dated throughout college. After years of loving each other, depending on each other, and supporting each other, we knew we wanted to spend the rest of our lives together! I knew he was the one when the thought of living my life without him left a heavy, sinking hole in my chest; the thought of building a life and a family with him fills me with so much joy I could burst!
Tell us your proposal story!
I work as an ICU nurse and often have to work night shifts. One day, while I was sleeping after a hectic night shift, Nick snuck out of the house to have my engagement ring custom ordered through Rocky Mountain Diamond. He was so excited about the ring that he woke me up and told me he had ordered it—he couldn't keep a secret from me if his life depended on it! I cried and cried the sweetest tears.
A few weeks later, when the ring was ready to be picked up, he brought me along for some "errands". I had no idea where we were going. He left me in the car, parked facing away from the entrance to the jewelry store, next to the post office. I thought he was just going inside the post office, but he returned with a black gift bag with "Rocky Mountain Diamond" etched in gold. Neither of us wanted to wait, so we drove to a trail in the mountains near his parent's home, and he proposed by the river in Farmington Canyon. I don't remember the words he said as he asked me to be his wife because I was crying too hard to hear him!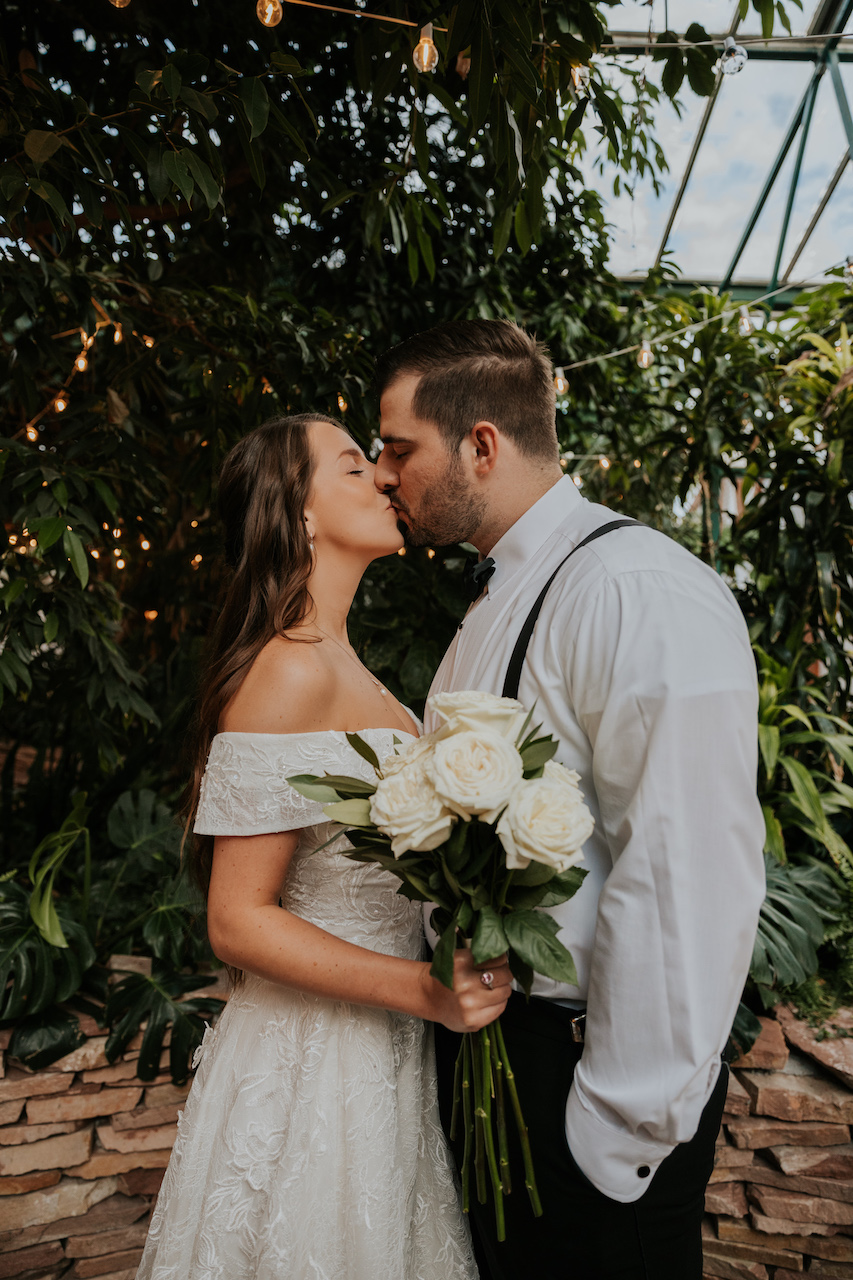 How did you both decide on your wedding day look?
We wanted something simple and elegant. We both loved flowers, so a greenhouse wedding was the obvious choice! I knew I wanted my dress to be floral and romantic, and we knew a black tuxedo and a black bowtie for him would be so classic and perfect.
Do you have any shopping advice for future brides?
Be willing to try on dresses you normally might not! I shopped David's Bridal online and thought I knew exactly which dress I wanted. I made the first appointment I could to try it on, thinking that I would love it and bring it home that day. Well, I tried on that dress I had been looking at online for weeks, and I felt disappointed. It wasn't exactly what I had dreamed it would be. I tried on another dress, something a little fuller and more classic, and I immediately fell in love. It wasn't a dress I would have originally thought would be the look I wanted, but it was SO much better than the one I THOUGHT I wanted! So, brides, try on every silhouette to be SURE you've found your dress!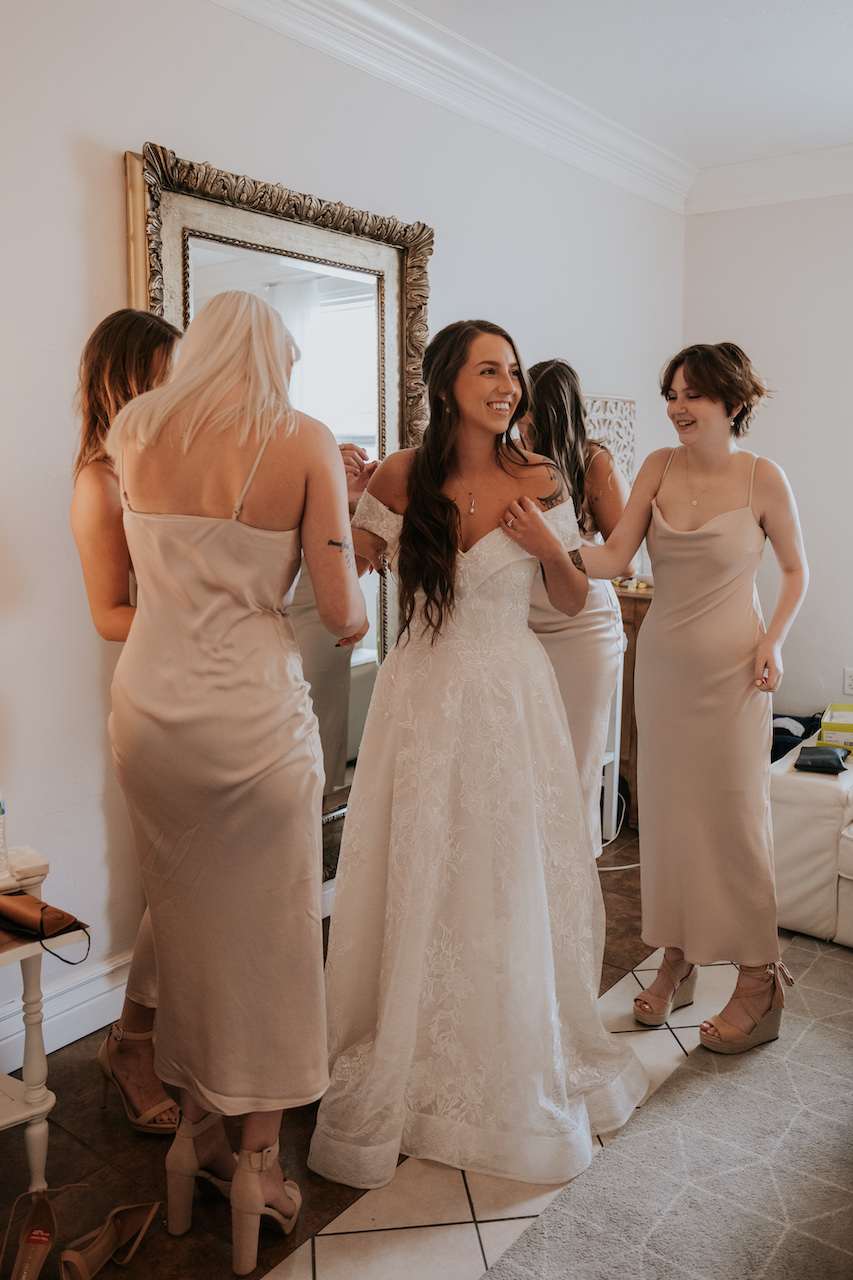 What was your favorite detail about your look?
My dress not only had the perfect romantic neckline, beautiful 3D floral lace, a little bit of sparkle and beading for depth, a fabulously flattering silhouette, but my dress had POCKETS! I stored my vow book in my pocket as I walked down the aisle. It was perfect!
How did you feel when you knew that you #foundtheone?
I felt so beautiful, even in the sample size that was much too big! In my head, I knew Nick would love it, and I could see myself walking towards him in it. I was so happy & excited, that I cried in David's Bridal with my mom and sister.
Was there a highlight or most memorable moment of the day?
My wedding day was perfect. I spent time with the people most important to me. Not all my family and loved ones were able to be present due to Covid, so we broadcasted the ceremony over zoom! One of the most special parts about that day was that my father walked me down the aisle, then turned around to officiate! He is certified as a clergy to perform weddings!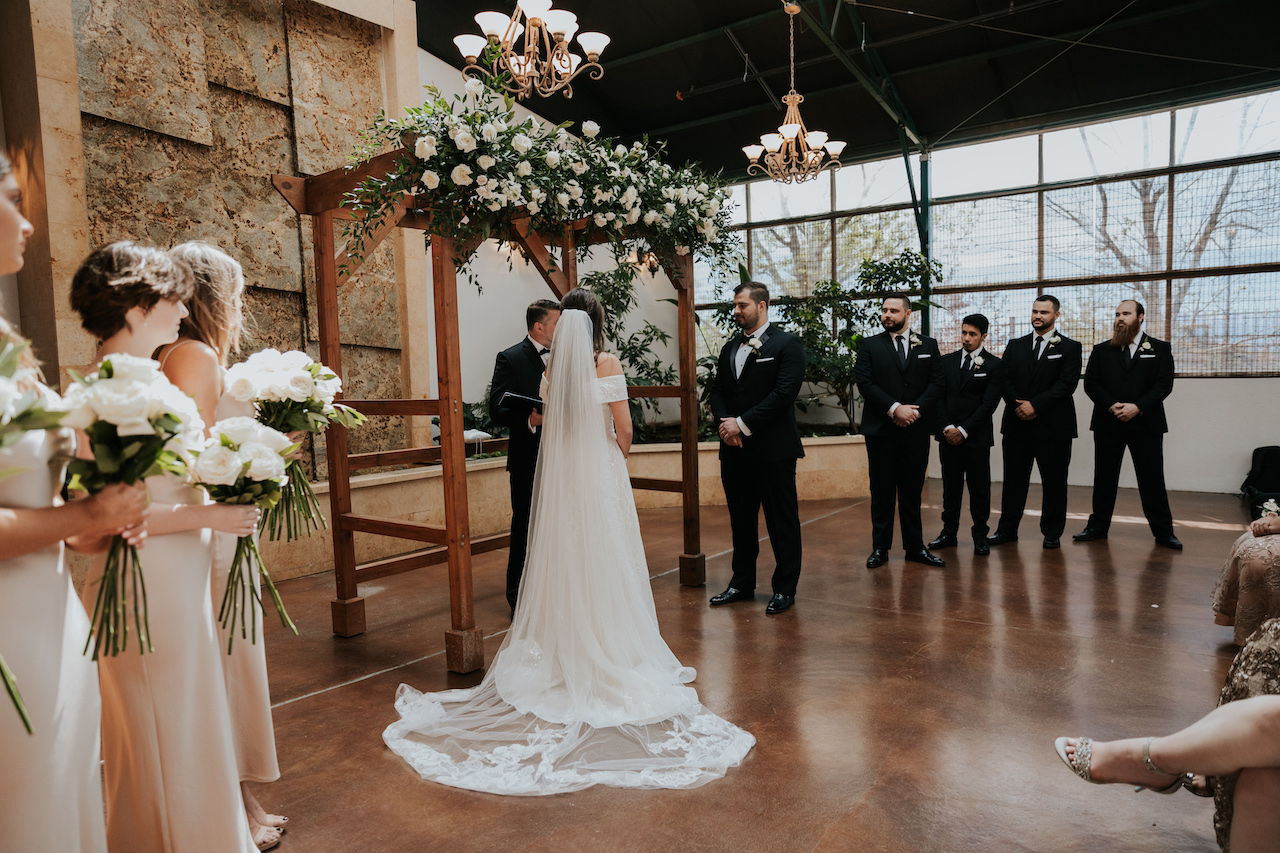 Did anything funny or unexpected happen?
When I did my bouquet toss, I accidentally threw it straight into the ceiling! It bounced out of the rafters and landed right behind me in a flutter of petals. The off the shoulder sleeves on my dress didn't allow me a full range of motion, so my dad took a knee and had me sit on his knee so I could lean back and throw it far enough for the girls to catch it!
Is there something you wish you had known before the big day/while you were planning the wedding?
To relax and enjoy it! I was so worried about everything going perfect, that it took me a moment to remember what was really important: at the end of the day, I was leaving that greenhouse married to the love of my life!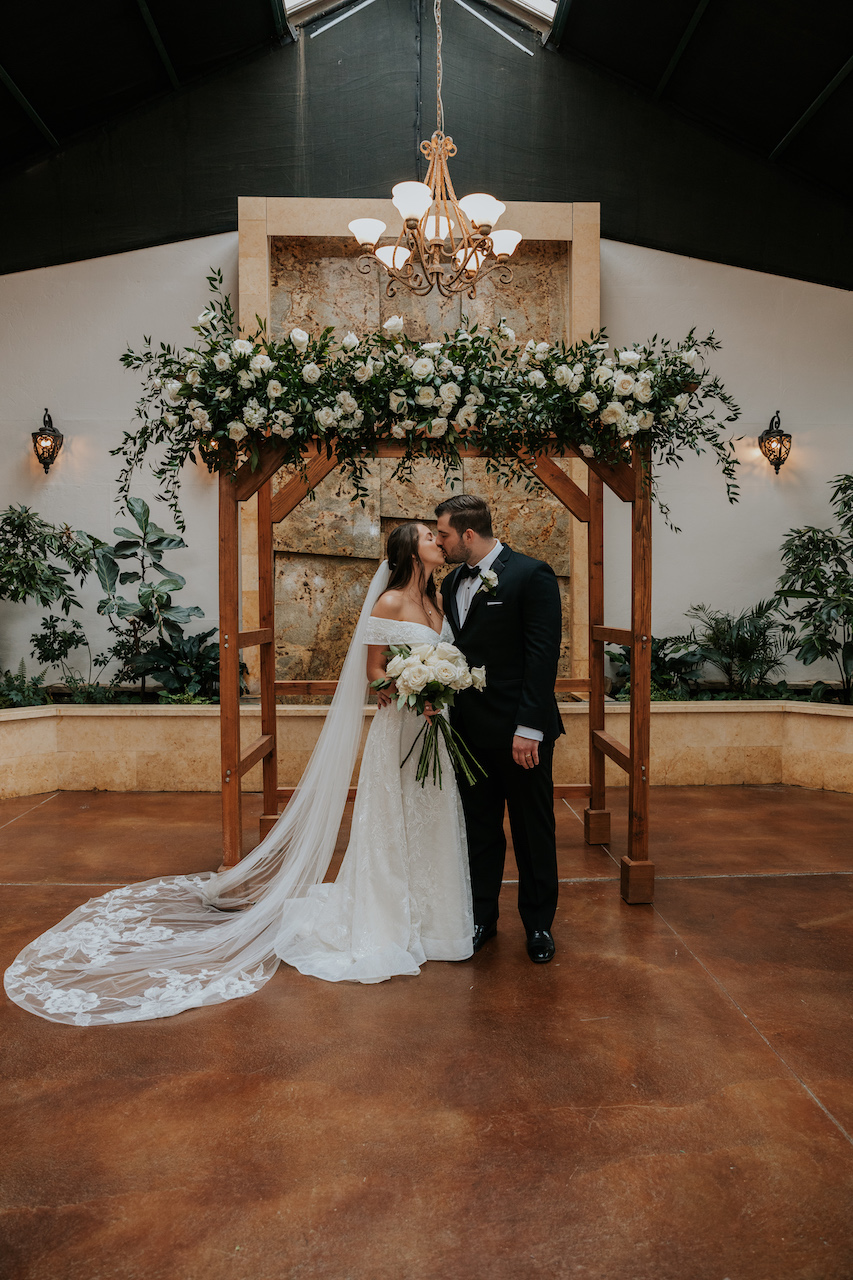 Did you have to make any changes to your wedding plans because of Covid?
We had to dramatically cut down our wedding guest list due to covid. I also couldn't bring all of my bridesmaids to try on dresses with me. I also did a drive-by wedding shower to facilitate social distancing. There were lots of changes, big and small, but the day was a success, and I wouldn't change a thing!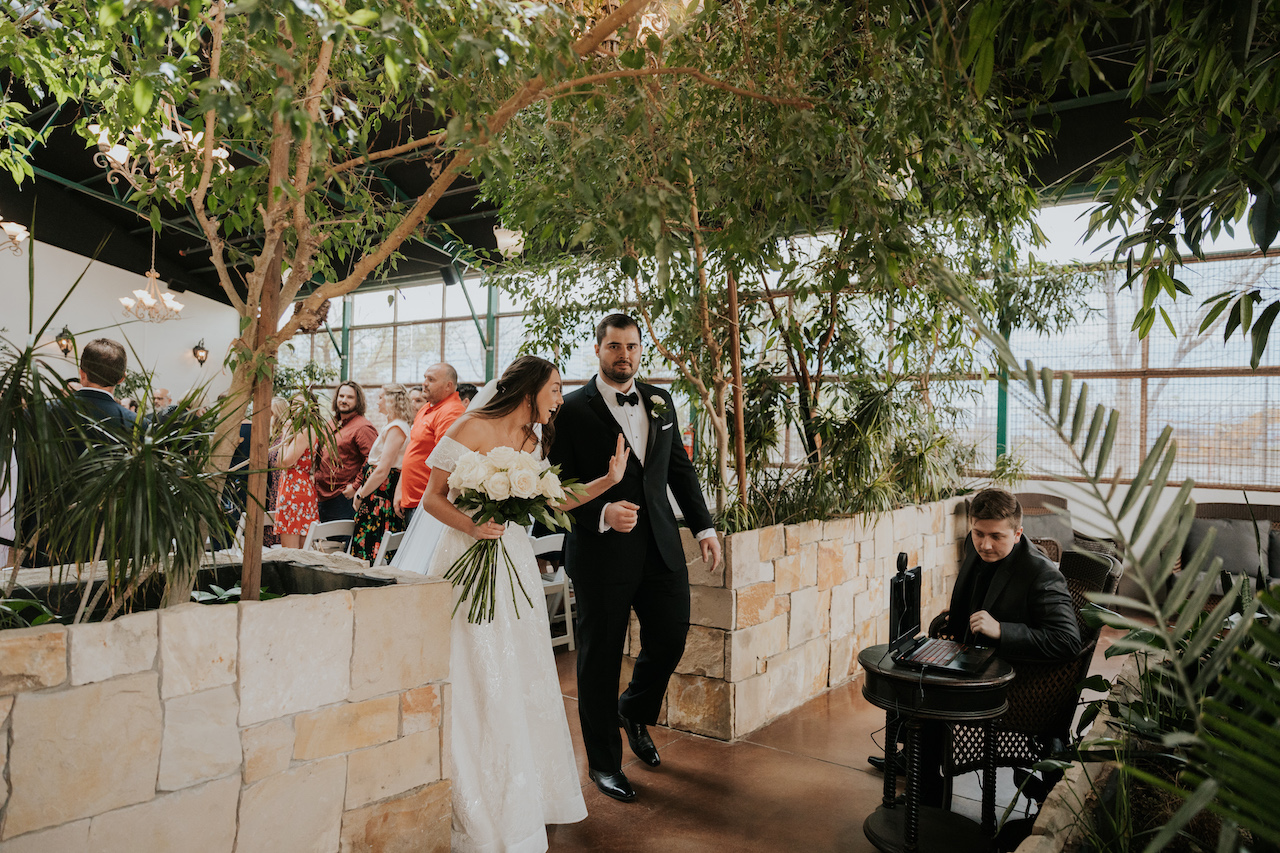 What was your favorite DIY or personal touch?
My favorite personal touch was the "something borrowed" at our wedding. On my right hand, I wore a pink gemstone ring that belonged to Nick's late grandmother, Nedra. We called her Nana. She was very important to Nick and his family, and she became very important to me before she passed. She welcomed me as her own into their family, and we wanted a way for her to be there on our wedding day!
What did you do to stay stress-free on your wedding day?
I delegated jobs and tasks, and was lucky enough to have the most supportive and helpful bridesmaids, groomsmen, friends, and family! A little bit of champagne for breakfast helped, too!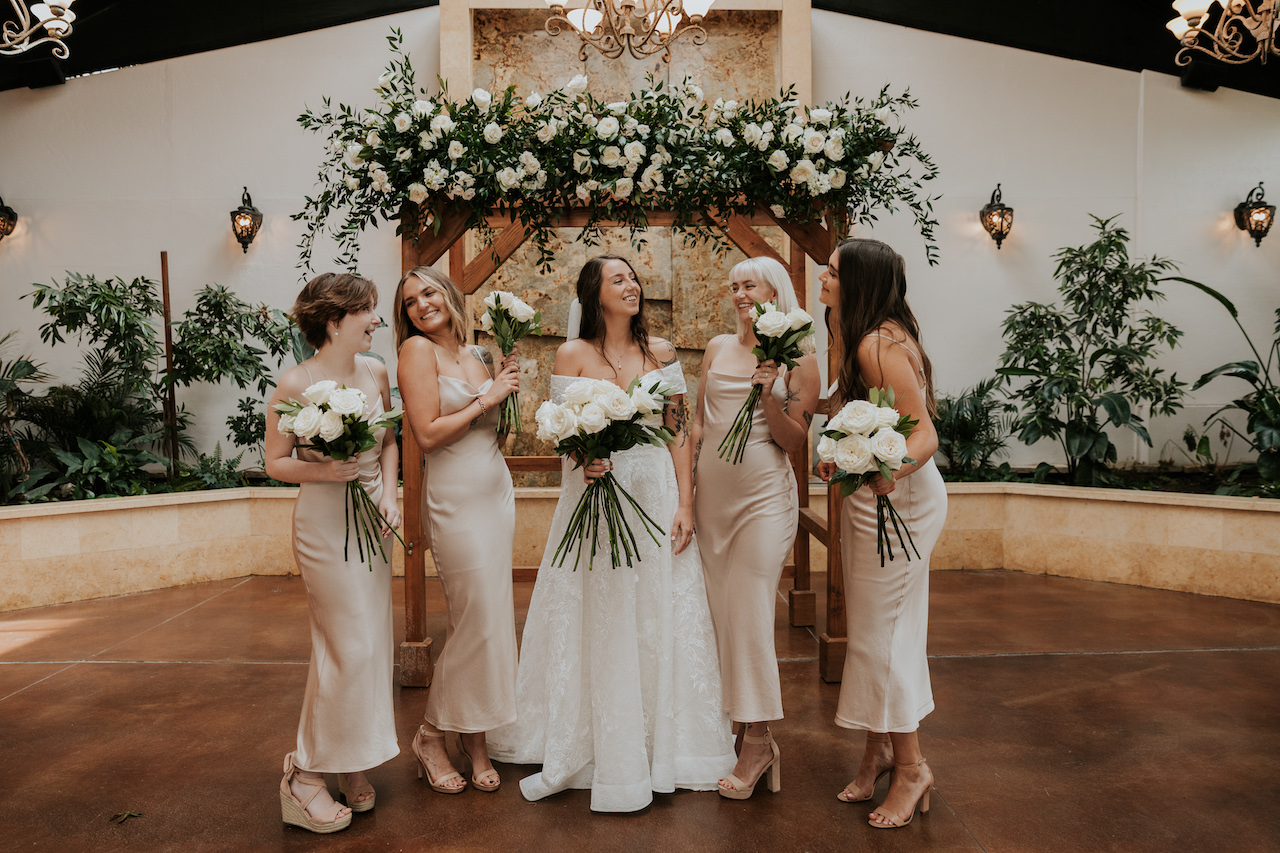 What's your best wedding planning advice? And what advice do you have for brides that are planning their weddings right now?
Make your day so uniquely yours! Choose venues and vendors that make you and your future spouse happy. Take suggestions from others into consideration, but don't let family and friends change your wedding plans! This is your day to express your love for one another, so don't feel guilty doing it your way. Make it as simple or grand, traditional or not, as you please!
Anything else you'd like to share?
I wanted to express my gratitude to David's Bridal for choosing me as a winner for their Frontline Fierce giveaway! Working as a nurse through covid has been extremely challenging, and David's Bridal helped relieve some of the pressure of planning a wedding, and affording my dream dress (especially during a pandemic!) I wanted to thank David's Bridal in Layton, UT for helping me find the most amazing dress that made me feel so elegant, romantic, and beautiful on our wedding day! That gown is the dress of dreams, and will live on as a classic in my heart!
More Details:
Date: May 1, 2021
Location: Highland Gardens in American Fork, Utah
Theme: Simple & elegant greenhouse wedding
Wedding Song: "Put Your Head on My Shoulder" by Harrison Craig
Dress Style: Cuff Off the Shoulder Lace 3D Floral Wedding Dress
Cake Flavor: Chocolate cake with raspberry filling, & vanilla cake with tropical fruit filling
Photographer: Kenzie Hendrickson
Simple and elegant greenhouse wedding? Read more real wedding stories here!
We know how important your wedding day and special events are to you and we are doing everything in our power to serve you! You can shop with us 24/7 at davidsbridal.com or come see us at your local David's Bridal. Plus we are here for you to help guide you through your wedding planning! See tips for starting to plan your wedding at home, shopping for your wedding dress online with confidence, and more on the blog.
Planning a wedding? Sign up for our Diamond Loyalty program—it's free! Follow us on Instagram, Pinterest, and Facebook for more real wedding inspiration, or click here to book an appointment.
Related Posts: