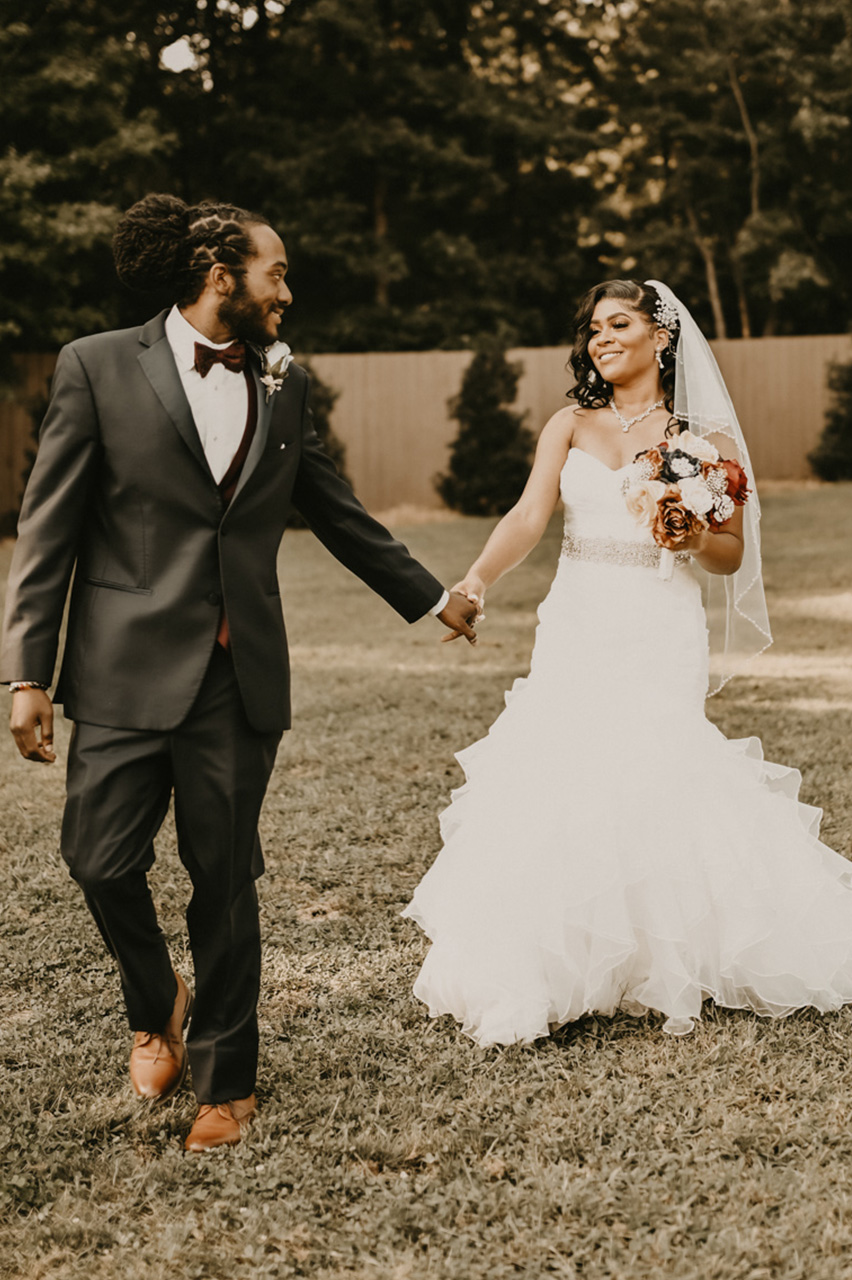 29 Sep

Real Wedding: Tori & Denzel
Simple & Elegant Fall Wedding
Real weddings are so inspiring! To get you in the mood to plan, we asked real brides to spill the details on everything from getting engaged and finding their wedding dresses to the special touches and surprising moments that made their celebrations completely one-of-a-kind. Fall is calling and we're here to answer with some autumn wedding inspiration. Read on to see more details from Tori & Denzel's simple and elegant wedding.
Briefly tell us how you and your fiancé met!
My now-husband and I met in Downtown Greenville. We were both out celebrating our birthdays (we learned that our birthdays are two days apart!) My friends and his friends also knew each other so we ended up hanging out that night going to different bars and just having a good time. As the night ended, I told him he was cute, and I gave him the biggest hug and a kiss on the cheek. I honestly didn't think I would see him again after that night. Well, to my surprise, I ran into him again at my friend's birthday dinner. Ever since that night of Oct 15, 2017, we have been inseparable!
Tell us your proposal story!
It was Christmas 2019. We were opening gifts. After all our gifts were opened, he reminded me to check my stocking. I then begin to pull random items out of my stocking, and right at the bottom of the stocking was a little black box. I opened the box and immediately got shaky. He had a big grin on his face as I'm looking at this beautiful ring! He then asked me to marry him, and I couldn't do anything but stand in shock. But I eventually said YES! Turned out to be the best Christmas ever!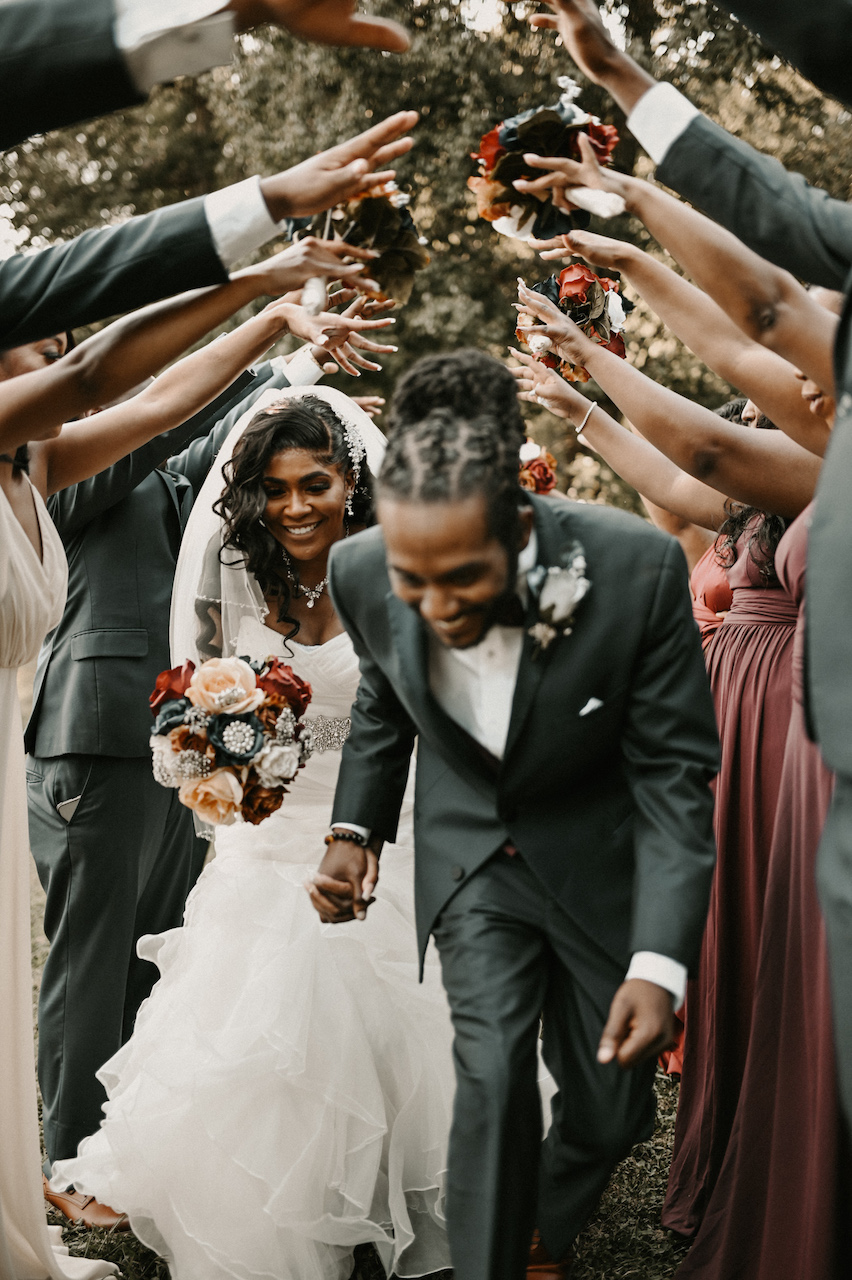 How did you both decide on your wedding day look?
We both have birthdays in the fall, and it's our favorite time of year, so we wanted a fall look and feel for our wedding. We chose fall colors and chose to have the wedding outdoors to have the beautiful fall leaves and flowers a part of our look.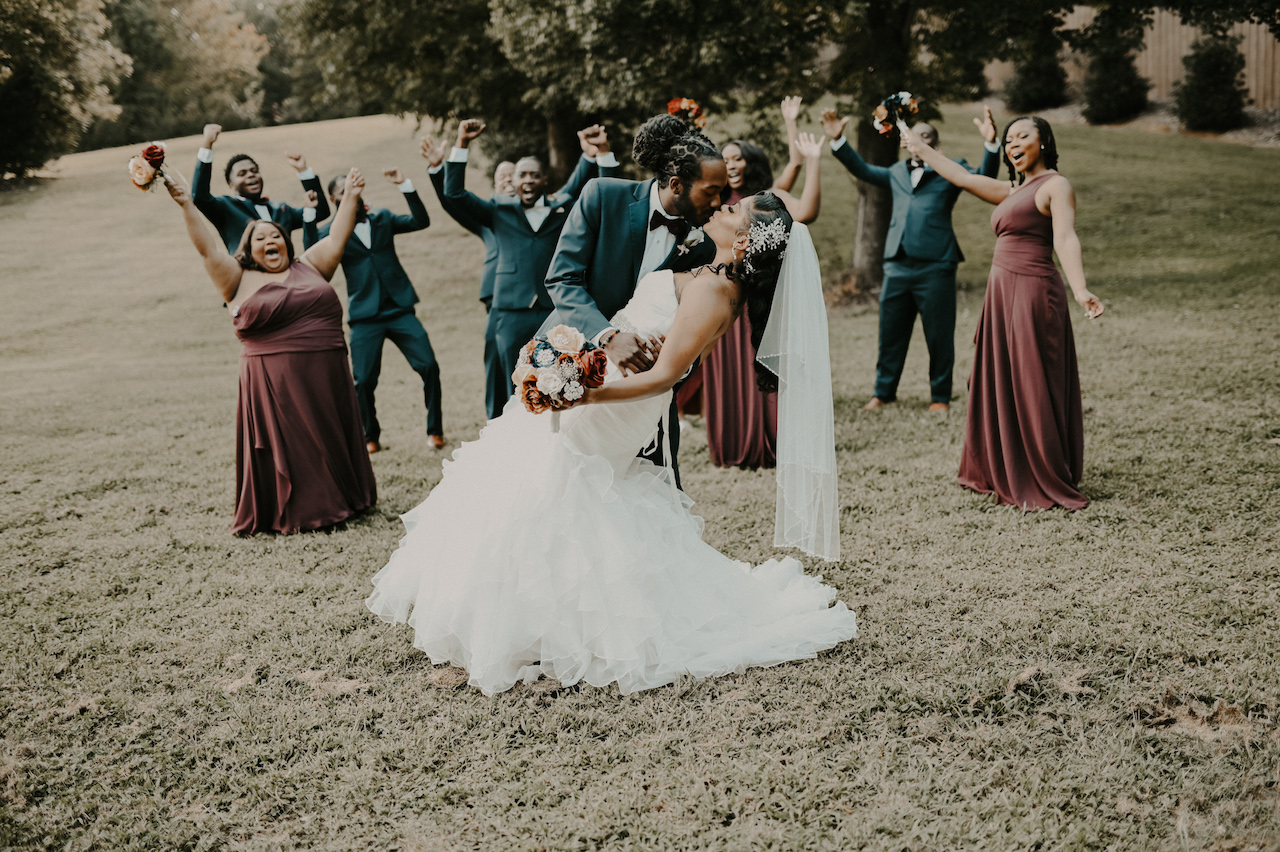 What was your favorite detail about your look?
My favorite detail was my veil. It was purchased from David's Bridal and was outlined with diamonds. It was different and unique!
How did you feel when you knew that you #foundtheone?
I was completely overwhelmed with joy. In fact, the dress I purchased was the very first dress I tried on. I had several picked out, but when I put that dress on, I felt like a queen and knew it was the one. I did not try on any more dresses after that!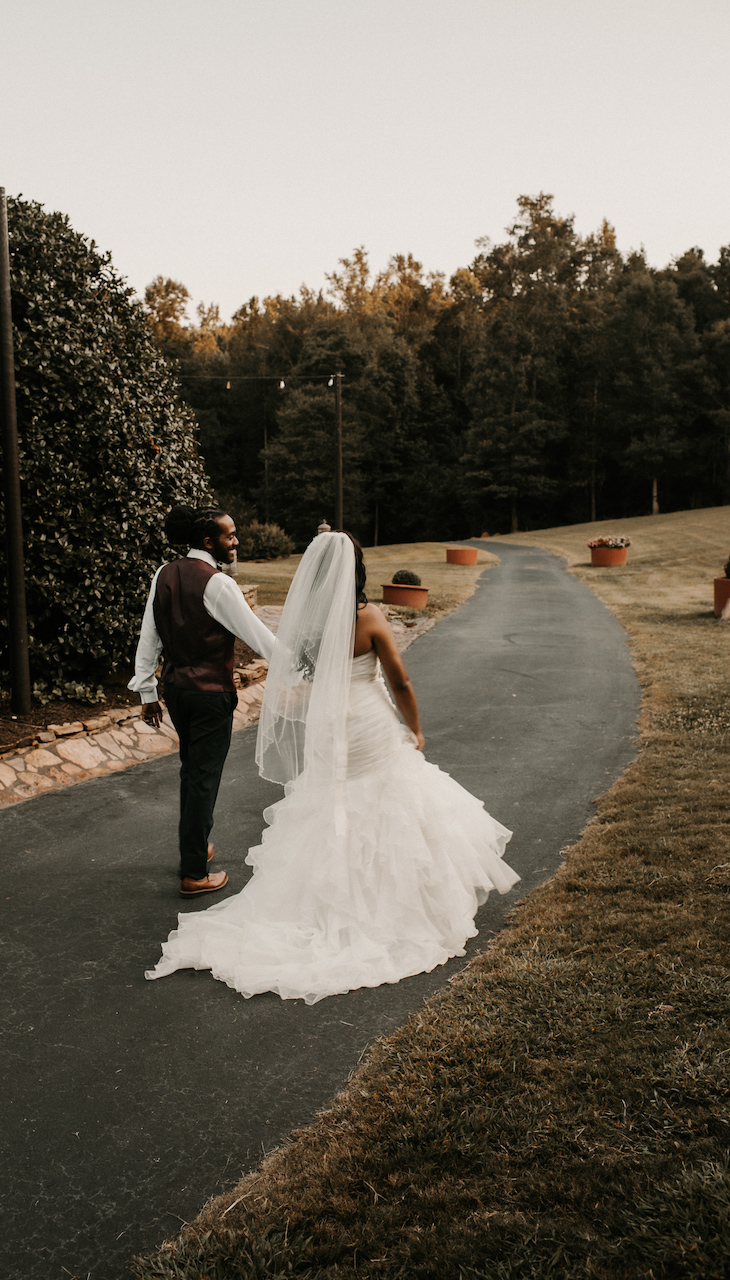 Did anything funny or unexpected happen?
A funny/unexpected moment I will never forget is when our officiant pronounced us husband and wife, and to kiss the bride, my 8-year-old daughter asked her "so does this mean my mommy will have a boyfriend forever?" Our officiant replied, "Yes baby, she has a husband forever!" We couldn't help but laugh and cry tears of joy!
Is there something you wish you had known before the big day or while you were planning the wedding?
Yes, when RSVPing list all invites and number them and the RSVP that you send if you are sending them through the mail. I had an issue with people not putting their name on the rsvp so I wasn't sure who was coming and who wasn't.
What flavor was your wedding cake?
Classic vanilla with buttercream icing. It was amazing!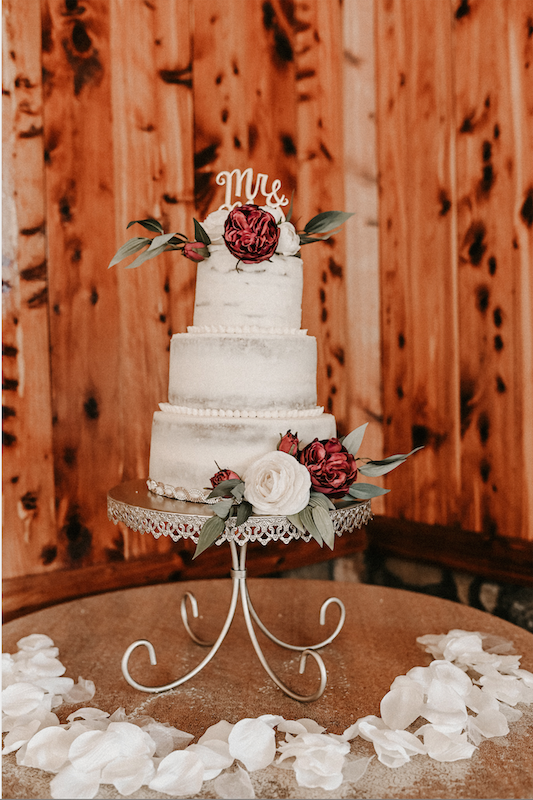 What was your favorite DIY or personal touch?
Our tabletop décor and the flowers/bouquets were my favorite.
What did you do to stay stress-free on your wedding day?
There is no way to be completely stress-free, but what I did to help ease my nerves was drink endless mimosas and listen to my favorite R&B playlist the entire day up until it was time for me to walk out.
What's your best wedding planning advice? And what advice do you have for brides that are planning their weddings right now?
Expect the unexpected! Remember that this day is about you, and it will go by so fast. Enjoy the moment and don't get caught up in everyone's opinions.
Anything else you'd like to share?
Remember to have fun and enjoy the entire day. Your wedding day should be filled with love and endless support from the ones closest to you.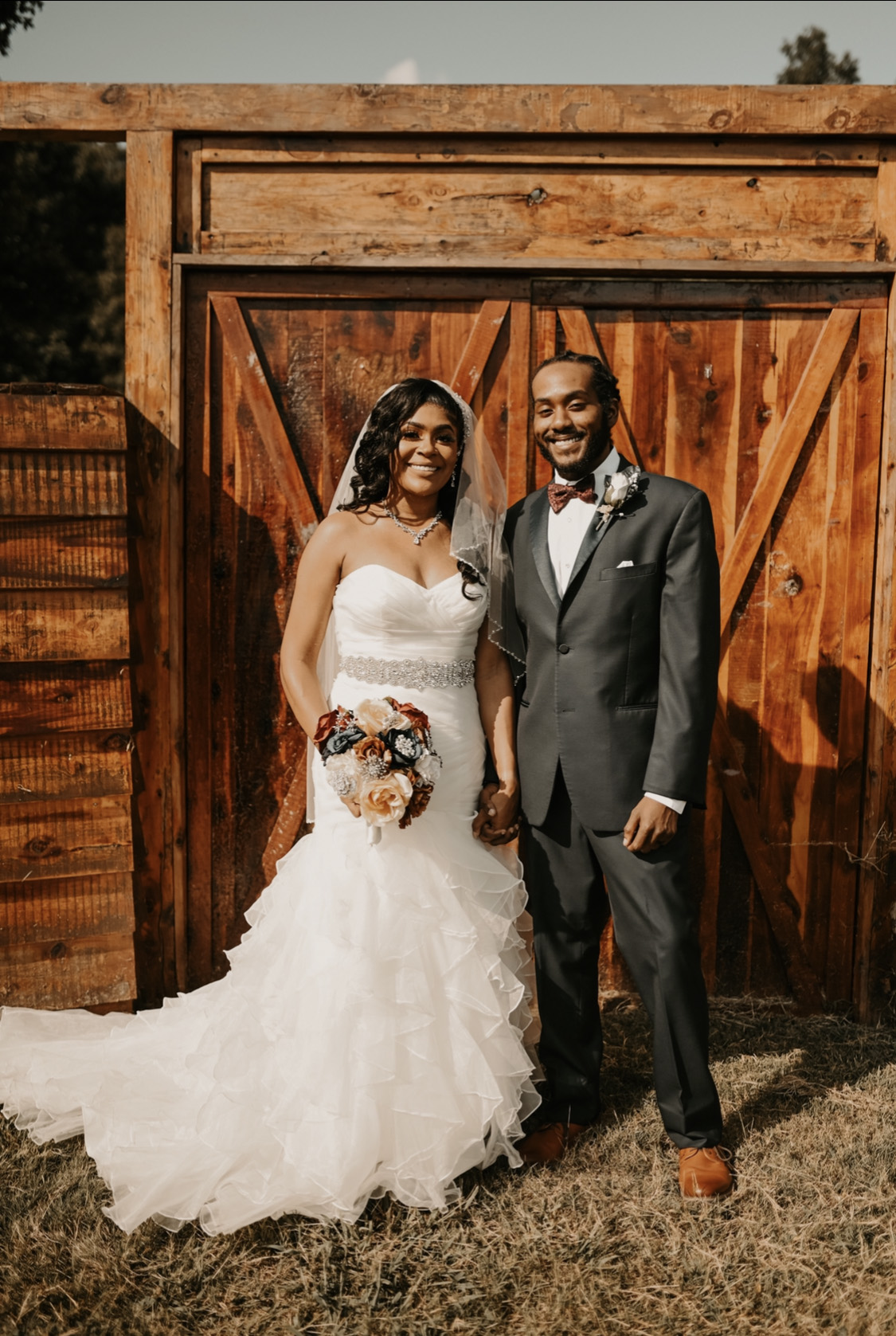 More Details
Wedding Date: September 11th, 2021
Wedding Location: The Hollows at Paris Mountain
Dress Style: Organza Mermaid Wedding Dress with Ruffled Skirt
Wedding Song: "Love You More" By Ginuwine
Photographer: Grace Reanna Photography
Love this simple & elegant fall wedding? Read more real wedding stories here!
We know how important your wedding day and special events are to you and we are doing everything in our power to serve you! You can shop with us 24/7 at davidsbridal.com or come see us at your local David's Bridal. Plus we are here for you to help guide you through your wedding planning! See tips for starting to plan your wedding at home, shopping for your wedding dress online with confidence, and more on the blog.
Planning a wedding? Sign up for our Diamond Loyalty program—it's free! Follow us on Instagram, Pinterest, and Facebook for more real wedding inspiration, or click here to book an appointment.
Related Posts: