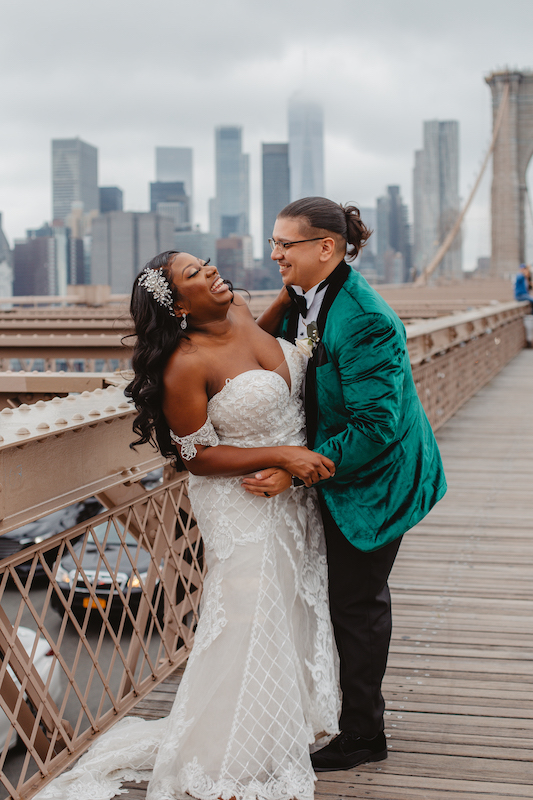 06 Oct

Real Wedding: Niya & Carlos
September Wedding in New York City
Real weddings are so inspiring! To get you in the mood to plan, we asked real brides to spill the details on everything from getting engaged and finding their wedding dresses to the special touches and surprising moments that made their celebrations completely one-of-a-kind. Nothing was going to stop real couple Niya & Carlos from getting married, not even Hurricane Ida. Despite unpredictable weather conditions, this couple made the most of things and enjoyed a special day with their family and friends. Keep reading to see more details from this September wedding in New York City.
Briefly tell us how you and your fiancé met!
My now-husband and I met during a visit back home in New York. My best friend took me to a party he was hosting at his apartment.
Tell us your proposal story!
We planned a trip back to New York like we usually do in September to celebrate our anniversary. His family had planned a cookout while we were there so my husband took me to breakfast the morning of and sent me to get a massage. When we returned to his parent's house later that day for the cookout there was a whole engagement set up in the backyard with all his family and our closest friends.
How did you both decide on your wedding day look?
I thought I wanted a princess ball gown until I started trying on dresses. My husband went to a tux shop and tried on different jackets until we decided on the color he liked the most – emerald green.
Do you have any shopping advice for future brides?
Choose what you want and what style works best for you. Shopping for wedding dresses is when you tend to get the most opinions but at the end of the day, it is your special day. The dress you choose should make you feel the happiest and the most beautiful you've ever felt. I also suggest taking your time. Had I went with the very first dress I tried on that I thought was the one I wouldn't have been in the gown I got married in.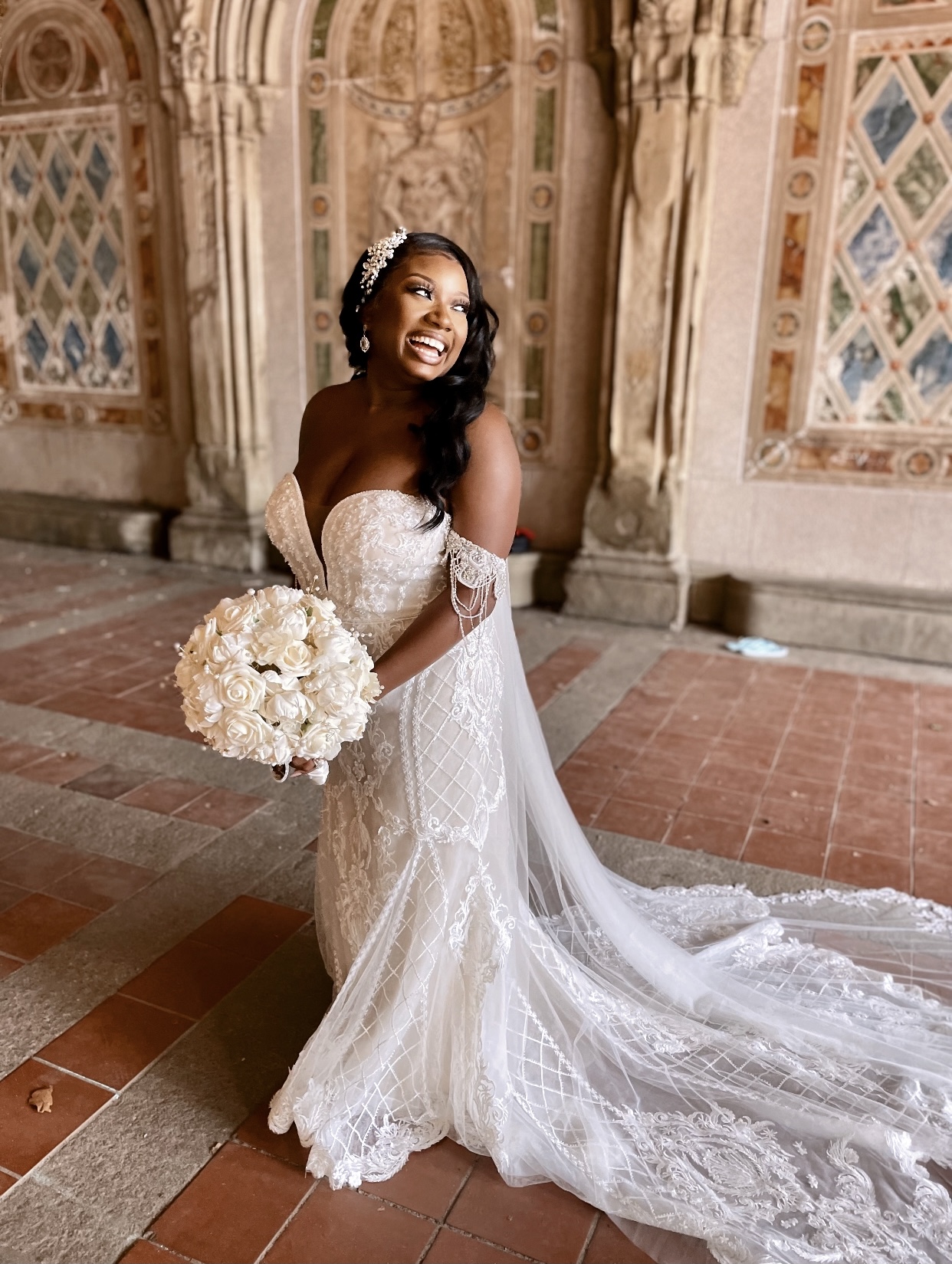 How did you feel when you knew that you #foundtheone?
So emotional. I didn't cry as you see in the movies but I definitely felt emotional. I looked at the pictures I took in the dress every day until I got married.
Tell us about your wedding day!
My wedding day was honestly all over the place and not in the best way. To start, it was raining, and my makeup artist was behind schedule. Members of my wedding party were also late. A lot of guests didn't show and my officiant mispronounced my name. Unfotunelty, we also didn't get much time with the guests who were able to make it due to Hurricane Ida approaching.
The beautiful part was that about two hours before the ceremony up until the last photo location the rain held off. My husband and I were soggy by the end of the night due to getting caught in the rain and sadly we had to cancel our reception dinner due to flooding in New York City.
Was there a highlight or most memorable moment of the day?
The highlight of the day was marrying my best friend. Wedding planning for us was the worst and every week it seemed like we had a new issue come up. Despite everything going wrong we survived it and it turned out to be the most beautiful day regardless of anything that was working against us.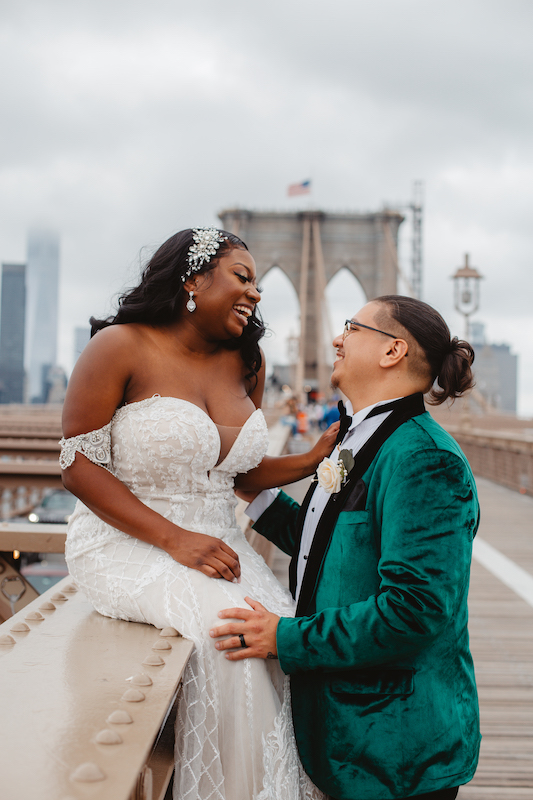 Did anything funny or unexpected happen?
I would have to say was getting caught in the rain. It started with a light drizzle and then it poured. We never expected it to hit New York City as bad as it did but we made the best of the day and the weather.
Did you have a first dance song?
We did! We had our first dance in the middle of grand central station with our AirPods in listening to "In love with you" by Domo Wilson. The same song he played when he proposed to me the year before.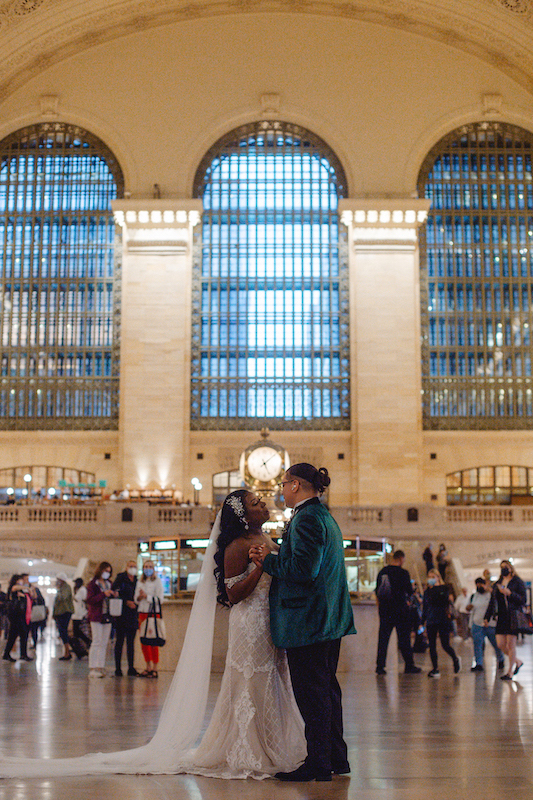 What was your favorite DIY or personal touch?
My favorite DIY was my wedding bouquet. It was made out of sola wood and they replicated peonies which are my favorite. I also added a photo charm of my mother who passed when I was 13 years old. It was important that I have a piece of her with me on my wedding day.
What did you do to stay stress-free on your wedding day?
I relied on my friends who were putting bandaids on all the things that seemed to be falling apart behind the scenes. I also had a lot of pep talks with myself that at this point of wedding planning the only thing I cared about was marrying my husband and that we made the best of our day.
What's your best wedding planning advice?
My best wedding planning advice is to hire a wedding planner. There are so many things going on to make a wedding run smoothly especially when you throw other things in the mix. Let the people who enjoy putting out fires do just that so that you can enjoy the journey. Remember that everything won't go as planned and you actually won't be as upset about the little things as you think you will. Once you see your spouse and you say "I do" that is all that will matter. Enjoy the day and soak it all in.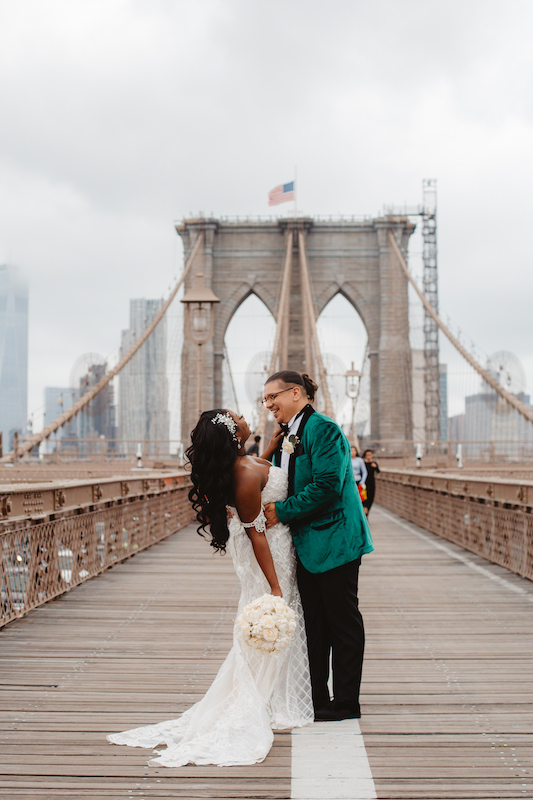 More Details:
Wedding Date: September 1st, 2021
Wedding Location: Cop Cot – Central Park
Dress Style: Beaded Scroll and Lace Mermaid Wedding Dress (with detachable straps)
Photographer: Carissa Gould
Love this September wedding in New York City? Read more real wedding stories here!
We know how important your wedding day and special events are to you and we are doing everything in our power to serve you! You can shop with us 24/7 at davidsbridal.com or come see us at your local David's Bridal. Plus we are here for you to help guide you through your wedding planning! See tips for starting to plan your wedding at home, shopping for your wedding dress online with confidence, and more on the blog.
Planning a wedding? Sign up for our Diamond Loyalty program—it's free! Follow us on Instagram, Pinterest, and Facebook for more real wedding inspiration, or click here to book an appointment.
Related Posts: