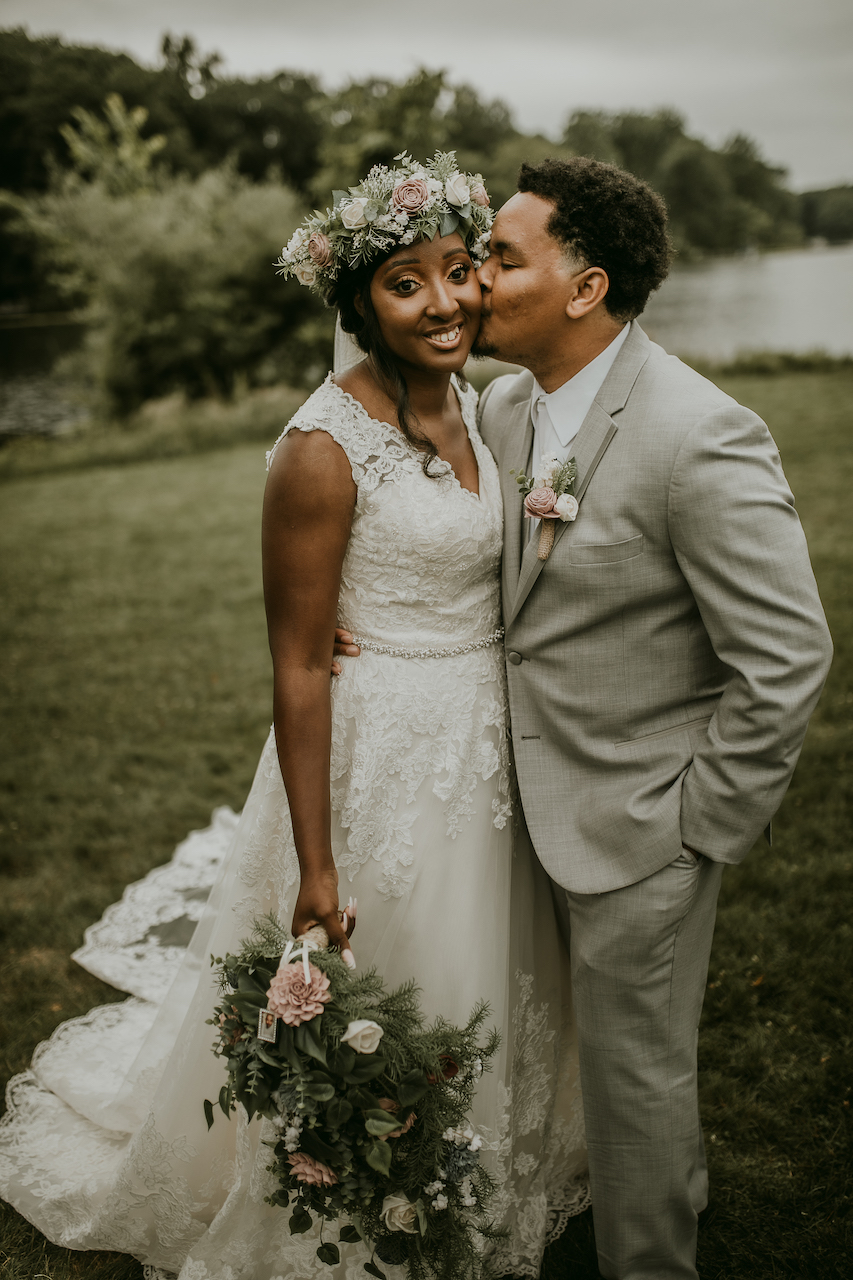 21 Jul

Real Wedding: Tykeyah & Kyree
Rustic Outdoor Wedding in New Jersey
Real weddings are so inspiring! To get you in the mood to plan, we asked real brides to spill the details on everything from getting engaged to finding their wedding dresses to the special touches and surprising moments that made their celebrations completely one-of-a-kind. Delicate lace, homespun touches, and pops of greenery brought Tykeyah and Kyree's rustic outdoor wedding in New Jersey to life. Read on for more from their special day!
Briefly tell us how you and your fiancé met! How did you know that he was the one?
I met my now-husband in college. We both went to Liberty University in Virginia. I was on the Taekwondo team and happened to be at team sign-ups when I first saw him for the first time. I didn't think anything of him the first time we met. He apparently thought I was cute. During this time I was in a leg brace recovering from knee surgery. We didn't talk that day, but as time went on, we would talk during Taekwondo practice when we weren't kicking each other around…literally! We would hang out on campus with our mutual friends and we became close.
One time I was sitting alone before practice and he sat by me. I was upset about something that had happened that day and he had a listening ear. At that moment I could tell that he not only cared about what made me sad but genuinely cared about me as a person. I knew at that moment that he was the one. He was always there for me.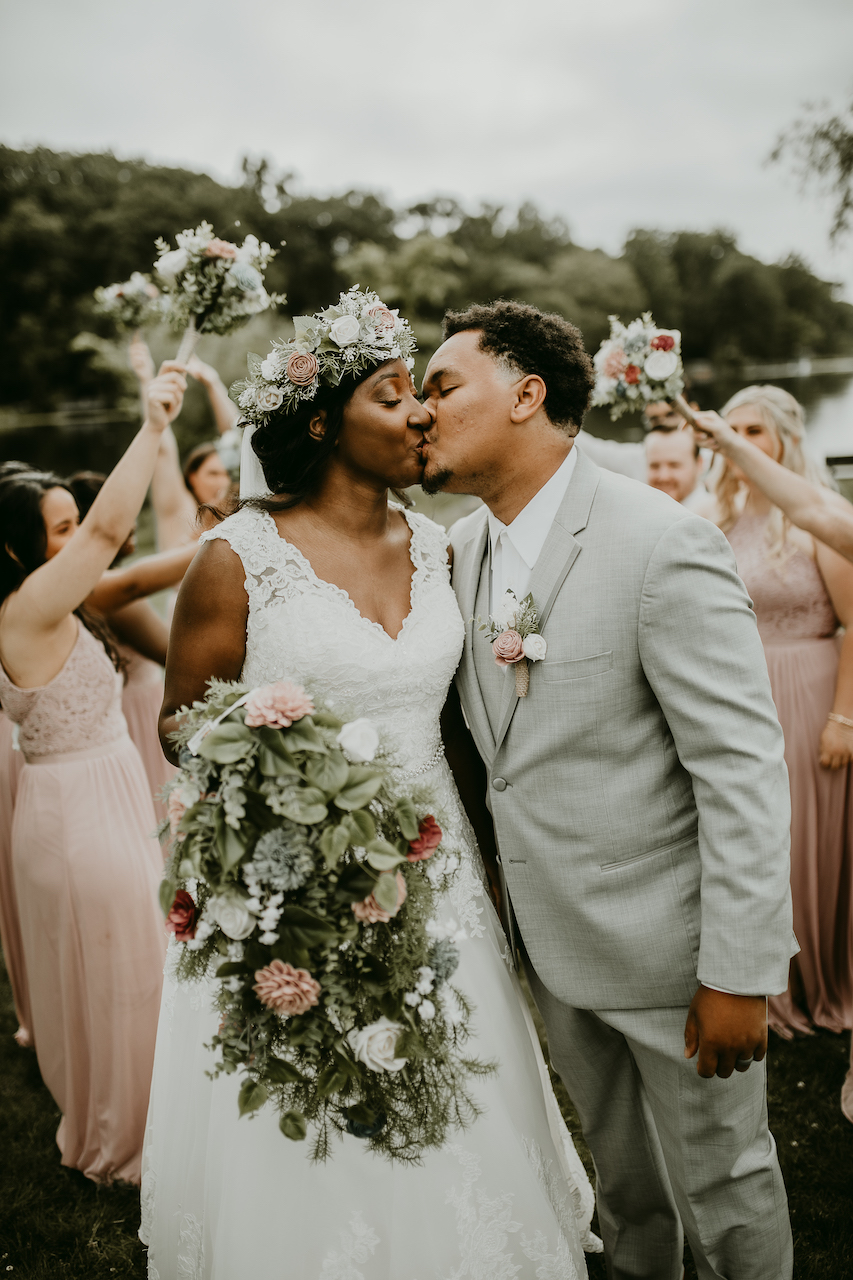 Tell us your proposal story!
Kyree and I were eating dinner with my best friend and her boyfriend, which was completely normal. Then we took a walk to the boardwalk (we live at the Jersey Shore), we're holding hands, and he pulls out his phone. I'm thinking he's just taking a picture. Then he hands the phone to my best friend. Cool! I guess he and I are taking a picture….I thought. He gets down on one knee and asks me to marry him. My first response was "Wait, is this for real!?" It felt like a dream!
How did you both decide on your wedding day look?
We both love the rustic style so we knew immediately that we wanted that for our big day. I also love flowers so I wanted them everywhere.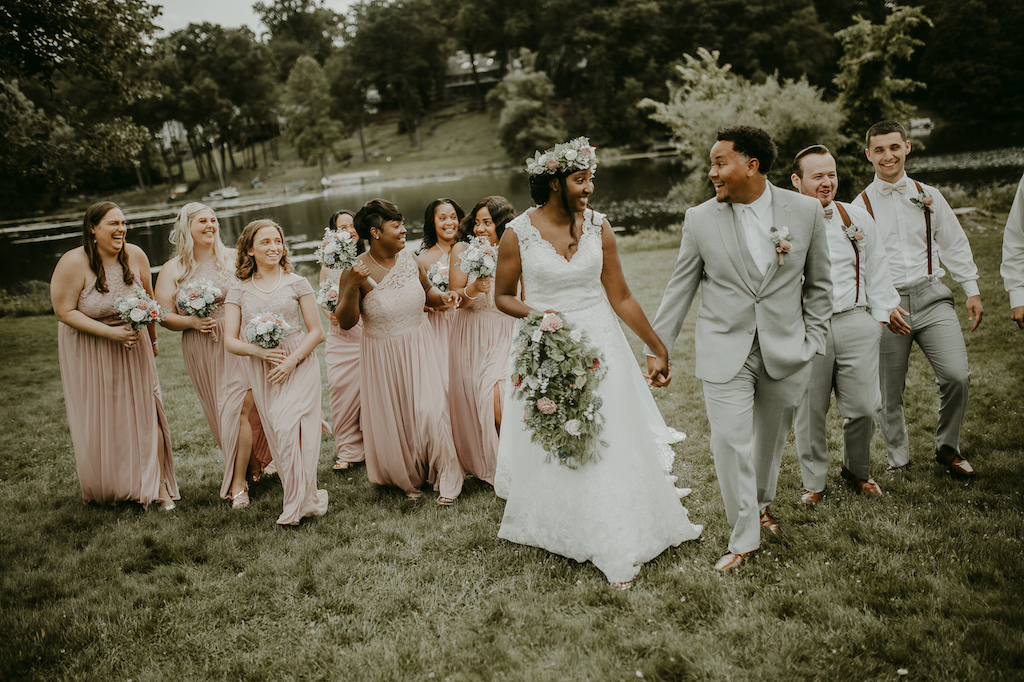 Do you have any shopping advice for future brides?
Yes, please be open. To be honest I wanted an ivory mermaid dress and I was set on that. However, when I went to the David's Bridal in Freehold, NJ, I started browsing. I saw some nice mermaid-style dresses but a certain dress caught my eye. It was an ivory champagne ball gown. Completely opposite from what I wanted. I decided to try it on and I loved how it looked on me. My girlfriends were with me and one of them started crying. I knew that dress was it, it was stunning!
What was your favorite detail about your look?
I love the lace on my dress. It really brings out the details in it. I also loved my shoes, which I also got from David's Bridal in NJ. I'm super tall so I wanted to find the perfect flats and they were very comfy.
Tell us about your wedding day!
We had our wedding at a Lakehouse and it was absolutely beautiful. The weather was perfect and the sun was out and I was thankful for that. Our guests really enjoyed the scenery and the lake view. We had a cookie bar because I have a slight cookie addiction (Ky thinks it a major addiction!), The food was provided by Brick 46 and it was phenomenal. The DJ was DJ Reem, who is arguably one of the best in NJ!
Was there a highlight or most memorable moment of the day?
One highlight was my dad's memorial. We had pictures of him around and to me, that was such a big deal. My dad was my best friend and he passed away in 2015 to cancer. I always imagined him being there on the biggest day of my life. I still feel as if he was there in spirit during my wedding day.
Did anything funny or unexpected happen?
We can definitely laugh at this now but on the day of the wedding, Ky and his groomsmen's suits were in his best man's car at their hotel. They were all about to come over to the venue and the car ended up getting towed. This was 2 hours before the ceremony. I did some digging, found out, and freaked out! Thankfully they ended up getting the car with the suits and made it back before the ceremony but it was pretty intense.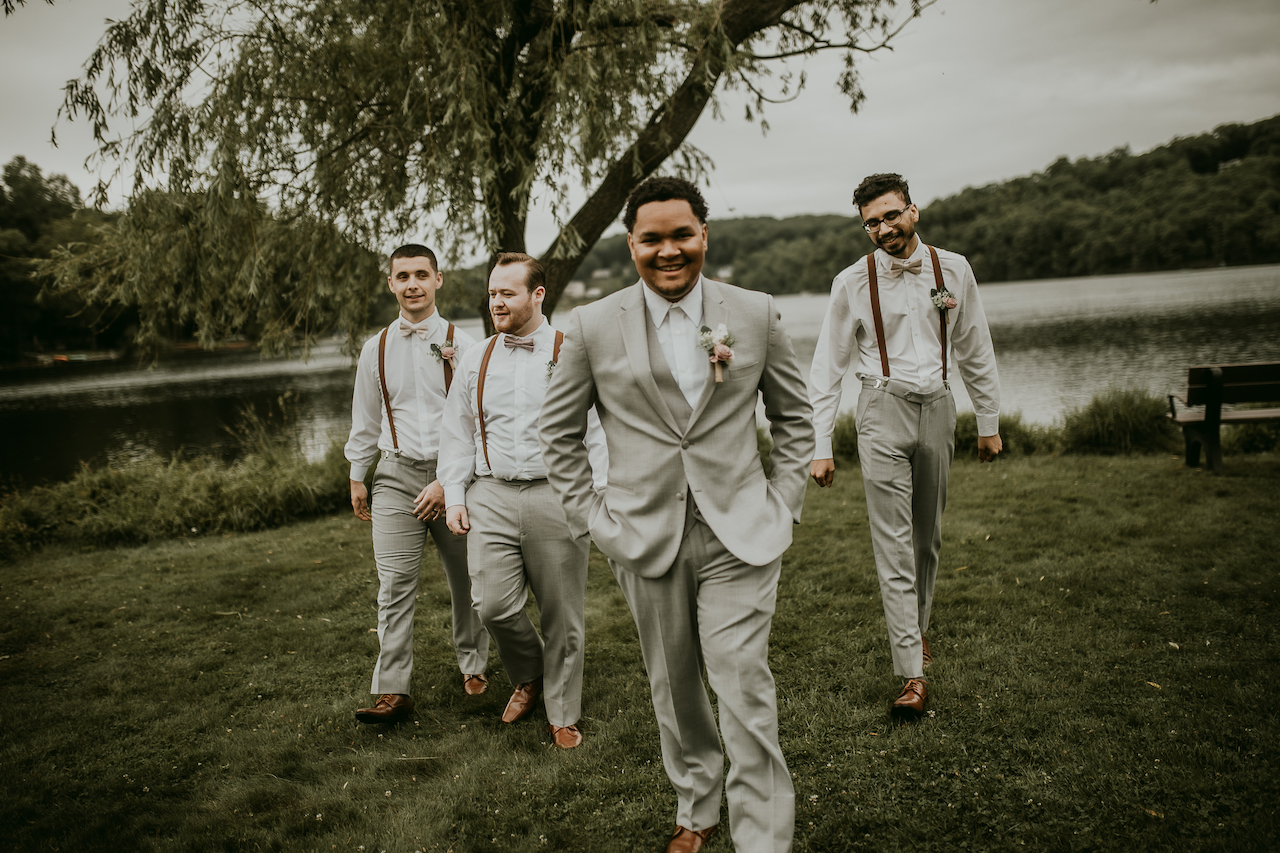 Is there something you wish you had known before the big day/while you were planning the wedding?
I wish I had known to take one step at a time. I tried doing so many things at once to the point where it became super draining. As a bride, I thought all the details the day of would be exactly how I wanted them to be and some things were while others weren't. However, it didn't matter because everything still turned out great. On top of that, those things that were missing… no one noticed except for me.
What was your favorite DIY or personal touch?
I loved the flowers at my wedding. We decided to do wood flowers because they last forever; I used them to decorate our home. A friend of mine made them, including my cascade bouquet, which came out stunning.
What did you do to stay stress-free on your wedding day?
My girls and I had music playing, we had brunch, talked, and hung out. That really took my mind off of things. That and trusting people to have things how I wanted them the day of. It helped tremendously.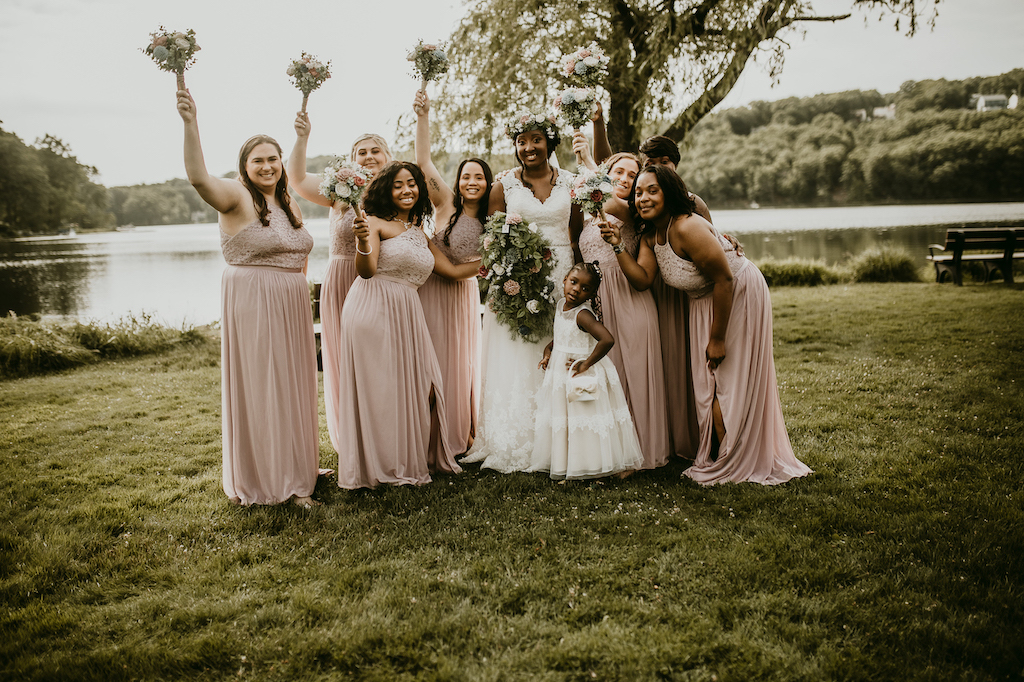 What's your best wedding planning advice? And what advice do you have for brides that are planning their weddings right now?
My biggest advice is to enjoy your engagement and realize that everything will be okay, even when it seems like it won't. I worried a lot about my wedding and now I wish I hadn't. Those little details that stressed you out will not matter the day of or years to come. Try and enjoy each moment.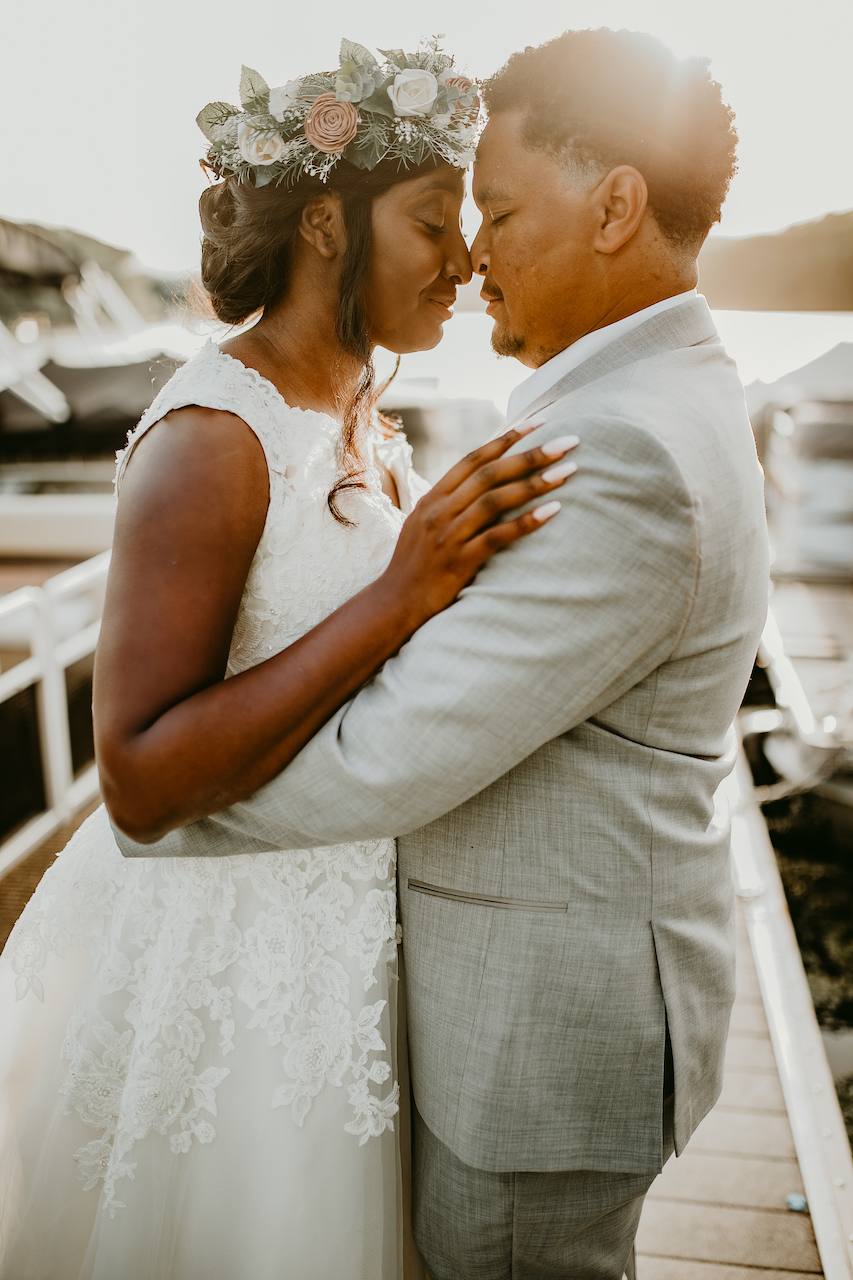 More Details:
Date: June 12th, 2021
Location: Rockaway, NJ
Theme: Rustic outdoor wedding
Wedding Cake Flavor: A 3 tier wedding cake with red velvet, vanilla, and chocolate
Wedding Song: "Back At One" by Brian McKnight
Dress Style: Scalloped V-neck lace and tulle wedding dress
Photographer: Victoria Petruzziello and Cara Glynn
Love this rustic outdoor wedding in New Jersey? Read more real wedding stories here!
We know how important your wedding day and special events are to you and we are doing everything in our power to serve you! You can shop with us 24/7 at davidsbridal.com or come see us at your local David's Bridal. Plus we are here for you to help guide you through your wedding planning! See tips for starting to plan your wedding at home, shopping for your wedding dress online with confidence, and more on the blog.
Planning a wedding? Sign up for our Diamond Loyalty program—it's free! Follow us on Instagram, Pinterest, and Facebook for more real wedding inspiration, or click here to book an appointment.
Related Posts: