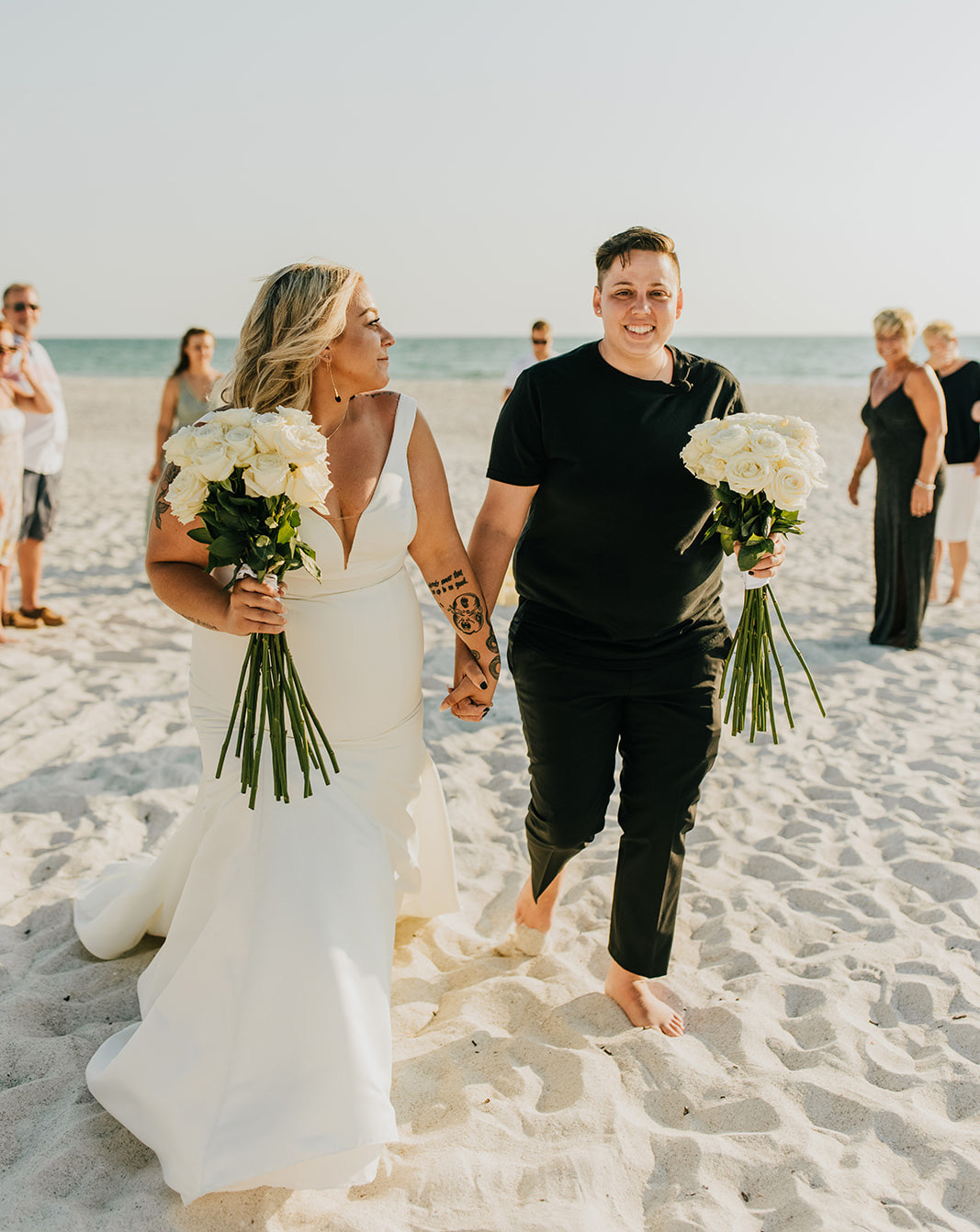 01 Sep

Real Wedding: Bianca & Candace
Intimate Oceanside Wedding in Florida
Real weddings are so inspiring! To get you in the mood to plan, we asked real brides to spill the details on everything from getting engaged and finding their wedding dresses to the special touches and surprising moments that made their celebrations completely one-of-a-kind. Today's real wedding story features newlyweds Bianca & Candace. After postponing their wedding due to COVID, the couple decided to scratch their original plans and instead tie the knot in an intimate oceanside wedding in Florida. Keep reading to see more details from their seaside soirée!
Briefly tell us how you and your partner met! How did you know that she was the one?
Candace and I met through a mutual friend in 2015. I'm pretty sure I knew she was the one the minute I met her, but it took me a long time to lean into it. She is SUCH a good, beautiful person and I wasn't used to that. She listened, she made me laugh, she was patient, kind, and most importantly, was able to give my stubborn Italian self a run for my money!
Tell us your proposal story!
One night we were lying in bed watching TV and I felt like I literally couldn't wait one more second. She got up to grab a banana to snack on and I decided it was time. I ran into the closet, grabbed the ring out of my blazer pocket, got on my knee, and waited behind the corner for her to come back in. I proposed to her on an ordinary weeknight while we were in our pajamas and it was the most perfect thing I could have dreamed of!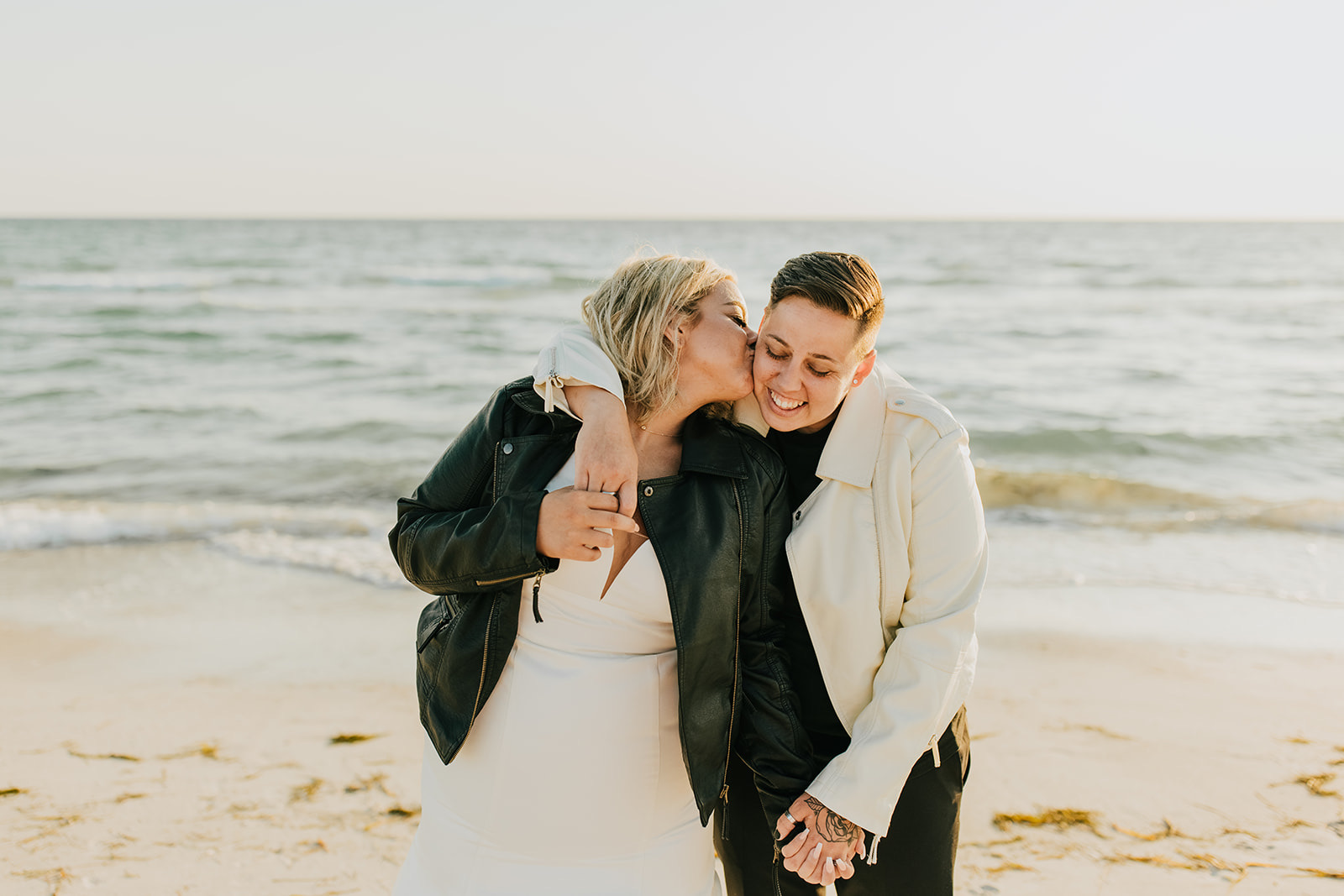 How did you both decide on your wedding day look?
I actually had an interesting time deciding on my look. I originally wanted a boho vibe to match the decor that would have been at our reception, but we decided to scrap the big wedding due to COVID and elope on the beach with just our closest family. Because of that choice, the whole vibe of the wedding changed. I had actually bought a boho dress prior to the change in plans so I ended up going back to David's Bridal, returning the original dress, and getting a new one. The dress I ended up with was a mermaid, ivory, satin dress with a dropped neckline and a small train. It was modern and classic and beautiful! The moment I put it on I felt the stress go away. I didn't feel the need to try anything else on and I felt BEAUTIFUL.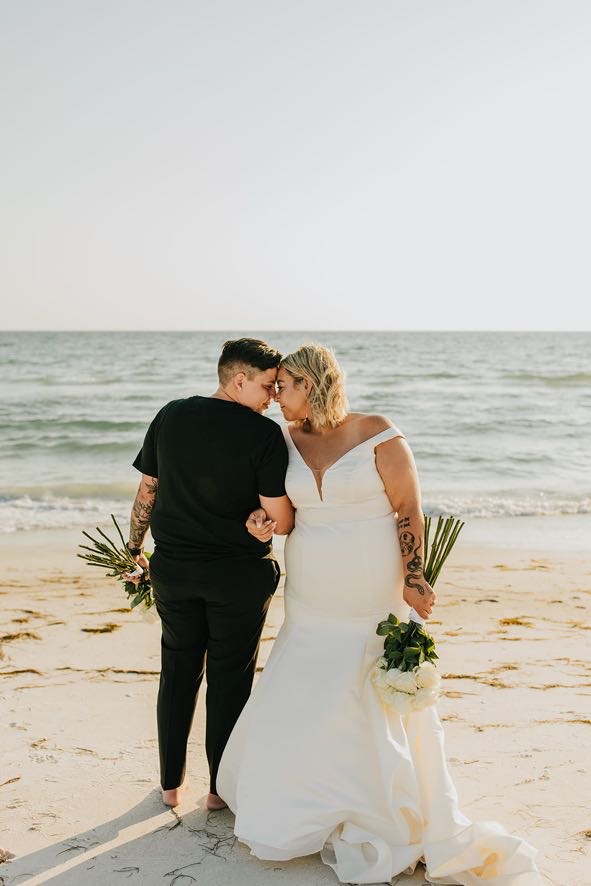 Candace is not the dress type and instead wanted to go for a more masculine look. She knew she wanted to wear all black and we wanted something sleek and simple to complement my modern, classic dress. She ended up going with a tailored, cropped pair of black dress pants with a solid black crew neck t-shirt. We both went barefoot. We both carried a bouquet that was simple and classic: a dozen long-stem white roses.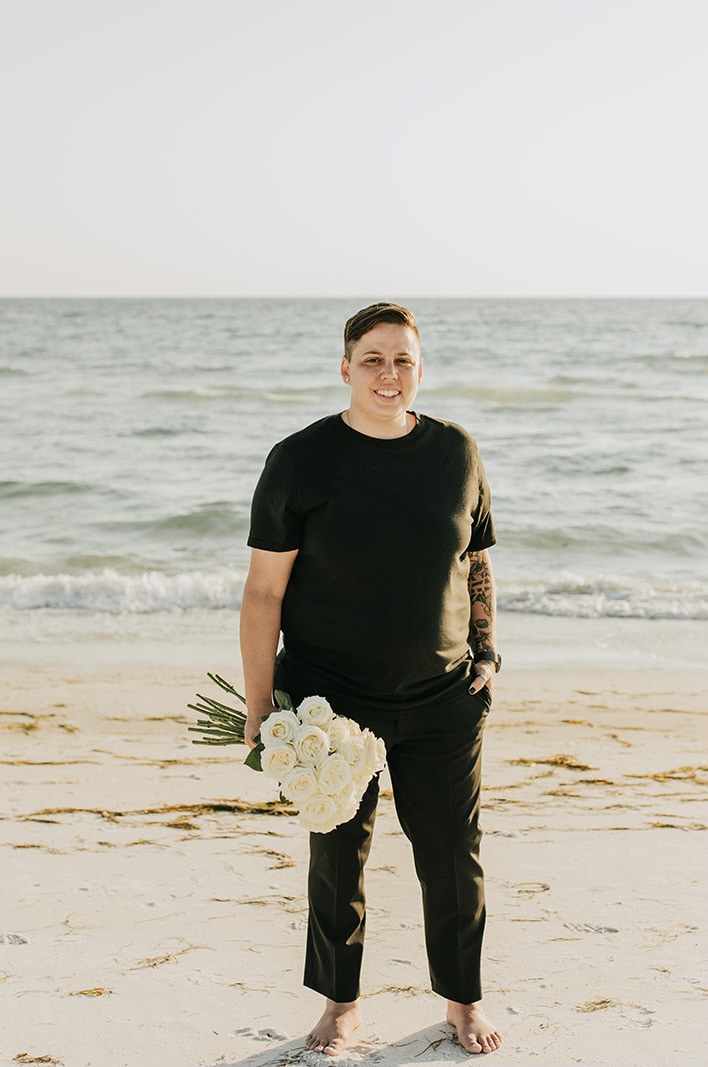 The last piece to our looks were the leather jackets. Candace and I consider ourselves to be a little rebellious and edgy. We wanted our day to reflect us as best as possible, and we knew these these jackets from David's Bridal were perfect as soon as we saw them! I wore a black one to contrast my ivory dress and she wore a white one to contrast the black.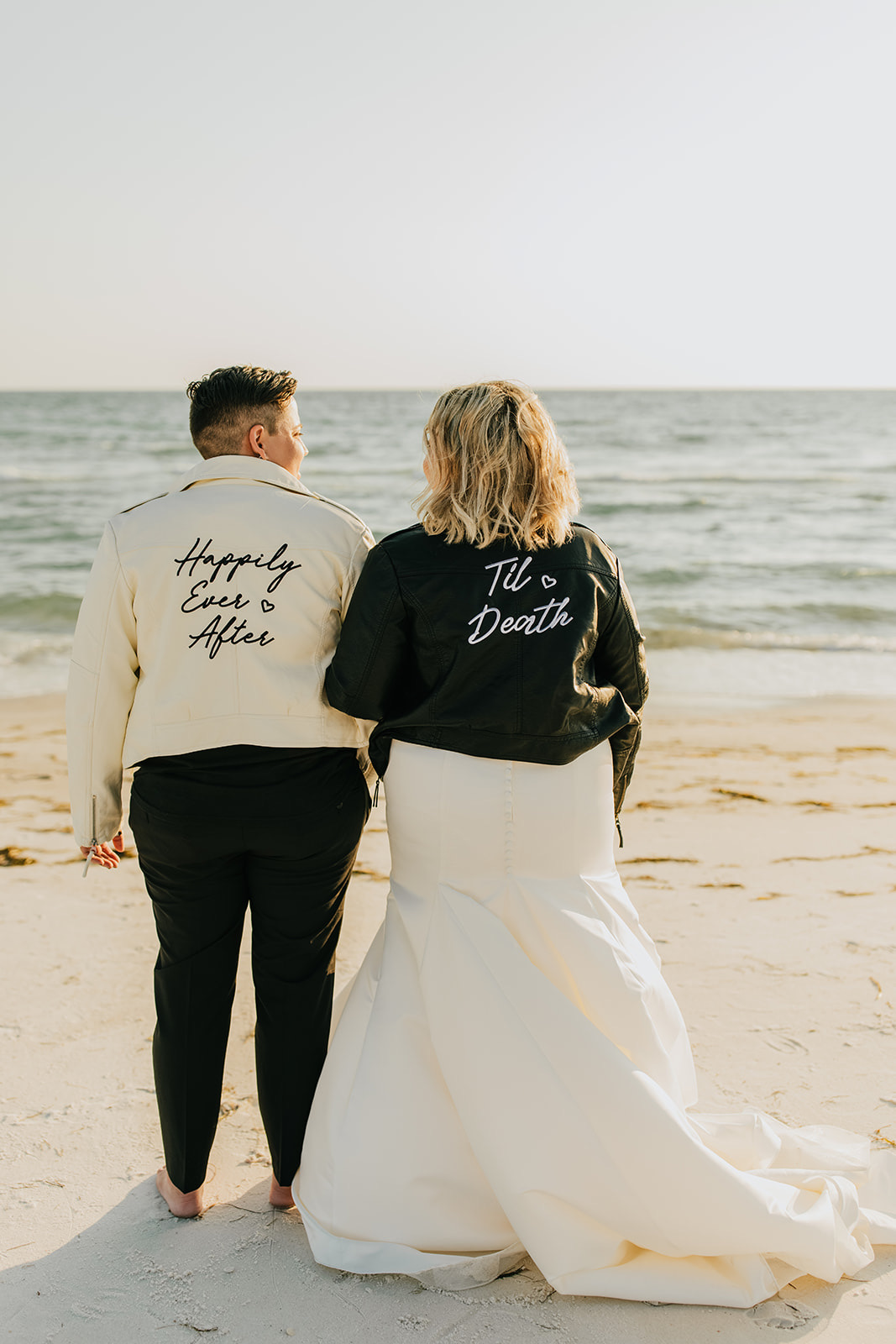 Do you have any shopping advice for future brides?
Try things you think you won't like! I had weight loss surgery a few years back and was always so self-conscious of wearing form-fitting things– especially dresses. My original dress was an A-line boho, blush dress with lace. My final dress was a satin, ivory mermaid cut that fits like a glove. With the petticoat my stylist gave me and the right undergarments, I looked and felt so beautiful and I never would have thought that for myself. Go outside your comfort zone. At the end of the day, the worst thing that will happen is you won't like it and there are tons of other options to try!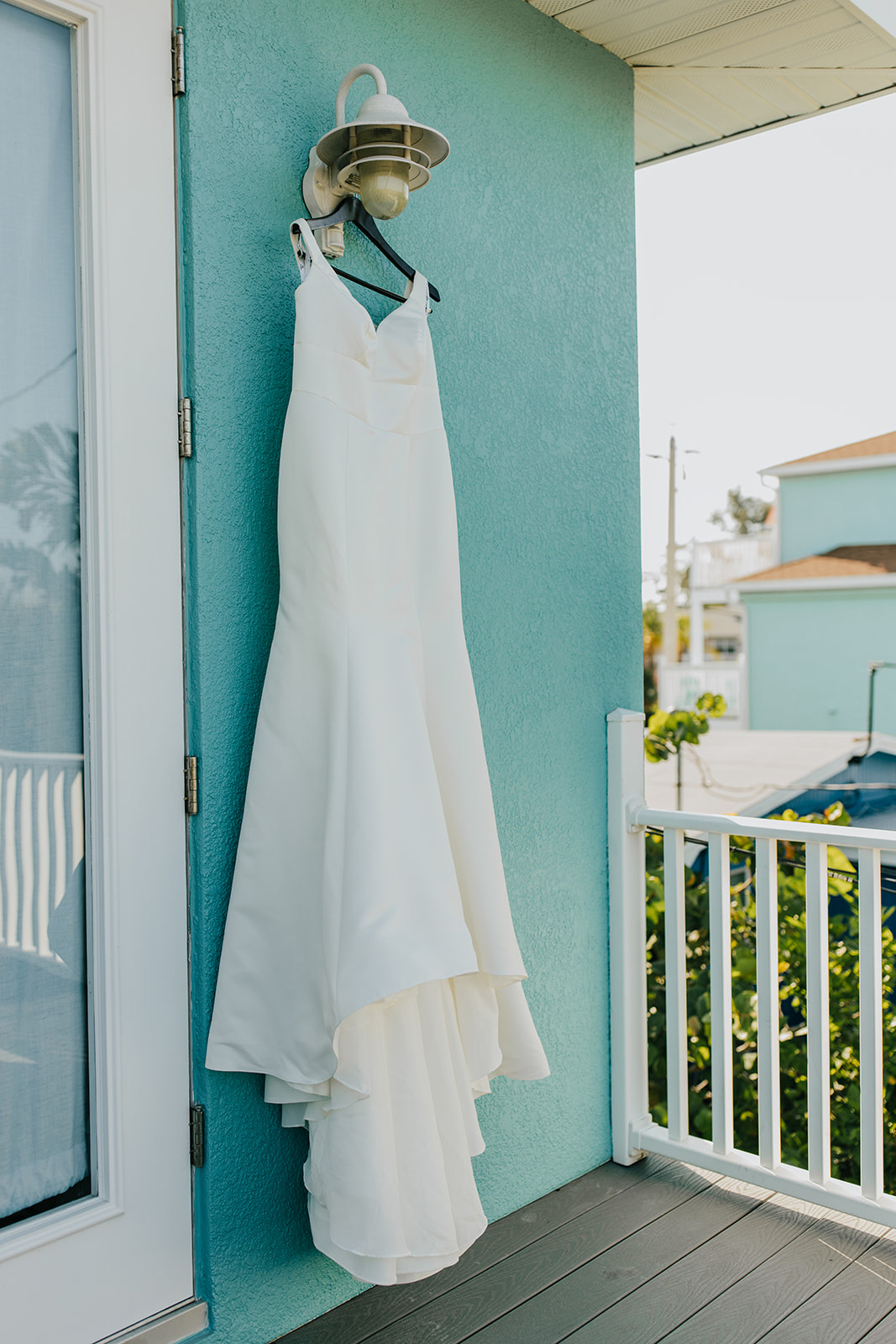 Tell us about your wedding day!
We married on Anna Maria Island in Florida. Only immediate family was present, totaling 15 including Candace and I. We used the beach access as our isle and had our ceremony on the sand right by the ocean. My brother officiated it for us and we had Christopher Ramos there to document it. We wrote our own vows and shared those in front of our family. After the ceremony, we went back to the house Candace and I rented for our vacation/honeymoon and hosted dinner for our family that was catered by a local restaurant. We had dinner and spent the night partying with our family!
Was there a highlight or most memorable moment of the day?
Definitely jumping in the pool after the ceremony. We got back to the house and the two of us jumped in holding hands as our family counted down. It was so fun and crazy. My dress weighed so much in the water but thankfully Candace helped me get out!
Did anything funny or unexpected happen?
As Candace and I were standing there waiting to walk down the aisle, my sister-in-law and maid of honor realized we forgot our bouquets at the AirBnb. Luckily the house was less than a block away from where we were holding the ceremony so Courtney my maid of honor literally sprints down the street in her dress, grabs like bouquets like a boss, and sprints back to us. She saved the day!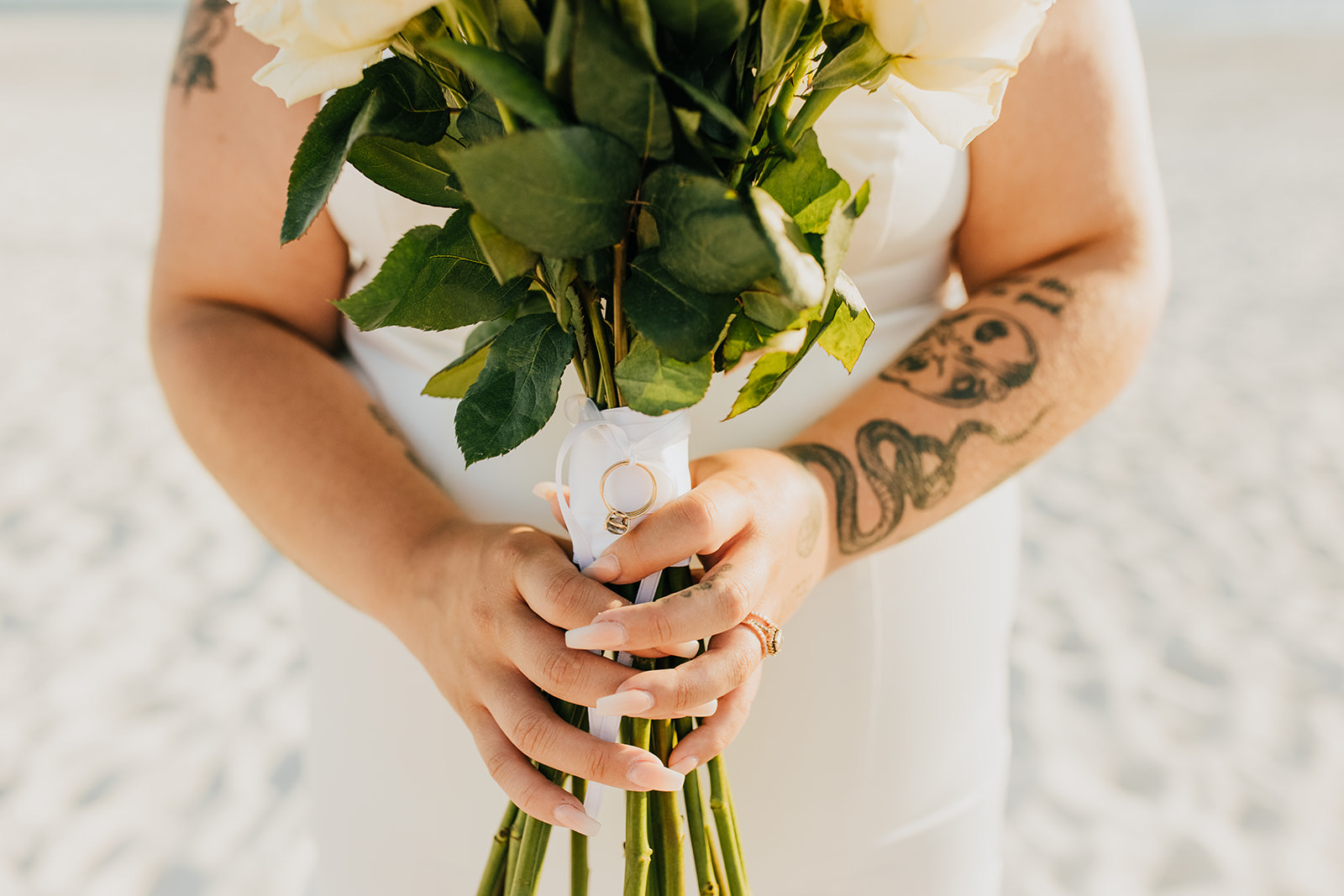 Did you have to make any changes to your wedding plans because of Covid?
Yes. The original plan was to have a 100-person wedding at a venue in downtown Columbus followed by a reception. When we were planning for our initial wedding day, you couldn't have bouquets, couldn't dance, everyone had to stay seated, and wear masks. We just didn't feel like we would be getting our money's worth with the restrictions so we initially decided to postpone it to July 4th weekend 2021. It quickly became clear that COVID wasn't going anywhere and that having a big wedding and reception wasn't safe for our family & friends. So, we ended up going to the beach in May and getting married. I wouldn't change it for the world!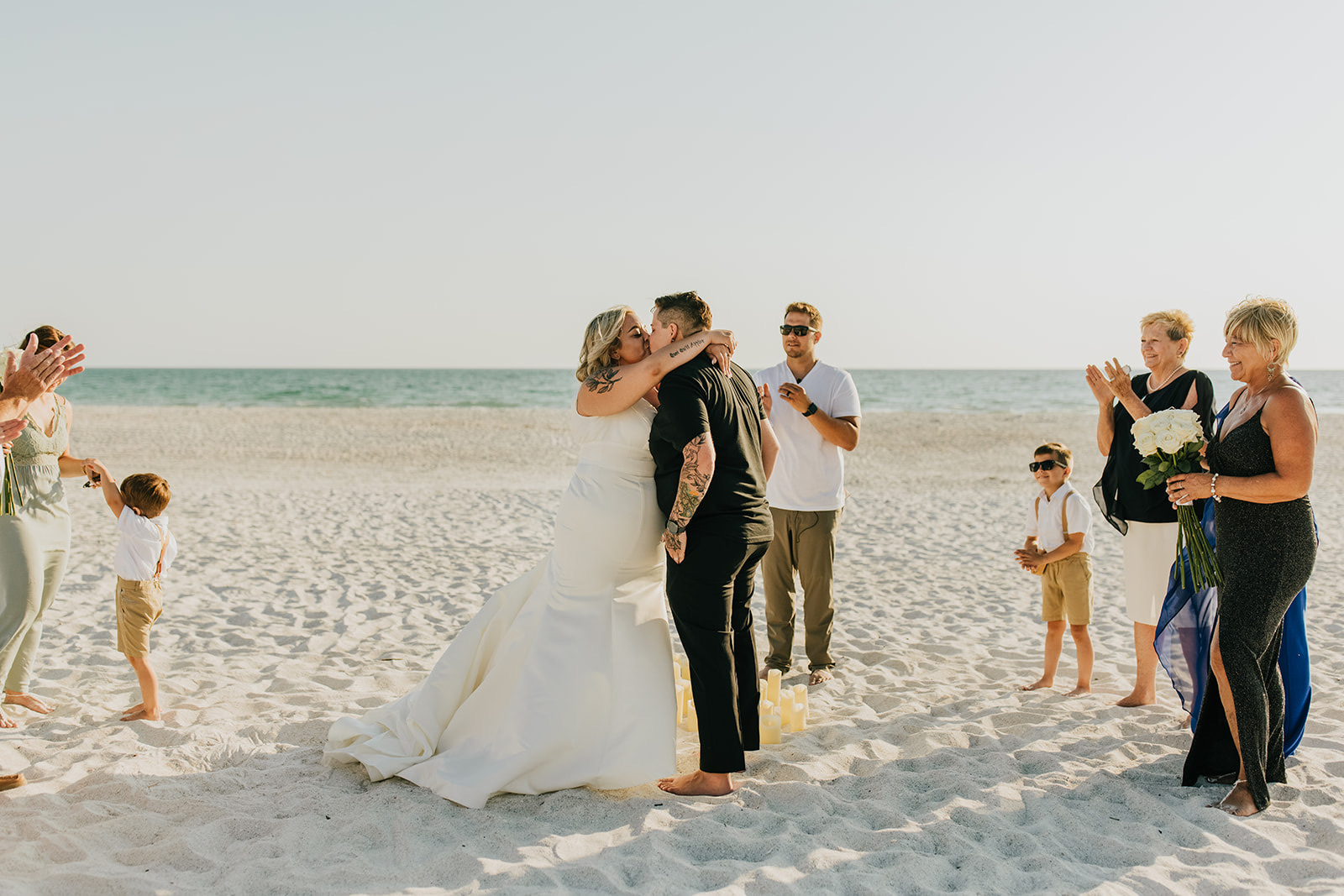 What flavor was your wedding cake?
We had a two-tier vanilla cake with cookies and cream frosting on the inside from Wandering Whisk Bakery in Tampa, FL. The bottom was iced jet black in a stucco pattern and the top was iced white in a more uniform line pattern. We incorporated white, blush, and a blue flower on the cake so something blue.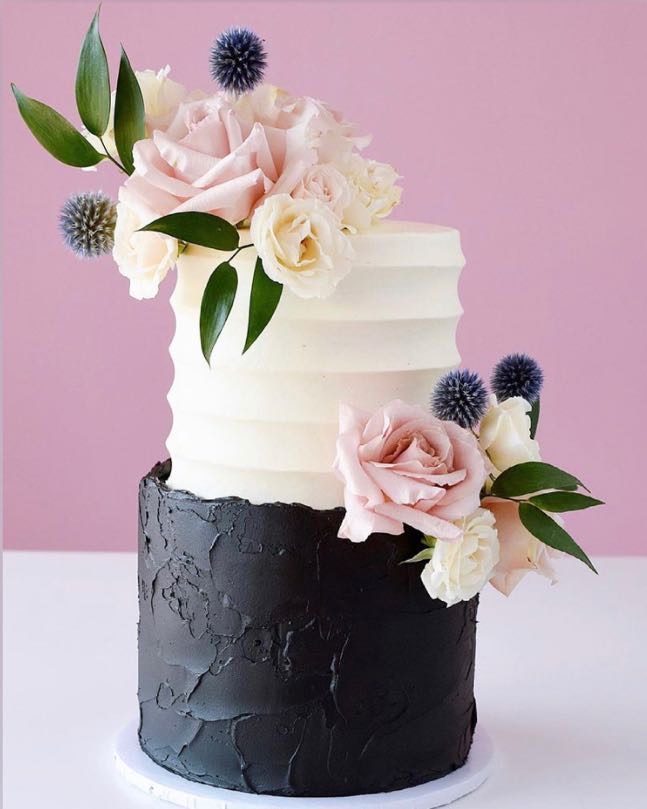 What was your favorite DIY or personal touch?
We did a lot of DIY things to save money. I think my favorite thing would be the vase Candace and I brought home. We filled it with sand and shells from the spot we got married. My maid of honor used her Cricut to put our names and wedding date on it. At the dinner, we had our family write advice and date night ideas on paper and we put those in the vase with the sand and shells and it's out in our house.
What's your best wedding planning advice?
Make lists! Lists are everything and they keep you organized. Also, stay true to yourself. Don't get caught up in trends and what everyone else is doing. I tried that first and it didn't feel authentic. Also, don't take it too seriously. Literally, everyone is going through what you're going through and most people will understand nowadays if your wedding is less than perfect. It's just the world we live in. This day is about you and your fiance. At the end of the day, nothing else matters.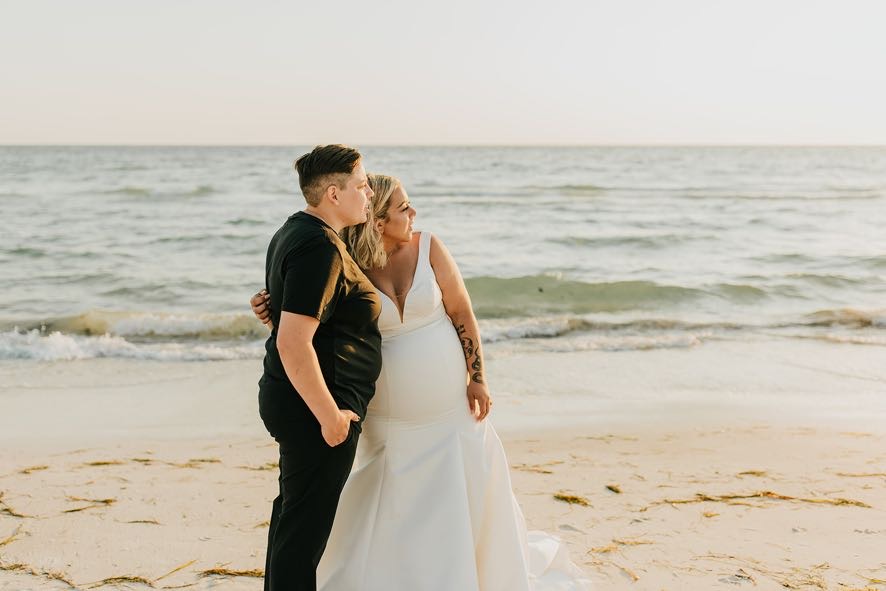 More Details:
Date: May 27th, 2021
Location: Anna Maria Island, FL
Wedding Song: "Say You Won't Let Go" by James Arthur
Dress Style: Plunge Mermaid Satin Wedding Dress with Buttons
Photographer: Christopher Ramos Photography
Love this intimate oceanside wedding in Florida? Read more real wedding stories here!
We know how important your wedding day and special events are to you and we are doing everything in our power to serve you! You can shop with us 24/7 at davidsbridal.com or come see us at your local David's Bridal. Plus we are here for you to help guide you through your wedding planning! See tips for starting to plan your wedding at home, shopping for your wedding dress online with confidence, and more on the blog.
Planning a wedding? Sign up for our Diamond Loyalty program—it's free! Follow us on Instagram, Pinterest, and Facebook for more real wedding inspiration, or click here to book an appointment.
Related Posts: