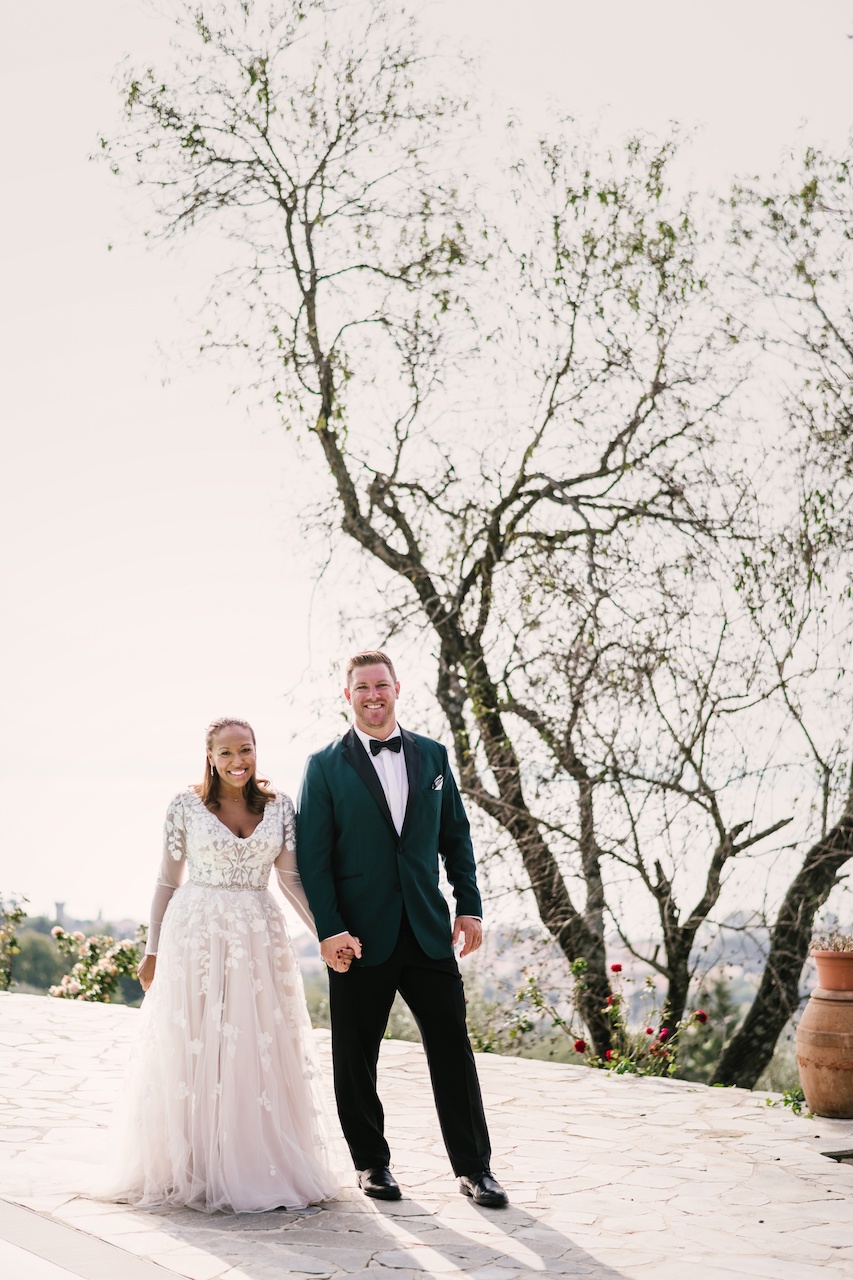 04 Mar

Real Wedding: Taylor & James
Non-Traditional Italian Wedding
Real weddings are so inspiring! To get you in the mood to plan—and party!—we asked real brides to spill the details on everything from getting engaged to finding their wedding dresses to the special touches and surprising moments that made their celebrations completely one-of-a-kind. Read on for Taylor and James' non-traditional Italian wedding in Umbria, Italy.
How did you two meet?
We met online! I'm a flight attendant, he's a Yacht Captain, so I'm not sure that we would have ever crossed paths otherwise.
You had a dress disaster 2 months before the wedding – tell us all about it!
I never really thought I was going to get married, so I never really considered what I'd look like. I spent months trying on dresses. Eventually, I honed in on what I wanted. A fit and flare, long sleeve, lace overlay, not-quite-white dress, with a massive overskirt for the ceremony. I couldn't find what I wanted so I paid a company to custom make my wedding dress. That's all they do- custom-made wedding dresses, what could go wrong? I have experience with sewing and patterns so I even sent in a drawing with a two-page explanation about EXACTLY what I wanted. I was so excited. Eight months later I get my dress and it was a mess. It literally wasn't even salvageable. I cried. A lot.
Luckily your story has a happy ending. How did you know you had found the one?
It was 100% kismet. I saw the Galina Signature dress online that I thought was cute. When I tried it on, I realized it was an almost identical lace to the one I had chosen for my original dress. It also looked similar to what I wanted my dress to look like for the ceremony! I didn't get all the unique details I wanted, but the dress was to die for. For the emotional part, I didn't want to take it off. I loved wearing it and felt gorgeous.
Tell us about the unique touches you added to personalize your day!
My bouquet had all sorts of family heirlooms tied into it. Flowers from my Mom's veil, my Grandmother-in-law's handkerchief, and parts of another Grandmother's dress too! My Brother was our officiant and my bridesmaids carried bottles of Prosecco down the aisle instead of flowers. I made hand painted totes as favors. Our ring box was one I found at a flea market a few days before in the town of Cortona. One of my best friends performed a card trick during dinner. Our day was 100% us.
What flavor was your cake?
Since we got married in a small town in Umbria, Italy, we had a traditional Italian wedding cake. It's like a Mille-feuille with hazelnut cream inside and fresh fruit on top. It was HEAVENLY.
What song did you choose for your first dance and why?
We love to dance. We wanted a choreographed first dance and not just swaying. We're also are not much for traditional love songs, so we chose a song we could really dance to… One Dance by Drake was a great choice, but to make it less shocking to our friends and family, we chose a cover by the Vitamin String Quartet.
You had some really fun, non-traditional wedding details. What, if any, traditions did you keep? What others did you skip?
We actually picked up a few from Italian wedding traditions that we honored. Bride wearing green at the rehearsal dinner, La Serenata (when the groom, with family and friends, serenades the bride underneath her window the night before the wedding,) and a tear in the veil for good luck. I did my own hair and makeup. We skipped speeches at the wedding and instead had them at the rehearsal dinner. (I think they're super intimate and prefer to share them with close friends and family.) Instead of a groom's cake we had a 4 tiered pizza cake a few hours into dancing!
Advice for future brides-to-be?
First off, steer clear of wedding advice sites and stick to trusted friends, family and acquaintances! Second, do WHATEVER your heart desires. You want your bridesmaids to skip? Do it. Want to paint your nails hunter green? Go nuts. Want to have your wedding on NYE and walk down the aisle with sparklers? I'm already jealous. You being happy and feeling confident is SO important and deciding what your wedding day will be to you and your partner is the most important thing. Also, make sure you eat, dance and spend one-on-one time with your partner. Don't stress the small stuff, things will inevitably go wrong. If you can swing it, invest in a wedding planner or at least a day-of coordinator.
More Details:
Dress Style: Galina Signature Plunging Illusion Sleeve Ball Gown
Location: Villa San Crispolto in Passignano Sul Trasimeno, Umbria, Italy
Date: October 29th, 2019
Photographer: Evan Rich
Wedding Color Palette: White, Pink and Gold
Related Posts: