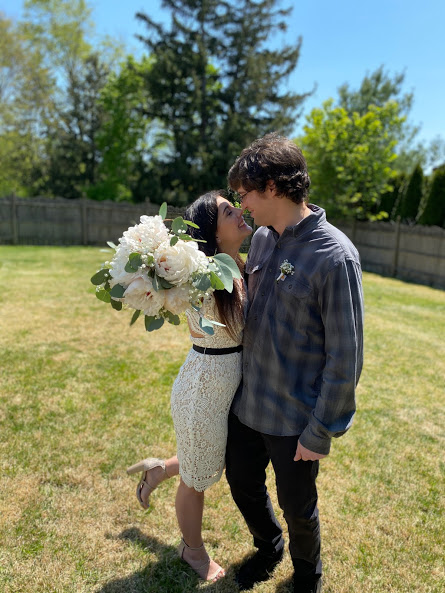 13 May

Real Wedding: Jayme and Joseph
Backyard Spring MiniWedding in New Jersey
Real weddings are so inspiring! To get you in the mood to plan, we asked real brides to spill the details on everything from getting engaged to finding their wedding dresses to the special touches and surprising moments that made their celebrations completely one-of-a-kind. Today we're featuring Jayme, who is on our marketing team! Her wedding plans changed course due to COVID-19, but she didn't let it stop her from marrying her sweetheart. Read on for Jayme and Joseph's backyard spring mini wedding in New Jersey.
How did the two of you meet? How did he propose?
Joe and I met at Penn State! He proposed while I was on a trip with my family to Disney World. He flew down a day later and surprised me. Not only did he fly to my favorite place, probably his least favorite, but he also organized an intimate proposal in the Star Wars area. Both of my sisters have worked for Disney, so they had a few connections there who helped Joe make this happen!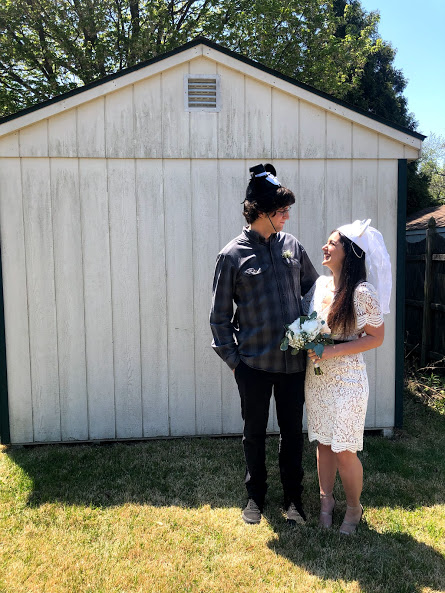 How did you decide on your wedding dress? What did you love most about it and how did it make you feel? Any dress-shopping advice for future brides?
Unfortunately, our wedding was pushed to 2021 due to COVID-19, but we decided that we didn't want to wait to make it official! David's Bridal saved the day and I was able to get a dress, shoes, and a really cute embroidered jean jacket with really short notice. My favorite part of the dress was the back. The cut-out and little details, like the buttons, really made a difference.
Dear future brides: choose David's! Not only do they have a HUGE selection to choose from, but they truly care about your event!
Tell us about your wedding day! We know it wasn't exactly what you had originally planned!
We were engaged for a little over a year and decided we just didn't want to wait any longer to start this new chapter together! We were married in my parents living room with my dad as our officiant. My sisters (MOHs) set up a zoom call for our family and friends so that they could watch. It was really upsetting that I couldn't speak to everyone individually, but we were happy to have them there! We can't wait to celebrate with everyone in person next year.
I was really impressed with how my family pulled a mini wedding together so quickly. We had a full wedding cake, flowers, and Italian wedding cookies!
Did anything funny or unexpected happen?
My family had Lysol, hand sanitizer and masks set up next to our wedding cake. It's not the wedding we envisioned, but it was hilarious. We'll definitely always have a great story to tell.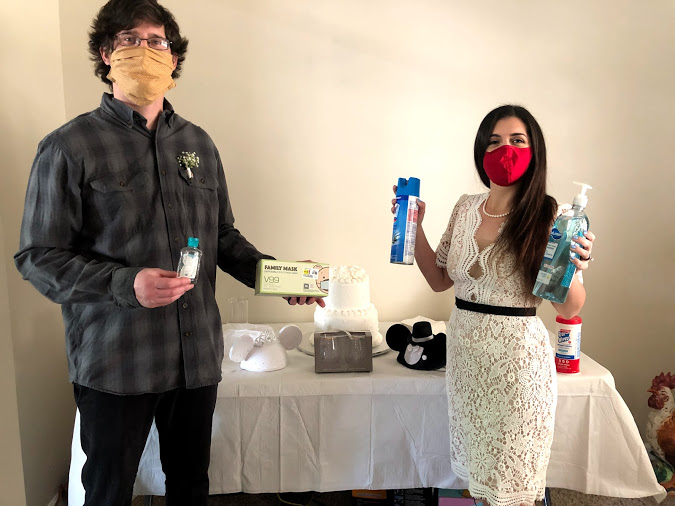 Is there something you wish you had known before your special day?
Make sure you have a list of photos you want to take, just the two of you! I know for our BIG wedding next year, our photographer will ask for a list, but for this low-key go-around I accidentally took more pictures with our family's new puppy than my husband!
What was your favorite DIY or personal touch?
My mom asked the bakery if they could incorporate a "hidden mickey" somewhere on the cake. The entire first layer had little dots all over it that made tiny mickey heads! The cake was a Vanilla pound cake with strawberries on the inside and buttercream frosting – yum!
What did you do to stay stress-free on your wedding day?
I think because this wasn't the BIG wedding day, it was a lot more low-key. I really like things to be kept simple, so this was really enjoyable to me, pandemic aside!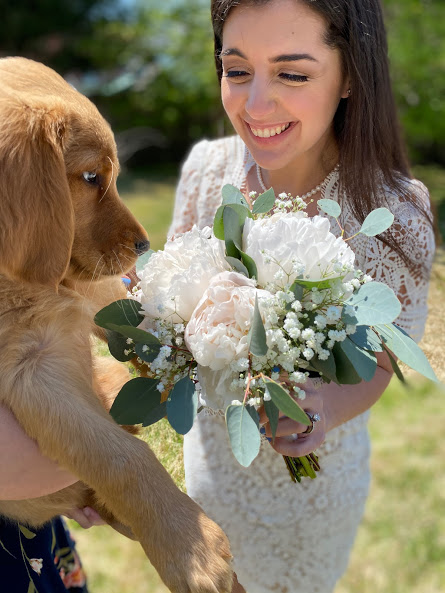 What's your best wedding planning advice? And what advice do you have for brides that are going through a similar situation right now?
Make sure you're celebrating with the people who mean the most to you– no matter how or where you are celebrating! Whether it is keeping the guest list just the immediate family or setting up a really big Zoom call, you'll want to include those who mean so much to you in the special moment. And if things don't seem to be going as originally planned, don't be afraid to lean on those closest to you, too! Whether it's helping to take pictures or helping with your hair and makeup, trust your family and friends to help make the day extra special!
More Details:
Date: May 10, 2020
Location: Her parent's backyard
Dress Style: Short Sheath
Photographer: Her own family
We know how important your wedding day and special events are to you and we are doing everything in our power to serve you! You can shop with us 24/7 at davidsbridal.com plus we are here for you to help guide you through your wedding planning! See tips for starting to plan your wedding at home, shopping for your wedding dress online with confidence and more on the blog.
Related Posts: