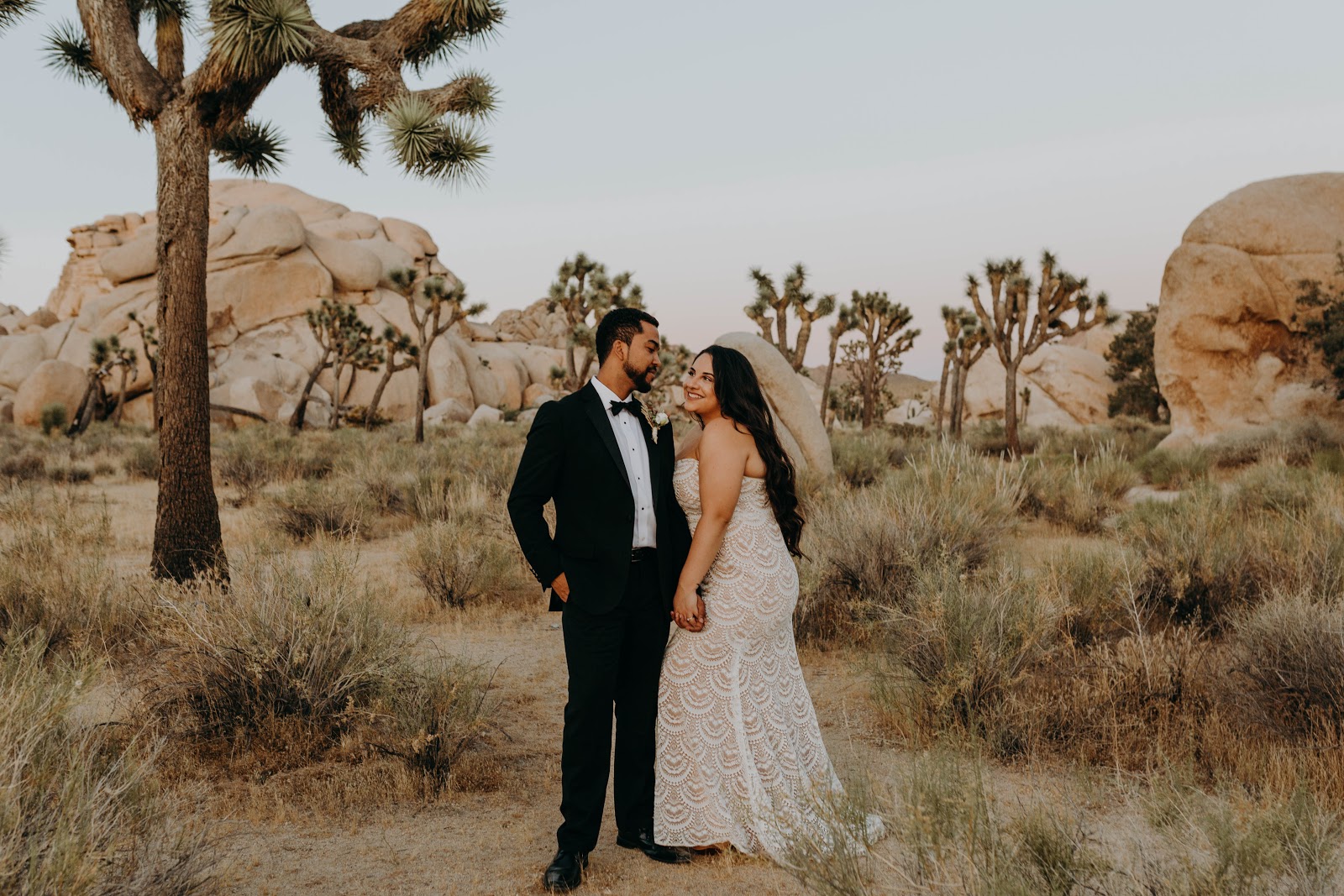 15 Jul

Real Wedding: Kayla and Tyler
An Intimate Bohemian Elopement at Joshua Tree
Real weddings are so inspiring! To get you in the mood to plan, we asked real brides to spill the details on everything from getting engaged to finding their wedding dresses to the special touches and surprising moments that made their celebrations completely one-of-a-kind. Read on for Kayla and Tyler's intimate bohemian elopement at Joshua Tree.
How did he propose?
I came home after work and noticed my door was closed, which was odd because my door was NEVER closed! So I go in and I see Tyler laying across the bed with a devious smile on his face! I go in super confused and I ask "What are you doing??" he gets up and he says "come here!" So I put my purse down on the dresser and sat down next to him – at this point he was just being a goof and I'm super confused with what was going on. He begins to say " Kayla I love you so much and you mean the world to me…" As soon as I thought I knew what he was doing I was like "No, no, no" and then he got down on one knee and asked, "Kayla, would like to spend the rest of your life with me?" Of course, I said yes!!
How did you decide on your wedding dress? Any dress-shopping advice for future brides?
I bought one dress in 2018, at first I was in love with it but then as plans changed and locations changed, I decided to go a different way! I bought my wedding dress on sale (score!) but when I received it, it was too big! So, I called a local David's Bridal to see if I can come in for alterations or possibly a size smaller. Due to our new normal of being in quarantine, none of the shops were operating normally! Luckily she did mention one location in San Diego that was opening up on a Friday! So I called, checked to see if there was a size smaller for the dress and boom! My dress, in the size I needed, only one left, but in the nude shade instead of white that I originally purchased. When I tried it on, it fit like a glove, I looked at it and I was speechless! I couldn't even explain the excitement and relief I felt when finding my perfect dress!!
My advice for future brides would be to not buy from an unreliable website…no matter the price! You will be disappointed! Also, try on different types of dresses because you never know which one you will feel your best in! Lastly…when they say " when you know you know" that's not just towards your fiance, it's towards your wedding dress too! So, follow your gut and make sure YOU feel beautiful in it!
Tell us about your wedding day! We know it wasn't exactly what you had originally planned!
My wedding day was so perfect! It was an intimate ceremony followed by pictures! We got married at sunset in Joshua Tree. The land was so beautiful with all the rocks, cacti, and landscape in the distance. It's breathtaking!
Did anything funny or unexpected happen?
Everything! That's just the way life goes I've noticed! I was running late, communication was all over the place, and I wasn't expecting bugs at our locations but they couldn't resist! Also, I foolishly wore heels, they were chunky heels but I'm still recovering from the blisters! With all those obstacles I still wouldn't take back that day!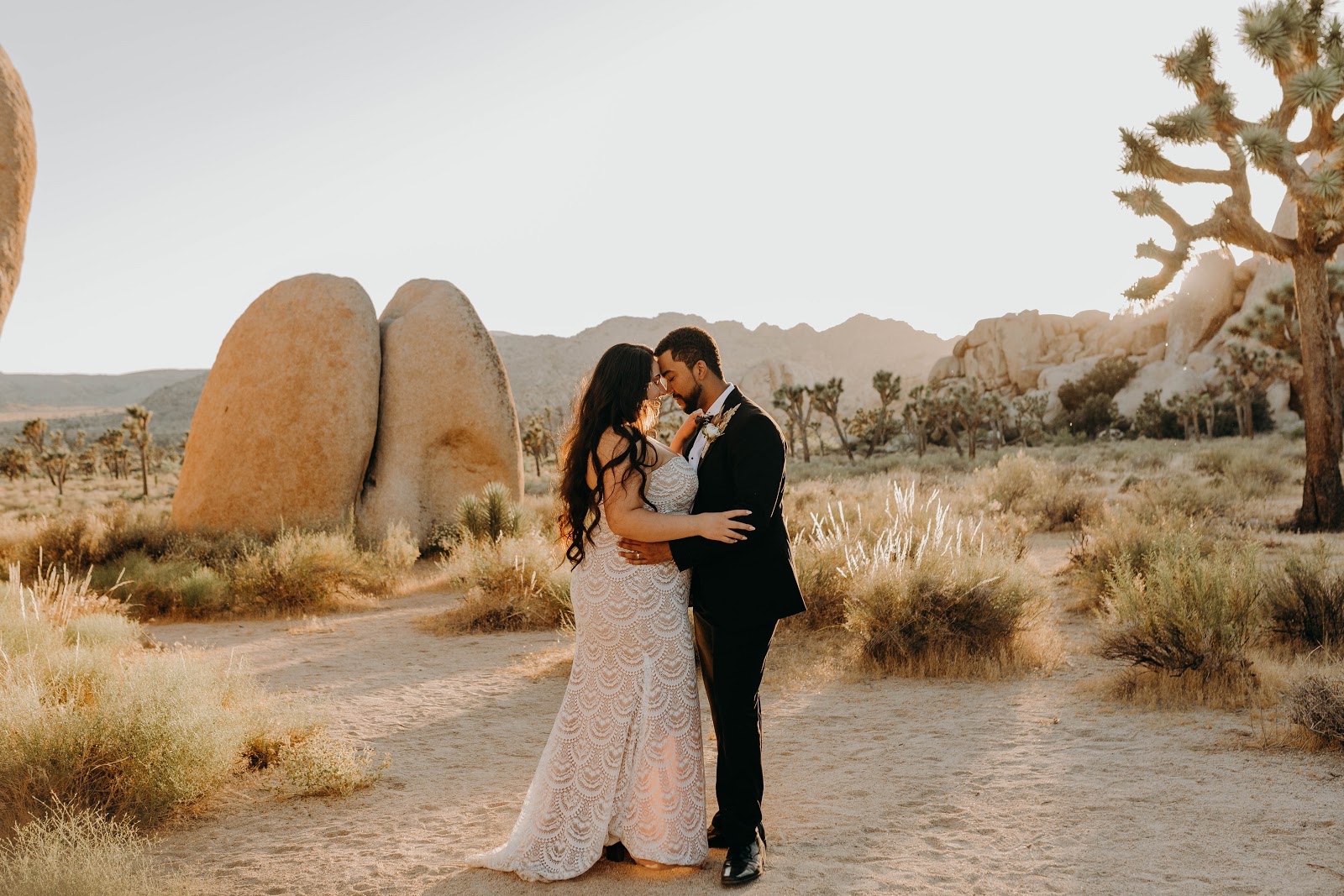 What was your first dance song?
We technically didn't have an official first dance, but our wedding day song is "Love you" by Duce Williams.
What was your favorite DIY or personal touch?
My bouquet had a beautiful charm on it that I hold so close to my heart! It was a charm that said "Missing you as I walk down the aisle" with a picture of my oldest brother, David, that passed away last year. That charm completed the day because I know that if he were here today he would have been there smiling and so happy for us! He was there is spirit so that's all that matters.
What did you do to stay stress-free on your wedding day?
I kept saying that the day is here and no matter what happens, I get to marry my sweet, funny, and handsome baby daddy! Who cares what happens because as long as I have him and my son…life is good!
What's your best wedding planning advice?
If you plan to have a wedding during this pandemic, my advice is to elope! In the end, it's all about you and your spouse! Do something that you think will be fun and memorable! Don't spend your whole life savings on this day because there are much bigger and better plans in your future. Also, make a list/budget and stick to it, all the fluff doesn't matter! We had an intimate bohemian elopement at Joshua Tree- we just had the boho dress, tux, bouquet, boutonnière, rings, photographer/videographer, and someone to make it official!! And of course, embrace your new forever!
More Details:
We know how important your wedding day and special events are to you and we are doing everything in our power to serve you! You can shop with us 24/7 at davidsbridal.com plus we are here for you to help guide you through your wedding planning! See tips for starting to plan your wedding at home, shopping for your wedding dress online with confidence, and more on the blog.
Related Posts: