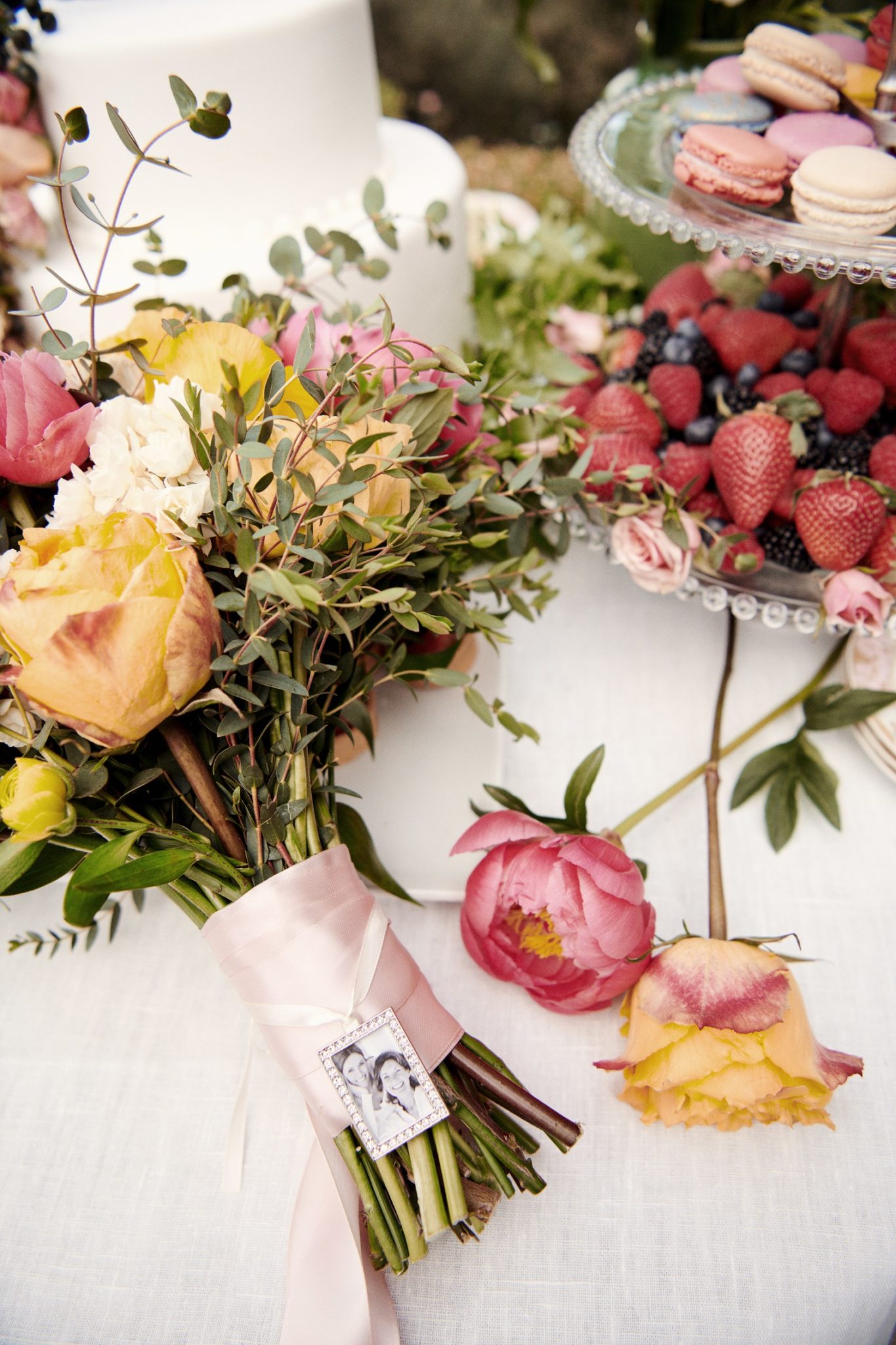 30 Jul

How to Honor Those Who Can't Attend Your Wedding
Heartfelt ways to include all loved ones in your wedding day
You'll soon discover that not all of the people you sent a wedding invitation will make it. Whether you have loved ones who passed away, close friends who live out of state or a family member in the military, not having those people celebrate the most important day of your life might feel disappointing. However, you can still honor those who can't attend your wedding by doing a few things. Check out these ideas to ensure you feel the presence of your loved ones on your wedding day:
Carry a photo on your bouquet
If a close friend or family member passed away before the wedding, you can carry them close to you during the event by attaching a bouquet charm set on your flowers. This wallet-sized framed picture weaves onto the ribbon that holds your bouquet together. This sentimental idea is nice because you'll have a keepsake picture even after the big day is over – place it by your bed or keep it in your purse.
Reserve a seat
No matter the reason a person can't be at your wedding, you can remind yourself and your guests that they should be there with a picture or a personalized wedding memorial sign. Place a framed eight- by 10-inch photo of the person on one of the chairs at your ceremony. If the person can't attend your nuptials because they are in the military, make sure the image you get is of them in uniform – the other guests will understand why they aren't around.
Make verbal mention
During either your ceremony or toasts, make an explicit comment about the people you wish could attend but aren't around. You may make a statement like "I just want to take a moment to recognize my cousin John, who couldn't attend because he is serving our country in Iraq," or something similar. You can also ask the officiant to call for a moment of silence in honor of your loved ones who passed away.
Leave a spot open
If the people who can't make your wedding are in the bridal party, leave their position open. For example, stand the rest of the bridal party where they normally would, rather than filling in a spot. If a groomsman fell ill or something similar, have his bridesmaid partner walk without him. The open spot will tell guests that someone was supposed to be there.
Light a candle
Flames are a significant metaphor because they represent life. If a fire goes out, you say the flame has died. Keep your loved one's memories alive by lighting a candle in their honor at your wedding. The Personalized In Loving Memory Cylinder is the perfect vessel for a floating candle display. Fill it with water and place a candle on the surface. You can even write a personal message that will appear on the cylinder.
Write a program mention
Devote a page of your programs to the mention of loved ones who have passed away. Keep your message short and sweet, with something heartwarming like this:
"In Memory of those who are no longer here
Although we cannot see you,
We know that you are here.
We feel the warmth of your smile,
And can sense that you are near.
And we want for you to know,
Your love is still our guide,
Memories carried in our hearts,
You are always at our side."
Offer digital attendance
Video chat websites make virtual wedding attendance a possibility. Set up a camera to record and stream your ceremony and invite faraway loved ones to watch.
Design a photo board
Cover a poster board with photos of your friends and family who could not (for whatever reason) attend the wedding. You can frame the collage and write captions to inform other guests of why the board is up. Consider putting it out during cocktail hour so guests can fill the time.
Do you have a unique way you honored a loved one at your wedding? Share more inspiration in the comments below!
Related Posts: