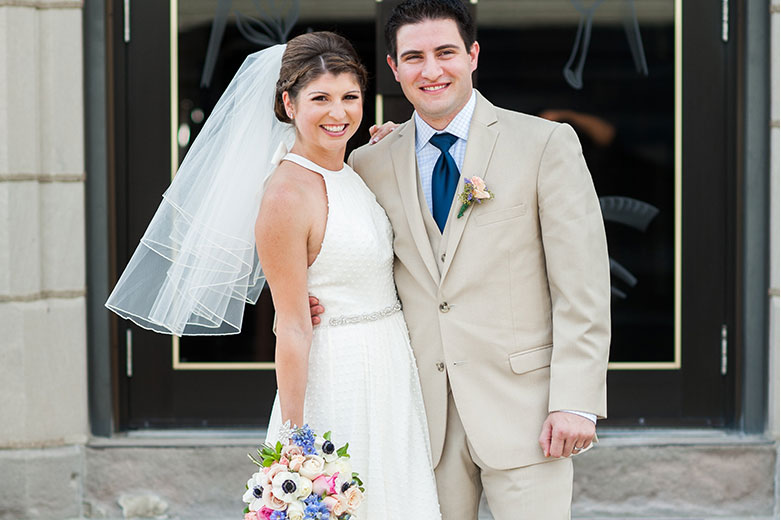 29 Apr

Real Weddings: Alison & Tony
A Traditional Fall Wedding in New Jersey
Real weddings are so inspiring! To get you in the mood to plan—and party!—we asked real brides to spill the details on everything from getting engaged to finding their wedding dresses to the special touches and surprising moments that made their celebrations completely one-of-a-kind. Read on for Alison and Tony's traditional fall wedding in New Jersey.
Favorite memory:
Our venue had a wraparound balcony and stairs, so our bridal party really got to strut their stuff when they walked out. We chose the song "Find You" by Zedd.
How did you meet?
We went to the same high school. We ran with similar circles, but we didn't really know each other at the time. After college, a group of us started going to trivia every Thursday at a local bar and grill. I thought Tony was cute and funny. And he was a whip at identifying Christmas songs even when played backwards during a "Name That Tune" category one week around Christmas time! Once we finally started dating, we wondered why our friends hadn't set us up a long time ago.
How did you get engaged?
Tony proposed at the top of the Ferris wheel in Wildwood, New Jersey. It's a place we loved separately and continue to love together, so it was really special to get engaged there.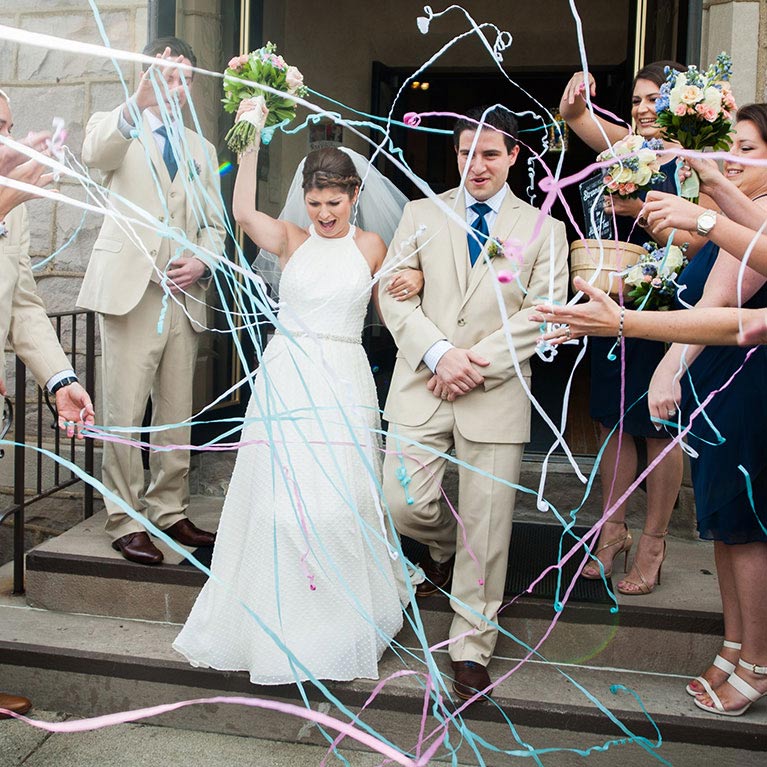 Best Advice:
You decided that you loved this person and wanted to spend the rest of your life with them long before your wedding day, so when people ask you how it feels to be married, it's okay if it feels kind of the same. Getting married shouldn't profoundly change your relationship.
Tell us about your wedding day!
We're not fancy people. We didn't need a lot of pomp and circumstance surrounding our wedding. We just wanted our family and friends with us to celebrate. When we walked into David's Country Inn in Hackettstown, New Jersey, we knew right away that it was the perfect spot. It is a historical carriage house and mansion with authentic charm and character that cannot be manufactured. It didn't need much—beautiful centerpieces and mason jar luminaries are really all we added.
How did you decide on your wedding dress?
I didn't bring an entourage to my appointment, only my mother, who happens to be my best friend in the world. I had been compiling a list of dresses for some time before finally trying any of them on. Most of them didn't work, and truly that was okay. But there was this other dress that I had added to my favorites only the day before. When I put it on, I just loved it. Only problem, even though she liked it, Mom didn't think it was "bridal" enough. Without her full support, I felt a little defeated. She suggested I try on a few more traditional styles. They were heavier, bulkier dresses with beads and lace, and I didn't feel comfortable or like myself in any of them, and she could tell. Finally, she told me to put the other one back on. We discussed adding a beaded belt and jewelry, and then she could see it. It was a simple, elegant dress that made me light up and enhanced my own beauty instead of distracting from it. (I may have also won her over when I reminded her that her own wedding dress had been swiss dot, too.)
More Details:
Silhouette: Sheath
Location: Hackettstown, New Jersey
Date: September 26, 2015
Wedding theme: Traditional
We know how important your wedding day and special events are to you and we are doing everything in our power to serve you! You can shop with us 24/7 at davidsbridal.com plus we are here for you to help guide you through your wedding planning! See tips for starting to plan your wedding at home, shopping for your wedding dress online with confidence, and more on the blog.
Related Posts: