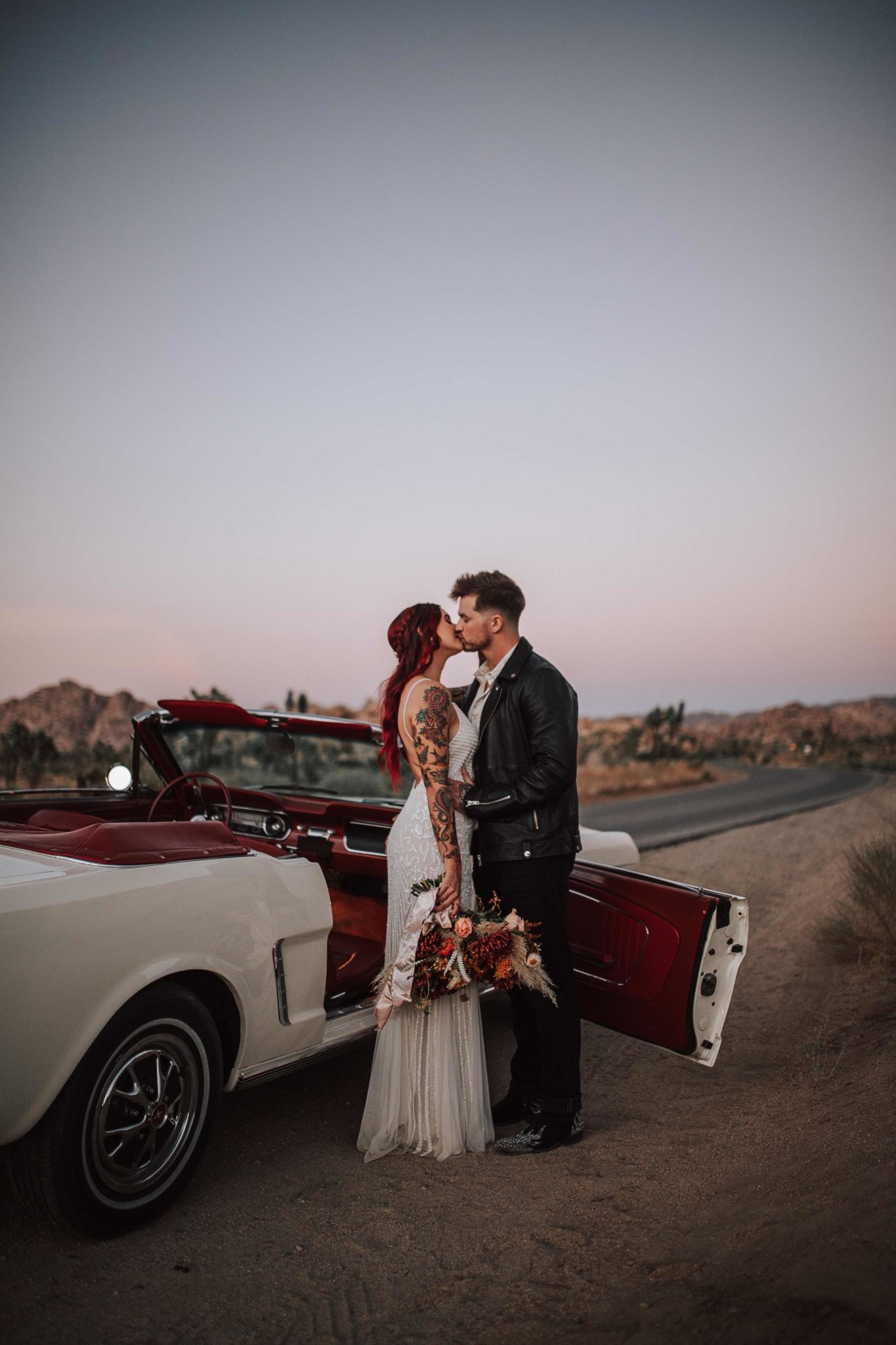 21 Oct

Real Wedding: Jordan & Tylar
Chic Boho Elopement at Joshua Tree
Real weddings are so inspiring! To get you in the mood to plan, we asked real brides to spill the details on everything from getting engaged to finding their wedding dresses to the special touches and surprising moments that made their celebrations completely one-of-a-kind. Read on for Jordan and Tylar's chic boho elopement at Joshua Tree.
Briefly tell us how you and your fiancé met! How did you know that he was the one?
We started dating when I was a junior and he was a senior in high school and we've been inseparable ever since! Conveniently, we had the same school in mind and went to James Madison University together. We lived together our senior year and then after graduating, we moved to California together! I knew he was the one before I even turned 18. Our love was cosmic. We were perfect for each other. Our first date was the first time we'd ever spoken to each other but it felt like we'd known each other our whole lives. As cliche as it sounds, it was truly love at first sight!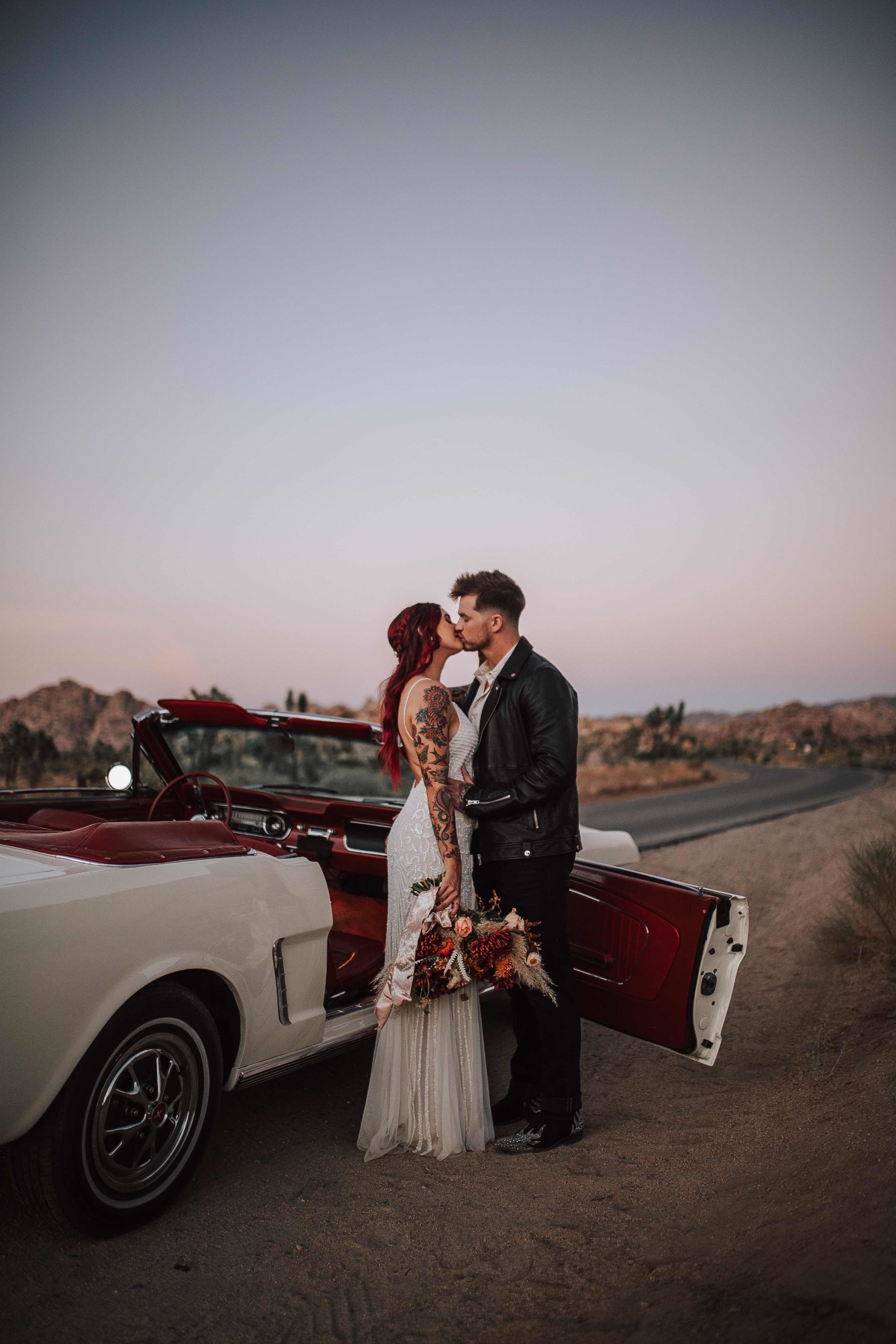 Tell us your proposal story!
In our first year of college, we went to California to visit my brother for a summer vacation. I'd been once before and insisted on taking him to see the sunset in Laguna Beach, so when we went it was absolute magic. Apparently, at that moment he knew he'd bring me back to that same spot one day to pop the question. Fast forward five years, he got our mutual friend and photographer Rohn to ask me to do a photo shoot for my blog one day, so I just assumed he was in town for work and wanted to create together. I drove to Laguna without a clue of what was about to go down. I literally wore a wedding pantsuit because I thought I was just shooting some looks for Instagram. So embarrassing!
When we got down to the beach, Rohn handed me his phone to watch a video of Tylar telling me he loved me and that he wanted to ask me a question. On the beach were four lanterns, each with a folded up love note on the inside. Each love note ended with a line of this poem that Tylar ends all of his love letters with. When I walked around the corner after reading the last note, he was standing there beside the same flowers he left on my porch the night he asked me to be his girlfriend in 2012.
I walked over to him, he grabbed my hand and told me how he wanted to love me forever, and got down on one knee. I'm not going to lie, I kind of blacked out a little bit because I was so nervous, but I embraced him immediately and said yes! On the inside of my engagement ring, he engraved the last line of the poem he ends all of his letters with: "but never doubt I love."
How did you decide on your wedding dress?
I tried on a ton I thought I liked but cried when I tried the one on (a beaded V-neck sheath from the DB Studio collection)! I didn't expect to want something so classy and traditional, but it was perfect. The beading in the center is shaped like a diamond and I love the open back! I felt excited, emotional, and like a bride when I found the one!
Do you have any dress-shopping advice for future brides?
Go in open-minded! You never know what you want until you try it on. I thought I wanted something super boho with lace and bell sleeves. But that style ended up being super unflattering on me and I ended up with a fitted, beaded, Gatbsy-looking dress!
Tell us about your wedding day!
We got married in Joshua Tree, just the two of us. My brother officiated the wedding, which was really special. Tylar was waiting for me in the desert as I rolled up in a vintage white mustang. Once I got over to him, he turned around and cried when he saw me for the first time. We exchanged our vows, cried a lot, and then made it official! It was super easy and super simple, but it was absolute magic. After we finished the ceremony and the photos, we hopped in the convertible, blasted classic rock, and drove to Popeyes to end the night!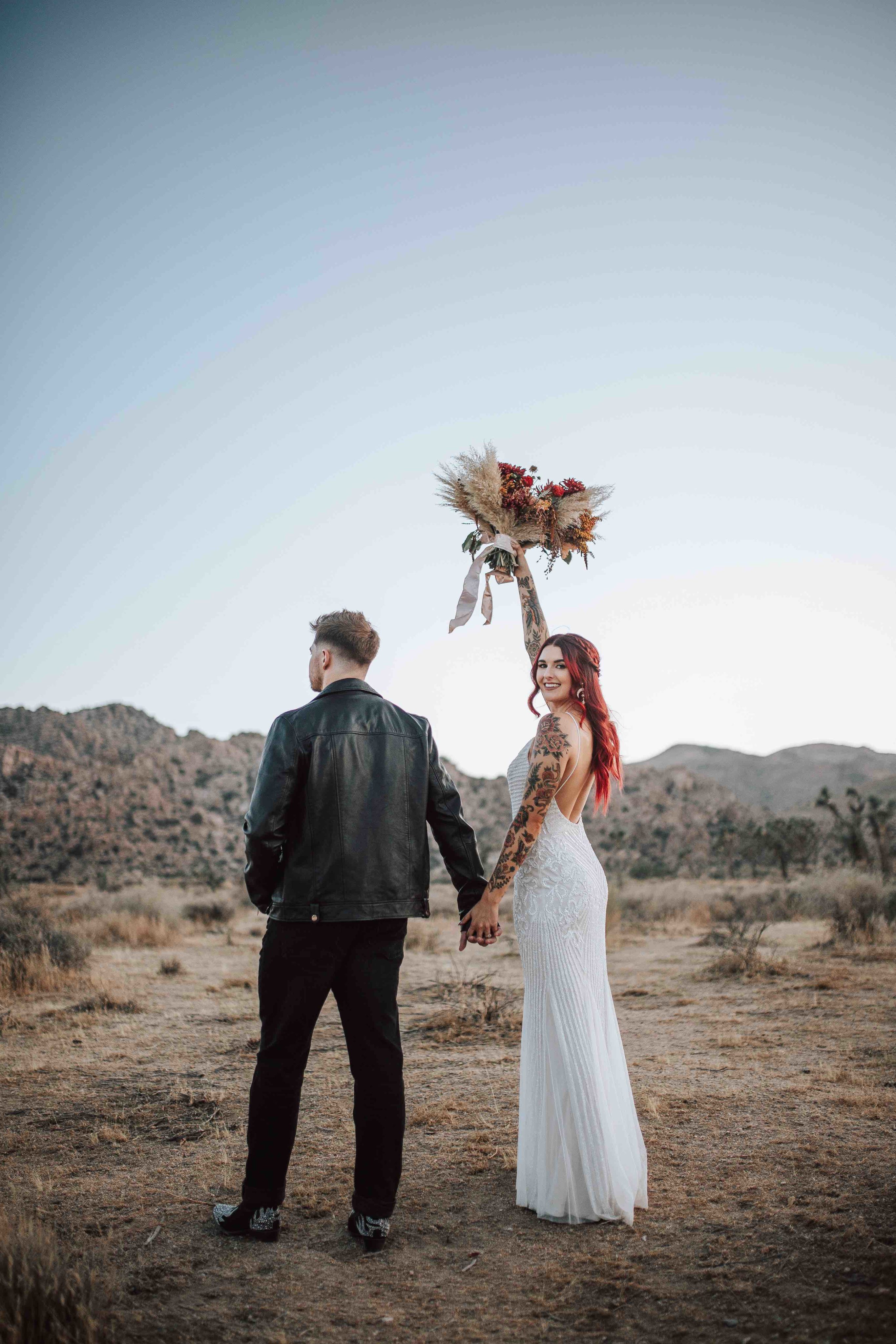 Was there a highlight or most memorable moment of the day?
Tylar's vows were everything to me. People get caught up in the location, the guests, the bridal party, and all that jazz but all I needed was to hear him promise himself to me. We both wrote our own vows and his were the most romantic thing I'd ever heard. He could literally give Nicholas Sparks a run for his money.
Did anything funny or unexpected happen?
I almost forgot my bouquet. Ty left for the desert first so that he didn't see me in my dress and my brother drove me there in the mustang after. The mustang wouldn't start at first, and when it finally did I realized I forgot my bouquet when we were halfway there so we had to turn back around and get it.
Is there something you wish you had known before the big day or while you were planning the wedding?
Honestly, it went so well. I highly suggest eloping because it went exactly as planned and was stress-free!
What did you do to stay stress free on your wedding day?
I listened to my favorite songs all day to distract my mind!
What's your best wedding planning advice? And what advice do you have for brides that are planning their weddings right now?
Get eloped! It's so special having the ceremony for just you and your partner. Even if you celebrate or have an official ceremony later, I highly suggest taking a day for just you two. There was something so magical about being alone in the desert with just our vows and promise of infinite love. It was easy going, relaxing, special, intimate, romantic, and perfect.
MORE DETAILS:
Date: September 25, 2020
Location: Joshua Tree National Park, California
Dress Styles: Beaded Sheath V-Neck
Photographer: @hannahdeklephoto
Love this chic boho elopement at Joshua Tree? Read more real wedding stories here!
We know how important your wedding day and special events are to you and we are doing everything in our power to serve you! You can shop with us 24/7 at davidsbridal.com or come see us at your local David's Bridal. Plus we are here for you to help guide you through your wedding planning! See tips for starting to plan your wedding at home, shopping for your wedding dress online with confidence, and more on the blog.
Related Posts: