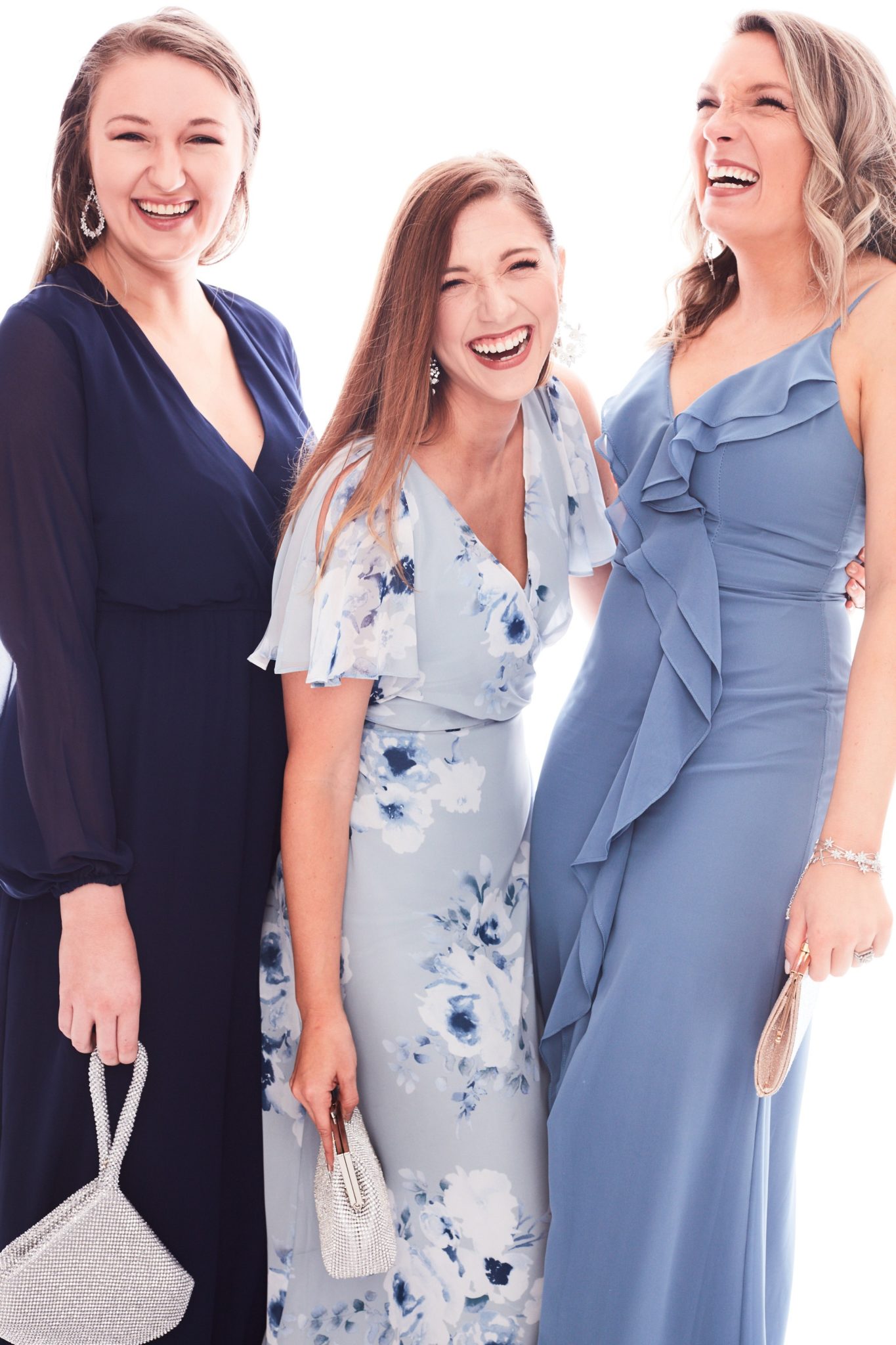 28 Jun

The Best of Maid of Honor Dresses
Dresses to set your MOH apart from the rest of your party
It's safe to say that your Maid of Honor is your #1 gal! She has not only played an instrumental role by your side but also helped to bring your wedding plans to life! So whether the role is being played by your sibling, childhood bestie, or sorority sister, your right-hand woman deserves to feel special on your wedding day. They've taken bridesmaid duties to the next level and now it's time for them to stand out. And what better way to do that than with their gown!? Keep reading for dresses to set your MOH apart from the rest of your party!
Subtle Shimmer
There's no better way to have your MOH stand out than in sparkles! If the rest of your bridal party is rocking the same gown, a little touch of glam is the perfect way for your MOH to feel extra-special. This art-deco inspired sequined pattern takes a figure-flattering gown to the next level and will help your maid of honor pop in the bridal party portrait.
Floral Favorite
Want your MOH to really look the part? Floral is a fan favorite! If the rest of your party is in a solid hue, a punch of print and pretty sleeve details adds a beautiful dimension! Go for a printed gown that shares some similar characteristics as the rest of your girls. Think about the same fabric, similar necklines, or pulling from the same color palette.
On Trend Velvet
Fall brides, this one's for you! Embrace your wedding season by giving your MOH's dress a seasonal twist! The texture is a great way to add dimension to your bridal party and velvet is right on-trend. Added to a mixed and matched party, or even a group of other off-the-shoulder gowns, this velvet dress will surely shine.
Whimsical Details
This dress is all about romance! A whimsical tulle skirt coupled with an embellished embroidered bodice makes this gown a dreamy delight for your MOH! On its own, or next to the rest of your party, the charming details on this gown are enough to make your favorite gal stand out!
Twirl-Worthy Skirt
A full skirt is a Maid of Honor's best friend! Dance-floor approved and ready for a walk down the aisle, your MOH will be a picture of elegance in this sleek satin gown! Also, with a variety of necklines to choose from, your maid of honor can pick her favorite to show off her personal style!
Your wedding wouldn't be complete without your nearest and dearest standing by your side. There are countless ways to shine a spotlight on your Maid of Honor and a unique dress is a perfect place to start! Whether its a play on texture, a beautiful print, or a touch of sparkle, these dresses will set your MOH apart from the rest of your party while still feeling like herself!
Head to our Instagram and Pinterest for more bridal party inspiration. Plus, book your bridal party appointment to pick your palette and your styles!
Related Posts: