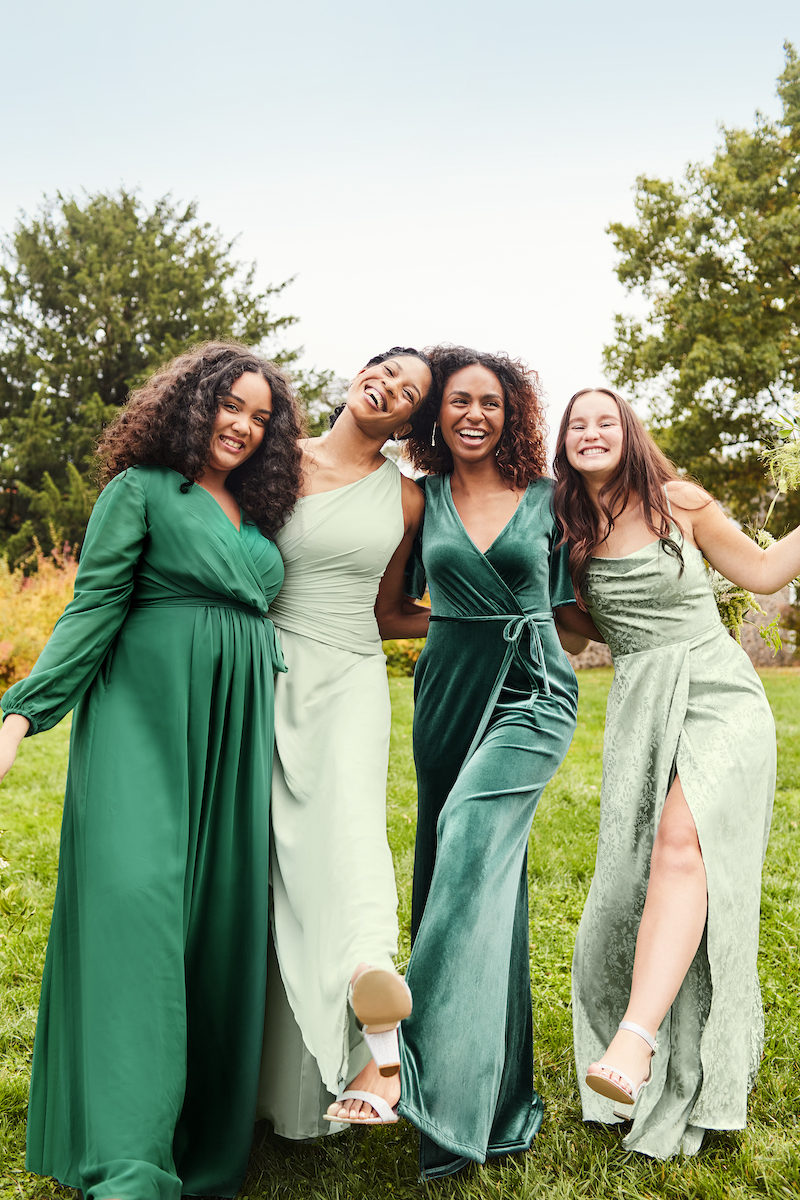 03 May

2023 Bridesmaid Dress Trends
New Season, New Trends
It's time to say 'hello' to all-new styles & trends. From favorite fabrics to popular silhouettes, read on for 2023 bridesmaid dress trends perfect for a bride getting married this summer or fall!
Satin & Shine Fabrics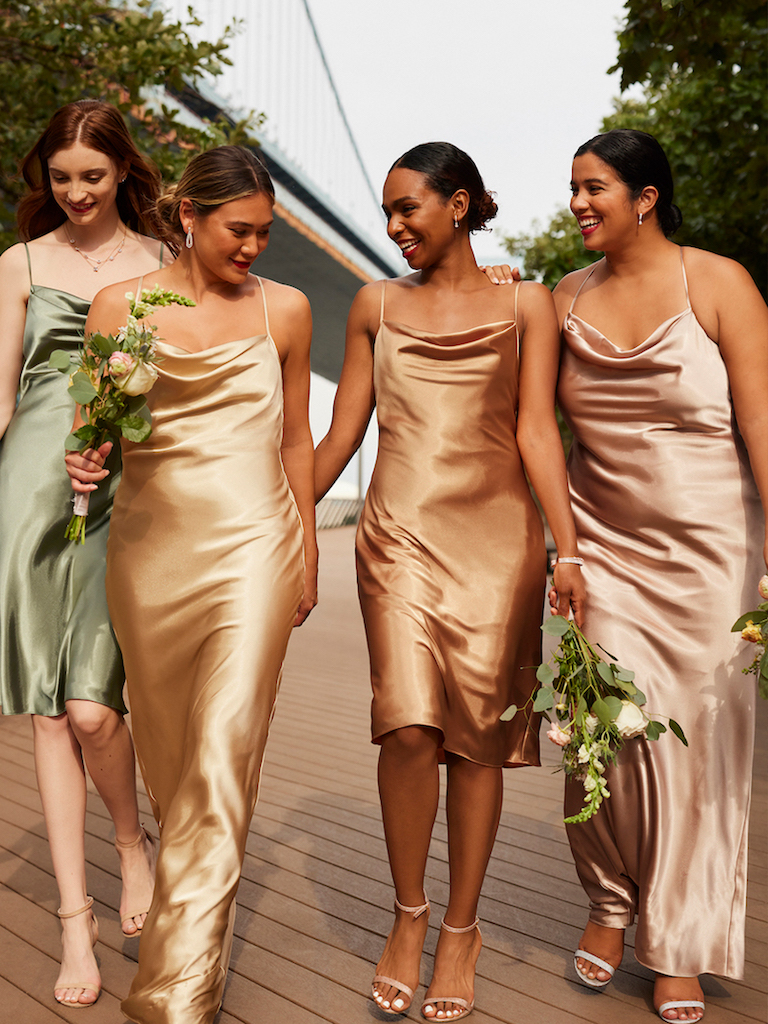 Style F20609 in Eucalyptus & Sundial and GS290113 in Golden & Sand
Give your girls a little extra glow this season by dressing them in satin & shine fabrics. These sleek and shiny styles will have your maids looking fabulous & on-trend. We especially love these luminous styles in a slip style for a fun nod to the 90s.
Mix & Match Parties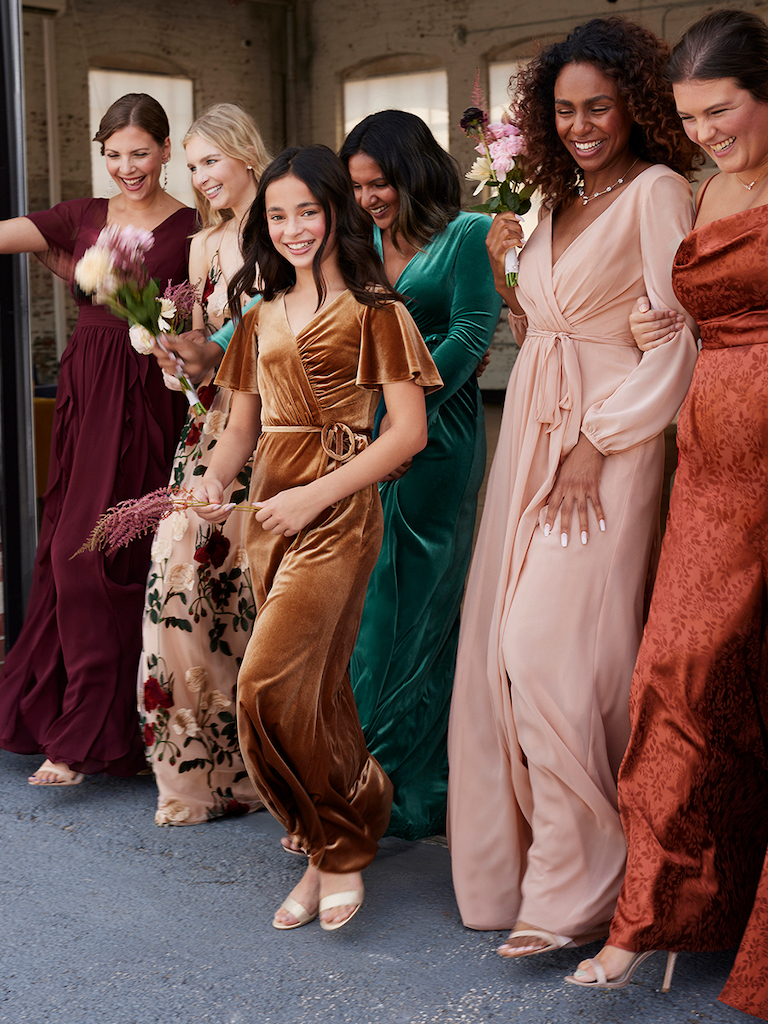 Style F20487 in Wine, F20489, F20610 in Gem, JB9954 in Tawny, F20457 in Golden Metallic & F20573 in Cinnamon
Brides this year are letting their creativity flow with mix-and-match bridal parties. Whether you're mixing it up with color, neckline or fabric, the variations are endless! An easy way to achieve this look is to give your girls one thing that has to be consistent in each dress—like a color or fabric—then let them choose their own dresses. Experiment by mixing fabrics, textures, colors, and silhouettes for a truly one-of-a-kind look.
Slim & Fitted Silhouettes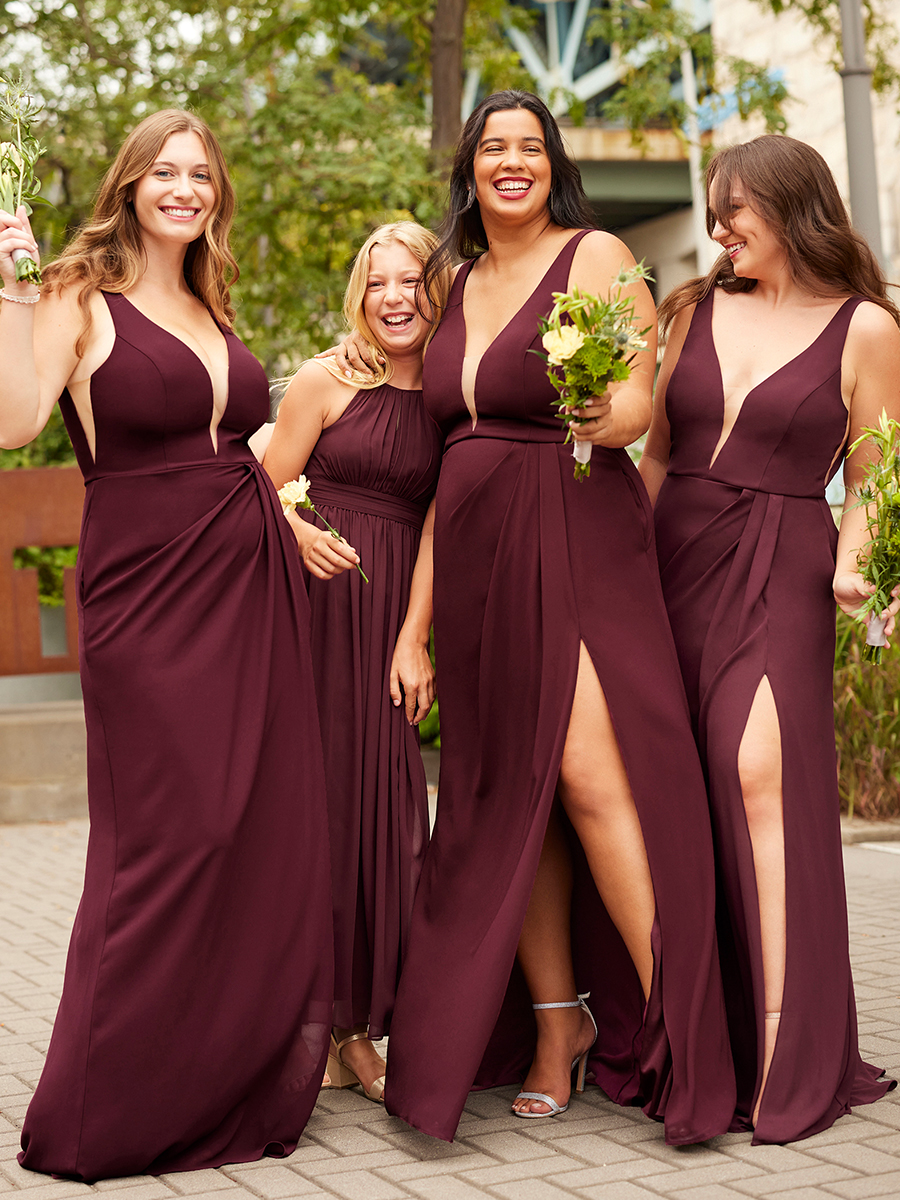 Style F20574 in Wine
Next on our list of top trends are slim and fitted silhouettes. These curve-hugging styles are designed to flatter any figure and give you a subtly sexy look. Brides are especially loving mermaid, trumpet and sheath silhouettes for their bridal parties. Our newest collection features these silhouettes in a wide range of aesthetics, so you're guaranteed to find something that fits your vibe.
2023 Bridesmaid Dress Color Trends
Burnt Orange & Rust
Image 1: Cinnamon | Image 2: Sundial
Orange is back in a big way! Summer and fall 2023 brides are opting to dress their party in rust-colored hues to tap into this trending shade. For the perfect mix and match look, have your maids choose dresses in the colors Cinnamon, Desert Coral, Sienna or Sundial.
Navy Blue & Black
Image 1: Marine | Image 2: Black
Dark, moody have entered the chat! Brides looking for a classy, traditional wedding look are choosing navy blue and black for their maids. Not only do these colors look great with every skin tone, but they're classics, meaning your wedding will never go out of style!
Earthy Greens
Image 1: Gem | Image 2: Eucalyptus | Image 3: Emerald & Dusty Sage
Green was the #1 bridesmaid dress color in 2022, and is continuing to trend in 2023! For a summer wedding, consider lighter shades like eucalyptus, dusty sage and emerald. For a fall or winter wedding, dark greens like gem and martini olive will look beautiful against the changing leaves.
Planning a wedding? Sign up for our Diamond Loyalty program—it's free!—and find local wedding vendors. Follow us on Instagram, Pinterest, TikTok and Facebook for more spring 2023 bridesmaid dress trends, or click here to book an appointment.
Related Posts: