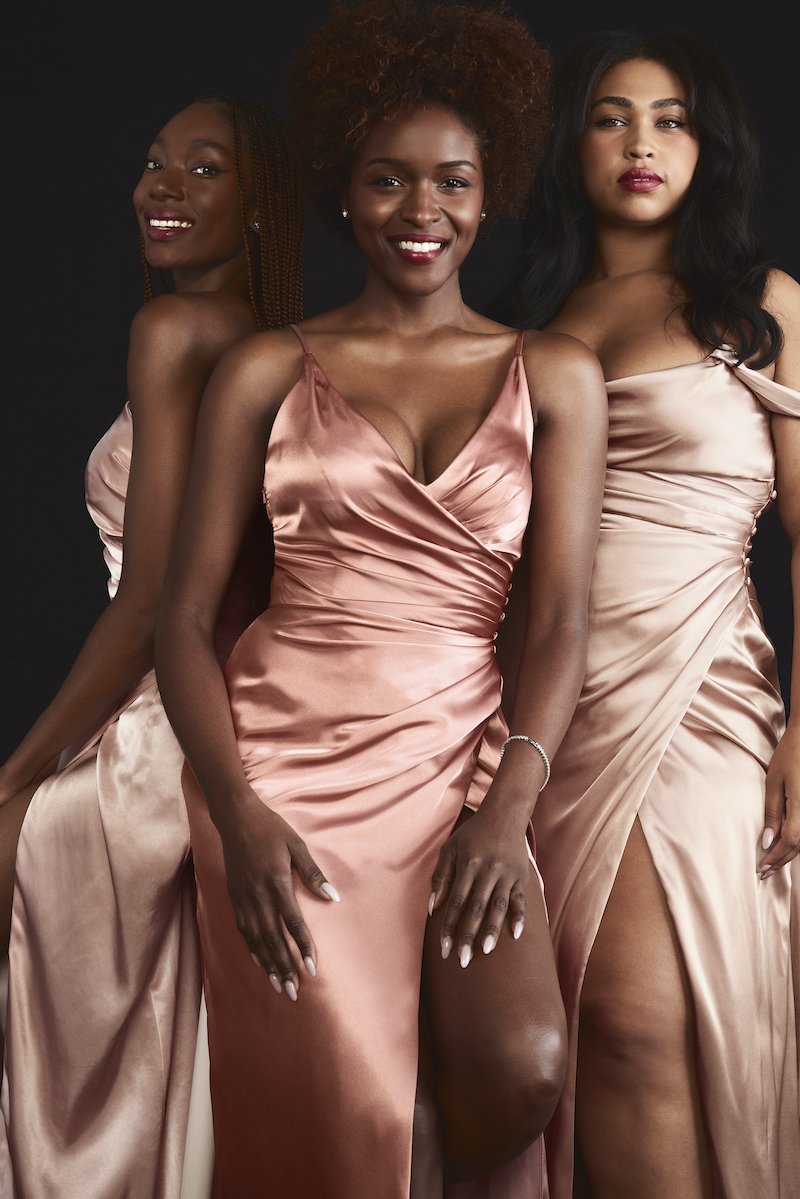 12 Jul

Our Favorite Charmeuse & Satin Bridesmaid Dresses
Shiny, Silky & Sophisticated
Bridesmaids deserve to shine too, don't you think? That's where our exclusive Galina Signature bridesmaid dresses come in. This glamorous collection is full of sexy silhouettes with dramatic details rendered in lustrous silky-smooth fabrics like satin and charmeuse. The way the light catches these bridal party styles makes for truly wow-worthy wedding photos.
Our charmeuse styles come in 22 colors, so you have plenty of hues to pick from to match your vision for your wedding day! Keep reading for a look at four trending tones.
Knockout Neutrals
Style GS290018 in Tawny, GS290063 in Golden, GS290020 in Sand
You don't need to pick a super-saturated color to create a major impact. Golden, Sand, and Tawny are like your favorite metallic wedding accessories: They look amazing and go with pretty much anything—so whatever your venue or other wedding colors, you're golden!
Hardly Basic Black
Style GS290017, GS290030 and GS290020 in Black
Black bridesmaid dresses are trending! And there's nothing better than a classy, silky black dress. Your besties will be thrilled if you choose this shade because they'll be able to wear their dresses again and again, even after the wedding.
Green with Envy
Styles GS290019 in Dusty Sage, GS290020 in Eucalyptus, GS290018 in Martini Olive, GS290113 in Gem
From fresh shades like Dusty Sage and Eucalyptus to deeper hues like Gem and Martini Olive, our Galina Signature greens will help your bridesmaids shine as they walk down the aisle.
Wine All the Time
Style GS290067, GS290030 in Cinnamon & GS290034, GS290017 in Wine
Warm hues such as Cinnamon and Wine look especially luxe at fall and winter events. These colors call to mind the seasons' changing foliage and bright berries—and perhaps a glass of your favorite beverage!
Fall in love with one (or all) of these styles? Try these silky charmeuse and sexy satin bridesmaid dresses on at your local David's Bridal and browse more styles online at davidsbridal.com.
Planning a wedding? Sign up for our Diamond Loyalty program—it's free! Follow us on Instagram, Pinterest, and Facebook for more charmeuse and satin bridesmaid dresses, or click here to book an appointment.
Related Posts: