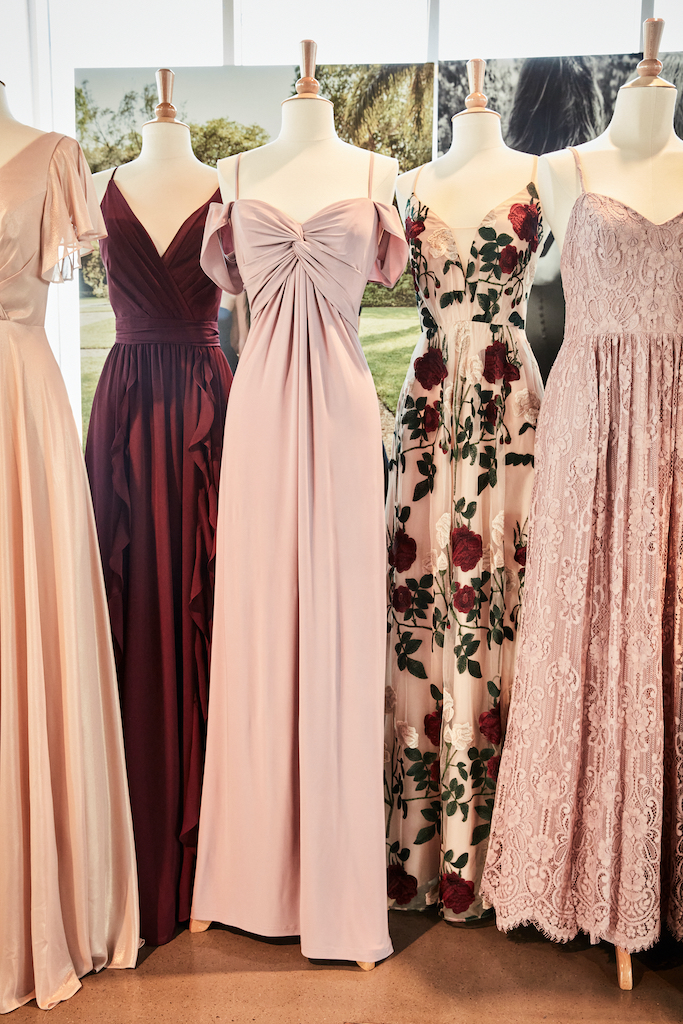 16 Nov

Spring 2022 Bridesmaid Dress Trends
Trending New Looks For Your "I Do" Crew
We've walked through all the latest bridal trends for Spring 2022 and now it's time to give your leading ladies some love, too! If you're getting married in 2022, say hello to the ultimate style guide with all the latest on Spring 2022 bridesmaid dress trends. Plus, keep scrolling for an exclusive look at our new collection!
Browns and neutrals
Neutral tones are having a major moment! For a modern and on-trend bridal party, pair the colors Golden, Sand, and Cinnamon together for a palette that will accompany each other beautifully. For a glam look, pair Golden, Sand and our newest color Tawny in shine fabrics for a mismatched metallic look.
GS290063 in Golden, GS290018 in Tawny, GS290035 in Sand
Bold Pinks and Reds
Amp up the romance with a chic color palette of pinks and reds! Some of our newest dresses for maids feature a combination of bold and soft shades in a variety textures that complement each other perfectly (because who doesn't love a good mix and match moment!). This trend will flatter all your besties and will look gorgeous for the walk down the aisle.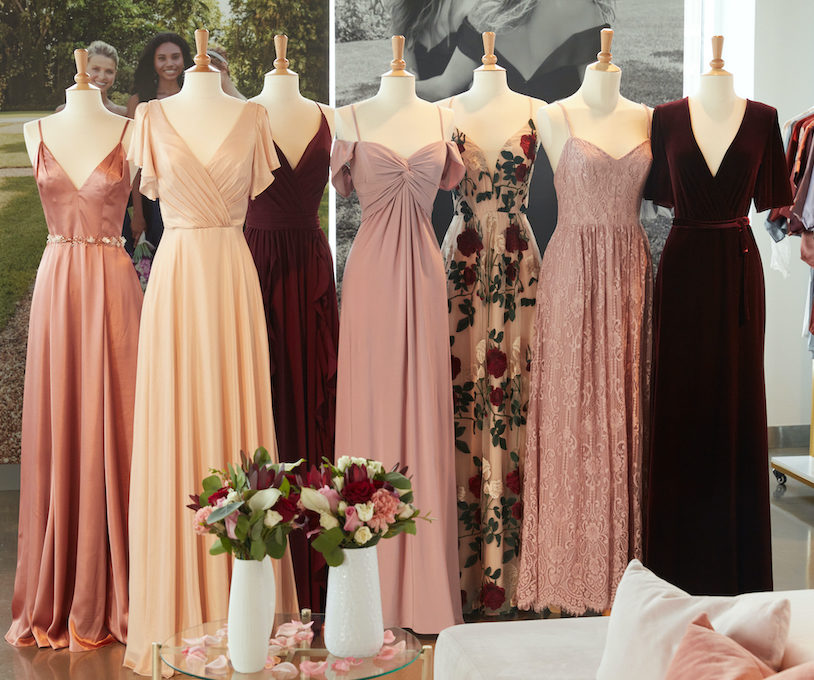 GS290019 in Desert Coral, F20065 in Gold Metallic, F20480 in Wine, F20537 in Quartz, F20489 in Floral Multi Print, F20478 in Dusty Pink, F20469 in Wine
Jewel Tones
It's no surprise that jewel tones have found themselves on the top trending list for the upcoming season. These shades range from show-stopping blues like Sapphire and rich greens like Emerald and Gem to captivating warm tones like Cinnamon. These bold hues will look great on all skin tones while the carefully crafted fabrics like velvet, satin, and charmeuse will have your girls shining all night long!
F20469 in Gem, F20098 in Emerald, GS290054 in Sapphire
We can't wait to see which 2022 bridesmaid dress trends are our brides' favorites. Sign up here to be the first to see our Spring 2022 collection, which will begin arriving online and in-store starting in December 2021.
Planning a wedding? Sign up for our Diamond Loyalty program—it's free!—and find local wedding vendors. Follow us on Instagram, Pinterest, TikTok and Facebook for more 2022 spring bridesmaid dresses, or click here to book an appointment.
Related Posts: