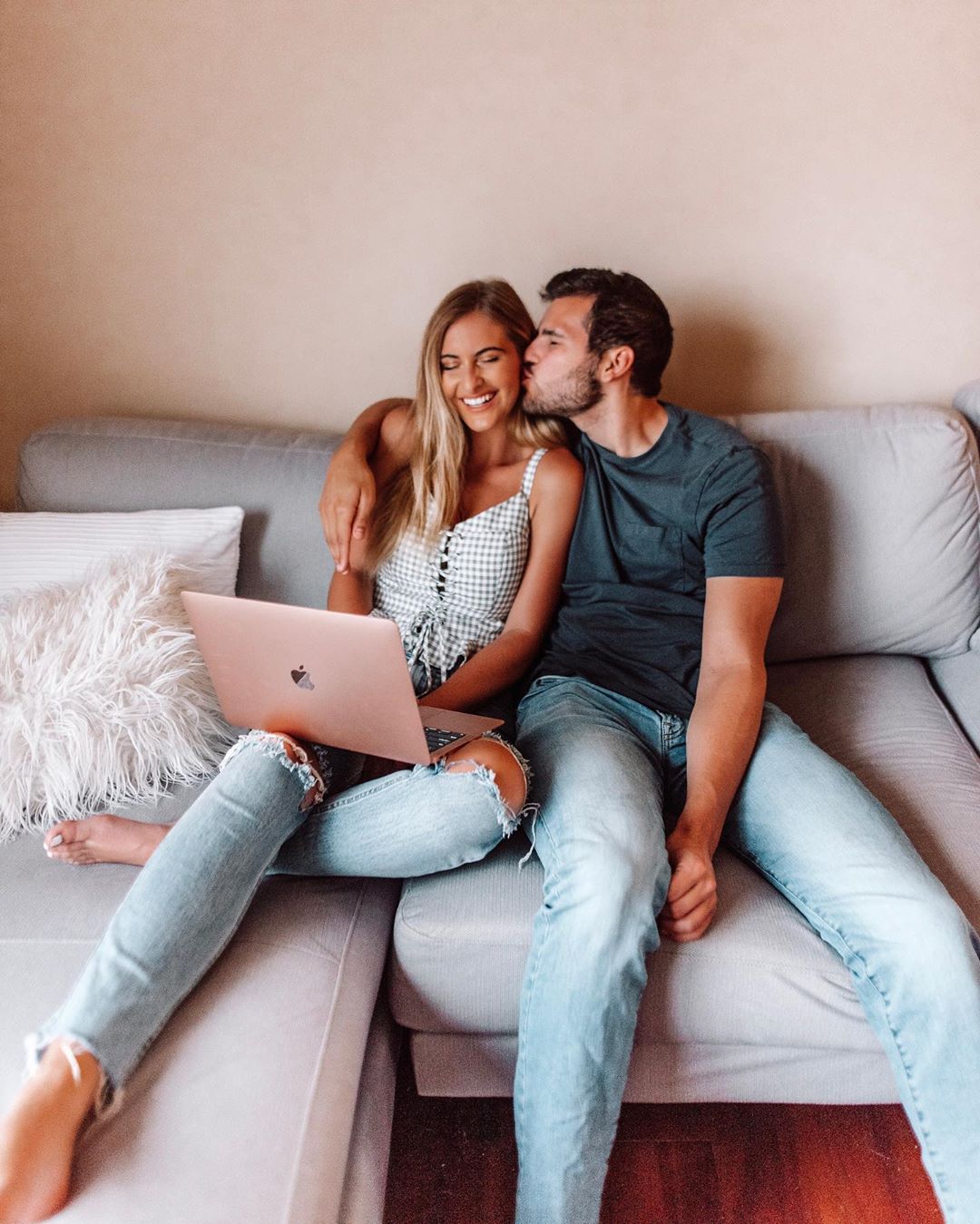 22 Mar

Shopping for Wedding Dresses Online with Confidence
Tips for ordering your wedding dress (or bridesmaid or special occasion) online with ease
It can be a little intimidating to shop online, especially if you're shopping for wedding dresses online. But what's more convenient than shopping in your p.j.'s on the couch?! Cozy up because we're breaking down everything you need to know to order your dress online with the utmost confidence. Bonus: these tips apply whether you're shopping for your wedding dress, bridesmaid attire, or an outfit for any other special occasion.
Ordering Timeline
Before you begin, it's important to understand the ordering process so you only fall in love with a dress you can get in time for your event. Some gowns are special order and aren't created until your order is placed, which means they take a little more time to get to you. Our factories are open and operating, so special order gowns are on track to arrive by the original estimated delivery date (typically ~16 weeks from the order date). If you need your dress sooner, we have tons of dresses (on average, over 300,000!) in-stock and ready to ship! For those ready-to-go looks, our normal shipping timeline applies and your order will be at your front door in 3-10 days! Ordering outside of the US? Learn more about international shipping here.
Fabric + Silhouette Guides
First, when shopping for wedding dresses online, you'll need to understand a little about the different types of fabrics and dress shapes that will suit your style and body type. The fabric and silhouette are the foundation of any dress. Let's start with fabric: There are nine different types of fabric, ranging from lightweight (tulle, chiffon, mesh) to medium (lace, organza, sequin, crepe) to heavy (mikado, satin). Dreaming of something airy? Lightweight fabrics are the way to go! For something for traditional, opt for a heavier, lustrous fabric. Learn more about wedding fabrics here.
Then, thinking about silhouettes can help narrow down the best dress for body types of all shapes and sizes. You'll have the choice between a ball gown (defined by a bell-shaped skirt), mermaid (your classic fit-and-flare), sheath (long, straight lines), A-line (subtle flare like a capital A), separates (two pieces or removable skirts), or a jumpsuit (wide-leg or tapered pant). Check out our silhouette guide here.
Finding Your Style + Color
Once you have an idea of the different fabrics and dress shapes, time to find the one! Our wedding dress finder and bridesmaid dress finder are useful (and fun!) tools to use when shopping for wedding dresses online! These quizzes will help narrow down your preferences, from vibe to neckline to sleeve length, and give you specific dress recommendations to consider. Need even more inspiration? Visit our real bride and bridesmaid galleries to see a variety of dresses IRL. Or see check out our most-loved wedding dresses and bridesmaid dresses — tried and true favorites, according to DB brides and maids like yourself!
When it comes to colors, we offer color swatches online so you can see the DB Maids color palette up close and personal! Try a few, especially if you are considering a mix & match party, the swatches ship for free!
How to Measure Yourself
While shopping for wedding dresses online, it's important to know your measurements to ensure you order the right size. Here's how to measure yourself:
Before you get started. Put on undergarments similar to those you will wear with your dress. Not sure which undergarments you'll need? No problem! Wear those that make you feel most confident from your existing collection
Measuring tape (or a substitute.) You'll need a soft measuring tape or piece of string and traditional measuring tape, ruler or yardstick.
Length from Hollow to Hem. Start at the center of the collarbone (your "hollow") and extend down to where you want the bottom of the dress (the "hem") to end.
Bust. Measure across the back and fullest part of the bust (not under the bust).
Waist. Bend to one side to find the crease or natural waist. Measure across the narrowest part.
Hip. Standing with feet together, measure at the fullest part of the hip
From there, consult the size chart beneath the size boxes on each product page and select the size that fits your measurements. If you find yourself between sizes, choose the size that fits your widest measurements; it's easier to take in than let out sections of your dress (and you'll feel more comfortable wearing it in the end.) We offer Plus size, Petite, and Tall options for select styles to further ensure a perfect fit.
Virtual Stylist
Need help ordering? Our virtual assistant Zoey is here to answer questions or assist with orders as you're shopping for wedding dresses online. Text VIRTUAL STYLIST to 38201 to get started or you can always email us at dbcares@dbi.com for assistance, too!
We are here for you and are committed to helping you get the perfect dress! Order your dress online at davidsbridal.com and follow us on Instagram, Pinterest and Facebook for all the inspiration!
Featured image by @josie_sanders
Related Posts: