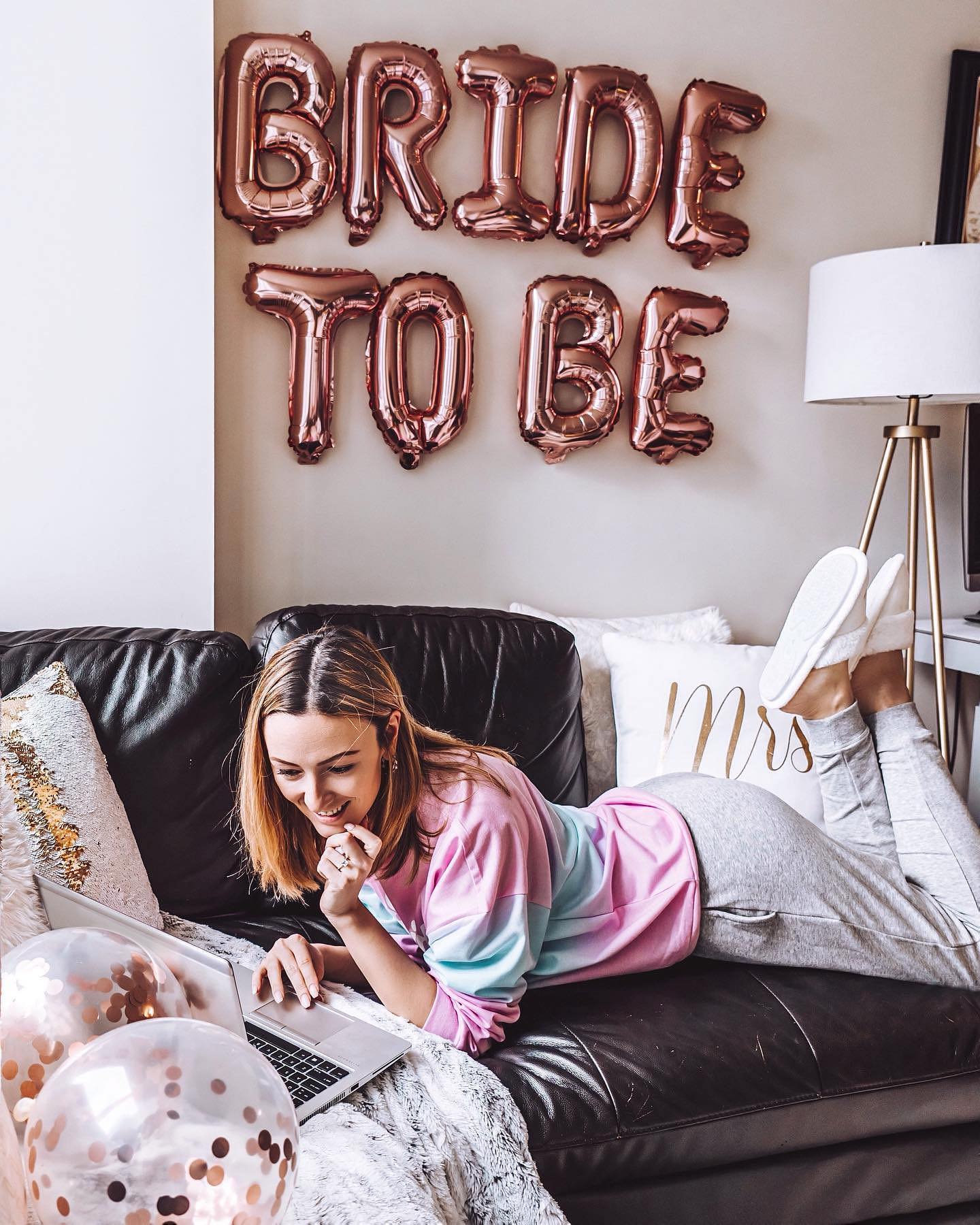 28 Mar

How to Start Planning a Wedding On Your Own
21 Essentials To Having A Wedding At Home
Trying to cozy up and knock out some wedding planning? Now is a perfect time! Tackle some big wedding to-do's right at home with the help of some planning tools, inspirational guides, and expert advice! Keep reading for tips on how to start planning a wedding right from the comfort of your home!
1. Curate Your Wedding Vision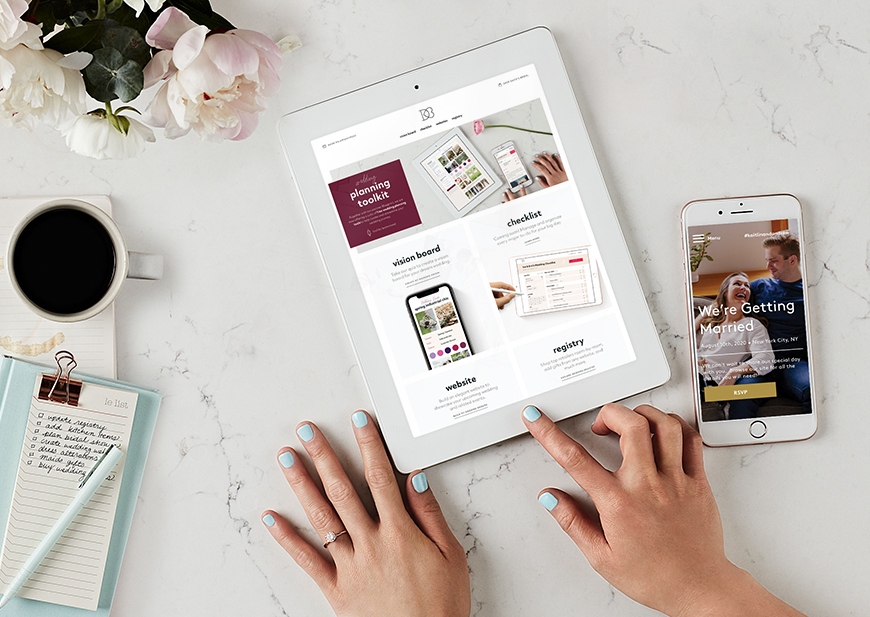 Your wedding day should reflect YOU! If you are recently engaged or in the early stages of wedding planning, our Vision Board is a great place to start when wedding planning online. Take all the inspiration and ideas that you have and after answering a few questions, you'll get a personalized wedding board of ideas for your big day. Use this to help guide your planning and share with friends and family that are helping you plan! Plus, use resources like Pinterest and Instagram to source even more color, flower, and dress inspiration, too.
2. Decide On A Season + Date
You will want to think about a season and a date that will work for both you and the location of your home. You probably will not want to say "I do" in the winter if you live in a cold climate location since that would limit your options for your space and the same goes for living in a warm climate where you probably will not want to host your wedding day in your rainy season. Work to find a date that compliments both your location and your home.
3. Narrow Down Colors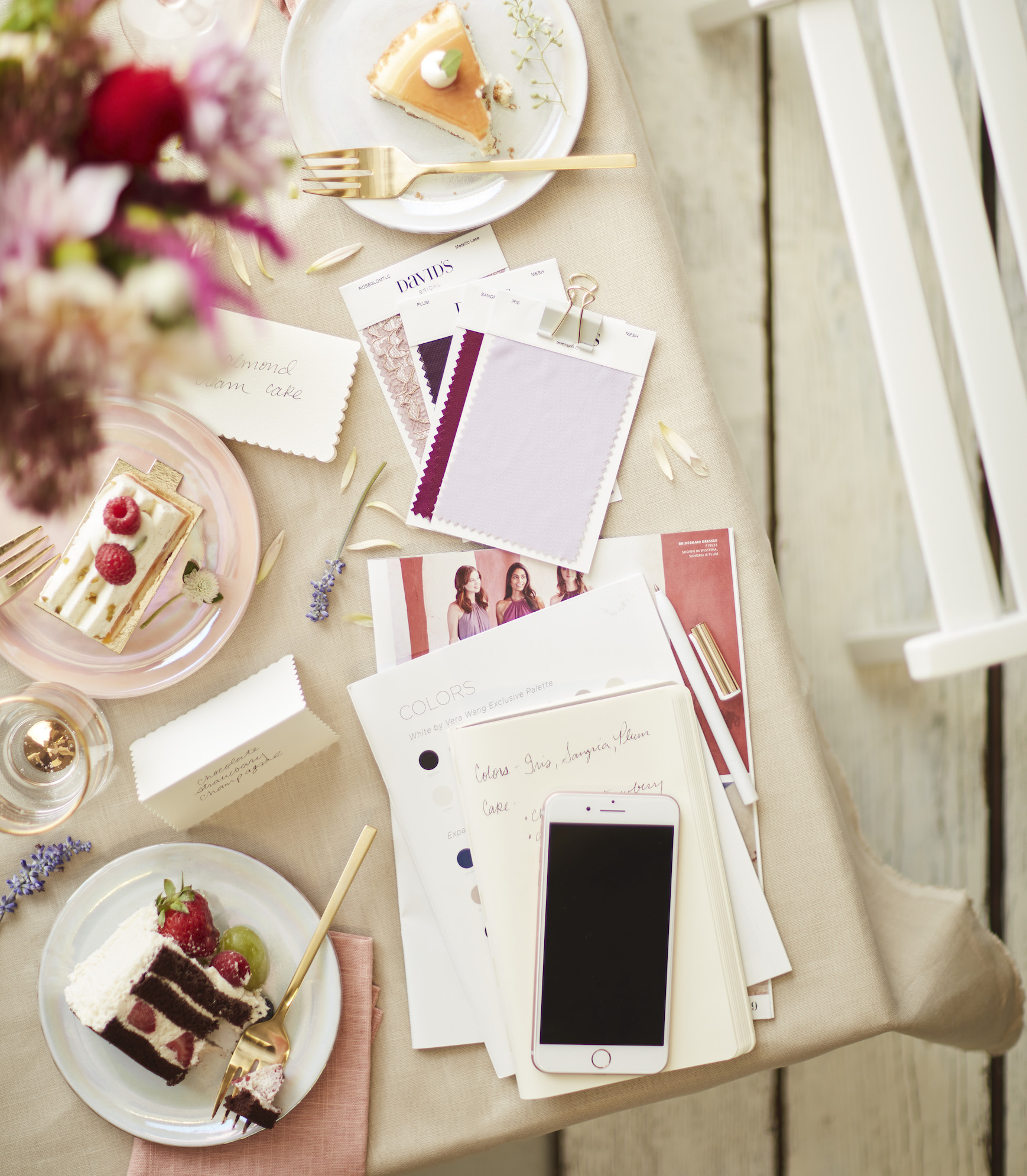 We know that color is such an important part of your wedding day – from the invites to the accessories and, of course, to your maids! Order color swatches of your favorite David's Bridal shades to see the colors in real life, so you can narrow down your top picks or pair a mix & match palette together perfectly.
If you want to start your search for the dress for both you and your maids, see our tips for shopping online with confidence and virtual bridesmaid dress shopping! You will find tips for finding the perfect dress, with all you fav details plus how to order the just-right size.
4. Think About A few Logistics
Hosting a wedding at home can be magical but you will need to think about a few logistics that you might have to consider if you were tying the knot at a traditional wedding venue. A few of the top of mind logistics would be will your number of guests be able to fit in your space, which spaces within your home will you want to utilize and what sort of vendors will you need to contract with to make your dream wedding come to life?
5. Ask Your Maids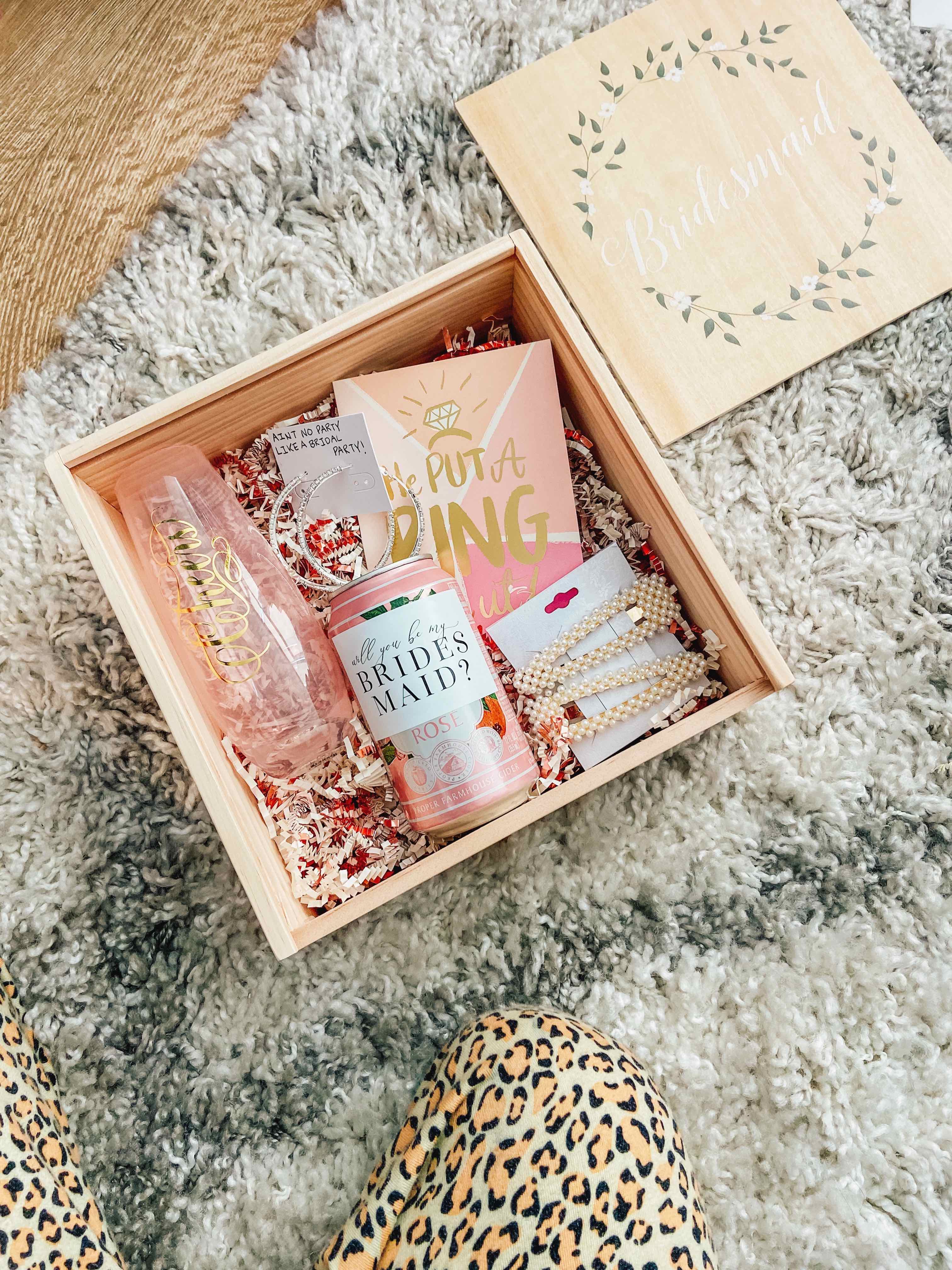 Now it's time to pop the question to your maids! A curated bridesmaid box is the perfect way to ask your best gals to be part of your special day. Shop online for some maid-to-be essentials, like a satin robe, personalized tumbler, or cute accessory, then DIY your box together (complete with a sweet note!) Ship them out for a super fun way to brighten your maids' day!
6. Create Your Wedding Website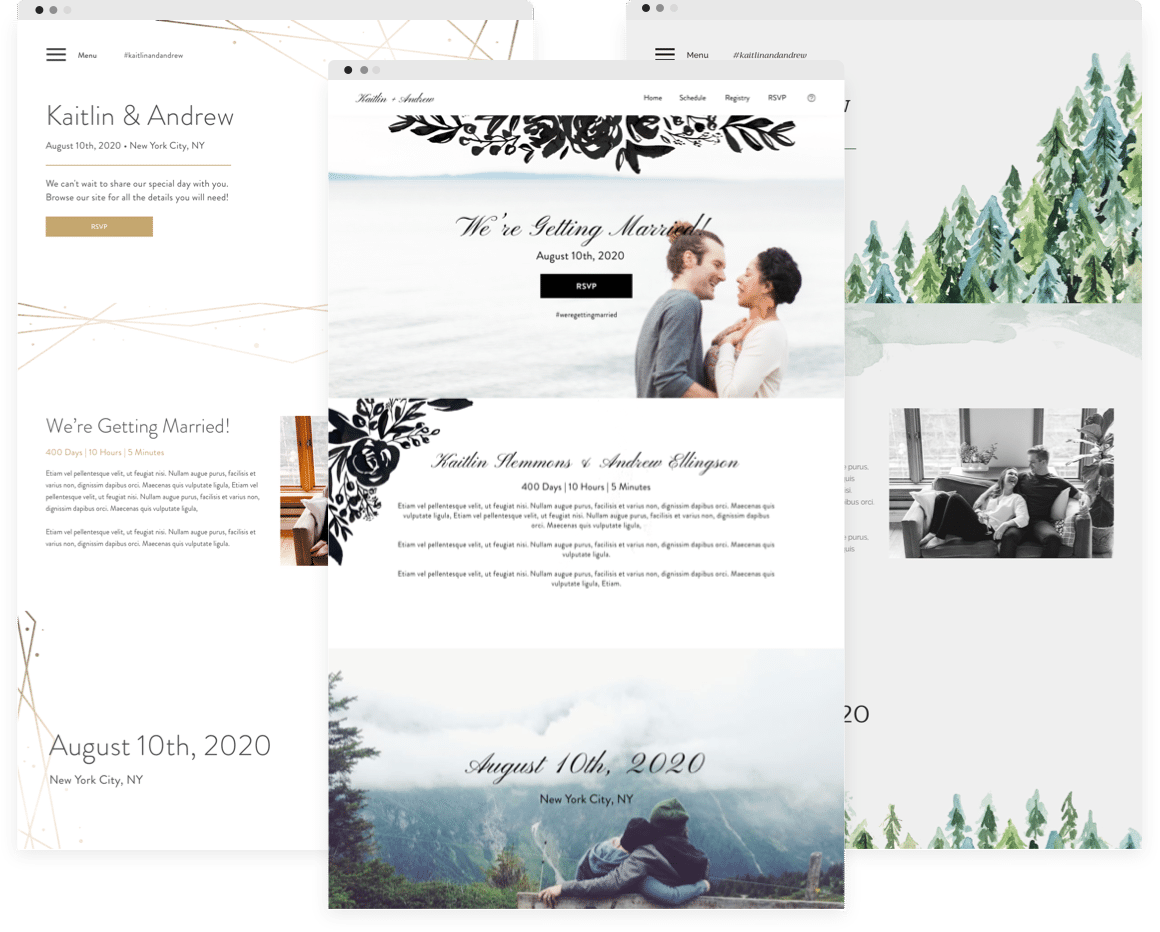 A personalized wedding website is essential to keep all your guests up-to-date on wedding plans and wedding related events! You can customize your wedding website to reflect you and your partner's vibe and easily update it if plans change. You can manage the details all in one place, like your guest list, hotel accommodations, and your registry so everything is easily accessible for you and your guests!
7. Register with Blueprint
Speaking of your registry, shopping for newlywed essentials has never been easier! You can ditch the scanner and going to countless stores and now simply register with all your favorite retailers online. In addition to kitchen must-haves and fresh linens, you can include a honeymoon fund or custom cash gifts that suit your personal needs. Get started on yours, here!
8. Consider The Size Of The Guest List
Crafting a guest list is a critical step in wedding planning but it is even more so if you are planning on having your wedding at home since you will need to make sure your space can accommodate your guests. When considering your space think about if you will be using both the inside and outside of your home or if you plan to just keep it to a backyard type of event. Once you have crafted your guests list it is best to match that up with the space you have available. Also, don't forget about rentals such as tables and chairs – those take up precious space as well which means your guests list could have to shrink.
9. Craft A List Of Rentals You Will Need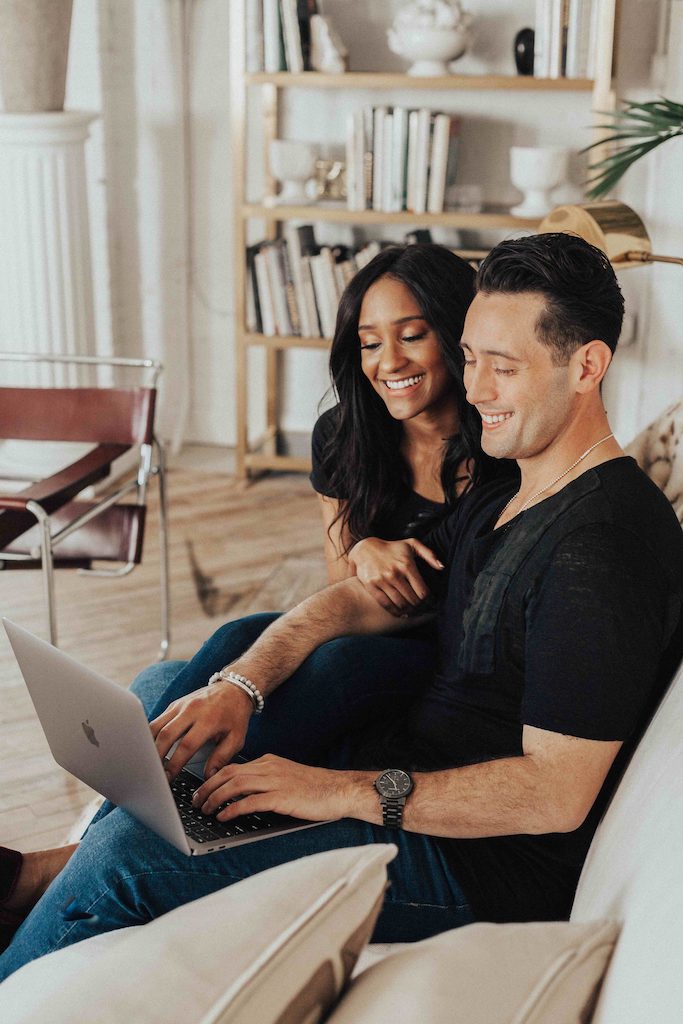 There is a good chance you don't have enough of tables, chairs, linens, china, and bar ware for your wedding so you will need to work with a rental company to fill in where you are missing. Contracting with a rental company early on in the process can take some of the stress off since you know you will have what you need to host come wedding day.
10. Check For Parking Restrictions
You would not believe how many neighborhoods have restrictions on parking. You should contact your town or city offices and get the info on how many cars you can have parked in and around your home and if there are any restrictions you need to know about. If you have a large number of cars you could consider renting a parking lot from a close church or school and providing shuttles.
11. Inquire About Neighborhood Noise Restrictions
Just like the parking information you will most definitely need to find out about any noise restrictions especially if you are planning on having any entertainment at the reception. A simple call to your town or city offices can help you get a good understanding on this.
12. Create A Weather Backup Plan
There are many things you can control on your wedding day but the weather is not one of them. It is always best to be able to have a plan in place even if you don't ever use it than to not have one and panic. Have a good plan in place for if it rains and you need to move everything either to a tent or inside your home and the same thing goes for snow and or ice.
13. Plan in Style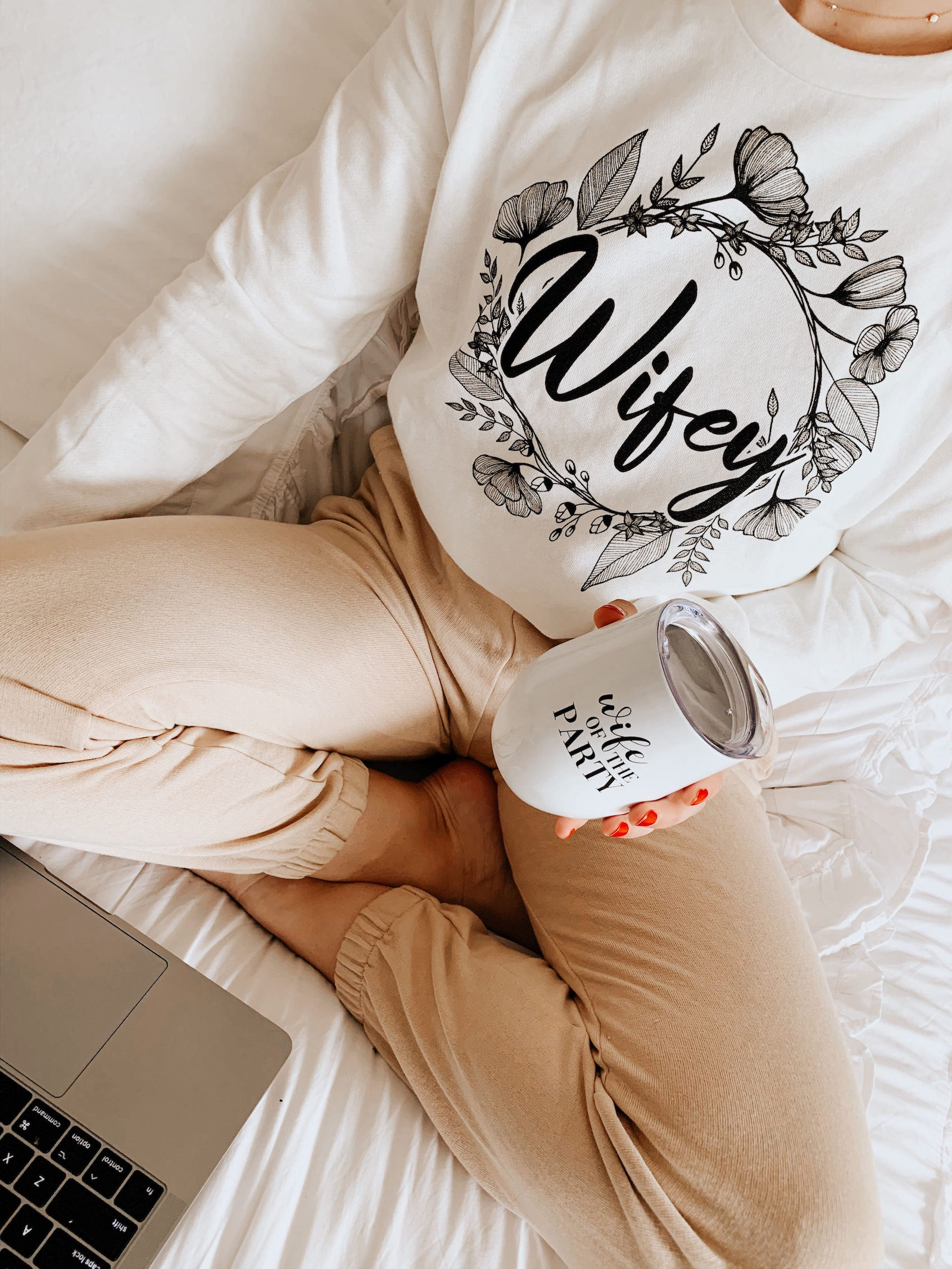 Styles IH4825FZ1086, IH4819AX0504, DVBF4477
If you're going to be hard at work planning your wedding, you might as well do it in style! Embrace your bride-to-be status and treat yourself with pieces you can live in, plan in, and wear on and after the big day!
14. Work With A Wedding Coordinator
Having a wedding at home is special but you don't want to have to play host at your own event. Look to hire a coordinator that can come in and do all the little things that keep the day moving so you can relax and enjoy your big day.
15. Get Creative With The Catering
Most of the time if you are hosting your wedding home you don't have the size kitchen a catering company would need to provide the food you want. Look to do something with a catering company that provides a mobile kitchen where they can prep, cook, and clean up or perhaps work with local food trucks to make your wedding dinner yummy!
16. Hire A Licensed Bar Service
It is best to hire a licensed bar service if you are planning to serve alcoholic drinks. You will want to make sure your guests get what they need but not too much of what they need and that everyone who is using the bar is of age so by having a licensed bar service you are providing great service to your guests and ensuring everyone stays healthy and happy.
17. Utilize Our Digital Wedding Planning Toolkit
Make sure you check out Pearl by David's, the game-changing digital toolkit that connects vendors with brides planning their big day. Explore all the ways you can bring your big day to life—from vision boards and checklists to finding the wedding dress of your dreams — all in one place and all for free!
18. Consider A Clean Up Crew
The last thing you will want to do when your wedding night comes to a close is start to clean up. Hire a clean-up crew that can come in at the end of your event do a quick clean up and then most likely they will return the next day for a full cleaning. Trust us, this is money well spent.
19. Rent Bathroom Facilities
Not many homes will have enough bathroom facilities for all your guests to use and you don't want long lines forming so we suggest you rent bathroom facilities that can be delivered. Before you say no, do a little research and you will see their are very nice options out there for mobile bathrooms including some with marble and running water.
20. Use What You Have
Before you go and spend a ton of money on things you think you need to buy take a moment a consider what you have. You might be able to repurpose your dining room table into the perfect bar table or you might use your living room furniture to create a lounge-type of area on your lawn you might even have bistro or white lights that can be used for lighting.
21. Craft A Grand Exit
Just because you are at your home does not mean you have to skip the fun tradition of having a grand exit. Think about leaving from your backyard and walking down the driveway with your guests holding sparklers or maybe you leave your garden party and make your way into your home with your guests sending you off with confetti.
Featured Image by @katiedreamcatcher
Related Posts: