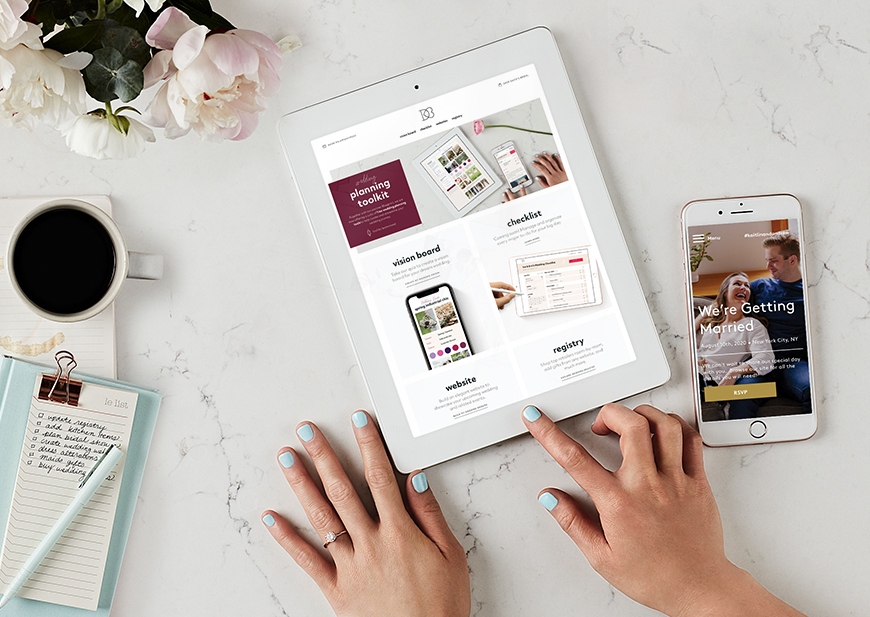 28 Jan

4 Easy Wedding Planning Tools You Need to Use
Everything you need to plan your big day like a pro!
Let's face it—planning a wedding can come with a little stress, from the guest list to the seating chart to all the details and opinions in between! It's our mission to make this exciting journey as streamlined, easy and fun as possible by eliminating some of the wedding planning woes. Enter: our new wedding planning toolkit in partnership with Blueprint! We're now offering a suite of planning tools to help you visualize your wedding day, keep everything on track, register for everything you need, and to let your guests know all of the details. The best part? It is all FREE. Read on for more about these new easy wedding planning tools you need to use!
Wedding Vision Board
You just said yes—let the wedding planning begin! First step: take our simple quiz to curate your wedding vision board. If you have no idea where to begin planning, we can help you think through all the decisions you are about to make. Already have an idea in mind? We can help show you what it all looks like together! Answer ten simple questions, like what's the vibe, how big (or intimate) is the guest list, and what David's Bridal dress silhouette is your favorite, and we'll populate tips and inspiration for your unique wedding day! Plus, you can immediately download your personalized vision board and easily share with your spouse, squad, support system who will be a part of the wedding planning journey with you.
Customizable Checklist
When should you shop for your dress? Did you drop off the deposit for the venue? Apply for a marriage license? It's important to stick to a timeline and make note of every deadline. You don't miss out on getting THE dress in time, your favorite photographer, or must-have food truck. From all of the FAQ's surrounding planning a wedding to those details that are unique to you, we offer the ultimate wedding planning checklist, so no task goes undone and no form unsigned. So. Many. Forms. You can assign a task, upload files, and set reminders—think of it as a digital wedding planner right at your fingertips!
Personalized Wedding Website
You spent months bringing the details of your wedding to life and you're in the home stretch! About 6 months before your wedding, create your personalized wedding website that houses all of the who, what, where, and when for your wedding and wedding related events, all with a unique-to-you touch. From a little background info on your special story to hotel accommodations, your guests will already feel like a special part of the big day. Include the URL on your save-the-dates so your guests can stay in the loop!
Universal Registry
Take the guesswork out of 'what should I get them?' for your guests! Blueprint's universal registry, you can register for practically anything and from anywhere. Browse all of your favorite retailers, import existing registries, and create group gift options! How does it work? Go room by room to save your household essentials, crowdfund your honeymoon or any excursions you have on your getaway wish list, or there are cash gift options for anything under the sun. Registry? Check.
We're so thrilled to offer these free and easy wedding planning tools and we are so excited to be a part of your day. When it comes to the 'what do I wear?!' part of planning, we got you! Book your wedding dress shopping appointment so we can bring your vision to life by way of your gown, accessories, maids, gifts and more!
Related Posts: