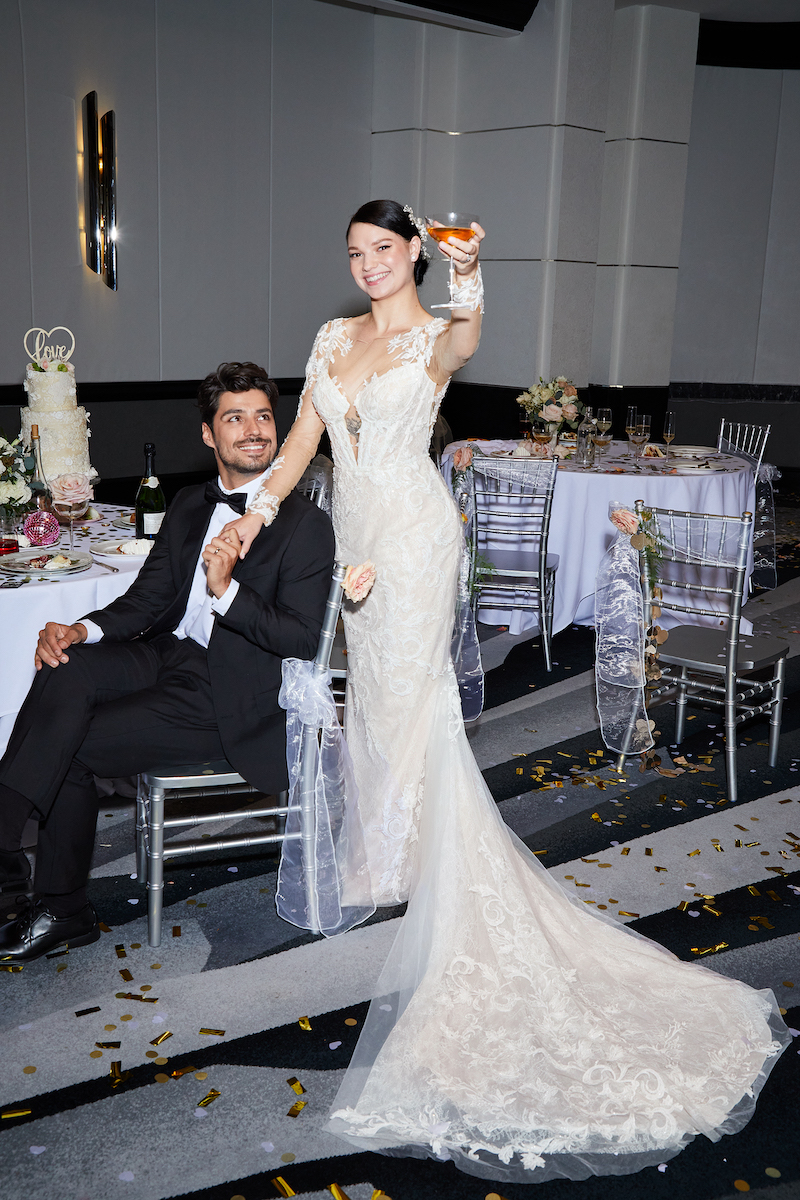 18 Aug

12 Fall Wedding Ideas

Spring and summer have traditionally been the most popular times to get married, but in recent years, more and more couples are picking the cooler months for their celebrations. In need of fall wedding ideas? From perfect weather to beautiful colors, keep reading to learn why we think autumn is the perfect time to say "I do!"
The Top Reasons to Plan a Autumn Wedding
1. The gorgeous foliage. Obviously! Mother Nature will provide a colorful backdrop for your ceremony and photos. Plan your wedding for peak leaf-peeping time, and revel in the beautiful photos that follow. Find a venue that includes an area in or near a woods, this creates the perfect fall theme naturally. You can have your ceremony in the woods with a clearing for seating and take your photos here. There are so many forest inspired décor options to add some magic to your special day. Fabric and floral filled arches and chairs adorned with fabric and matching flowers as well. Sprinkle flower petals along the aisles and walkway to add an enchanted touch to your walk up the aisle.
2. The natural accents. Planning a rustic wedding? Stock up on decorations at the local farm stand. Pumpkins, apples, hay bales, and more make for a charming (and affordable!) design scheme. Have a harvest themed wedding. Think gourds, hay bales and autumn leaves to add that autumn look. Add to that rustic look with mason jars, tin accessories and don't forget the string lights. A blend of vintage, nature-inspired and rustic will inspire a unique look wow your guests as they arrive. Nature has stunning colors that will fit into your plans, all you need to do is accent the natural scene.
3. The perfect timing. If Halloween is kind of your thing, consider picking a trendy black wedding dress! You'll also have a ball with the endless options for spooky photo booth props and a candy table heaped with treats. Be bold and daring, if you love the dress-up, have your guests arrive in costumes where they can dress to impress. Make spooky treats and bob for apples while listening to a Halloween playlist. Or, consider throwing a hometown bash over Thanksgiving weekend. You're all but guaranteed that your nearest and dearest will already be in the area, and ready to party.
4.  The flowers. Fall's blooms are some of the prettiest. Pack your bouquet with in-season petals like marigolds, sunflowers, zinnias, and calla lilies. Carnations can be more than filler flowers, their delicate petals with so many color options make them so decorative. Baby's breath is a trendy, versatile choice for any wedding, especially a casual or outdoor wedding. It's natural white color is gorgeous, but can be dyed easily to match any color choice. The most romantic flower choice, the rose, is a splendid option with several varieties of the flower. Roses are classic and create a fairytale wedding look. Calla lilies are elegant with their curves and all year round availability. They have so many color options and are so timeless arranged alone or mixed with other flower choices.
5.  The weather. Early fall offers best-of-both-worlds weather with warm days giving way to cool nights. Later in the season, enjoy crisp temps that make snuggling a must. Your guests will love the opportunity to pair their fall wedding guest outfit with a cute jacket.
6.  The sleeve options. Wedding dresses with sleeves are both on-trend and seasonal. Some are detachable to change your look throughout the day and evening. Sleeves can create a sleek and sophisticated look or select a vintage lace style option for your big day. Both bride and bridesmaids dresses have so many options to select from. Try them all on and see which ones you fall in love with to make your fall wedding day perfect.
7.  The bridesmaid dresses. From rich greens to deep burgundy, planning a fall wedding means you get to pick from a nature-inspired palette of beautiful fall bridesmaid dress colors. Fabric choices are endless for fall. Velvet is a trendy choice in jewel tones,  burgundy or wine. Satin is another favorite choice for fall, select off the shoulder or a ruffled sleeve in copper. Darker colors like emerald and navy create a classic and sophisticated look for your girls. Don't forget to accessorize with matching heels, jewelry and hair décor.
5 Ideas To Incorporate Into Your Fall Wedding
1. The fire pit. Warm up outside with a fire pit feature—supply s'mores fixings for a sweet break from dancing. Create plenty of seating with benches for your guest to gather around the warmth. This is a great way to enhance the celebration and keep everyone engaged. Offer blankets in baskets for extra cozy warmth.
2. The outerwear. Going strapless? Cover up with a wrap, shrug, or topper. There are so many great options from velvet, to cashmere to faux fur. Light coats and jackets, long or cropped can also add to the look with a fur collar or try a chic cape. You and your bridesmaid can also work with your own closets for a budget friendly option that pairs perfectly with your dresses.
3. Dried flower centerpieces. Dried flowers make lovely fall centerpieces and you can use inexpensive glass vases that can be found at flea markets or thrift stores. Take a fall flower arraignment and add pampas grass, ferns, baby's breath, and lavender.
4. The flavors. We wouldn't blame you if you created a PSL-inspired dessert bar, with spiced coffee, hot apple cider, ginger snaps, and more. (In fact, can we come?) If you are planning a cocktail bar or signature drink, fall has so many options. Cider is the perfect cocktail base. Cranberry is another popular mixer that brings its tart flavor to any mixture. Try a maple pumpkin, apple, ginger or pear to entice your family and friends sharing your special day.
5. Cozy wraps and blankets: keep your guests warm by offering a table of complimentary cozy blankets and wraps. Choose autumn colors and flannel fabrics to keep everyone comfortable during the ceremony and reception.
Let us help get the fall wedding planning started; see our seasonal color guide for wedding color inspiration!
Love these fall wedding ideas? Click here to get everything you need to plan the perfect autumn nuptials, from creating a vision board and wedding website to finding the perfect local wedding vendors!
Related Posts: