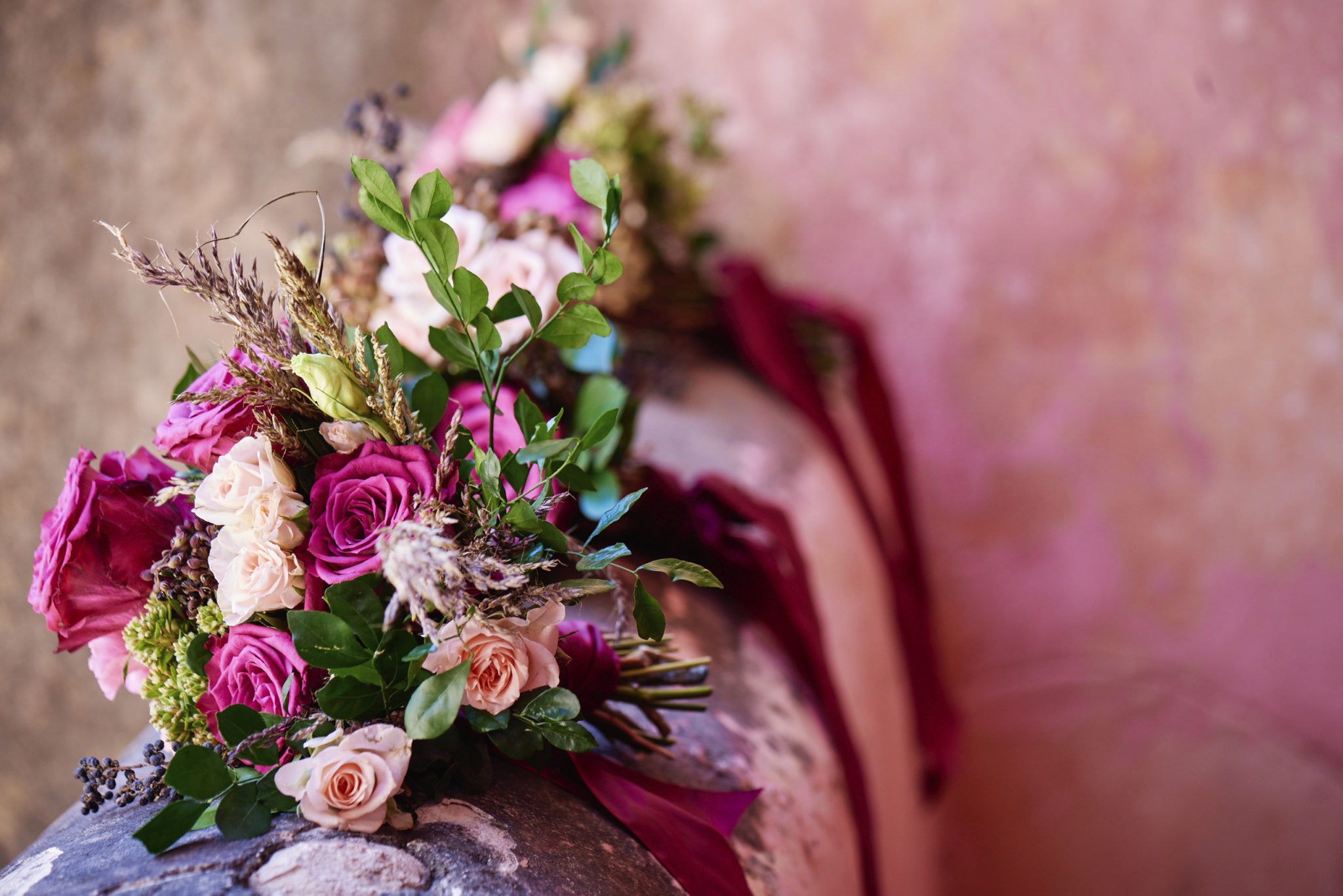 14 Jul

The Prettiest Fall Wedding Flowers
Consider these hot seasonal flowers for your fall wedding.
In theory, choosing wedding flowers is fun. There's no shortage of wedding flower inspiration and it's easy to get caught up for hours pinning wedding bouquet ideas. In reality, flowers can easily take up a huge chunk of your wedding budget if you don't choose wisely. Opting for in-season wedding flowers not only saves you money but it can also help you narrow down the look you want for your wedding day. We asked Christine Strzalka, founder of DIY flower company It'sByU, to fill us in on the hottest fall blooms you need to know about and expert tips only a professional florist would know.
Chrysanthemums (aka "Mums")
The #1 pick for fall weddings. Mums are perfect for budget-conscious couples. Button mums in bundles look great in bouquets, boutonnieres, and pomanders. Fuji and Football mums are big and gorgeous – highly recommended for centerpieces and bouquets. You get a lot of bang for your buck with these long-lasting flowers!
Colors: Ivory, white, yellow, green, orange, burgundy, red, lavender, purple, bronze
Types: Button (aka "Pompom"); Fuji (aka "Spider"), Football, Daisy
Meaning: Loyalty, long life, cheerfulness
Cost: $ – $$
Scent: Light to Medium
Budget alternative: Carnations
Mini Carnations
Very romantic, rustic, and retro, these little flowers are having a MAJOR moment right now. Mini carnations have gone from filler flower to focal point. They are probably one of the most requested flowers of the year. Mini carnations' small size and flexible stems make them great in flower crowns and as loose flowers in hair. Their versatility makes them awesome for all sorts of floral designs – from vintage to modern style.
Colors: Pretty much every color you can think of! Mini carnations can also be dyed.
Meaning: Love
Cost: $
Scent: Light
Dahlia
Native to Mexico, these showy but delicate blooms are a favorite for late summer and early fall wedding bouquets and they come in so many lovely hues! Dahlias tend to be big; you only need one or two in a bouquet to make a statement! Because of their higher cost, you may want to use them only in bouquets and use similar-looking mums and carnations in centerpieces.
Colors: Red, burgundy, bronze, pink, apricot, coral, yellow, gold, purple, orange, ivory and white
Meaning: Elegance, dignity
Cost:  $$ – $$$
Budget alternative: Chrysanthemums, carnations
Succulents
This is the current "it" plant in design and décor! Succulents are the way to go if you'd like a modern or indie feel to your wedding. Don't just go out and get succulents on your own from the hardware store and expect to put them into bouquets. Succulents need to be wired onto wooden picks to be placed into designs. (We can show you how to do this with our custom succulent design kit!)
Colors: Emerald, silvery green/gray, light green, purples
Types: Echeveria, Sedum, Dudleya, Rosette…many, many more!
Meaning: Timeless love
Budget alternative: Roses
Protea
These gorgeous exotic flowers are native to Australia and South Africa and are one of the hottest trends in weddings now. They're for the couple that wants pops of color and a lot of texture in their designs. Protea are not the cheapest flowers, but add a few here and there and you'll make a big impact! King protea are very big – even just one with some eucalyptus makes a stunning bouquet! Queen protea are unforgettable in bouquets paired with roses and ferns
Colors: Orange, yellow, white, pink, green
Types: Pincushion, King, Queen
Meaning: Daring, courage, transformation
Cost: $$ – $$$
Scent: None
Budget alternative: Fuji (aka "spider") mums
Celosia (AKA "Coxcomb")
These fuzzy and sometimes feathery flowers add a velvety feel to floral designs. They come in amazing jewel-tone colors that give bouquets a high wow factor! The feather celosia looks great on its own as a bouquet.
Colors: Orange, yellow, mustard, fuchsia, pink, green, white, coral
Types: Brain (yes, it actually looks like a cute brain!), Feather
Meaning: Affection, courage
Cost:  $$
Scent: None
Budget alternative:  Sweet Veronica, yarrow
Kale
Yep, I said it…kale. These ornamental cabbages bear a striking similarity to garden roses and come in gorgeous creams, purples, and greens. And nope…they don't smell like cabbage at all. Kale can get pricey, but you only need one or two of them in a design to make an ordinary bouquet look beautifully rustic and unique. Pair with roses, calla lilies, or carnations for a sophisticated retro look or with an assortment of leaves, berries and ferns for a woodland feel.
Colors: Cream, green, pink, lavender, purple, ombre
Types: Rosette, Fringed
Meaning: Wealth
Cost: $$ – $$$
Scent: None
Budget alternative: Bi-color roses, succulents
Rose
The most popular wedding flower of all time and for good reason! Roses come in a million different colors, petal counts, sizes, and fragrances. In the fall, roses make an awesome substitute for peonies. (BTW, peony season is roughly May-June and while you can get them in the fall, it will be very expensive.) Pro tip: ivory, pink, and white rose petals turn brown if you touch them, caused by the oils in our hands; be careful how you handle these babies on your wedding day!
Colors: You name it, a rose probably comes in it. Roses can also be dyed in lots of colors not found in nature as well!
Meaning: Love
Cost: $ – $$$
Scent: Light to Strong
Budget alternative: Carnations, lisianthus
Sunflowers
A fall classic! Sunflowers come in tons of varieties…some with black centers, some with yellow or orange centers. They come in a surprising amount of petal colors too.
Colors: Gold, yellow, orange, brown, burgundy, red
Meaning: Loyalty, longevity
Cost: $ – $$
Scent: None
Budget alternative: Chrysanthemum
Christine Strzalka is the founder of the do-it-yourself flower arranging kit company It'sByU. She's a wedding flower consultant, DIY flower teacher and a 7-time floral design division winner of the Philadelphia International Flower Show, the largest indoor flower show in the world. Follow her @itsbyu
Related Posts: