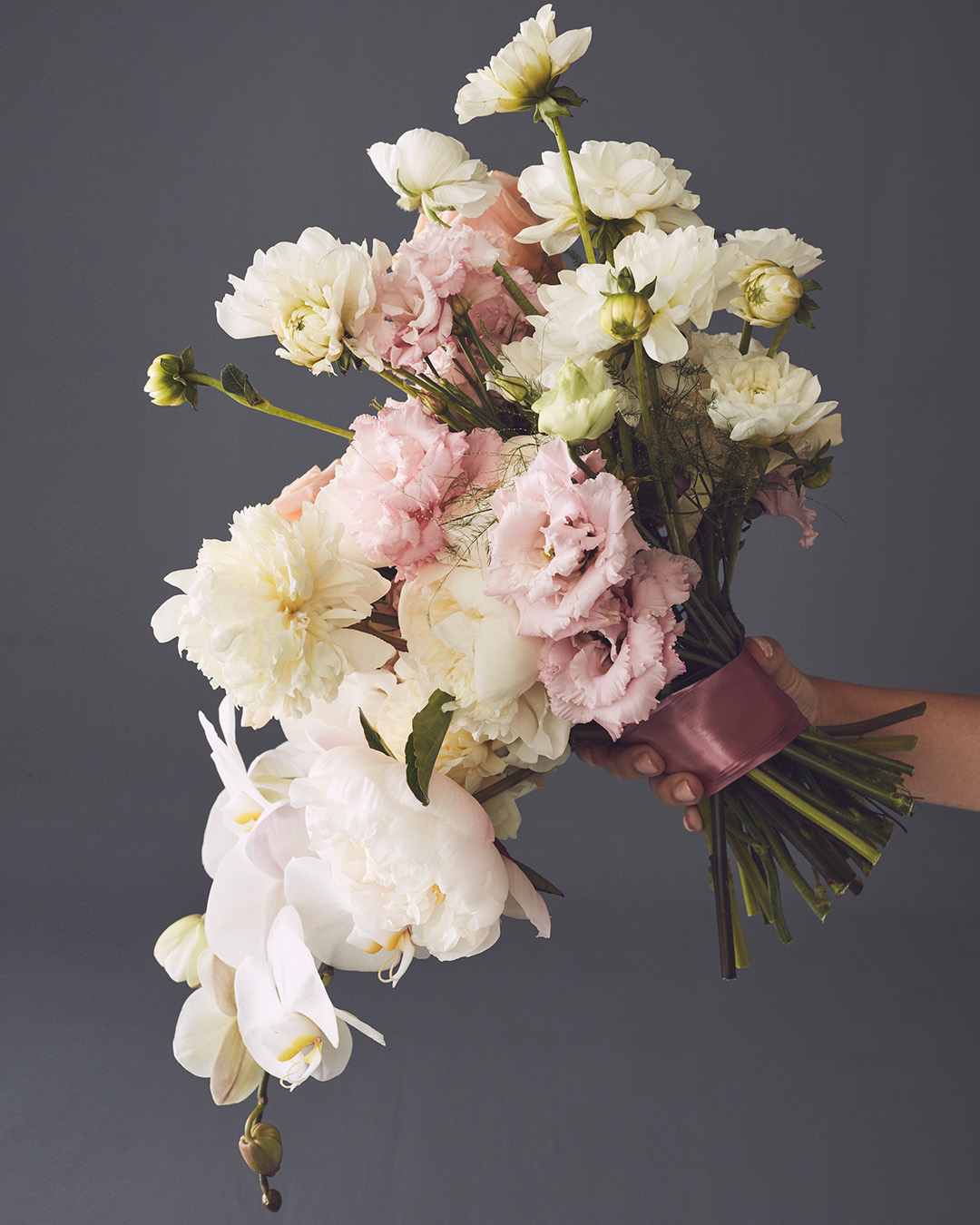 24 Aug

Affordable Wedding Flowers That Look Expensive
How to save on wedding flowers without sacrificing style.
Most brides envision flowers as part of their wedding day decor, and lately the trend seems to be "more is more." From elaborate floral altars, over-sized bouquets, and artful hanging installations, there's no shortage of wedding flower inspiration. The truth of the matter – as with every aspect of wedding planning – is that costs can add up quickly. The average cost of a bridal bouquet alone can be around $300, not to mention the cost of flowers for your whole bridal party, centerpieces, any other floral elements you've been dreaming about.  So, what's a botanical-loving bride to do? Find an experienced wedding florist who can offer you practical and creative tips on affordable wedding flowers that look expensive! Our partner FTD makes it easy to find a trusted wedding flower expert who can help you achieve the florals you love within your wedding budget.
We spoke with Susan Kurtz from Blooms by Vickrey, one of FTD's member florists specializing in wedding flowers, to share some budget-friendly tips for affordable wedding flowers that look expensive.
Pay Attention to Stem Counts
Florists often charge based on stem counts per bouquet or arrangement. For some flower varieties, it may require 30 or more stems to create one of the large, full bouquets you've probably been saving on Pinterest or Instagram. Flowers with large blooms or several flowers per stem can help create a lush look using less stems. Here are a few popular yet affordable wedding flowers that look expensive and offer a lot of bang for your buck:
Peonies: 90% of brides request peonies due to their romantic over-sized blooms. Peonies can be on the pricier side, but because they are a large flower, you don't need as many to create a full bouquet or centerpiece.
Hydrangea: The fluffy flowerheads on hydrangea take up more space, which means you can use less. They're a great option on their own or used mixed in with other flowers.
Roses: In full bloom, roses can be a cost-effective wedding flower because they are available in many regions throughout North America. One of the largest varieties, the garden rose, is a less costly alternative to a peony due to similarity in size, color palette, and fragrance. Spray roses, also known as mini roses, feature several smaller blooms per stem (again, less stems = less $).
"Splurge" Wisely
There are no substitutes for certain flowers, such as orchids and calla lilies, but that doesn't mean you should forgo holding your favorite flower on your wedding day. Pair more expensive or unique flowers with some of the options mentioned above as a base for your bouquet. Carnations and mini carnations in the same shade as your favorite flower creates a beautiful, full base. Carnations are available in a wide range of colors, and when arranged by a professional florist, they are a very effective way to create affordable wedding flowers that look expensive.
In addition, there's no reason you need to include the flowers you choose for your bridal bouquet in all your wedding flowers. We've seen many brides "splurge" on a really amazing bridal bouquet then use more budget-friendly complementary flowers for their bridal party and centerpieces.
Celebrate the Season
Using flowers that are in bloom at the time of your wedding allows you to celebrate the season and could help you shave off the costs of importing off-season flowers. Roses, lisianthus, and sunflowers are common summer flowers. Asters and dahlias are popular choices for fall weddings. Depending on where you're located geographically, seasonal flowers may be limited in the winter; which is why it's no surprise that brides have started using greenery and branches in centerpieces or even bouquets in place of traditional flowers. In the spring, tulips, daffodils, and hyacinth are beautiful choices.
Keep it Simple
A monochromatic bouquet can make a big statement, and using just one type of flower is another way to arrange affordable wedding flowers that look expensive. Focusing on just one or two types of flowers helps you stay under budget because your florist can order them in bulk.
A trusted wedding florist will provide the guidance and expertise you need to create the wedding flowers you've envisioned, or he/she may even recommend something new and unexpected that you end up loving even more!
Blooms by Vickrey, an FTD member florist, offers fresh flowers and fresh ideas to enhance your most significant life moments, including weddings. FTD can help you find the best local wedding florists in your area to make sure your wedding is as beautiful as you have always imagined. Each one of our wedding florists has been a part of the 100-year history that makes up FTD. Our wedding flower experts can help you choose the flowers, bridal bouquets, centerpiece arrangements, boutonnieres and more that will make your wedding even more beautiful – all within your budget. Find a local FTD wedding florist near you!
Related Posts: