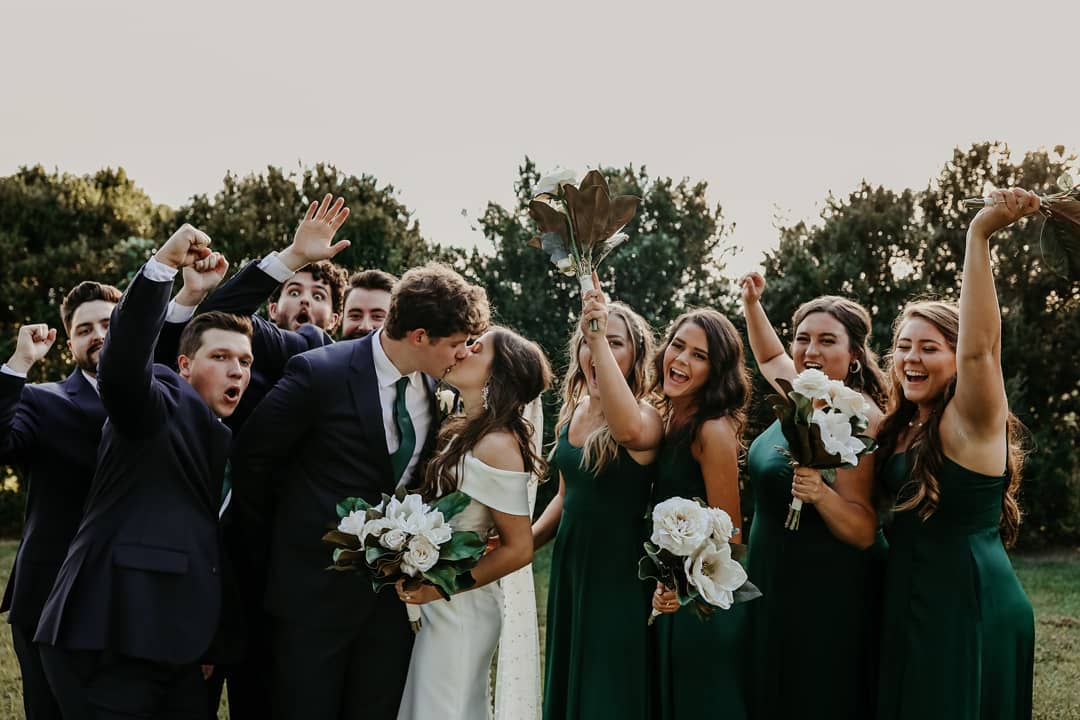 25 Feb

Booking Hotel Room Blocks for Weddings: A Guide
Why Every Wedding Needs a Room Block & How To Get It Done
If you're expecting several out-of-town guests to attend your wedding, booking a hotel room block will be a game-changer for everyone! What exactly does that mean? A hotel block is an agreed-upon amount of room that the hotel will hold for you and your wedding guests to reserve at a discounted rate. You'll likely need to request group rate proposals from multiple hotels, which can be a time-consuming and arduous process.
1. Keep all your guests under one roof
Couples typically find that hotels located close to the wedding venue or wedding activities are most convenient for guests. Consider hotels that are within walking distance of your festivities to avoid additional transportation costs. Contact several hotels, take a tour, and get all the info you need before committing to the hotel room block.
2. Unlock discounted room rates
Booking a hotel block offers you and your guests the best discounts, concessions, and convenience. Find out what the hotel room rate will be if your guest book under the room block but you should also make note if there are any other discounts that can apply such as to the hotel restaurant, spa or salon or bars.
3. Check the hotel amenities
Your out-of-town guests may consider your wedding as a fun getaway of their own! Think about the type of amenities they may appreciate given the location and season of your wedding: free parking or airport shuttle, complimentary WiFi or breakfast, indoor/outdoor pool, or full-service spa. A hotel close to local entertainment and/or area attractions is always a plus. If you're expecting friends to share a room or have relatives with young children, consider properties with suites. Suites provide more room for guests traveling in groups and serve as great gathering places during your wedding weekend. Fantastic amenities are always a nice surprise and will keep your guests happy for their entire stay.
4. Estimate the number of rooms you will need to block
You might have the exact number of guests who will take advantage of your hotel room block but you can estimate the number of rooms you will need by doing a quick scroll through your guest list and marking who would be an out-of-town guest.
5. Get the best price
If you anticipate your guests will have different budgets for their hotel rooms, consider reserving blocks at more than one hotel. Should you decide to reserve multiple room blocks, keep in mind the hotels should be located near each other or your venue to ensure guests can meet during their free time.
6. Understanding terms & conditions
A courtesy room block offers the most flexibility and does not leave you financially responsible for the room block. Typically, the only restriction on a courtesy room block is the cutoff date, which limits the time frame in which guests can book a room and receive your special rate. Pending hotel availability, if your block is fully booked before the cutoff date, hotels will generally add rooms to the block to accommodate more guests.
Guaranteed room blocks require you to sign a contract with binding terms and conditions and may require a deposit. If one party is paying for all rooms, or you are confident your room block will fill, this may be a good way to save on your room rate or get extra amenities from the hotel.
7. When and how to tell guests about my room block?
The sooner the better! If you have a wedding website, add the details about your hotel room block there. You will usually be provided with a customized link, code, or phone number you can send to your guests with all the information they need to reserve the rooms at your discounted rate. You can also include the information on an accommodation card that can be mailed with your wedding invitation.
Your guests will likely spend more time in the hotel than you, and a great experience will only enhance the memories they make at your wedding.
8. When should you reserve your wedding room block?
Once you have your venue, date and time, and guest list locked in you can start looking to reserve room blocks for your wedding. The sooner in your wedding planning journey, you can lock in a room block the better chance you will have of getting the number of rooms you need.
9. Should you work with the hotel directly?
There are several third-party platforms out there that will help you reserve a hotel room block but you can work directly with each hotel to get all your questions answered and get the room block in place. If you are local to the area it is always best to visit each hotel in person and speak with the management about getting your hotel block reserved.
10. How many different hotels should you get a room block with?
If the cost of the hotel room seems a little high for all your wedding guests it is best to reserve a room block at a budget-friendly hotel as well so your guests have a few options for where they can stay based on how much they want to spend.
Featured photo by @glenaigilbertphoto via @emilyceleste321
Related Posts: