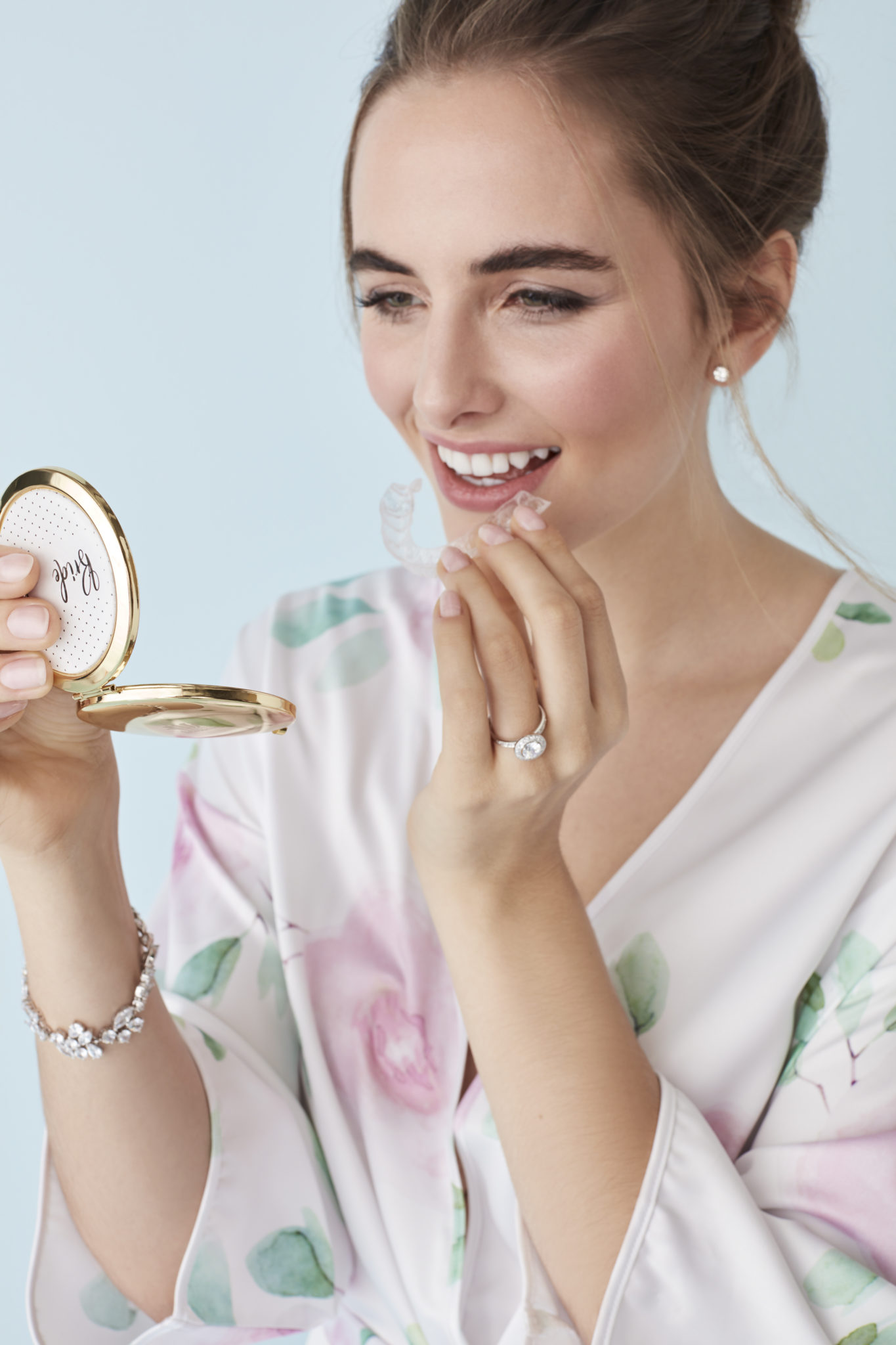 26 Feb

The Complete Head-to-Toe Bridal Beauty Timeline
What to do and when to boost your bridal beauty routine
What bride doesn't want a radiant glow from head-to-toe on her wedding day? A routine designed to enhance your natural beauty can improve your confidence so that you look and feel like your best self on your wedding day. We partnered with our friends at SmileDirectClub to create a complete bridal beauty timeline! Read on for our recommendations – then pick and choose the ones that best suit you and your bridal beauty goals.
1 year before your wedding day
–  Get the smile of your dreams in time for your wedding day with SmileDirectClub! Visit your local SmileShop for a 3D scan or order an impression kit to start your smile journey. While the average customer sees results in just 6 months, it never hurts to start early!  See if you're a candidate.
–  If you're looking to tone up before the wedding, it's a great time to ease into a new fitness routine. Meet with a trainer, join a gym or ask a fit friend for tips to help you establish a fitness plan that suits your lifestyle.
9 months to go
–  Upgrade your skincare routine for the ultimate bridal glow. Schedule a facial and consult with a professional esthetician to recommend products for daily use. If you prefer to DIY, now's a great time to try out new skincare products.
–  Establish your hair cut and color. The months leading up to the wedding are usually not the best time to try out a drastic new hairstyle or color (unless that's your style!). Consult with your stylist about making subtle changes like growing out bangs or layers, adding a few highlights or transitioning back to your natural hair color.
– Time for your 90-day check in with SmileDirectClub. Submit photos through the dashboard for one of their duly licensed dentists or orthodontists to check that your smile is moving on track. Make sure you keep wearing your invisible aligners all day and night, except when eating and drinking.
6 months to go
– If you're concerned about skin texture or tone, consider supplementing your regular skincare routine with a glycolic acid peel or microdermabrasion treatment.
– Complete your smile plan and order retainers to maintain that gorgeous grin. You'll want to wear them all day and night for the first 2 weeks, and then every night after that to prevent your new smile from shifting back to where it used to be.
– Smile looking a little dull? SmileDirectClub's bright on™ premium whitening treatment pairs whitening gel with an LED accelerator light instantly brightening your smile. One round of whitening lasts about 6 months.
3 months to go
– Groom your brows.  Schedule an eyebrow wax if you need some professional help shaping your arches.
– Speaking of waxing, don't forget about unwanted hair on other parts of the face, arms, legs and bikini area. Schedule your first waxing session with follow up visits every 2-3 weeks leading up to the week of your wedding.
– Book your wedding-day glam squad. Schedule trials to determine your wedding day makeup and hairstyle in advance.  If you're doing it yourself, shop for new makeup and hair styling products and tools, if necessary, and practice at home.
1–2 months to go
– Pick up a tube of your wedding day lipstick – you'll want your own for touch-ups throughout the day.
– If you're thinking about a spray tan, go for a trial to ensure you're happy with the results, or test out some at-home tanning options.
– Schedule your wedding week beauty appointments.
2 weeks before
– Get a hair trim and color, if necessary.
– Start a skin exfoliation routine and load up on moisturizer.
1 week before
– Apply another round of bright on™ premium whitening treatment.
– Have your final pre-wedding waxing appointment.
– Treat yourself to a facial but stick to a gentle treatment.
– Pack an emergency kit for the wedding.
3 days before
– Invest in a gel manicure and pedicure – it should last for 2 weeks so you'll be all set for the honeymoon, too.
– Get a spray tan or apply your own.
1 day before
– Wash your hair but go easy on the conditioner.
– Take a relaxing bubble bath.
– Don't forget to pack your retainers for your honeymoon!
– Get your beauty rest.
Your wedding day!
– Drink lots of water and eat a healthy breakfast.
– Start your hair and makeup 3-4 hours before the ceremony.
– Attach your hair accessory or veil, if you're wearing one, one hour before.
– Touch up your makeup one last time, smile and enjoy this special day!
For more timelines and checklists – including your ultimate wedding checklist – visit our Wedding Planning Guide.
This post was presented by our preferred partner, SmileDirectClub, the Official Smile of David's Bridal! Get $100 off your invisible aligners when you use code DAVIDSBRIDAL100 to book a free scan or order an at-home impression kit.
Related Posts: