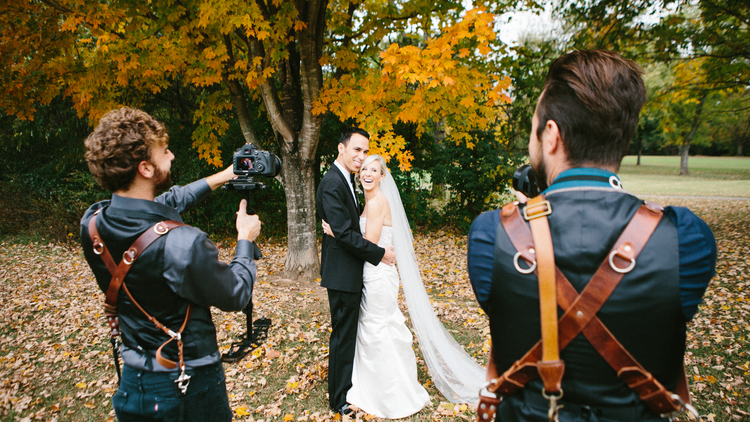 28 Jun

5 Tips For Picking Your Perfect Wedding Videographer
A wedding video expert shares advice on choosing a videographer.
We're so excited to share that we've teaming up with Love Stories TV: The place to watch wedding videos! Now at davidsbridal.com/lovestoriestv you can watch real wedding films featuring David's brides and bridesmaids! We asked Love Stories TV founder Rachel Jo Silver her advice on how to find the right wedding videographer: 
Hire friendly photographers and videographers. 
There is a lot to capture on your wedding day in a short amount of time. Both your photographer and videographer will film the same key scenes: getting ready, first look, ceremony, speeches, reception, etc. Coordination is important, so try to hire a photographer and videographer who have worked together before. This way, they will likely have systems in place to make sure each captures those special moments. Ask your wedding planner for recommendations or have your photographer to suggest a videographer (or the other way around) for a seamless day-of experience.
Find a filmmaker who is comfortable with your venue type.  
Found a filmmaker you love but notice that all of their films take place outdoors and you're getting married in a ballroom? Raise the question to the filmmaker before you hire them and make sure they're comfortable shooting in your wedding setting. Request sample films to watch and show them an example of a film you like from your venue (or a similar) and confirm they're comfortable shooting in similar circumstances.
Find someone who matches your wedding video style preference.  
Once you've made a short list of filmmakers who shoot in your area and are within your budget, watch A LOT of sample films. Wedding films vary a ton. Some are mostly scenes of getting ready and staged bride and groom moments, while some have a lot of candid coverage of dancing and the reception. Some only include music, while others include vows, speeches and toasts. Some even feature interviews with the bride and groom, filmed either on the wedding day or sometimes well in advance. The videographer you choose should have several videos you love. Prior to the wedding, send them examples of your favorites from their own portfolio. Be specific with your examples: what did you love about each?
Don't be afraid to search beyond your city.  
Certain wedding vendors, like florists or caterers, make more sense to hire local. However, don't be constrained by location when choosing your videographer. While filmmakers do need a certain amount of equipment, it's usually not more than they can take with them on a plane or in a car. Love Stories TV team member and bride-to-be Vanessa is getting married in Baltimore but found and hired a filmmaker based in Colorado! Every filmmaker has a different policy on travel but if you find someone you love who isn't from your area, you should still reach out!
Understand what's included in your package.  
As wedding films have increased in popularity, so have the package options and the terminology. Understanding everything that comes in your package will help ensure you aren't disappointed later. When your filmmaker sends you examples of what comes in your package (Instagram teaser, trailer, full edit, etc.) make sure to really watch each example and be sure it's the type and amount of coverage you want!
Rachel Jo Silver is the founder of Love Stories TV: The place to watch wedding videos. Follow her @racheljosilver. Do YOU have a wedding video? Share it on lovestoriestv.com to inspire brides-to-be and for a chance to be featured on davidsbridal.com/lovestoriestv.
Photo: Dallas Wilson Wedding Films
Related Posts: