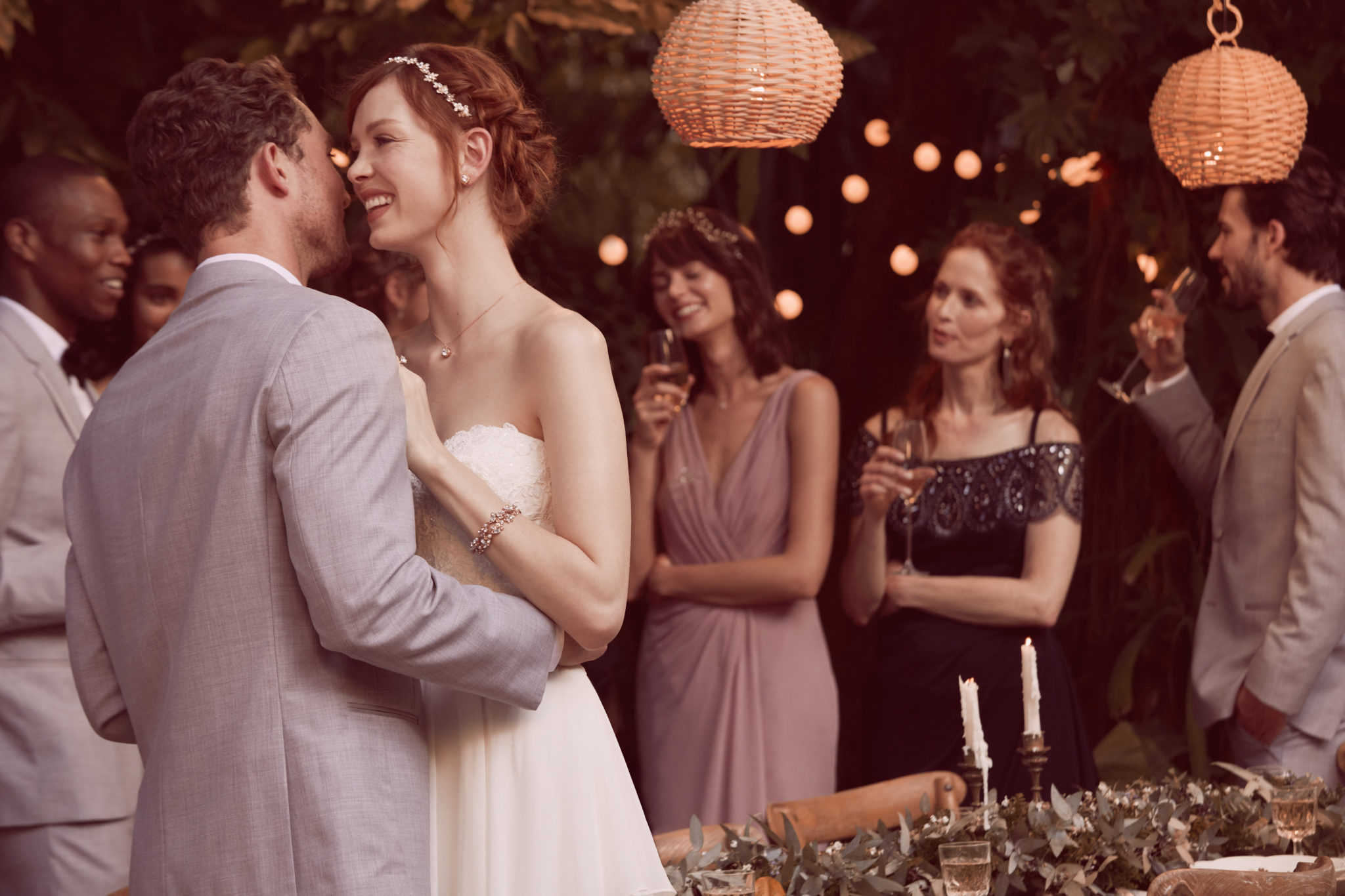 03 Oct

5 Moments You'll Definitely Want Captured In Your Wedding Video
Share this wedding video shot list with your videographer.
When it comes to your wedding day, you'll want every detail captured to reminisce on all of the loving moments, from getting ready to the final dance. In addition to a photographer capturing the stills, a videographer will record the moments in motion that you'll re-watch and cherish for years to come. If you're on the fence about hiring a wedding videographer, these gorgeous films from Love Stories TV featuring real David's Bridal brides and bridesmaids will convince you that a wedding video is a must-have. Hiring a filmmaker that best suits your style, budget, and wedding theme is one of the most important choices you'll make in your wedding planning process. No matter the video length or style you choose, here are a few moments you'll want to include:
The First Look
Video: Keri + Brandon by Splendor Films
If you capture one single moment on your wedding day, let it be the look on your partner's face when you see one another for the first time. Whether you opt for a first look before the ceremony or save the big reveal for your walk down the aisle, it's a priceless moment — and you'll definitely be brought to happy tears rewatching it in your wedding video.
Dad's Reaction
Video: Ali + Garrett by Happy Camper Film & Photo
There are few moments as magical as when a father sees his "little girl" for the very first time on her wedding day. You're probably tearing up just thinking about it! Imagine actually having it memorialized forever on video?! It's an absolute MUST.
The Vow Exchange
Video: Jai + Bernard by Big Hill Productions
Do you know the one thing photos can't capture? Vows! Many brides say that they can barely remember their ceremony because they were so overcome by emotion. But trust us when we say, you're going to want to hear those love-filled words your spouse dedicates to you again… and again.
Reception Toasts
Video: Ariel + Michael by Andreo Studio
Though many couples choose to customize the flow of their reception, it's pretty standard to hear from the maid of honor, the best man, and the father of the bride. You'll definitely want to be sure the speeches are captured on video, so you can remember what they said and your face when they said it!
A Moment with Mom
Video: Shaunese + Joshua by Canvas & Light
You can usually count to Dad to bring the waterworks, but there's something especially beautiful about sharing a quiet moment with Mom. Whether you choose to have her walk you down the aisle or your filmmaker captures the moment she gets a glance at you after helping you into your gown, you'll be so happy you have at least a few seconds of your film dedicated to your #1 fan.
Want even more ideas for your wedding video? Watch endless inspiration on davidsbridal.com/lovestoriestv. Are you a David's bride, we want to see your big day! Submit your video HERE for a chance to be featured.
Related Posts: