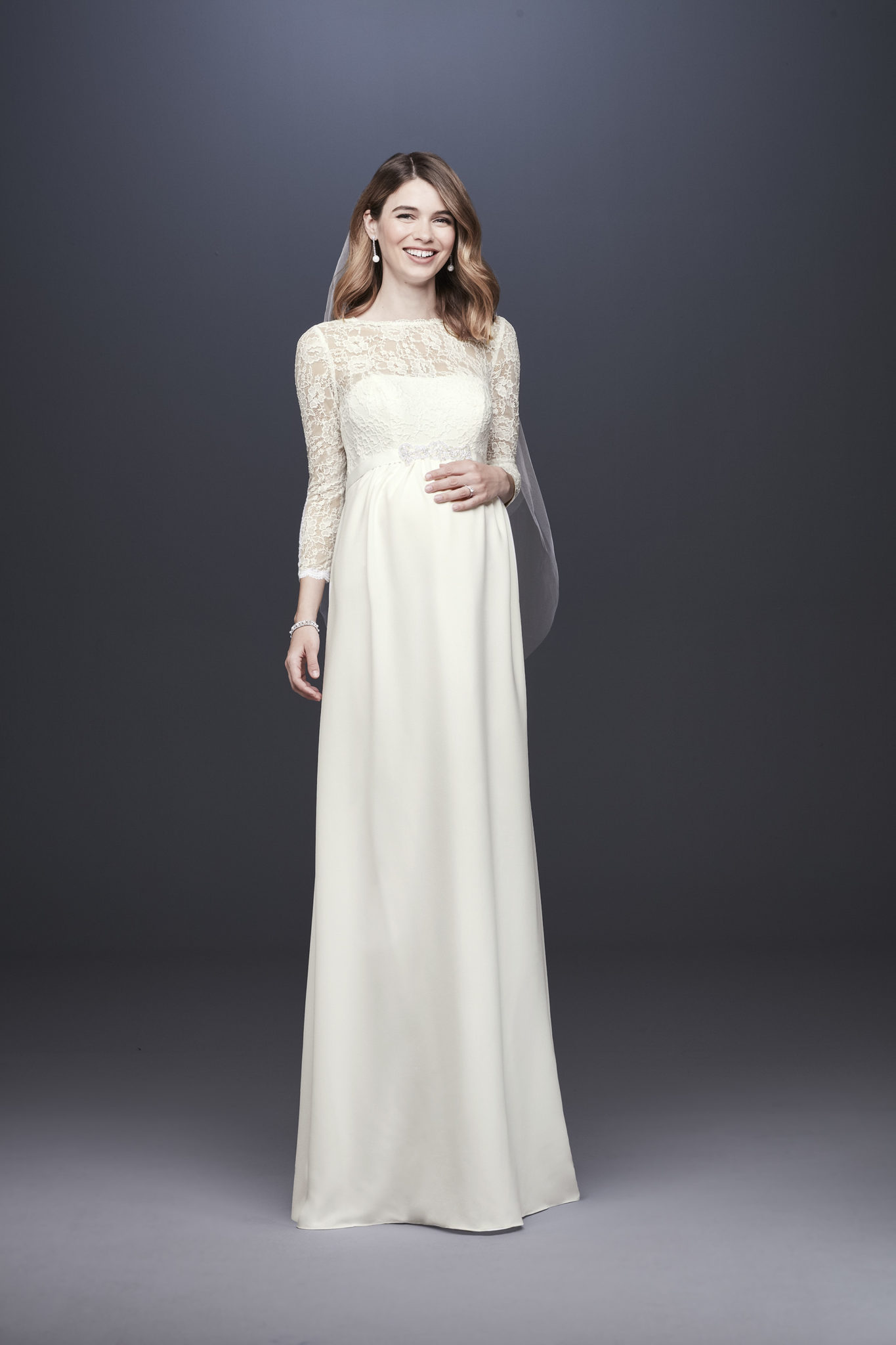 07 May

In The News: How to Shop for a Wedding Dress While Pregnant
Romper.com shares tips when you're wearing for two.
Romper.com, the leading digital destination for millennial moms, spoke with Heather McReynolds, Divisional Merchandise Manager at David's Bridal, about how to shop for a wedding dress while pregnant. In their discussion, they touch on certain details to consider to make you and your growing bump feel gorgeous, and most importantly comfortable, on your big day.
Leave Room to Grow

It is important to keep in mind how far along you'll be on the big day. "My recommendation is to always go two sizes up; we can easily take the dress in if it's still too big. If you're shopping early on in your pregnancy, you can use a maternity pillow during the initial stages of selecting the dress or size before ordering" advises McReynolds.

Consider Flowy Styles

"Empire styles are great because they're fitted at the bust, then have a lot of room for your growing bump" states McReynolds. "Having a flowy dress eliminates much of the alteration guess work and allows for several months' growth when you likely won't know the size when you go in for your next fitting."

… But Don't Rule Out Form-Fitting Dresses

Some brides want a gown to show off their bump in all of its glory. If that is the case, talk to your bridal consultant or seamstress about curve hugging styles (such as a mermaid or sheath) and find out how to best fit the dress to flatter your form without being too tight.

Look for Pregnancy-Friendly Fabrics

Gowns in lighter fabrics such as crepe, tulle, chiffon, or stretchy jersey will carry you throughout the wedding day with ease.

Shop Maternity Styles

"Whether you're a bride or a bridesmaid, if you'll be in your third trimester on the big day, you should consider a maternity wedding dress," recommends McReynolds. "It will fit you better without address stressful fittings – not to mention, you'll be more comfortable!"

Keep Your Shoes in Mind

Pregnancy can be tough on your feet. The best pregnancy shoes are flexible to accommodate fluctuation in swelling and structured to take some of the pressure off.

Time Your Last Fitting

Even though most women prefer to have their gown in hand long before their big day, the opposite is true for pregnant brides. "I'd recommend having your final fitting the week of the wedding, which would allow a day or two for any last minute adjustments," says McReynolds.
See the full article here and more tips on how to shop for a wedding dress while pregnant here.
Related Posts: