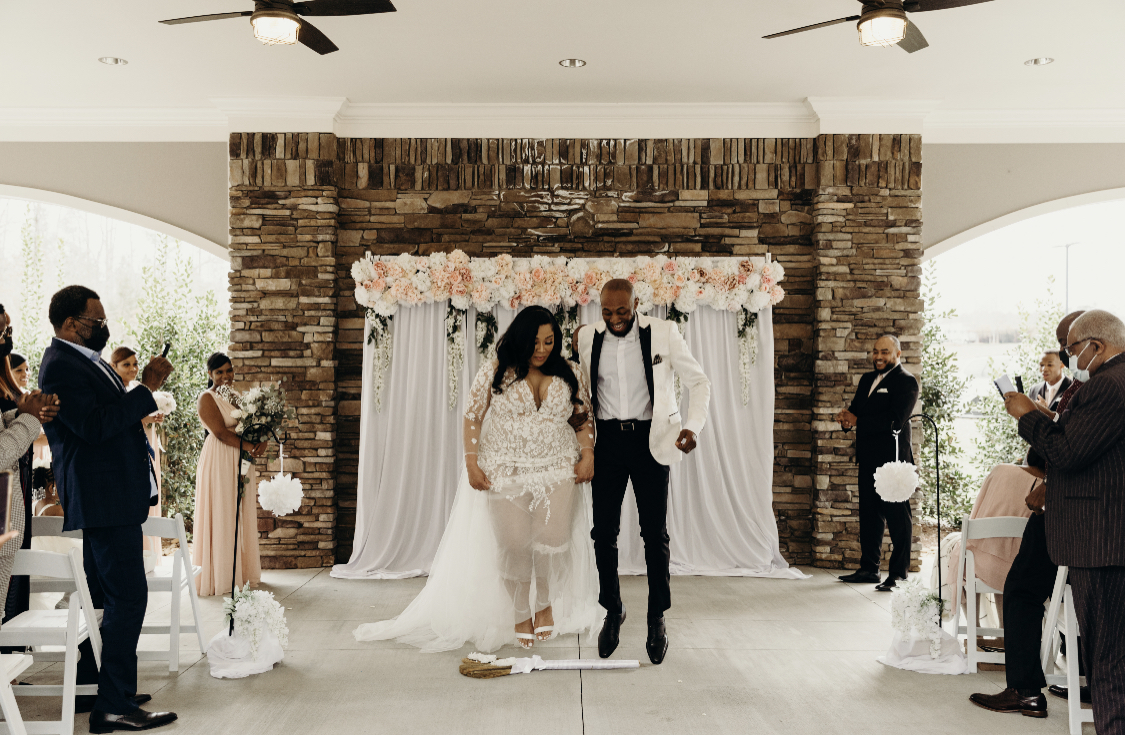 10 Jul

Five Black Wedding Traditions to Incorporate into Your Big Day

Weddings are a time to celebrate love, commitment, and the joining of two families. We love seeing how DB Brides incorporate familial and cultural traditions into their big day to honor the generations that came before them. Looking to include African American traditions in your ceremony and reception? Read on to learn about some of the most common customs and how they originated.
Jumping the Broom
In the United States, this wedding tradition traces back to times of slavery, when African American couples were prohibited from marrying and living together. Because of these restrictions, couples would instead seal their vows by jumping over a broom to declare their commitment to each other. In modern times, this has become a common way for Black couples to conclude a wedding ceremony.
DB Bride Shanelle and her husband chose two traditions to include in their ceremony to honor their families—lighting a unity candle and jumping the broom. About the latter, she said, "We plan to keep the broom as an heirloom and hope to pass it down to our children."
Crossing Sticks
In this longstanding wedding ritual, a couple demonstrates their commitment to each other by crossing long wooden sticks, often while reciting their vows. The tradition is seen as a symbol of power and the joining of the two families.
If you're looking to modernize your wedding while still bringing this cultural tradition into play, consider a sparkler sendoff, in which guests raise their wooden sparklers over you and your new spouse as you leave your reception.
Tying the Knot
Though the phrase "tying the knot" is commonly associated with weddings, the origin comes from a tradition that is integrated into many cultures' weddings, including Black weddings. During the ceremony, the wedding officiant ties a knot between the couple using Kente cloth, a string of cowrie shells, braided grass, or a decorated rope. This tradition often occurs while vows are being exchanged as a physical symbol of the couple's verbal commitment to each other.
Libation Ceremony
Many couples take time out of their wedding ceremony to acknowledge their loved ones who have passed. One way to do this is a libation ceremony, a ritual that dates back to ancient times and is still common in some African societies. This custom involves pouring alcohol or holy water onto the ground to honor ancestors, family members who have passed, or the elders in attendance. The ceremony provides the newly married couple with wisdom and guidance from those who came before them and serves as a celebration of the couple's heritage.
Integration of Sororities and Fraternities
If one or both newlyweds are members of a Black Greek organization, it is common to tie in aspects of the sorority or fraternity into their wedding day. Common ways to do this are having other members (called brothers and sisters) stand by the couple's side as bridesmaids and groomsmen or utilizing the Greek organization's colors as the wedding colors.
Another common way to acknowledge the couple's Greek affiliations is a stroll. "One very popular tradition that is often used in African American weddings is the 'stroll' from Greek fraternities and sororities, where members serenade the couple with a song specific to their fraternity or sorority." Nilsa Tolliver, owner of Emerald Events by Nilsa in Richmond, VA, explained. "If one or both of my clients is in a Greek organization, the stroll or serenade is always incorporated into the wedding."
Planning a wedding? Sign up for our Diamond Loyalty program—it's free! Follow us on Instagram, Pinterest, and Facebook for more wedding inspiration, or click here to book an appointment.
Featured image: Alyssa Swedick
Related Posts: