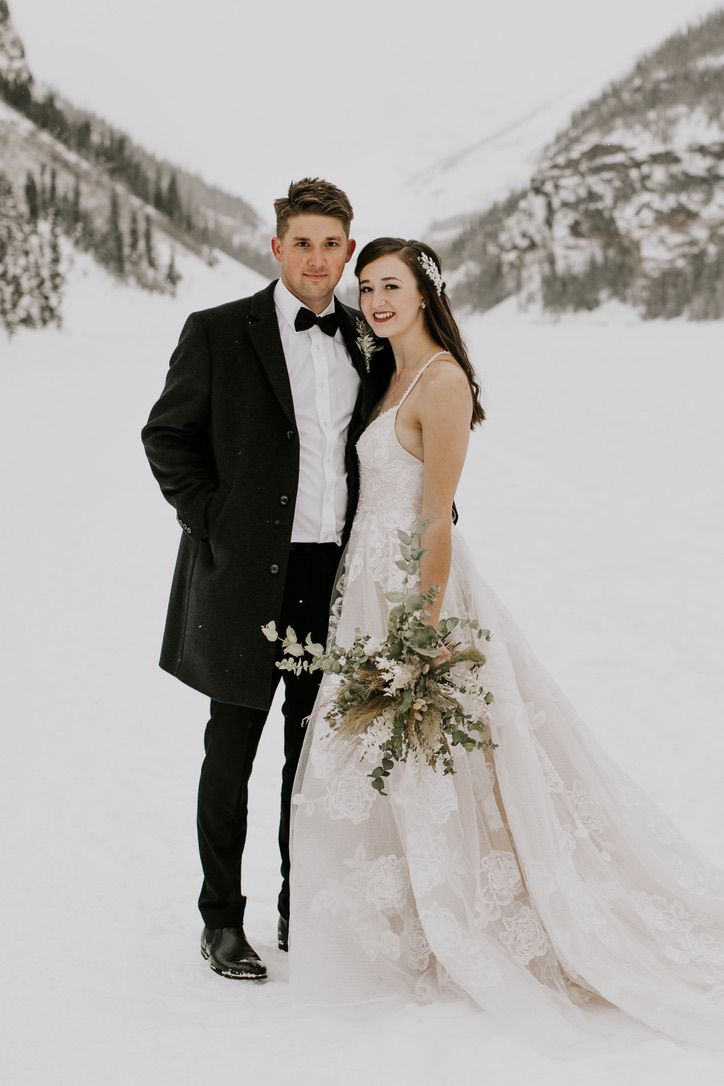 22 Dec

Real Wedding: Teanna & Kyle
Intimate Winter Wedding in Banff National Park
Real weddings are so inspiring! To get you in the mood to plan, we asked real brides to spill the details on everything from getting engaged and finding their wedding dresses to the special touches and surprising moments that made their celebrations completely one-of-a-kind. Teanna & Kyle tied the knot with an intimate winter wedding in Banff. Keep reading for all the details from this special day!
Briefly tell us how you and your fiancé met! How did you know that he was the one?
First day of grade four, I saw this new boy walk into class, and was immediately drawn to his handsome looks and cute smile. He had all of the qualifications of a 9-year-old crush; smart, funny, stylish hair, and really good at sports. As time carried us through middle school, I found myself falling deep for his heart; his kindness, how he took care of others, and his love for Jesus.
While we both attended the same junior high and high school, it wasn't until after high school that we really connected. There was a season when I would see him across a room maybe once every couple months, and I held onto those interactions even though I was too shy to even say hello. For years, that's all it was. Little interactions to hold onto. No matter how small, every moment was special to me.
During the summer of 2019, things began to shift. Suddenly, he was seeking me out to tell goofy jokes to, or he would stop by my office door just to see what I was doing. After 13 years in the depths of the friendzone, these interactions felt completely new. After months of this, I called Kyle one night and told him that he needed to figure out what he wanted, and that he could let me know once he had figured out his intentions. Two days later he sat me down to talk, and asked me out on a date. A couple days after our first date, Kyle asked me to be his girlfriend, and it's been a constant adventure since. He's my answered prayers, and my dream come true. There's no one else I'd rather spend the rest of my life beside.
Tell us your proposal story!
During Covid, Kyle and I began a weekly tradition called "Takeout Tuesday", where we would order takeout from various local restaurants around town in an effort to support them (as restaurants were closed during this time). Establishments opened again during the summer, and we tried to keep our tradition alive while balancing it between takeout and eating indoors.
One Tuesday "happened" to fall on the night that a friend of ours had an art gallery showing for friends and family, "but because of Covid they're spreading us out and it'll just be the two of us there." Nothing unusual, and I didn't have a clue. We walked around the gallery for a while, and then Kyle told me that there was a second, interactive part of the exhibit upstairs. As we climbed the spiral staircase, pictures of the two of us lined the railing, which was a huge hint that something big was about to happen.
We opened the doorway to a rooftop view of the gallery, the ground covered in white rose petals and candles, creating a path towards a secluded table for two. A stunning sunset filled the sky as he got down on one knee, and the moment felt all too good to be true.
Friends involved with behind-the-scenes photos and decorations set up a Takeout Tuesday dinner by candlelight, as we excitedly dreamed of our future together.
How did you both decide on your wedding day look? Do you have any shopping advice for future brides?
Start as soon as possible! Pick something you'll be comfortable and confident in – trends will change but it's so important that you feel beautiful on your day.
What was your favorite detail about your look?
I LOVED that my dress had a long skirt in the back, it truly made me feel like a queen, and it's an outfit feature that you don't get to wear every day. Also having multiple layers in the skirt really made a difference in keeping me warm in January (dress for the weather!)
How did you feel when you knew that you #foundtheone?
I cried! It's something that most of us dream about our whole lives, and to make a choice for such an important dress feels like a big moment.
Tell us about your wedding day!
The snow fell gently in the mountains surrounding lovely Lake Louise, with a pleasant temperature of 0 degrees Celsius. Because of the most recent restrictions, wedding capacity was capped at 10 people. Both my fiancé and I's immediate family met in an AirBnB the day before, which was such a sweet, intimate time to laugh together and grow closer.
Morning of the big day, we took our time getting ready, drove the scenic road to Lake Louise and chose a quiet spot on the ice where we would be alone. My dad walked me through the snow to where our families stood waiting for us, tears in their eyes and snowflakes falling on their shoulders. Kyle turned to look, and there wasn't a more beautiful moment than looking into his eyes and seeing pure love. We read our vows, exchanged rings and kissed in celebration of our commitment to one another. With that, excitement was overflowing as we ran through the snow together, dancing, smiling and holding one another.
Our day continued with photos around the scenic location. When we had stood in the snow for as long as our frozen toes could handle, we returned to our Air BnB for a magnificent dinner. Our parents shared speeches with us, memories of our childhoods and welcoming each of us into the family. The final word was by Kyle, who sang a song he had written just for me. After many tears and goodbye, we drove off into the night!
Was there a highlight or most memorable moment of the day?
Beyond walking down the aisle, the most special part of the day was listening to the song Kyle had written to me. After 13 years of longing for his heart, this moment felt so healing. The waiting was truly over, and the heartbreak with it.
Did anything funny or unexpected happen?
January in Canada is known for being cold, and although we were blessed with a lovely 0 degrees, you still need a couple layers to be comfortable. In turn, we had prepared with a couple of different shawl options for me to wear. It ended up happening that my mom left the shawl I would wear at the door of the Air BnB, so I was left to stand in the cold with my bare arms in January, in the mountains. Safe to say I will be bringing that up forever.
Is there something you wish you had known before the big day/while you were planning the wedding?
Have a checklist so that you don't forget anything! Emergency kits, extra mittens, tissues, water bottle – it's better to over-prepare than forget something.
Did you have to make any changes to your wedding plans because of Covid?
Covid was truly the biggest trouble in wedding planning, as we ended up re-planning the whole event three times in a matter of two months. From 100 guests to 50 to 10… although it hurt in the moment to let go of the original plan, I wouldn't change anything.
Did you have a first dance song?

Not quite, we danced for a minute on the frozen lake but it was mostly humming out of tune.
What flavor was your wedding cake?
I believe it was some sort of chocolate espresso? Honestly, I didn't get more than half a piece because most of it got shoved in my face!
What was your theme?
Boho winter theme, with neutral colors.
What was your favorite DIY or personal touch?
With our wedding being shortly after Christmas and right after new year's, about 99% of floral shops had closed for a break. We made the best of it by preparing for table decorating in the fall with dried grasses, as well as purchasing pampas grass. Having decorations that we had picked by hand and assembled together felt so special, and I remember the moment of walking into the dining room and seeing the table decorated so beautifully. Seeing my mom's handiwork was such an expression of her love for me and Kyle!
What did you do to stay stress free on your wedding day?
Our families were so supportive and flexible, going with the flow and reassuring me when I was worried about not being able to get parking or thinking about how quickly the sun would set. Having their peaceful, reassuring smiles certainly was a big help!
What's your best wedding planning advice? And what advice do you have for brides that are planning their weddings right now?
Focus on what might be best for the two of you as a couple, and remember that this is just one day before the rest of your lives together! Do what you can to make sure you get to focus on the moment, instead of worrying about the schedule set before you.
Do what you can in planning sooner rather than later, and while planning, make a timeline of when things need attention. Things will always come up right before the big day, so to have the least amount possible on your plate by that time will help so much with having less stress! (Obviously Covid is really out of our control but to take things one step at a time helps it to be less overwhelming.)
Anything else you'd like to share?
Ask for help where you need it, but don't forget that this is an important day for you and your partner, not for anyone else. In 20 years, who will be looking back on your big day? No one else but the two of you. So make it something you'll enjoy! Even when things go wrong, there's plenty of life left to live; this is only a day.
More details:
Wedding Date: January 2, 2021
Wedding Location: Lake Louise, Banff, Alberta
Wedding Dress Style: Large Floral Applique Beaded Strap Wedding Dress
Photographer: Janell Allyn Photography
Love this winter wedding in Banff National Park? Read more real wedding stories here!
We know how important your wedding day and special events are to you and we are doing everything in our power to serve you! You can shop with us 24/7 at davidsbridal.com or come see us at your local David's Bridal. Plus we are here for you to help guide you through your wedding planning! See tips for starting to plan your wedding at home, shopping for your wedding dress online with confidence, and more on the blog.
Planning a wedding? Sign up for our Diamond Loyalty program—it's free! Follow us on Instagram, Pinterest, and Facebook for more real wedding inspiration, or click here to book an appointment.
Related Posts: