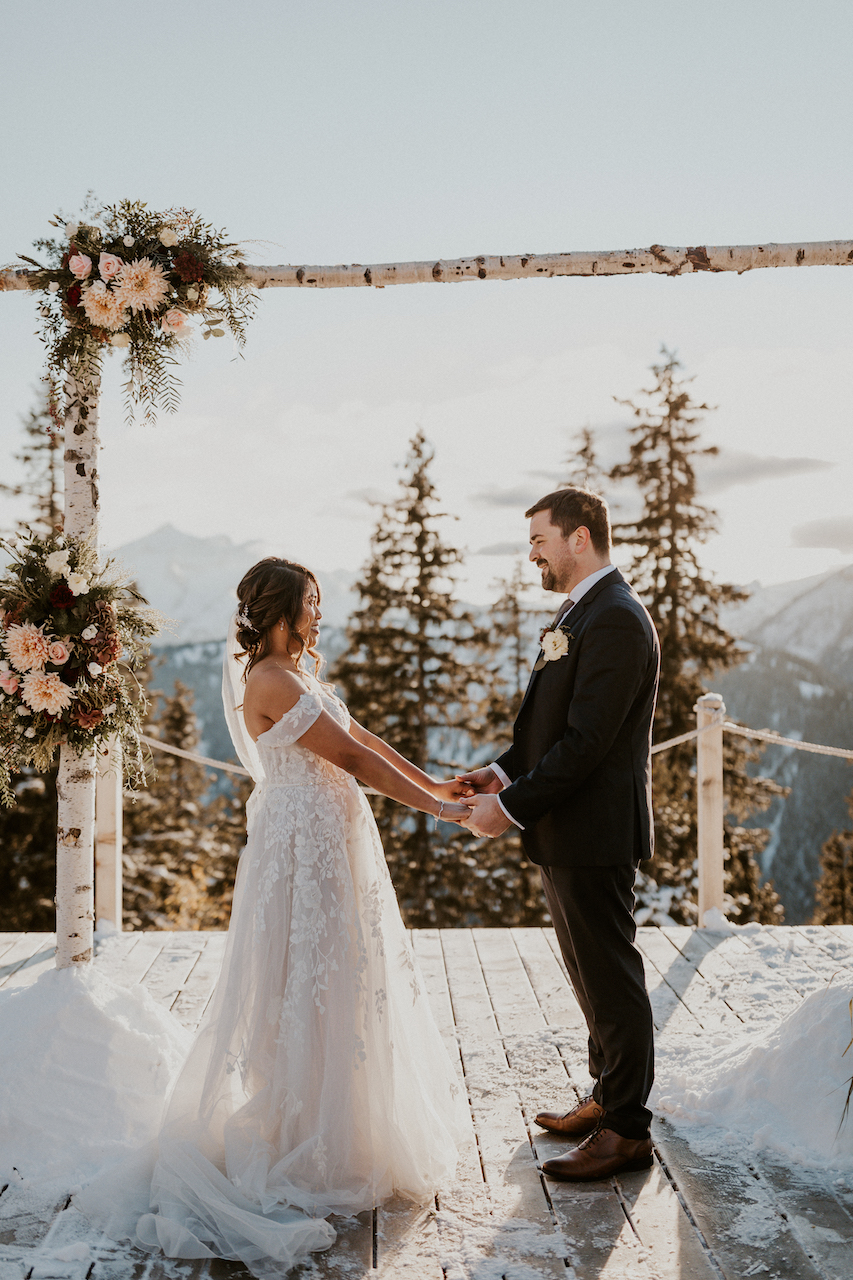 09 Mar

Real Wedding: Chezca & Patrick
Winter Wedding in Switzerland
Real weddings are so inspiring! To get you in the mood to plan, we asked real brides to spill the details on everything from getting engaged and finding their wedding dresses to the special touches and surprising moments that made their celebrations completely one-of-a-kind. Snowcovered mountain tops create the perfect backdrop for this sweet ceremony. Keep reading to see more details from Chezca & Patrick's winter wedding in Switzerland!
Briefly tell us how you and your fiancé met!
I met Patrick in Vietnam back in 2014. We were in the same tour boat and spent the entire trip together. At the end of the trip, we shared our details before saying our goodbyes. In the following months, we started to text and slowly became a significant part of each other's everyday lives. At this point, we started to ask ourselves, "Why not?". We then began a long-distance relationship, but we knew that the distance would only get smaller with time. After one year of dating, I finally moved to the UK and it was easier for Patrick to visit me. Three years ago, Patrick found a job in the UK to be closer to me.
How did you know that he was the one?
Long-distance relationships are hard, but choosing one another every waking day made it easier for us. Patrick to me just feels like home. It sounds odd, but it is true! It took us seven years, but it was the right time for both of us.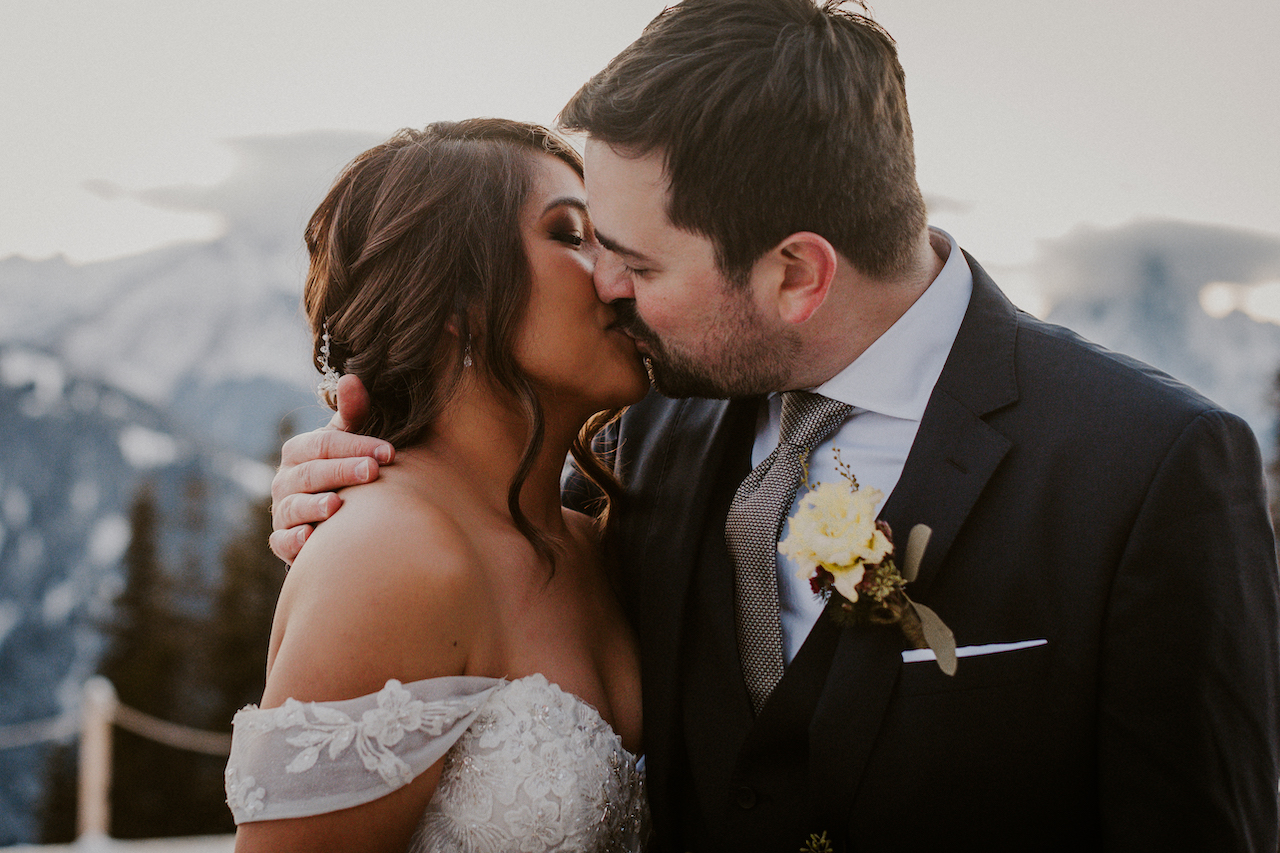 Tell us your proposal story!
Before Patrick proposed, we were already planning our wedding. I told him I didn't need a ring, so I wasn't expecting anything. One long weekend in July, we booked a trip away from the city and went to the seaside. After a long walk by the shore, Patrick sat next to me and sweetly asked my hand in marriage and showed me the ring. Of course, I said yes and a lot of happy tears were shed.
Do you have any shopping advice for future brides?
Try as many dresses as you can! I had to try a lot to know what I really liked. Initially, my mind was set for a long sleeve dress, but after trying a few, that style of dress just didn't feel right. Also, don't be close-minded when it comes to what you want to try on, and always trust your consultant. Find what makes you feel the most beautiful and comfortable.
What was your favorite detail about your look?
I loved my entire look. The hair, makeup, and dress were perfect together. I wouldn't change anything about it. I felt very pretty on the day.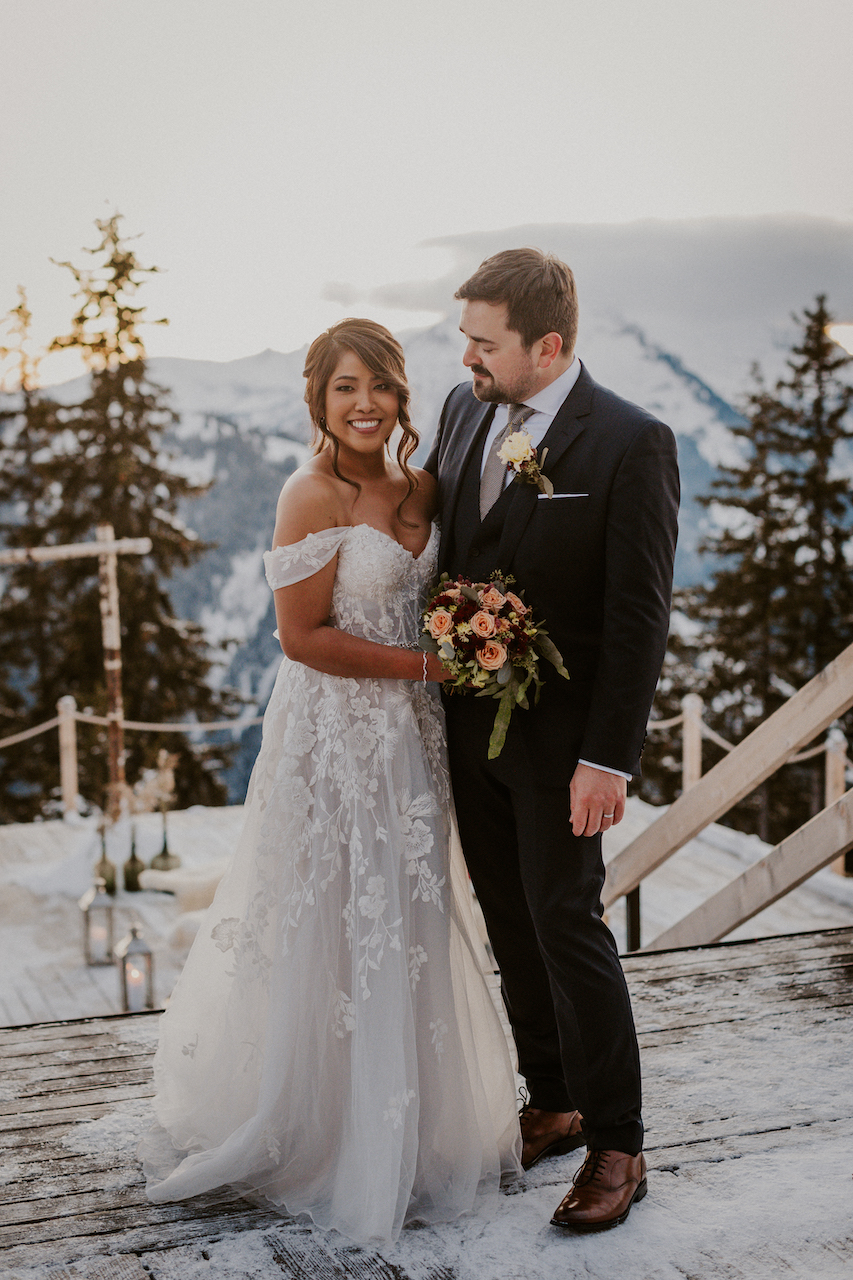 How did you feel when you knew that you #foundtheone?
I remember looking at this dress in 2020 and sending a photo of it to my sister and mum. I tried on a few dresses in different shops but there's nothing felt right. When I finally had my appointment at David's Bridal, I showed this particular dress to my consultant straight away and she got it for me. When I finally tried on the dress, I just felt butterflies. My consultant glammed me up by putting the veil and some accessories to match and that was it for me, and I cried. I was with my sister and my mum was on Facetime at that time and they both started crying. I just knew it was the one.
Tell us about your wedding day!
Our wedding was everything we hoped for and more. It was the best day from beginning to end. A few days before our wedding, our organizer sent me a video of an ongoing snowstorm. I remember telling her, there is no way we are getting married in that weather and that we should have a plan B. She reassured me that it was going to be sunny in the next few days. On the day of the wedding, I woke up and rushed to the window to have a peak and voila, there was the sun!
Walking down the aisle was just something else. I walked hand in hand with my parents down a snow-covered path. The wedding ceremony was beautiful with the backdrop of the mountains covered with snow. The sun was nearly setting so the colors were magnificent. My best friend shared a lovely reading before the ceremony which made me cry even more. I kept looking at our friends and family and they were all beaming with smiles. I remember at that moment looking around and feeling the happiest I've ever been. We walked out down the aisle with massive smiles to 'Someday' by The Strokes.
At our reception, everyone enjoyed an aperitif with some cheese and dried meats. We also served raclette which is my favorite Swiss dish. We had speeches going and no one warned me that I would be crying loads to every single speech. The dance floor did not stop, and we all danced the night away.
Was there a highlight or most memorable moment of the day?
After the ceremony, Patrick and I shared our vows just the two of us. It was intimate and emotional. After saying our vows, we just held each other in a warm hug, and we kissed. The amazing view from the Wasserngrat that backdropped our exchanging of vows made it feel like a scene straight out of a movie. Another memory was the father/daughter dance and mine and Patrick's first dance. It was the best because Patrick hates dancing—let alone doing it in front of everyone—but he did it just for me.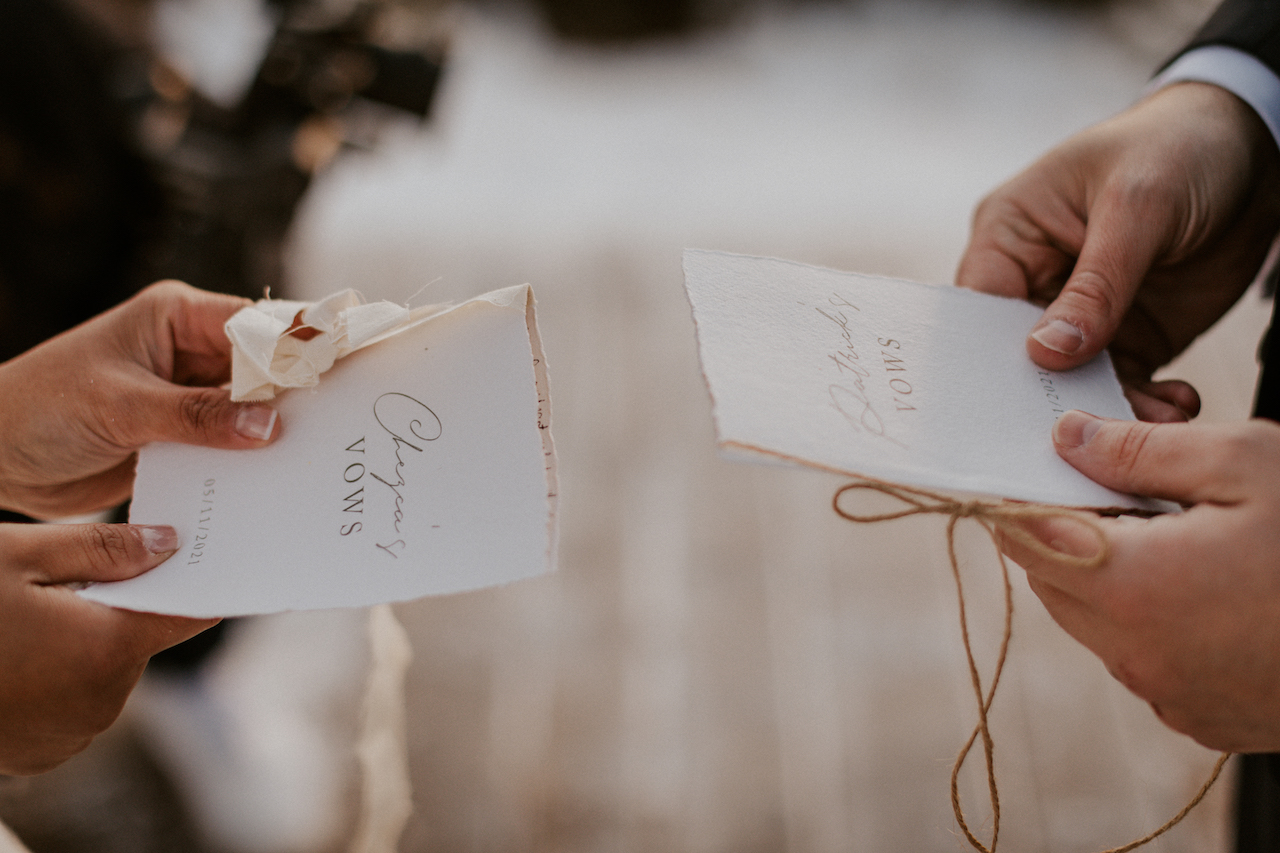 What was your favorite DIY or personal touch?
As part of the wedding favors, my in-laws made a coing jam from scratch. They both knew I love the spread so much that every time I visit Switzerland, they make sure I always have it for breakfast. The fruit is in season usually between October to November, so it was timely.
What's your best wedding planning advice?
Enjoy every second of the planning, because once it is done, it is done. Always remember that you are doing this for yourself and your husband/wife, so do what makes you both happy. Don't try to please everyone else. It is your day, so it should be about you both. Also try not to sweat over the small stuff, just enjoy it all.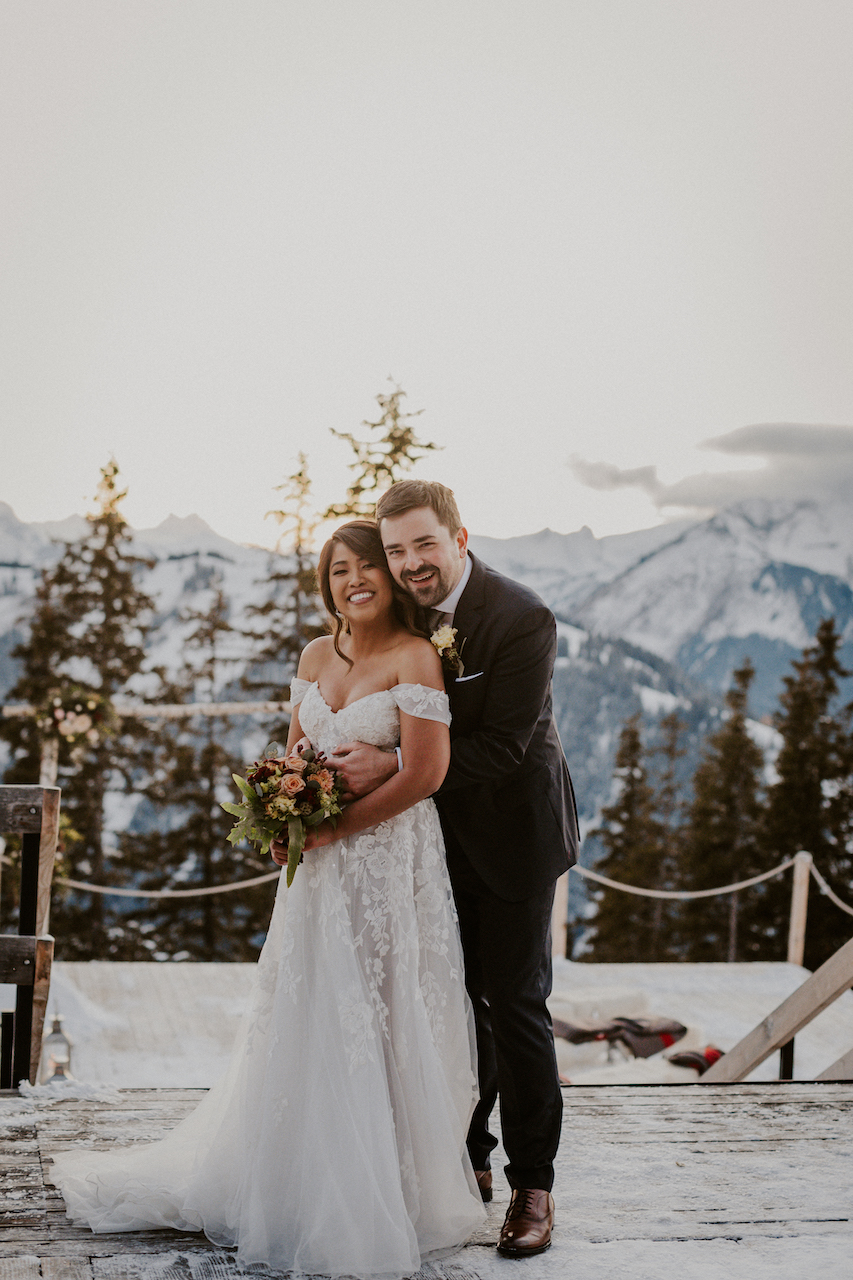 Anything else you'd like to share?
Cherish the entire journey. We only had six months to prepare the entire wedding, but we sure enjoyed every single bit of it. All the phone calls, shopping, tasting, meetings, and choices—consider it a process of self-discovery, imagination, and partnership.
More Details:
Wedding Date: November 5th, 2021
Location: Wasserngrat Bergrestaurant, Gstaad, Switzerland
Dress Style: Floral Tulle Wedding Dress with Removable Sleeves
Wedding Song: "Lovin' You Baby" by Charles Bradley
Cake Flavor: Vanilla cake and chocolate mousse
Photographer: Cécilia Hofer
Love this winter wedding in Switzerland? Read more real wedding stories here!
We know how important your wedding day and special events are to you and we are doing everything in our power to serve you! You can shop with us 24/7 at davidsbridal.com or come see us at your local David's Bridal. Plus we are here for you to help guide you through your wedding planning! See tips for starting to plan your wedding at home, shopping for your wedding dress online with confidence, and more on the blog.
Planning a wedding? Sign up for our Diamond Loyalty program—it's free! Follow us on Instagram, Pinterest, and Facebook for more real wedding inspiration, or click here to book an appointment.
Related Posts: