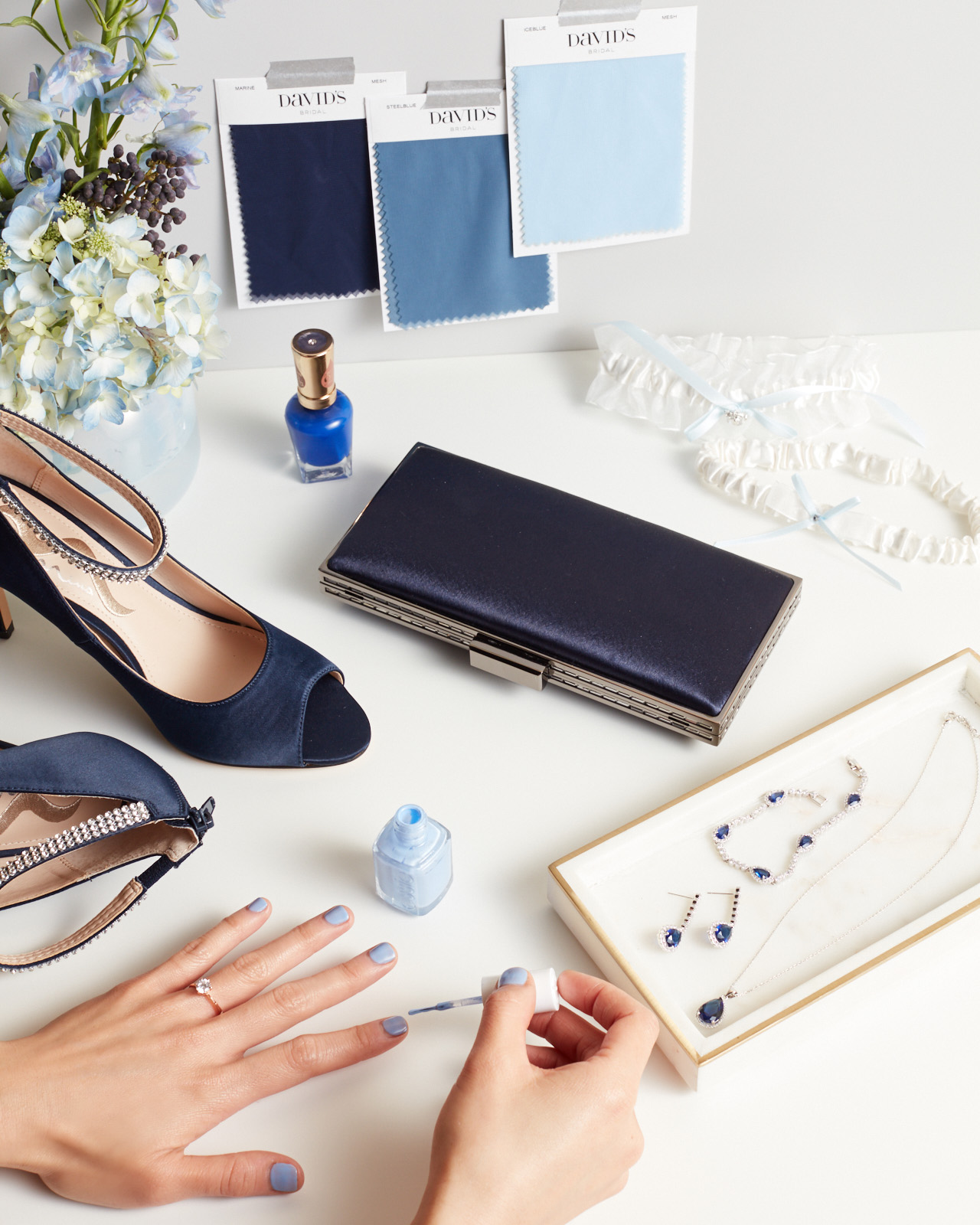 25 Jan

Unique Something Blue Ideas
Fun ways to incorporate this lucky wedding hue
While we know where the wedding adage something old, new, borrowed & blue originated, as a purveyor of all things color, we have a keen interest in exploring something blue a little bit more! Meant to bring good luck, brides have incorporated the color blue in unique and interesting ways for years, from subtle a touch to blue throughout. The serene hue has many meanings: trust, loyalty, sincerity, wisdom, confidence, stability. These positive feelings are a perfect addition to any wedding day. Keep reading for some unique ways to incorporate this color into your wedding day and tell us your something blue ideas in the comments below!
Manicure Trying to figure out your day-of mani/pedi? Swipe on some blue polish, from powder blue to deep sapphire, for something blue-approved nails.
Flowers For your bouquet, consider Marianne White Anemone, Arctic Ice Succulent, Hydrangeas, Wisteria, or Delphinium stems for your blue blooms.
Smoke Portrait This statement photo opp is in. The blue powder is an inexpensive prop for a priceless photo!
Wedding Cocktail Sip on blue colored liqueur for a lucky and tasty addition to your day-of menu.
Bridesmaids We don't play favorites when it comes to a certain shade of blue. Choose from twelve DBMaids options, from blue-greens to gray-blues and every other tint in between. Choose one color or mix and match a few for an ombré blue effect.
Rings Who says your something blue is reserved for only your wedding day? Wear your something blue with a sapphire, topaz, tanzanite, or aquamarine stone in your engagement ring or wedding band (or both!).
Thread We love the trend of adding some hidden stitching to your wedding dress (with your new last name or wedding date). Opt for blue thread for that extra dose of luck.
Makeup Make your eyes pop by adding some blue to your wedding makeup. From a subtle smokey outer corner to an electric blue liner.
Accessories Complete your bridal look with some sapphire jewelry, dyeable heels (for seamless matching with your maids), or blue sash.
No matter how you do something blue, pink, or green, we're here to help you along the way! See our guide to all things color and book an appointment to find your head-to-toe bridal look!
Related Posts: