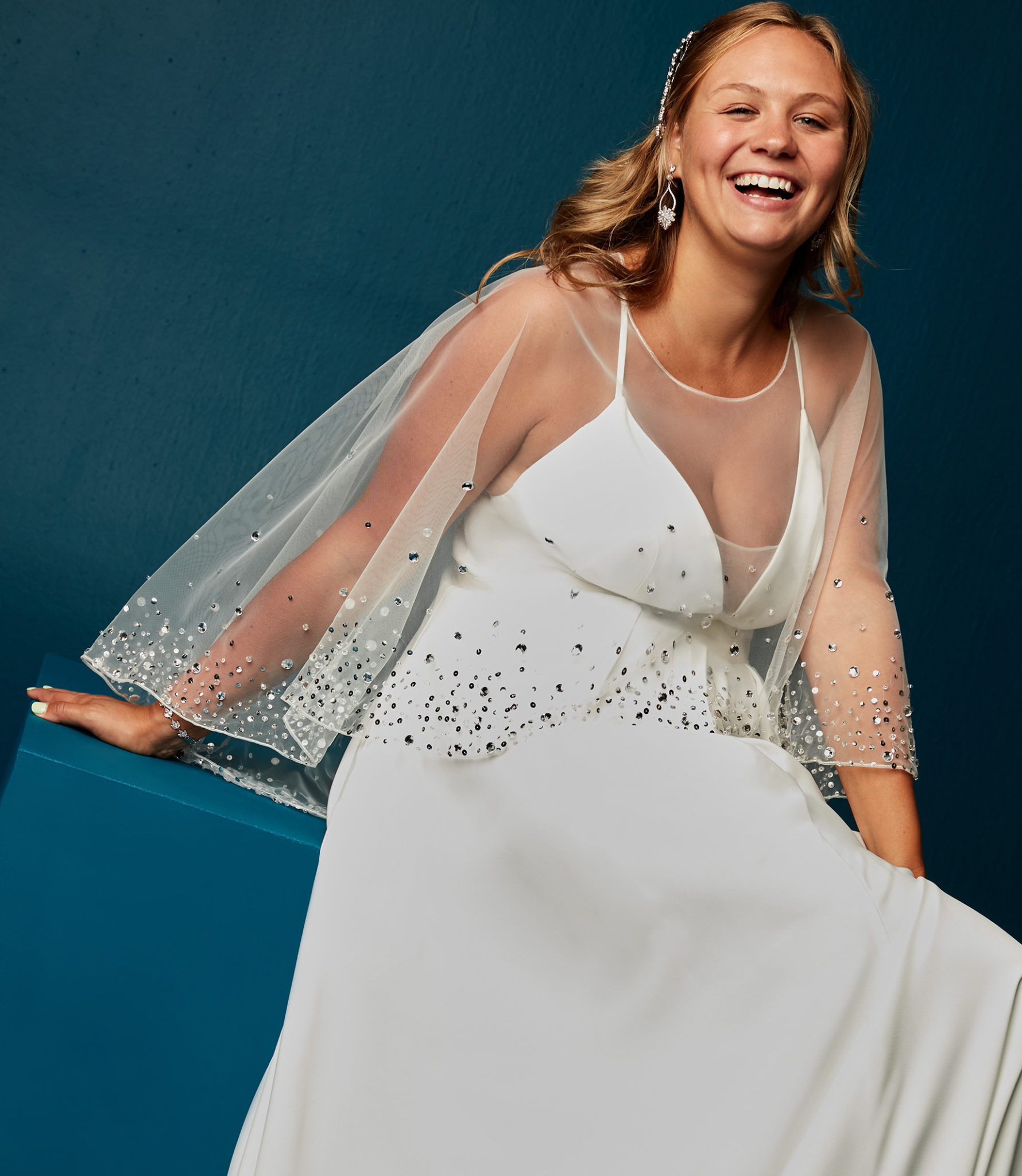 15 Oct

Top Off Your Look: Bridal Outerwear and Toppers
Transform your wedding dress with a jacket or topper
So you've found your dress, and now it's time to accessorize! One of our favorite and on-trend ways to add interest to a wedding day look is with some bridal outerwear! From capes to capelets to so much more, we've got all the outerwear and toppers you'll want to elevate your wedding dress. These styles are perfect for some added coverage during your ceremony, or a second look at your reception! Read on for some of our favorite bridal outerwear and toppers to easily spice up your bridal look!
Capelets & Wraps
For a cool and chic way to add some detail to your wedding dress, top off your look with a capelet or wrap! A capelet is a small cape that typically covers the shoulders and a wrap drapes effortless around them, making them both perfect options, if you're looking for some added coverage during your ceremony.
Style OW2143 – $99.95
Adorned with 3D punch flower appliques, this sweet and delicate lace-trimmed tulle capelet adds a radiant touch to any bridal look while still showing off your beautiful wedding dress.
Style OW2147 – $139.95
Add a dazzling touch to your wedding day style with this high-low capelet with a pattern of 4,000 crystals and over 500 sequins dusting the hem. The sheer tulle makes this piece a versatile option to top any wedding dress.
Style OW2151 – $149.95
Made with over 20,000 beads and over 1,000 sequins this lightweight tulle capelet is a beautiful way to add detailed coverage. The intricate, hand-beaded piece features floral and leaf patterns along with a sweet scalloped edge.
Style OW2152 – $19.95
Add some color to your look or your maids with a shimmery metallic wrap! This trendy wrap is a perfect way to add some coverage and sparkle for your big day or any upcoming events. Wear your wrap draped over your shoulders or forearms for that effortless look.
Capes & Jackets
Make a bold statement as you walk down the aisle with a bridal cape or add interest to your dress with a bridal jacket! Layers of tulle and lace will add some extra drama and dimension to your look, perfect for your ceremony or a second look during your reception!
Style OW2142 – $199.95
This long tulle cape with a sweep-length train adds an air of drama to a simple or romantic wedding dress. Lace applique covers the shoulders and hemline for a finishing flourish.
Style OW2145 – $149.95
Add dimension and softness to any bridal look with this sheer, floor-length point d'esprit tulle jacket. The sweeping flutter sleeves and wrap-front style lends subtle coverage while still enhancing the chic-factor.
Beaded Straps
Looking to add more sparkle to your wedding day look? Give any strapless or spaghetti strap dress a dramatic upgrade by adding ornate beaded straps. These straps can be easily added to your dress, just ask one of our alteration specialists!
Style OW2148 – $129.95
Talk about added sparkle! These beautiful straps feature delicate, swooping strands and embellished appliques with 6,000 hand-sewn beads. Our favorite part? You can wear them like normal straps or you can wear them as a trendy swag sleeve!
Style OW2149 – $99.95
Sweeping layers of pearls and crystals offer a delicate and romantic touch to your wedding dress. These radiant hand-beaded straps drape to create a capped shoulder swag sleeve effect. These straps are ideal to dress up a clean and simple bridal gown, or add even more drama to an embellished wedding dress.
Ready to spice up your look? Whether you're looking for some added coverage, interest, or even a second look for you wedding, you can't go wrong with any of these styles! Shop bridal outerwear options at your local David's Bridal or shop online at davidsbridal.com!
Related Posts: