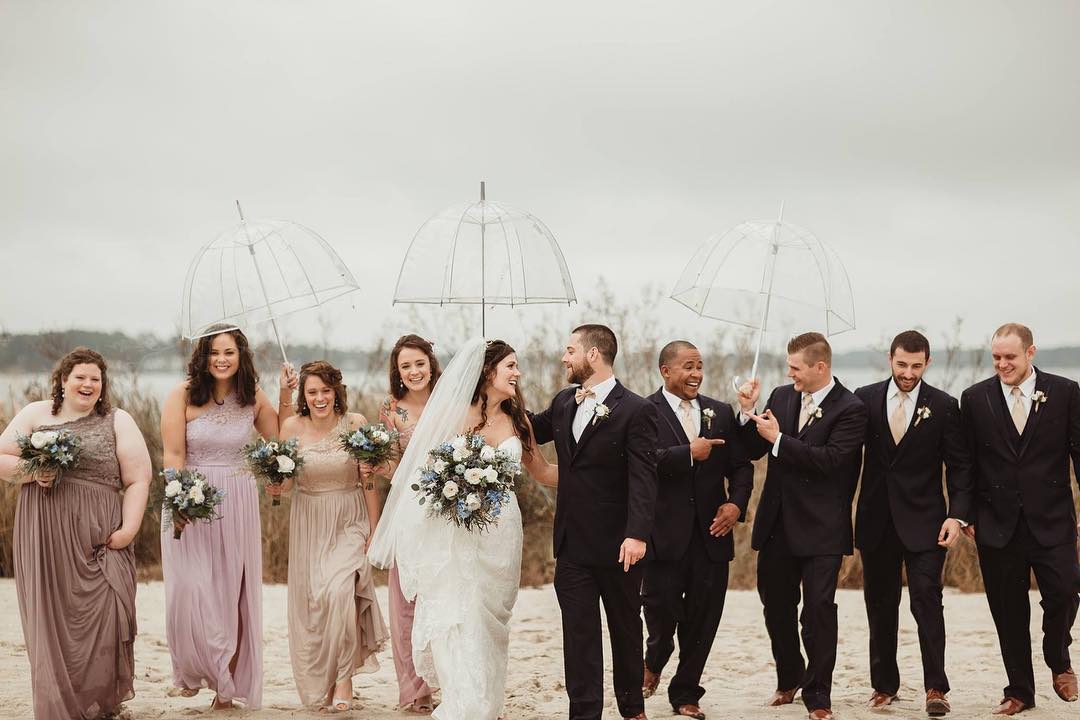 20 Apr

Tips for a Rainy Day Wedding
How to gracefully handle rain on your wedding day.
We all know how the saying goes, 'April showers bring May flowers' and there is nothing more stressful than the things you can't control on your wedding day. When it comes to the weather, don't let an old poem sway you from saying spring I Do's. Read on for our tips so you can embrace a rainy day wedding.
Be prepared with umbrellas. They're both practical and pretty! Some of our favorite wedding images are when shower-shielding bubble umbrellas become a cool photo prop. Have plenty of extras on site to keep your guests dry, too!
Spare shoes are a must. Whether it's a pair of sneaks or color-coordinated rain boots, you'll be thankful you aren't walking through puddles in your ivory heels. Other accessories, like a topper or wrap, will be appreciated with the cool temps that come with early spring rain.
Have an in-case-of-emergency indoor space. If you're planning an outdoor wedding during this risky weather season, consider a venue with both indoor and outdoor options. In the event your perfect location doesn't have indoor area available, a tent rental is a great alternative. You'll be thankful for a plan B!
Go with the flow! If you have back-up plans in place and inclement weather still makes a splash, don't let it tarnish your special day. And plus, aren't those dancing-in-the-rain movie scenes always the most romantic?
Still deciding on the perfect season to have your wedding? Get inspired for wedding dresses and color palettes for every time of year.
Featured image c/o @madeleineayers_
Related Posts: