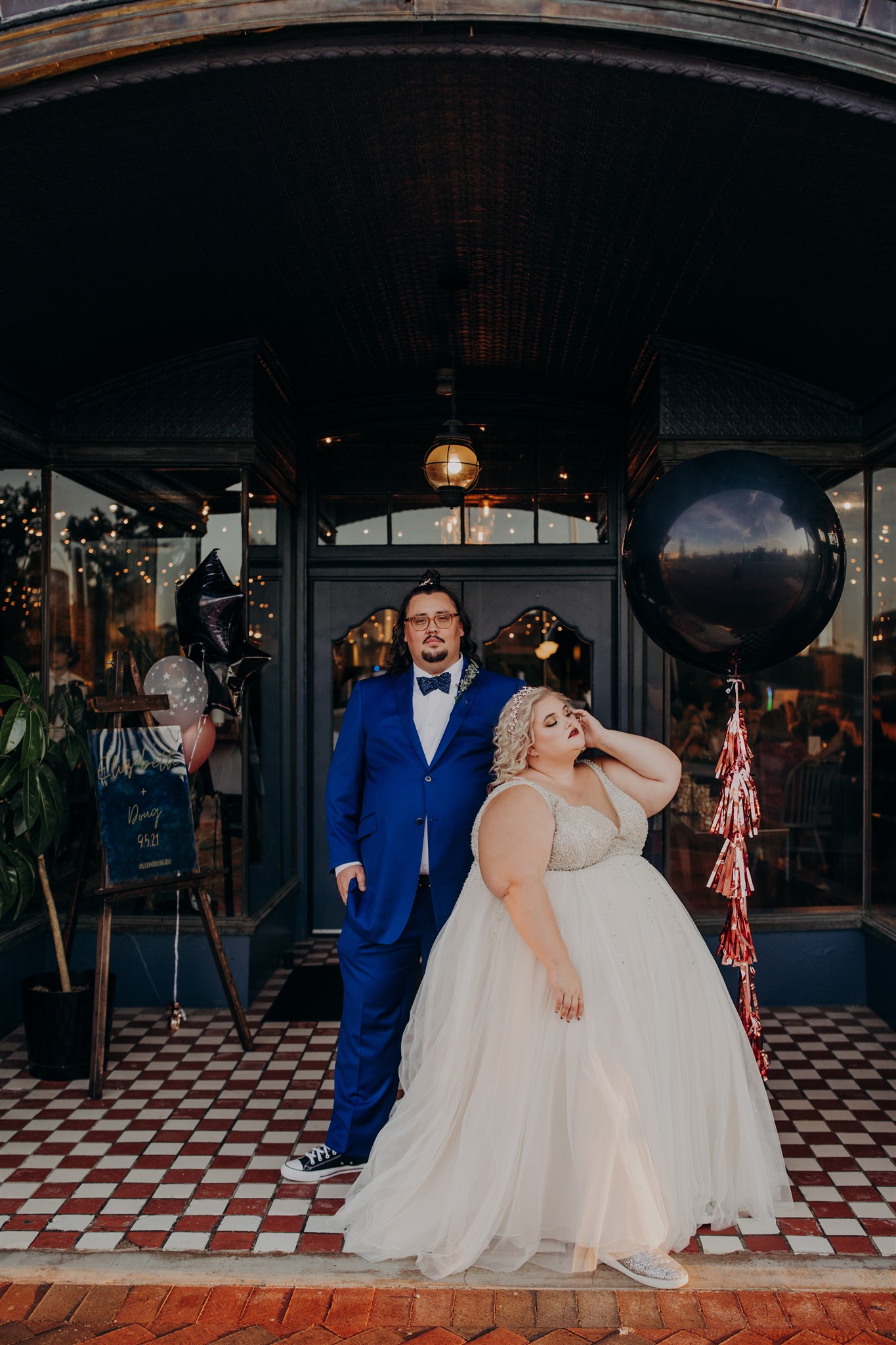 08 Dec

Real Wedding: Elizabeth & Doug
Urban Chic Wedding in Columbus
Real weddings are so inspiring! To get you in the mood to plan, we asked real brides to spill the details on everything from getting engaged and finding their wedding dresses to the special touches and surprising moments that made their celebrations completely one-of-a-kind. Elizabeth (content creator behind @snackincbus) and Doug tied the knot with a fun-filled, urban chic wedding in Columbus, Ohio. From the moody color palette to the celestial decor elements, we love how every detail came together in a most perfect way. Keep reading for all the details from this special day!
Briefly tell us how you and your fiancé met! How did you know that he was the one?
Doug and I met six years ago at a poorly lit hipster dance party in a bar in Columbus, Ohio. I immediately noticed Doug's sweet moves, sweatband scrunchie, and floral sweatpants. He made the first move by coming over and complimenting my makeup and buying me a drink. A month later we reconnected when the dance party posted pictures of us talking and Doug slid into my DMs asking for a date!
Tell us your proposal story!
Doug actually proposed a couple times, but it was never the right time. First, I felt like we hadn't been together long enough. Then, I'd just started grad school and new career path. We took our first vacation together to Jamaica in 2019 after we both finished school. There, he proposed in the most beautiful way on the beach, with flowers, and a beautiful dinner; as a plus size babe I never really felt like that kind of romance and fanfare was accessible for me, but Doug has always told me and shown me that if I want it, i'm worth it!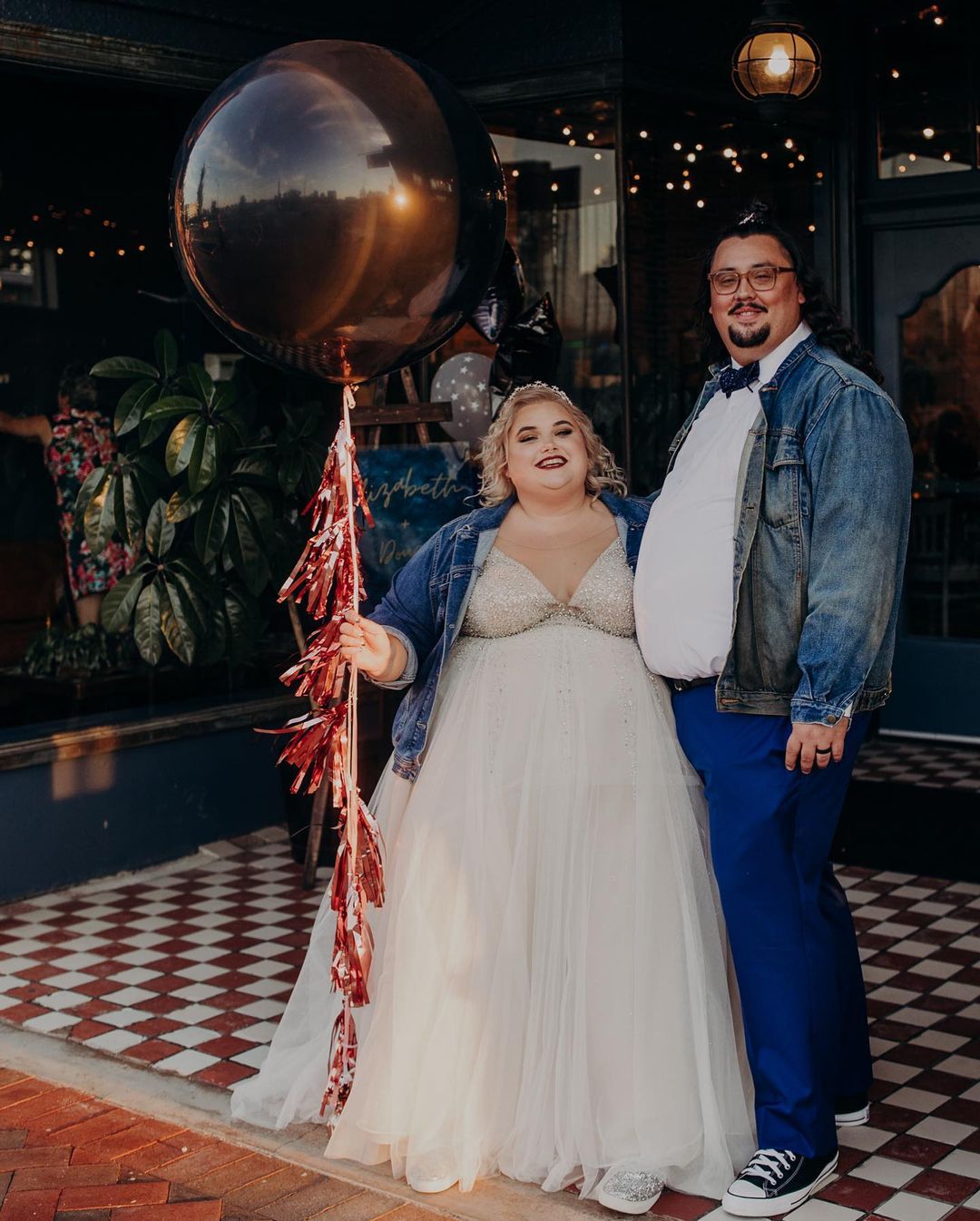 How did you both decide on your wedding day look?
Honestly, we both wanted to feel comfortable and at home on our wedding day and we wanted our guests to feel the same. The look came together from my dress. The beading reminded me of constellations and a loose starry night theme came from there!
Do you have any shopping advice for future brides?
Weddings can be extremely triggering, emotional events — the money, the gravity, the social pressure. Be patient and check in with yourself about what feels good, right, and true for you. Share that with trusted people in your life like your partner and best friends. When trying on outfits stay true to you. If you want to be super glam, get it! If you want to be comfortable, get something you can dance the night away in. Pant suit? Yes! Sexy vibes? Absolutely! Whatever your truth is, get it.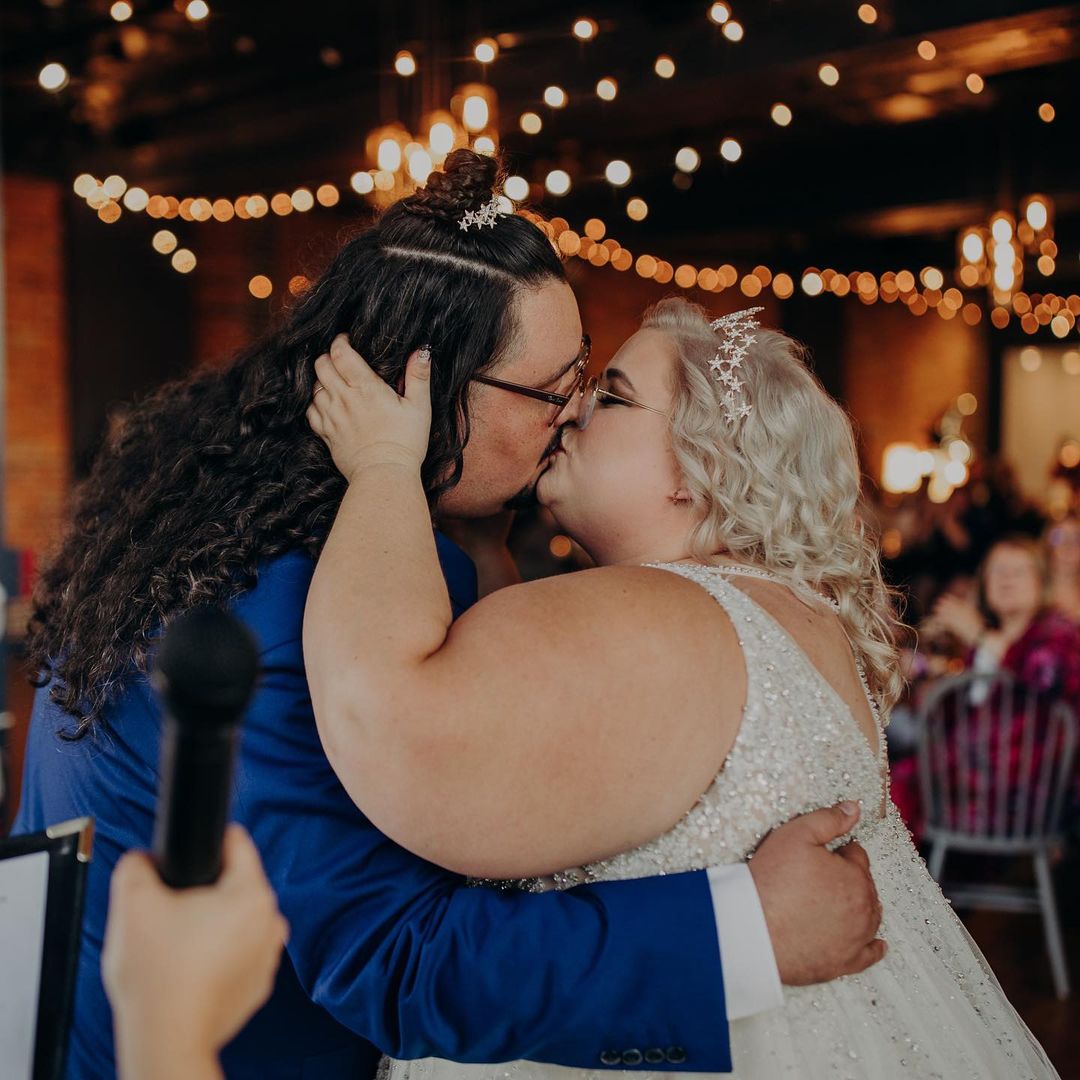 What was your favorite detail about your look?
My favorite detail was how my crystal star halo crown perfectly matched the beading in my dress. I felt like an absolute goddess!
How did you feel when you knew that you #foundtheone?
I felt simultaneously comfortable yet incredibly sexy. I knew I could dance the night away, feel invincible, and 'wow' Doug.
Tell us about your wedding day!
Planning then replanning a wedding (thanks a lot, global pandemic) while making sure my best buds and family would be safe was SO STRESSFUL, but seeing the joy and love on my partner's face when we shared our vows, laughing with friends and family, and dancing the night away made it all worth it.
Was there a highlight or most memorable moment of the day?
Seeing Doug get weepy when I walked down the aisle! We didn't do a first look and seeing him slowly pick up details of my bridal look was amazing. Exchanging vows with him in front of friends and family was a moment I'll never forget.
Did anything funny or unexpected happen?
One of my bridesmaids Katie had her boyfriend Matt bring our pup Delilah to our venue for a quick photo. Seeing her smooshy face made the day.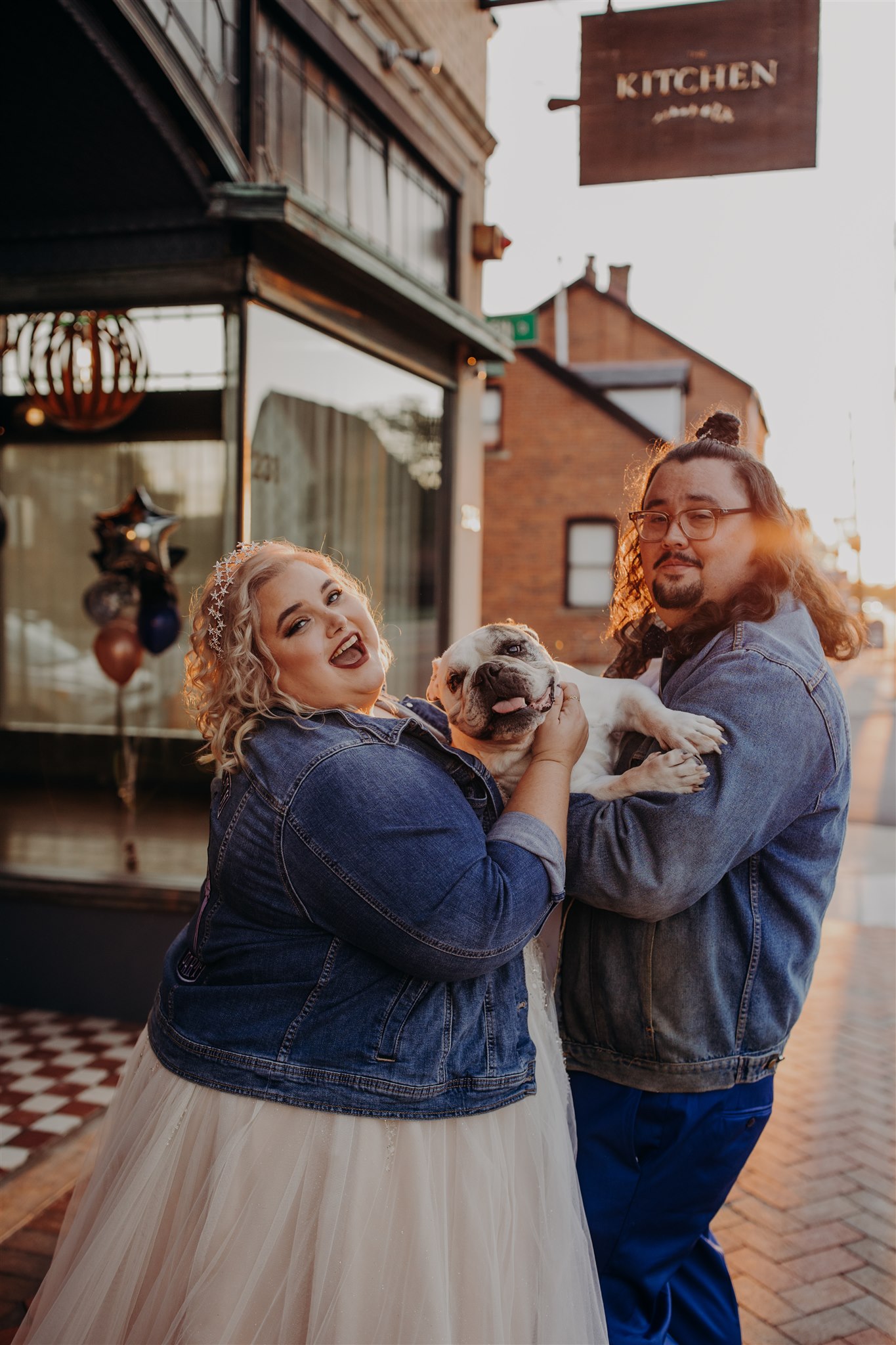 Is there something you wish you had known before the big day/while you were planning the wedding?
As a life long fat babe, I was certain my confidence was unshakable but I admit hearing some of the people in my life ask about wedding diets, recommend more "flattering styles," and say negative things about my body took a huge toll on me. It was only through talking to other plus babes and my partner and making very firm boundaries with those people that I was able to stay true to myself.
Did you have to make any changes to your wedding plans because of Covid?
The date and year, the venue, menu, and attendees… just about everything! But, Doug and I stayed the same and we made it!
Did you have a first dance song?
Our first dance song was Miike Snow- Ghengis Khan. When we first met, Doug would sing it to me over and over again!
What flavor was your wedding cake?
A cinnamon roll yeast donut from Buckeye Donuts.
What was your theme?
Starry night!
What was your favorite DIY or personal touch?
My favorite personal touch was balloons from a local party planning place. We did giant balloons and a bunch of moons and stars to fit with our theme. They were gorgeous!
What did you do to stay stress free on your wedding day?
We had a later wedding! We started the ceremony at 7:00pm. Doug and I are not morning people and I hate being rushed, so having a later ceremony let us wake up naturally and ease into everything that needed to be done. I also had an amazing friend, Sam, volunteer to handle things at the venue on the day of the wedding and she did amazing!
What's your best wedding planning advice? And what advice do you have for brides that are planning their weddings right now?
Make a list of "must haves" and "like to haves" and then everything else can be negotiable. Don't let expectations determine your must have list either —whether that be your day of look or your guest list, etc.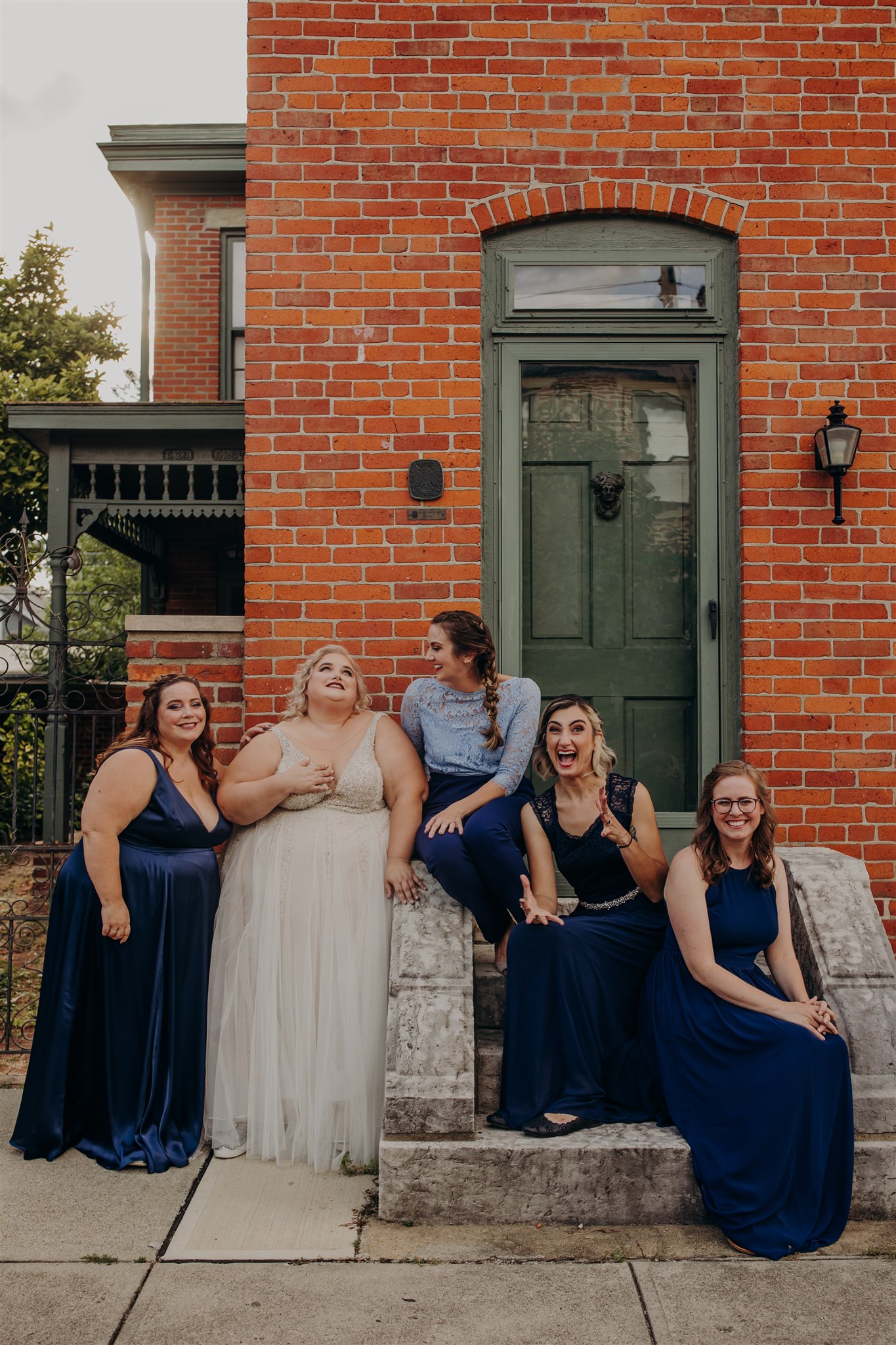 Anything else you'd like to share?
Just my absolute gratitude that David's Bridal was accessible. The fitting room was big enough for me to feel comfortable moving around, there were sample dresses that were comfortable and allowed me to imagine what they would look like on my size 30 body, and the David's Bridal's team has been welcoming with all my questions and concerns. Two of my bridesmaids and my mom got their dresses from David's Bridal and felt the same amount of care and consideration!
More details:
Wedding Date: September 5th, 2021
Wedding Location: The Kitchen in Columbus, Ohio
Wedding Dress Style: Beaded Plunging V Illusion
Photographer: Rachel Joy Barehl
Love this urban chic wedding in Columbus? Read more real wedding stories here!
We know how important your wedding day and special events are to you and we are doing everything in our power to serve you! You can shop with us 24/7 at davidsbridal.com or come see us at your local David's Bridal. Plus we are here for you to help guide you through your wedding planning! See tips for starting to plan your wedding at home, shopping for your wedding dress online with confidence, and more on the blog.
Planning a wedding? Sign up for our Diamond Loyalty program—it's free! Follow us on Instagram, Pinterest, and Facebook for more real wedding inspiration, or click here to book an appointment.
Related Posts: