19 Jan

Real Wedding: Alecia & Jesus
Tropical Summer Wedding in Orlando
Real weddings are so inspiring! To get you in the mood to plan, we asked real brides to spill the details on everything from getting engaged and finding their wedding dresses to the special touches and surprising moments that made their celebrations completely one-of-a-kind. Craving summer during these cold-weather months? Us too! Keep reading for some tropical vibes and warm wedding inspiration from Alecia & Jesus' summer wedding in Orlando, FL.
Briefly tell us how you and your fiancé met!
We met at the school we were working at. He was the fourth and fifth-grade teacher and I was the Art teacher. It's ironic because the first time we met, I actually didn't want anything to do with him. At that point in my life, I wasn't looking for new friendships or relationships. I felt I needed to be alone, but the minute I let him in, everything turned out to be better than I expected.
Tell us your proposal story!
We had made plans to go out for dinner that night (like any other night), but I had been pretty emotional throughout the day. It felt like nothing was going right for me that day and I just wanted to stay home. He thought with all of the ups and downs of the day, it would be a good idea to get out of the house and get some fresh air.
And it was a good idea! We went to a restaurant at Disney Boardwalk and we had a nice walk around afterwards. It was actually the location of one of our first dates, so it was nice to revisit the area. One of the bridges on the boardwalk overlooks the France pavilion at Epcot. It has a beautiful view and we stopped for a moment to take the sights in.
That was where he surprised me and got down on one knee and proposed. I was so in shock that I immediately said, "Yes," but I had to ask him to repeat his proposal because I couldn't wrap my head around what was happening.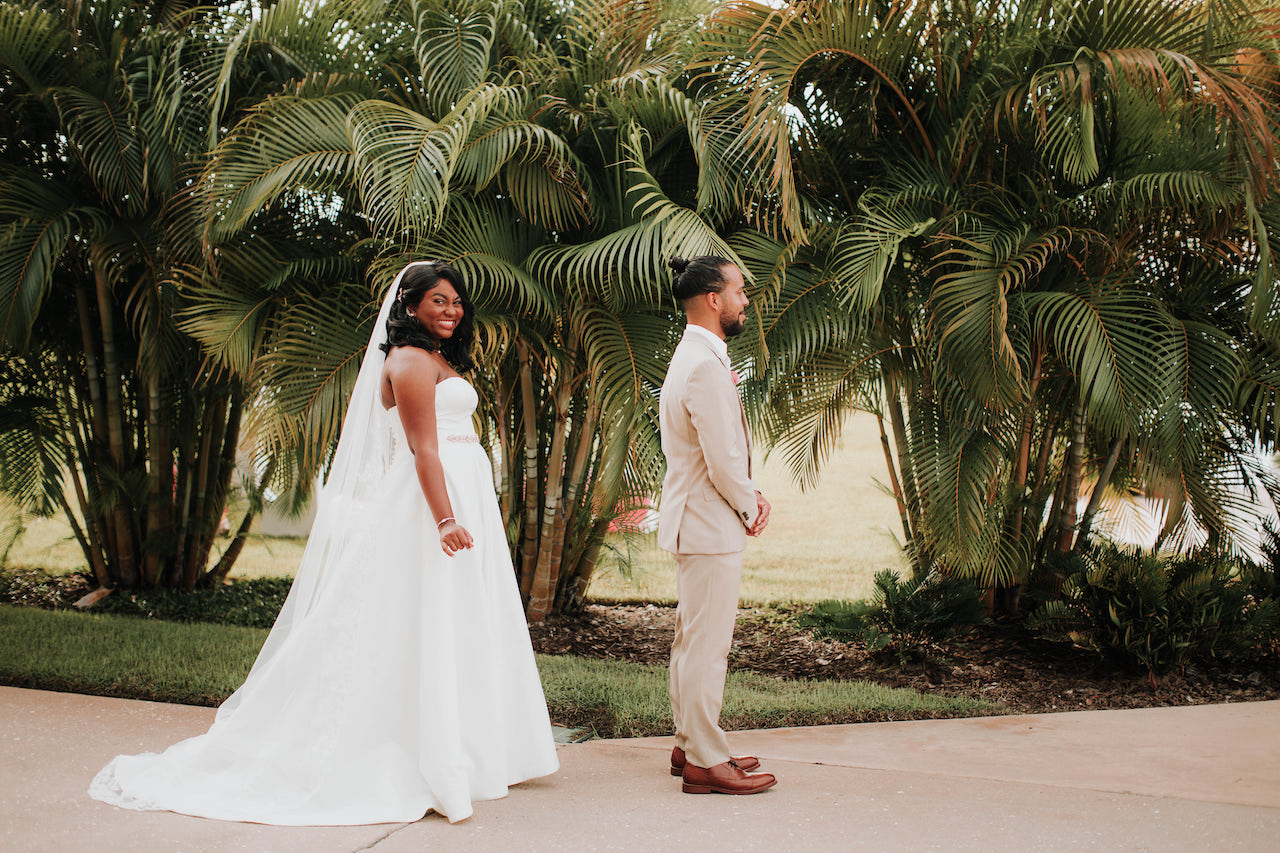 Do you have any shopping advice for future brides?
Remember to go with what's best for you. Please do not get peer pressured into getting a dress you're not in love with because of social media, friends, or family. Also, don't be afraid to be open-minded. I tried on several slim-fitted, lace wedding dresses because that was the only idea I had in my head. The dress that I ended up with wasn't even my choice. It was suggested by my consultant at David's Bridal and turned out to be the perfect choice.
What was your favorite detail about your look?
My POCKETS! I mean seriously, who doesn't want pockets in their dress? Plus, it came with a surprise slit at the front. So I felt like I had both sophistication and drama in my dress.
How did you feel when you knew that you #foundtheone?
Absolutely confident! I couldn't help but try it on twice.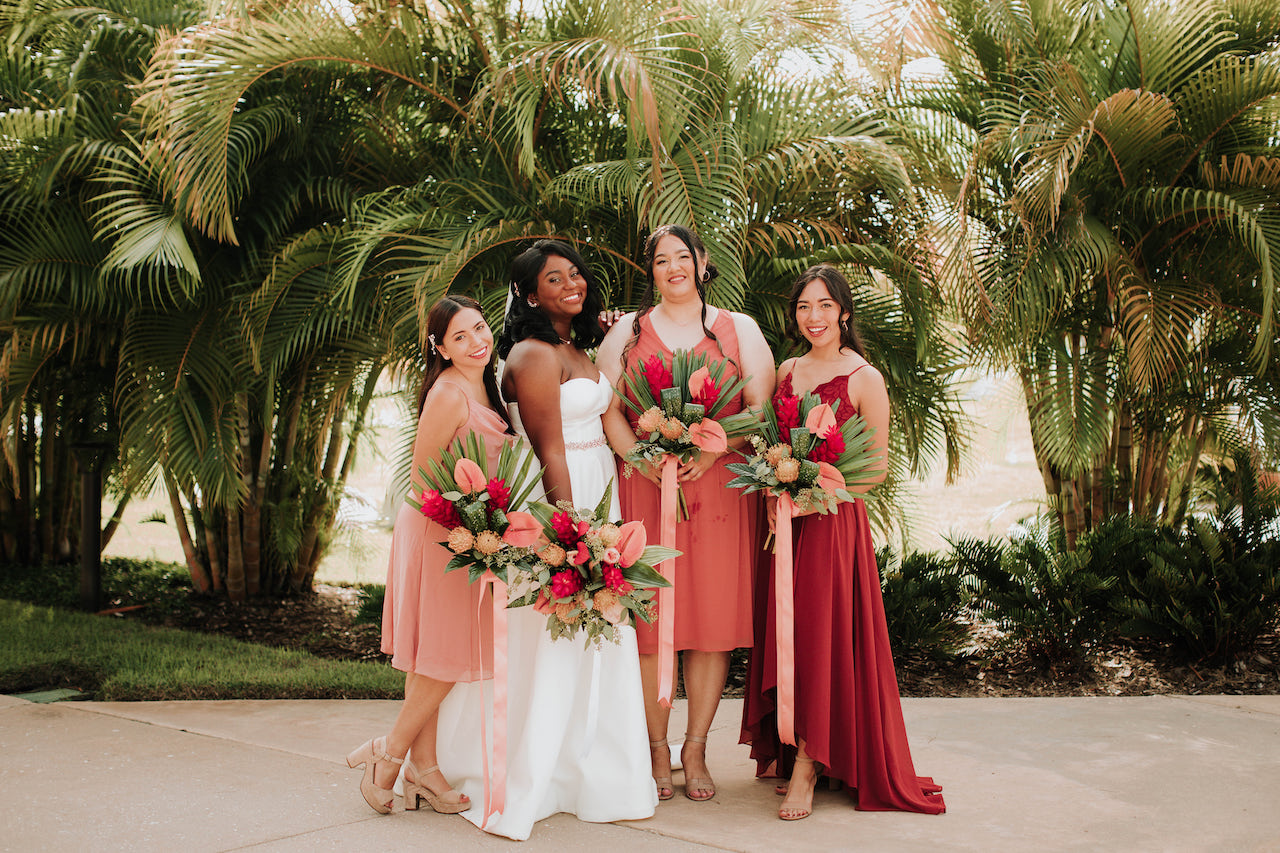 Tell us about your wedding day!
To kick off our big day, we flipped the script by not doing the traditional walk-down-the-aisle. We had some members of our wedding party lead guests down a path to our outside ceremony space. Once there, we had the rest of the wedding party open up curtains (like a doorway) to where they were surprised to see that we were already standing at the altar, ready to greet everyone instead. It was fun and intimate, and that helped to calm the nerves and take the extra pressure off of us.
Our reception afterward was energetic and engaging. Because it was a brunch wedding, we had a mixture of breakfast foods served, along with bottomless mimosas. We closed out the reception with trivia, sorbet, bubbles, and dancing. The trivia game was hilarious with questions about our love story, and we even had prizes for the winner of each table. We handed out sorbet to our guests as one of our wedding favors (plus, it was a nice cool-down treat since it was a hot day). I even got to help design the cups that included our dog, Suki who was also a member of our wedding party.
We wanted the festivities to continue throughout the day and invited our guests to meet up with us at Epcot later in the afternoon. Even though we were exhausted, it was an incredibly fun time!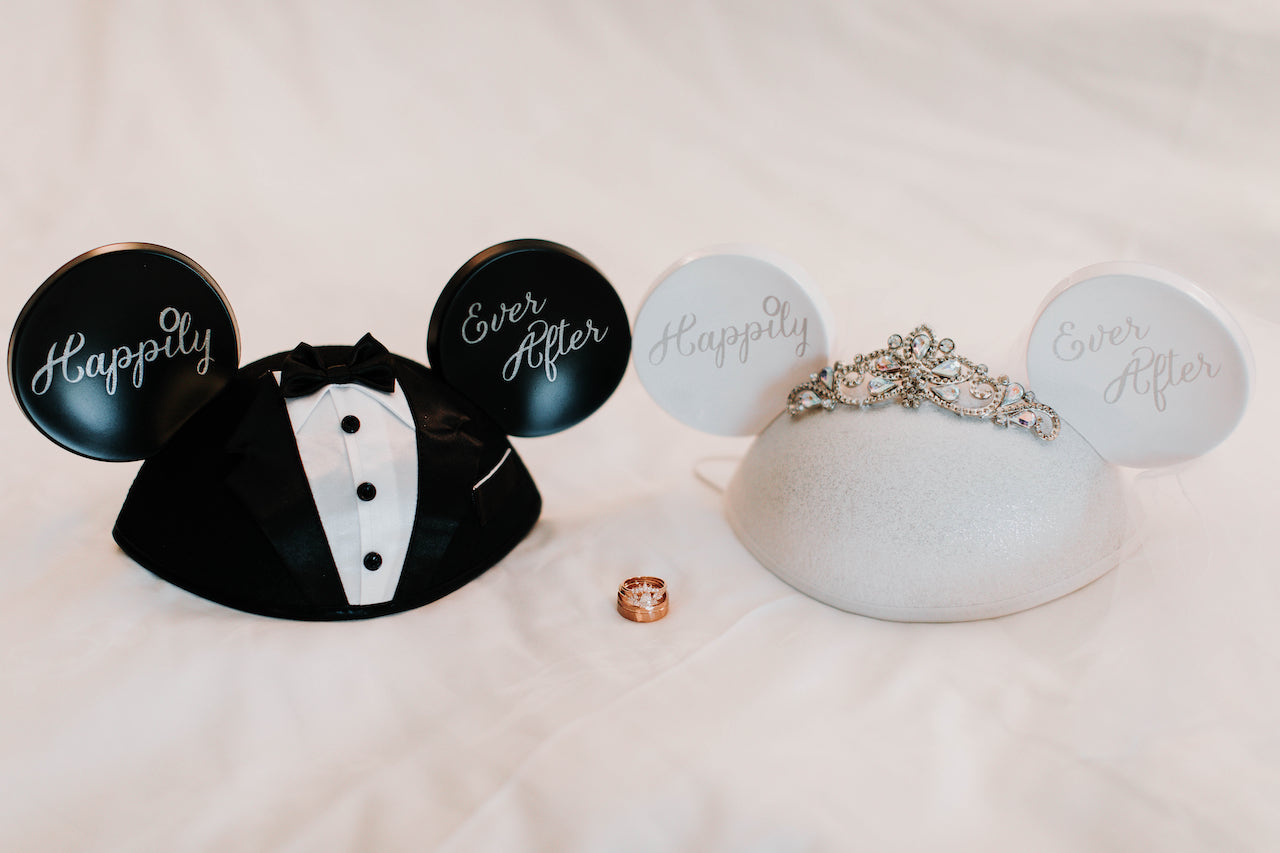 Was there a highlight or most memorable moment of the day?
I had made sketches of my vision for how our entire wedding would look like (from the moment guests stepped into the lobby, to the cocktail area, to the ceremony space). Seeing these designs come to life before anyone else was all we could've ever wished for. We had an amazing crew and set of vendors. All their time and energy setting up for our wedding will never be forgotten. They truly outdid themselves.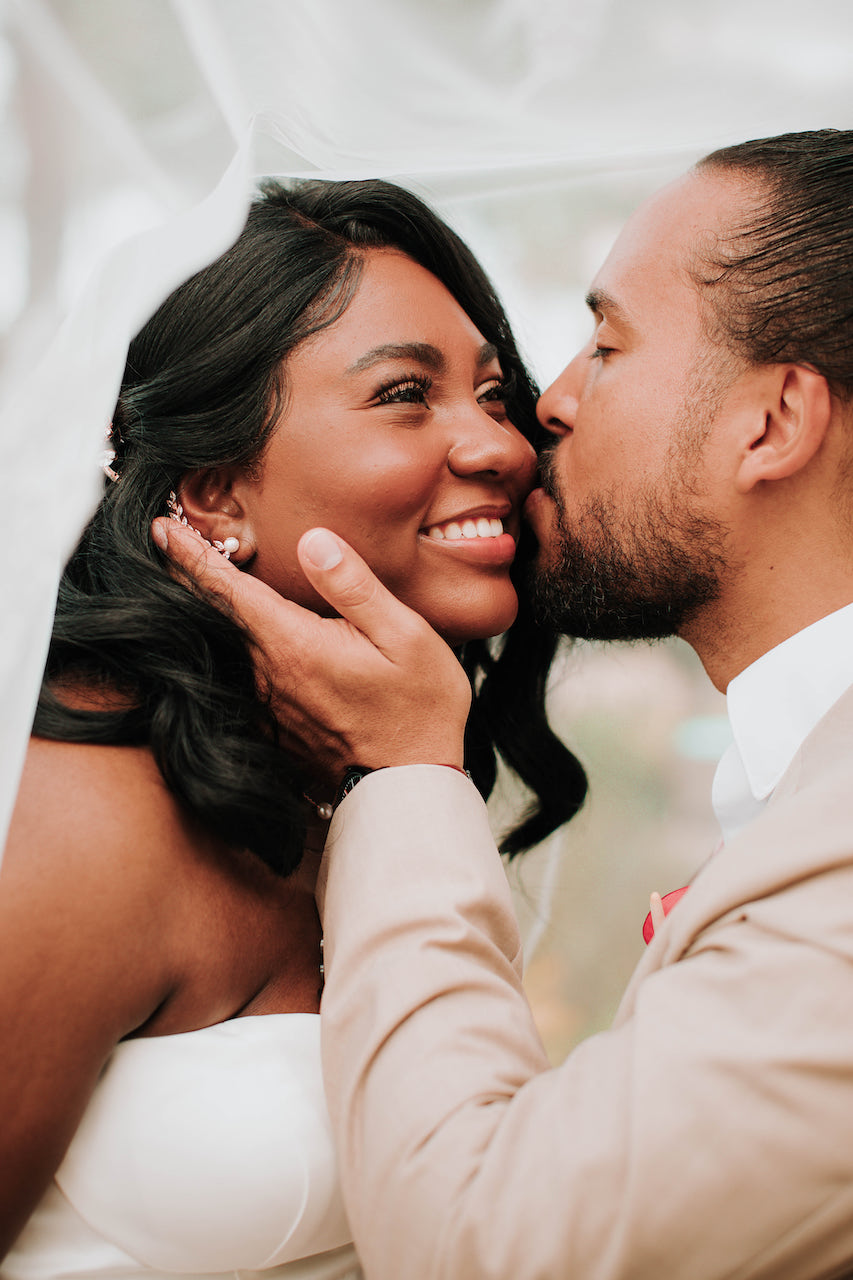 Did anything funny or unexpected happen?
The weather had been on our minds for a long time prior to the wedding since we were going to have an outdoor ceremony. On the day, the temperature was a lot warmer than we had expected it to be. We were definitely "glistening" during the ceremony, but thankfully it wasn't very long.
Is there something you wish you had known while you were planning the wedding?
This was all brand new to us, so we had to learn everything. Since we were doing the wedding ourselves, I wish we would have known how much work, time, and effort would require of us beforehand.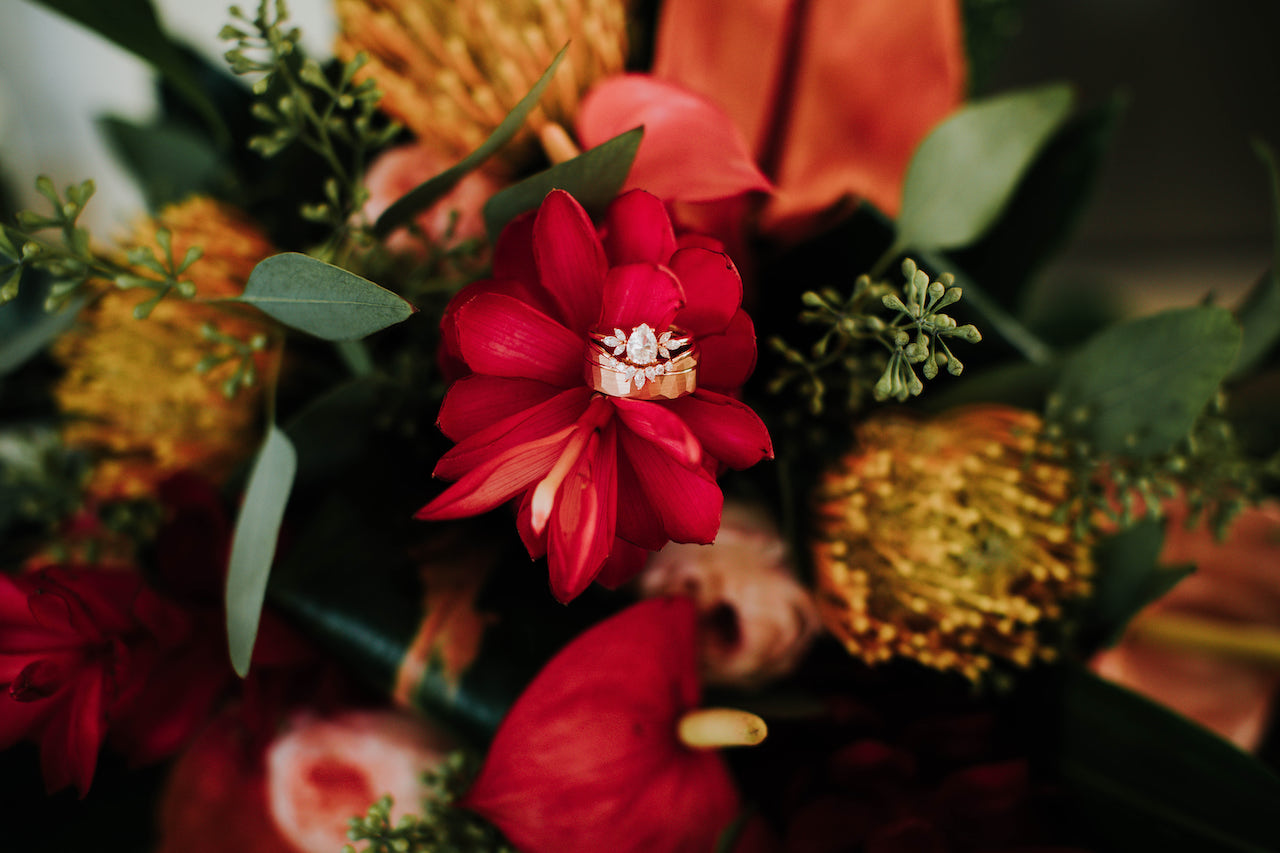 What flavor was your wedding cake?
Lemon Raspberry Swirl and Pina Colada
What was your favorite DIY or personal touch?
There were too many to count! One example was in our flowers. We had a wonderful florist who learned about our love for Disney and placed hidden Mickey's in the corsages and on our arch. I also loved that I got to design our save the dates myself. That felt a lot more personal since I was able to add my own skills for our special day.
What's your best wedding planning advice?
Do not procrastinate! Once you're engaged, take some time, maybe a week, to enjoy the feeling and excitement of being engaged, and then start planning right away. Pinterest and Instagram can be your friends, but you also need to set some boundaries. These sites can help you to create your vision board, but once you nail down your theme, stick to it.
It's really tempting to go down a rabbit hole and compare your vision to others. But remember to stick to your initial thoughts. Your wedding is supposed to be uniquely yours. Make time to rest even if that means you have to schedule it in a planner. Remember to stay hydrated! Trust me. You don't want to look like a zombie the week of your wedding.
What advice do you have for brides that are planning their weddings right now?
It's so easy to get overwhelmed with planning your big day. Just remember the day is not for other people. It is about you and your partner first and foremost. Have fun!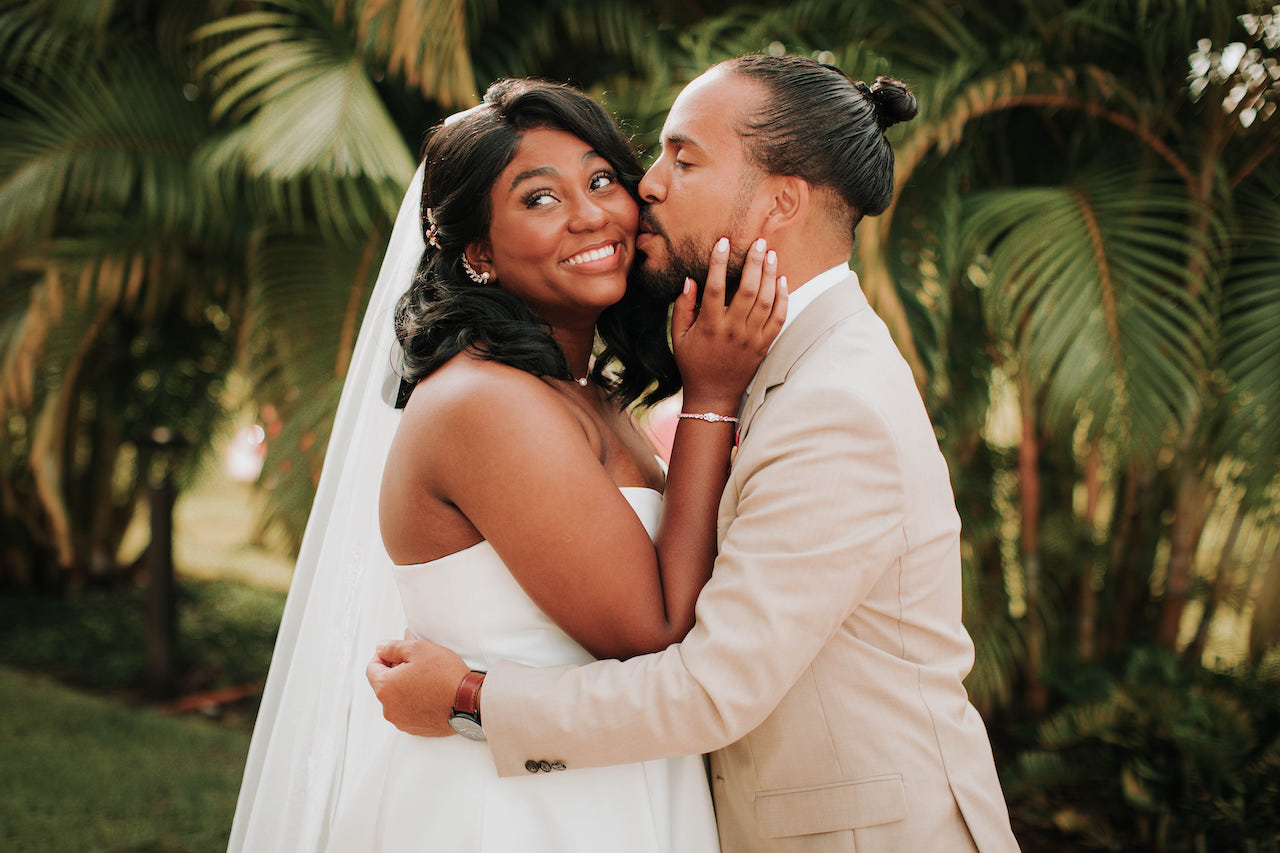 More Details:
Wedding Date: August 22, 2021
Location: Margaritaville Resort Orlando
Dress Style: Strapless Satin Wedding Dress with Skirt Slit
Wedding Song: "Tethered" by Sleeping at Last.
Photographer: Monica Grace Photography
Love this tropical summer wedding in Orlando? Read more real wedding stories here!
We know how important your wedding day and special events are to you and we are doing everything in our power to serve you! You can shop with us 24/7 at davidsbridal.com or come see us at your local David's Bridal. Plus we are here for you to help guide you through your wedding planning! See tips for starting to plan your wedding at home, shopping for your wedding dress online with confidence, and more on the blog.
Planning a wedding? Sign up for our Diamond Loyalty program—it's free! Follow us on Instagram, Pinterest, and Facebook for more real wedding inspiration, or click here to book an appointment.
Related Posts: