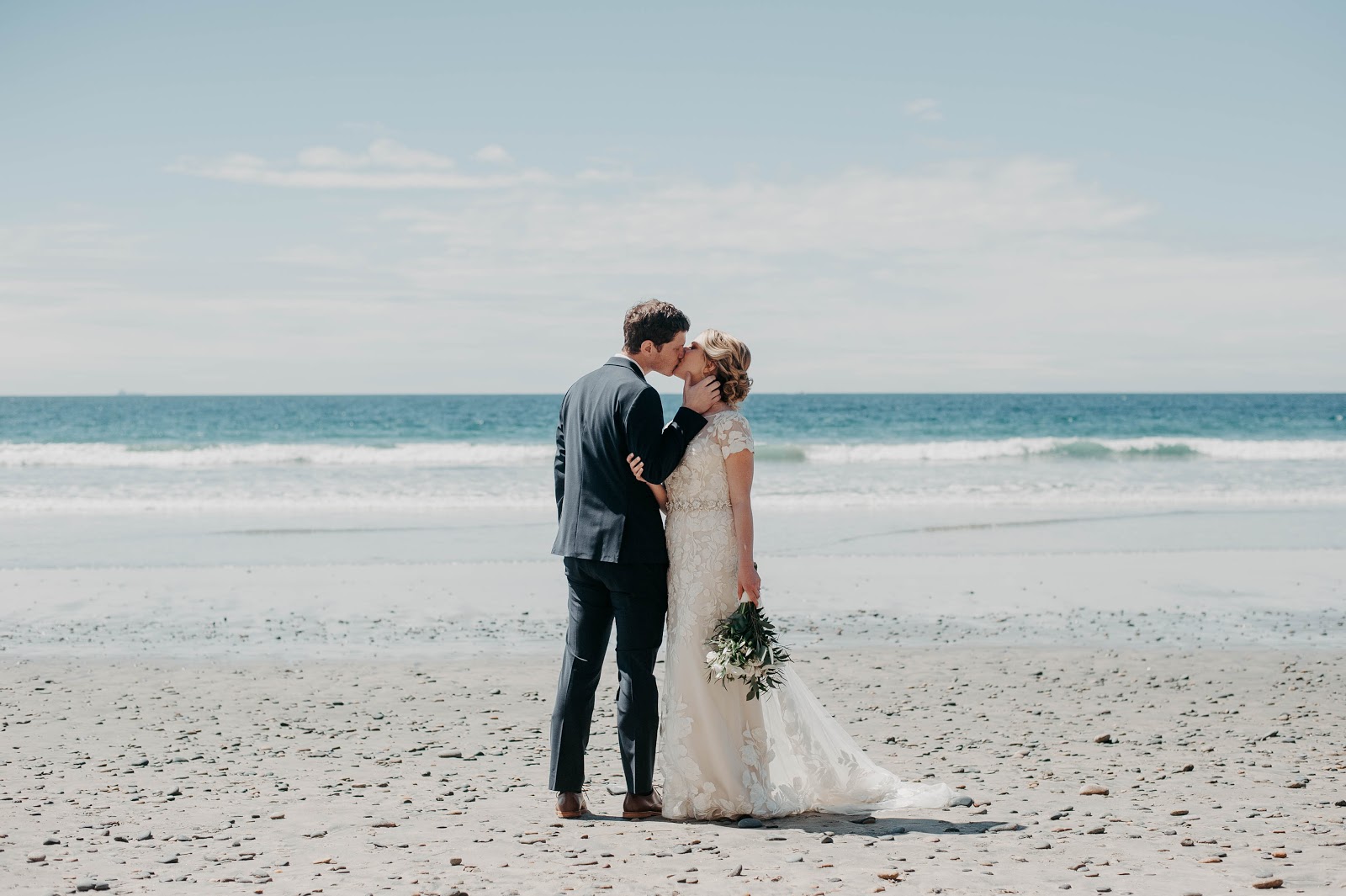 09 Apr

Real Wedding: Christy & Jeremy
An Intimate Lakeside Wedding in California
Real weddings are so inspiring! To get you in the mood to plan, we asked real brides to spill the details on everything from getting engaged to finding their wedding dresses to the special touches and surprising moments that made their celebrations completely one-of-a-kind. Read on for Christy and Jeremy's intimate lakeside wedding!
How did the two of you meet?
We met at church through mutual friends. We hit it off at a birthday party where we stayed late to play a game of Settlers of Catan. Jeremy won that time, and he likes to remind me of that every time I beat him. That was the start of it all in September 2018. A little over a year later, we knew we wanted to be married, and actually booked our venue before he proposed! Jeremy surprised me with a day trip to Catalina Island and proposed in November 2019.
Tell us about your wedding day! We know you make some last-minute changes, how did that go?
We were originally supposed to get married on April 18th, 2020 in Carlsbad, California, close to where Jeremy and I both live. Our plans were ruined by the COVID-19 virus once gatherings larger than 10 people were banned. We didn't want to wait to get married, so we decided to move it up to March 22nd, which was four days away! Our photographer helped us schedule the day and the locations for the first look and ceremony. We did the first look at the beach in Encinitas, CA, and then headed over for an intimate ceremony at Discovery Lake. Afterward, a few of us went back to his parents' house for some dinner and games. It was a beautiful day!
Something that was hard was that my parents and sister weren't able to come as they live in New York. They were supportive of us getting married sooner since they knew they wouldn't be able to make it until the virus mandates and risk were gone.
Tell us about the dress. How did you decide on your wedding dress, what did you love most about it, and how did it make you feel when you put it on? Any dress-shopping advice for future brides?
I had seen the dress online and knew I would love to try it on. I tried a few other styles on as well, but it was obvious that my dress had everything I was looking for: the high neckline, sheath fit, cap sleeves, and an open back. It was as if the dress was made for me! My advice for brides finding their dress (or picking out their ring style, too) would be that you might like how things look online, but what really matters is how you feel when you put it on. Also, you will look beautiful no matter what!
What was the most memorable part of your wedding day?
The most memorable part of the wedding day was being surrounded by close friends and family at our ceremony. Some people drove a few hours to be there which meant a lot to us.
Did anything funny or unexpected happen?
I managed to forget my veil at home so Jeremy and I had to stop at my apartment after the first look to have it for the ceremony!
What did you do to stay stress-free on your wedding day?
I don't like ambiguity, so the days leading up to our venue canceling were very stressful. Once we knew we couldn't get married on our original day, we managed our stress by making the best of our situation by deciding to get married sooner! After all, we would rather be quarantined together as a married couple!
What advice do you have to brides that are going through the same situation right now?
My advice to brides going through this right now would be asking the question, "What is most important to us?" You will have to give up some things, but if you know what you are not willing to budge on and what you are, it will help you pick a course of action. And of course, be thankful you and your fiance have each other during these uncertain, unsettling times!
More Details
We know how important your wedding day and special events are to you and we are doing everything in our power to serve you! You can shop with us 24/7 at davidsbridal.com plus we are here for you to help guide you through your wedding planning! See tips for starting to plan your wedding at home, shopping for your wedding dress online with confidence and more on blog.
Related Posts: