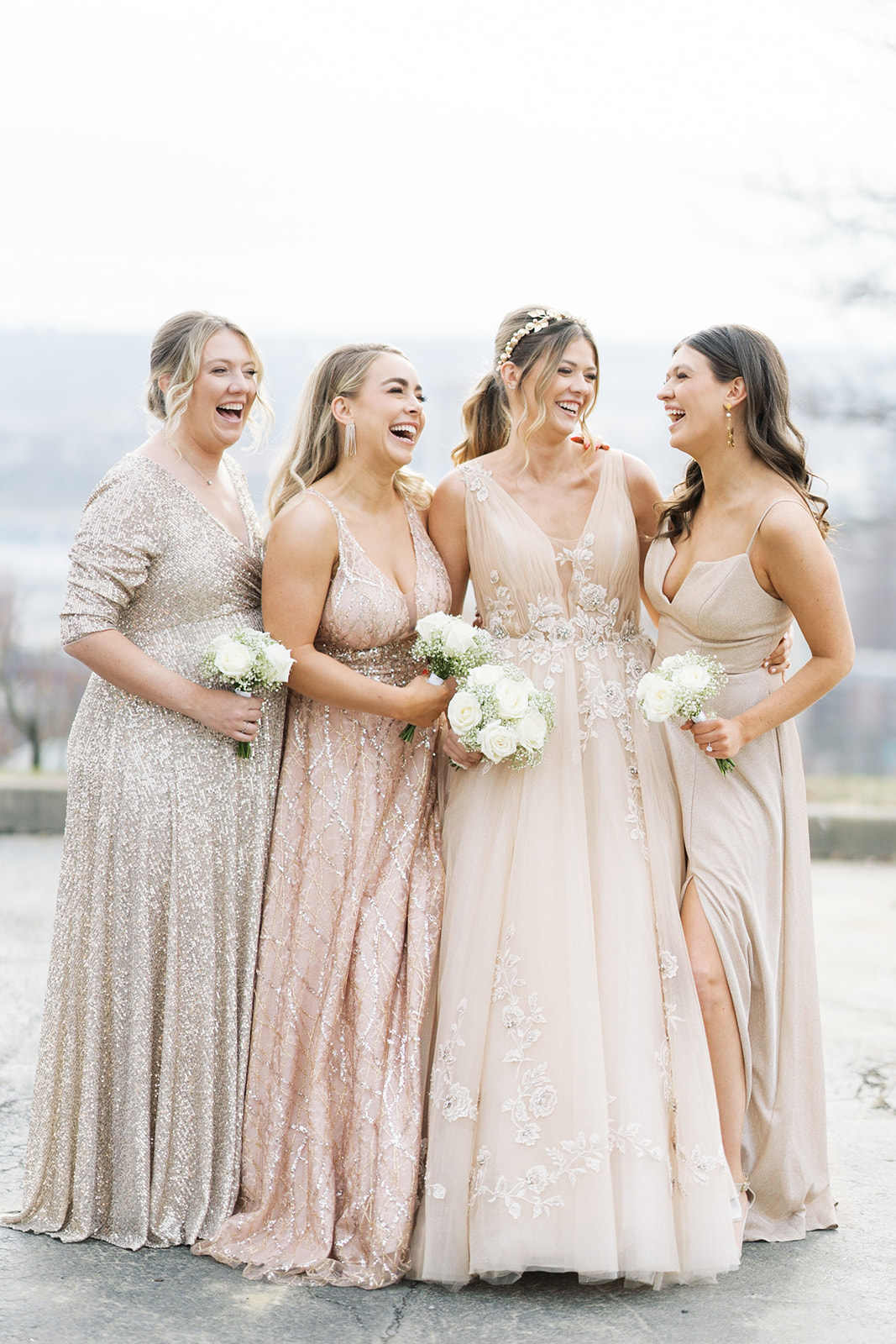 29 Mar

Courtney & Kyle: A Gold Bridal Party to Match a Historic Venue

Courtney Seamon wasn't planning to meet her husband on a casual night out in Brooklyn, but when she met Kyle Moore, they naturally hit it off. "I knew Kyle was the one when I realized how easy our relationship was," Courtney said. "He's my best friend and I couldn't imagine going through life with anyone else."

The couple decided to get married in the bride's hometown of Cincinnati. Their venue The Monastery was built as an observatory in the 1800's and boasts original artwork that's been lovingly restored, including touches of bright gold that light up the space. This and the late fall date of their wedding inspired the look and feel of their gold bridal party.

"Since I was getting married in November, I knew I wanted to stray away from any summer or spring colors! I narrowed the palette down to a dark navy blue or gold but ended up going with a gold bridal party to match our venue."

Keep reading to learn more about Courtney and Kyle's big day, including the process of finding the perfect gold bridesmaid dresses for their ten bridesmaids!
DB: Did you do a bridesmaid proposal? If so, include details on how you asked your maids to be in the wedding!
CS: I made a cute monogrammed box for each of my ten bridesmaids and put a personalized card, ring dish, and compact mirror from David's Bridal in each!
DB: Did you go for a mix and match, or uniform bridesmaid look? What made you decide on this?
CS: I went for a mix and match! It was SUPER important to me that each bridesmaid felt comfortable so I created a large powerpoint of about 20-25 gold bridesmaid dresses from David's and let each girl select the one that they wanted.
DB: What was your favorite detail about your bridesmaids' look?
CS: I loved how the gold colorway played off of my wedding dress! I went with a more champagne colored dress than bright bridal white – so it was perfect!
DB: Where did you get inspiration for your gold bridal party?
CS: Pinterest! Truly Pinterest is a bride to be's best friend. I am so thankful for all the inspo they have on there!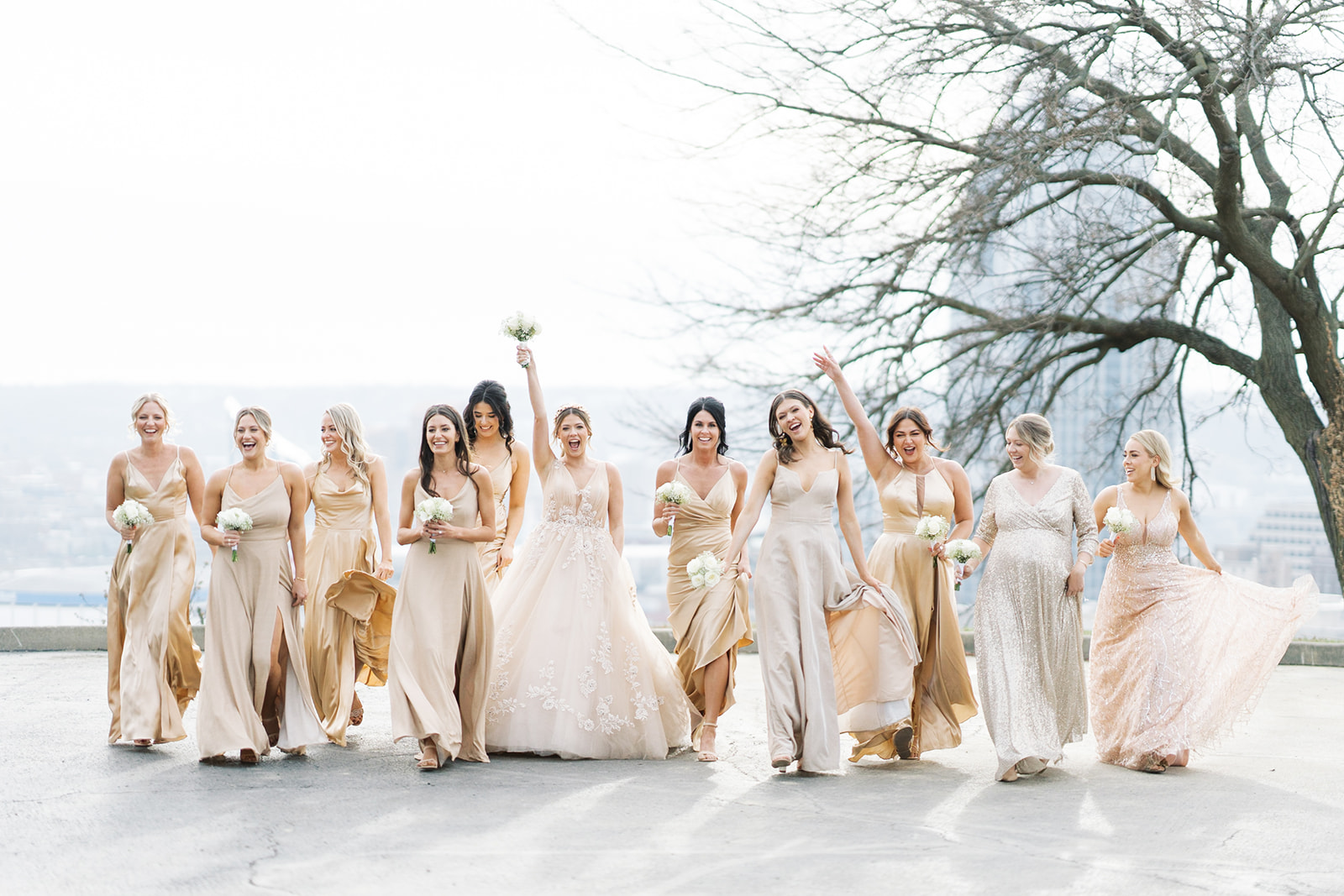 DB: What made the morning of your wedding special? Is there anything you did with your bridesmaids that you will always remember while you were getting ready for the big day?
CS: The morning of was super calm and so much fun! I made sure to make a getting ready playlist of all my favorite songs and have tons of food and champagne available for the girls. We also got ready in a spacious Airbnb over the bridal suite at our venue which made it easy for us all to spread out and talk!
DB: Who was your maid of honor? Did you differentiate her dress from the rest of the bridal party?
CS: I had three! My sisters were both Matrons of Honor and my cousin Kelly was the Maid of Honor. I didn't purposely differentiate their dresses, but the dresses they picked definitely stood out!
DB: Do you have any bridesmaid dress shopping tips for future brides?
CS: Let your bridesmaids be comfortable! Make sure during the try on's that each girl feels good in her dress and don't try to force anything on anyone!!
Couple: Courtney Seamon & Kyle Moore
Wedding Date: 11/26/2022
Wedding Location: The Monastery in Cincinnati, OH
Bridesmaid Dress Styles & Colors: Gold bridal party with a mixture of styles
Photographer: Olga Polo | @olga_polo_weddings
Bride IG Handle: @courtandkelly
Planning a wedding? Sign up for our Diamond Loyalty program—it's free!—and find local wedding vendors with Pearl by David's. Follow us on Instagram, Pinterest, TikTok, and Facebook for more wedding inspiration and book an appointment to find your dream dress!
Related Posts: