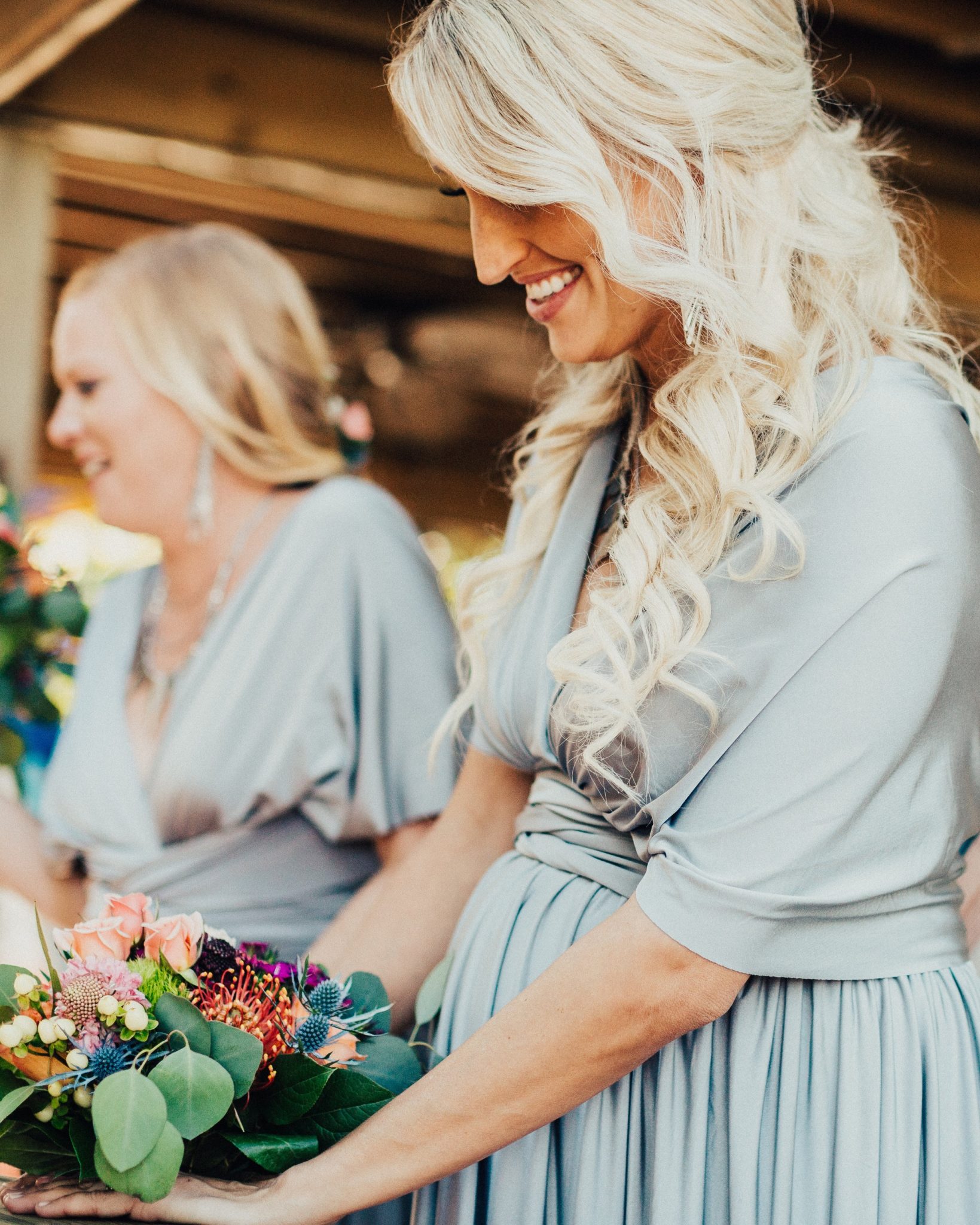 23 Oct

What to Do If Your Bridesmaid is Pregnant
Tips for putting together your party with an expectant 'maid in mind.
One of your bridesmaids is having a baby. Hooray! But also: What about her dress? No need to panic. There are tons of ways to accommodate a mama-to-be.
Try These Dresses
A surprising number of our bridesmaid dresses are cut to flatter a baby bump. These styles often feature an empire waist, which means the fabric gathers right underneath the bust, then flows loosely to the knees or toes. One of our newest pregnancy-friendly styles is a long halter bridesmaid dress, which has a thin, removable sash she can wear or toss aside for more room. Look for dresses made from soft mesh fabric, which offers smooth draping and the most stretch.
Mix Up Your Party
As you design your party, consider a mix and match approach—each bridesmaid in a different style—so your expectant friend won't feel like the odd one out. See our mismatched bridesmaid guide for ideas to accommodate your pregnant bridesmaid.
Plan Ahead
When you order, take into account how far along she will be on your wedding day. If she'll be three to six months pregnant, our experts advise going up a size from what she normally wears. If she'll be more than six months pregnant, go up two or three sizes.
Explore Alterations
If you've already ordered your bridesmaid dresses when you get the news, give the alterations experts at your local David's Bridal store a call, and our specialists will guide you through your options. On most bridesmaid dresses, the side seams can be taken out an inch or so. There are other solutions, too: For example, if she's feeling uncomfortable in a strapless dress, and has an inch of fabric to spare around the hem, our alterations team can sometimes use that fabric to create straps.
Don't Worry!
No matter what, we're here to help you and your party look and feel beautiful. Make a bridesmaid appointment for help fitting every friend.
Featured Photo: Old Pine Pictorial
Related Posts: