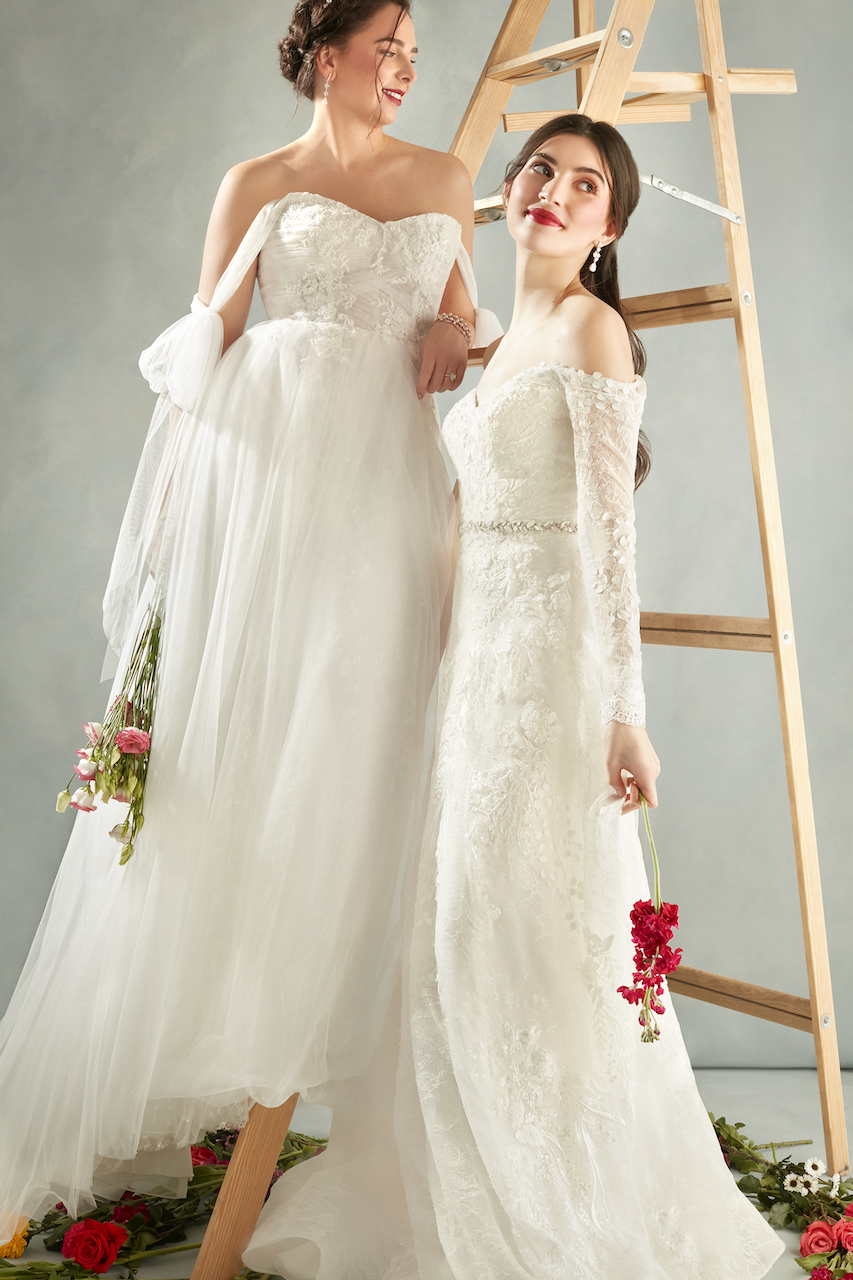 18 Mar

Ethereal, Fantasy Wedding Dresses for Fairylike Brides
Whimsical, Ethereal Wedding Dresses
Once upon a time, there was a bride looking for her perfect wedding dress. She dreamed of layers of gorgeous tulle and stunning lace to create a one-of-a-kind gown for her whimsical wedding. Who is this bride? It's you! We've rounded up a few of our most ethereal wedding dresses to help you find the perfect one! Covered from head-to-toe with intricate beading, lace, and appliques, these gowns are straight out of a fairytale. Read on for a roundup of 13 ethereal wedding dresses that will make your wedding dreams come true!
MBMS251246 – $999
Style MBMS251246
Layers of soft, lightweight tulle drape beautifully to create this unique fairy style wedding dress. The hand-beaded bodice is covered with embellished floral lace and sequins to gives this dress those fairy like touches. The special detail on this gown? The gorgeous tulle straps can we worn as swag sleeves, halter straps, or removed completely for multiple looks on your big day!
MBSWG885 – $1,299
Style MBSWG885
Inspired by a romantic garden, this all over floral sequin embellished sheath gown is a must for the ethereal bride. With over 4,000 beads and six different styles of 3D floral appliques, this gown is sure to make heads turn at your wedding. A plunging illusion neckline gives this dress a subtle sexy touch, and delicate floral straps (that can be worn multiple ways!) complete this ultra-romantic gown!
SWG862 – $1,199
Style SWG862
Float down the aisle in this gown straight out of a fairytale! With intricate floral lace appliques, almost 4,000 beads, sequins, and crystals, and an illusion plunge neckline, it's hard to not fall in love with this gorgeous A-line gown. Plus, the soft, blush shade of this gown amplifies the look of romance among floaty layers.
MBSWG837 – $1,399
Style MBSWG837
Make a sparkling statement down the aisle in this must-have ethereal gown. Eleven thousand beads, crystals, and sequins decorate the bodice of the gown giving this whimsical wedding dress a dazzling finish. A plunging neckline and thigh-high leg skirt slit gives a subtle sexy touch, and completes this one-of-a-kind look.
8MS251244 – $999
Style 8MS251244
Are you a fan of the cottagecore aesthetic? If yes, you're gonna love this gown! Covered from head-to-toe with delicate 3D flowers with thousands of beads, this gown is the definition of whimsical. To contrast all the beautifully detailed embellishments, a soft, gauzy tulle skirt overlay gives this look a touch of romance. Detailed tulle flutter sleeves bring this entire the vintage-inspired style together!
MBSWG887 – $999
Style MBSWG887
Glam meets fantasy in this jaw-dropping beaded wedding dress. Covered in geometric patterned beads, this sheath gown also features delicate 3D floral appliques for an ultra-whimsical detail. A plunging neckline, low back, and daring skirt slit give this ethereal gown a sexy touch.
SWG834 – $1,399
Style SWG834
Your fairy princess dreams come to life with this stunning A-line wedding gown! Made from layers of glittery tulle, this dress will have you sparkling all night long. Visible boning and a hidden skirt slit give some sexy details to this classic silhouette. Removable swag sleeves add a touch of romance and let you customize your wedding day look! To complete this fairytale dress, embroidered floral and vine appliques cascade down the dress from the bodice to the soft tulle skirt.
MBSWG886 – $1,299
Style MBSWG886
This gown was made for our daring, fairy like brides-to-be! Sultry details like the plunging illusion neckline and sky-high skirt slit are contrasted by delicate lace and florals for a sophisticated and romantic wedding day look. Five different 3D floral appliques, reminiscent of beautiful wildflowers in a meadow, cover the gown and decorate the shoulder and wrists. Wear your hair down in beautiful curls or a loose fairy inspired updo to show off all the intricate details on this gown!
CWG888 – $799
Style CWG888
Layers of elegant glitter tulle create this one-of-a-kind whimsical wedding dress. Tank straps and a V-neckline offer a figure flattering fit for every bride. For a dainty finish, crochet trim covers the neckline and open back. A full, flowy ball gown skirt completes this ethereal wedding dress!
WG4029 – $399
Style WG4029
Light as air and full of volume, this organza A-line gown truly captures that ethereal vibe. Made from a unique cellophane organza, this style has gorgeous criss-cross pleats on the bodice for a beautiful fit. A hidden skirt slit adds a dash of unexpected drama to this whimsical style. The unembellished appearance of this gown makes it the perfect dress to accessorize! Try pairing a floral inspired hair piece, veil or jewelry to complete your fairylike wedding look.
MS251224 – $1,199
Style MS251224
Full of whimsical and ethereal elements, this gown was made for a fairy princess! Unique crochet trim and floral lace appliques cover, this fairytale-esque mermaid wedding dress. Our favorite part? The stunning lace capelet attached to the gown that offers simple coverage and wing-like detail.
SWG882 – $799
Style SWG882
Sparkle and shine day to night in this unique sheath style wedding dress. Covered in dazzling sequins and embellished hand-placed lace appliques, this ethereal gown is one your guests will never forget! Two shapes of sequins are mixed together to add dimension and interest to the gown. A plunging illusion neckline adds a daring detail, and the removable tulle overskirt gives you two looks in one!
SWG841 – $1,699
Style SWG841
This gown was made for a princess! Standout details include a shimmer fabric, illusion bodice, linear lace appliques, and almond shaped keyhole back. There are over 2,600 crystals, sequins and beads on lace appliques to beautifully catch the light. And, linear glitter lace is layered into the full skirt adding even more sparkle. The best part? This gown has pockets, which makes carry all your bridal essentials a breeze!
Fall in love with ones of these fairy like gowns? Shop these ethereal wedding dresses and more in-store at your local David's Bridal or online at davidsbridal.com! Plus, follow along on Pinterest and Instagram for daily wedding inspiration.
Related Posts: