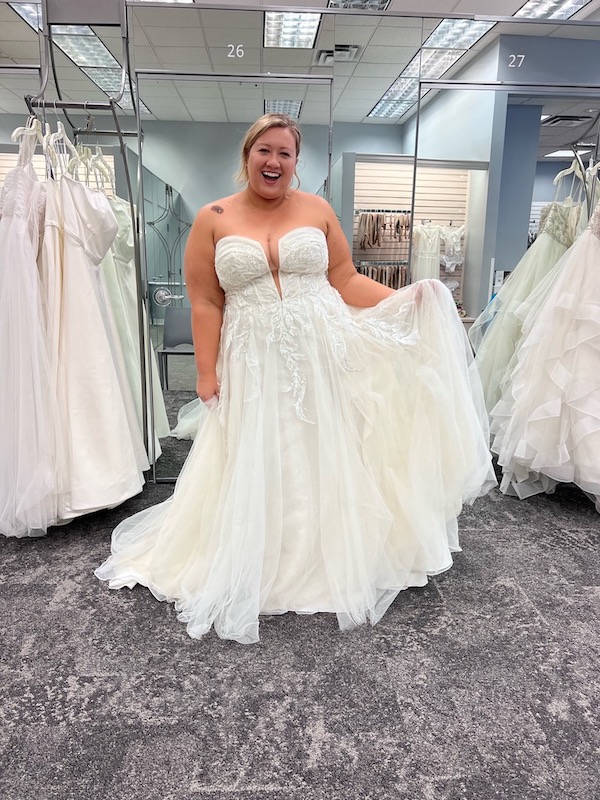 18 Mar

My Experience Shopping for a Plus Size Wedding Dress
@HereGoesGabbi's Tips for Finding Your Plus Size Wedding Dress
Hello, beautiful! I'm Gabbi (aka @heregoesgabbi), a plus size bride getting married in September 2022. I couldn't be more excited to marry my love, Jared, in a private ceremony. And then, I can't wait to celebrate it with friends and family at a raging party! Woot woot! But before I can walk down the aisle, I needed to find THE dress.
As a size 22 woman, I had a lot of concerns about plus size wedding dress shopping. Would I find one I loved? Would they even have samples in my size? Would the stylist really understand how to dress my body? (Spoiler alert: The answer is yes to all!) I hope my experience and tips for finding a plus size wedding dress will help ease your anxiety and make for a magical moment!
What It's Like to Shop for a Plus Size Wedding Dress at David's Bridal?
Let me start with this: Shopping for a plus size wedding dress at David's Bridal is exciting! They offer sizes 0-30W, which means brides of all shapes and measurements can find samples and on-trend styles that match their wedding vision. Now, a little about my experience….
My First Appointment
I ended up doing 2 bridal appointments. The first time, I went by myself and met with a stylist to try on a wide variety of dresses. All styles, fits and vibes. I wanted to go without the pressure of an audience to narrow out what I liked. I can't recommend this step enough!
I booked it on a random day off from work midweek. It was slower in the store, and I got great 1-on-1 attention from my stylist. She took the time to hear about me, my wedding vision and was also game to let me try on whatever caught my eye. Oh, and no pressure to buy! I set really clear intentions with her from the time we met, so it made it easy to just enjoy playing dress up.
My #FoundTheOne Appointment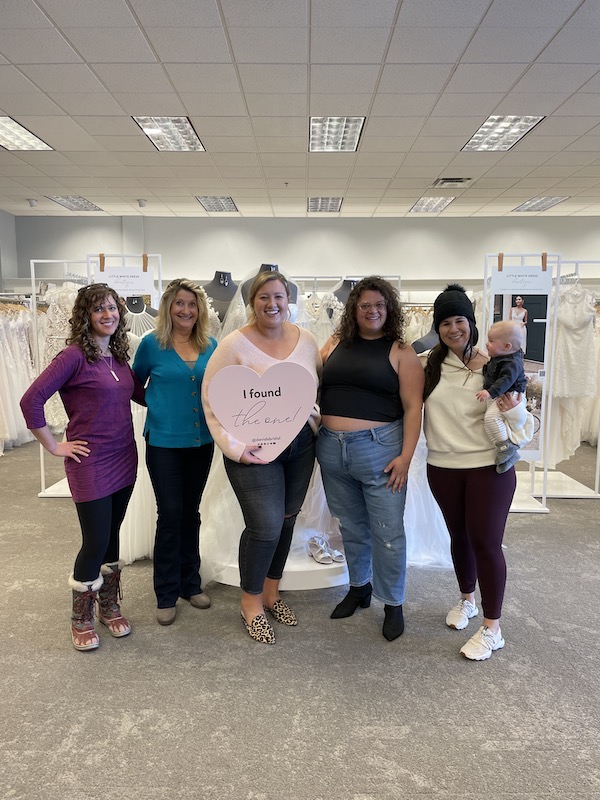 A few months later, I returned to David's Bridal with a few close friends and my mom. I knew I had a front runner, but I also knew that, because David's Bridal has such extensive offerings, there were new dresses in stores to try on.
My stylist was able to pull up my favorite styles from my first go around and pull some similar styles (and some surprise hits!). All of them in a size I could comfortably walk in and see what I'd really look like. As a plus size woman, those options were huge!
My amazing hype crew helped me validate my feelings on dresses I loved and ones that weren't quite right for my wedding vision. They complimented by butt in mermaid dresses and oohed and aahed when I looked like a princess.
My stylist helped pull accessories and talk through potential alterations to make the dress just mine. She even helped me pull a corset top to wear under the dress so that it gave me the cleavage I wanted.
All of the extra effort made it clear when I #FoundTheOne. And while I can't share it now, you'll have to follow me to see what I chose!
Tips for Your Plus Size Bridal Appointment
Book a solo appointment if you don't have a clear vision. It's low pressure and a fun way to explore your options.
Create a list of favorites on the David's Bridal website before your appointment. That'll make it easy to reference your favorite styles with your stylist.
Make sure you bring a hype crew with you to find THE dress–no one who will bring you down and only people who support your vision! It's your big day and you should have the magical moment of your dreams.
Come caffeinated and fed. Sure, you don't want to feel bloated in your gown, but it's a lot of work. You don't want to be hangry!
Don't be afraid to try on a dress that's way outside your comfort zone. It's important to know what you don't want as much as it is to know what you do.
You don't have to wear shapewear if you don't want to. I wore some light compression underwear and no bra for my try-ons. The David's Bridal experts can help you find the shapewear and support you need for your dress!
Good luck with your own wedding dress experience! I'm sure it'll be magical.
XO
Gabbi
Gabbi, also known as @heregoesgabbi, is a plus size, body positive lifestyle blogger based in Reno, Nevada. She's getting married in Lake Tahoe in September 2022. Follow her as she shops for bachelorette outfits, bridal shower looks and more all at David's Bridal.
Planning a wedding? Sign up for our Diamond Loyalty program—it's free! Follow us on Instagram, Pinterest, and Facebook for more ideas for courthouse wedding dresses, or click here to book an appointment.
Related Posts: