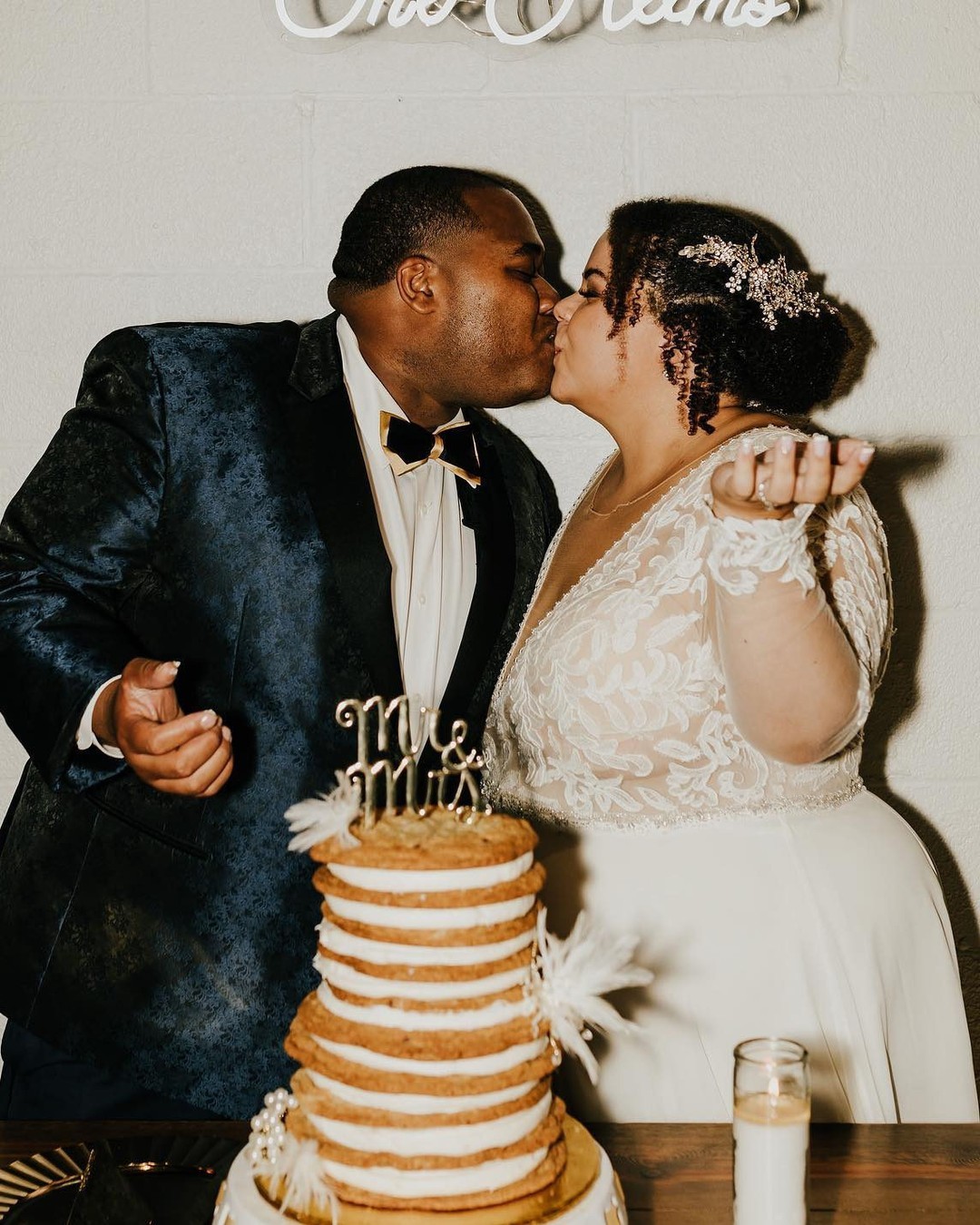 17 Apr

19 Wedding Traditions To Skip Guilt-Free

While we love a good tradition, we must admit there are a few rules we think could use a little flexibility. The wedding day should be a time that highlights the couple today rather than what most couples did along time ago. This makes the celebration much more relevant not only to the individuals tying the knot, but also to friends and family. Read on for a few wedding traditions to skip guilt-free!
1. You don't have to wear a white dress
Don't get us wrong—we LOVE white dresses. But we also love brides in colored wedding dresses such as blush, blue, grey, lavender, or even black. Just as cool: Skip the dress and rock a pretty pantsuit instead. Ms. Markle might not be able to get away with that one, but you can!
2. Being walked down the aisle
There's no law declaring that Dad gets dibs, or that another special someone can't step in. The tradition of being "given away" dates back to when weddings were more — transactional. Take that walk with anyone you love. Some brides also choose to fly solo or make the trip arm-in-arm with their groom. (Adorable.)
3. You don't have to say traditional vows.
Legally, the only requirement about your vows is that they be pledged in the presence of a qualified officiant and one or two witnesses, depending on where you live. There are no specific words or phrases you have to use, so you can pen your own vows from scratch or borrow whatever phrasing speaks to you. This is a great way to personalize your vows to who you are as a couple.
4. You don't have to host a dinner party.
Yes, the most formal reception includes an evening meal, dancing, and dessert. Try brunch, wine tasting, or even food trucks as a way to make your wedding memorable and unique. As long as you let guests know what meal they will or won't be eating, it's all fair game.
5. Tossing the bouquet
Feel free to skip the bouquet toss for a number of reasons. Wedding bouquets are expensive, instead of "tossing" them at the end of the night try preserving them! It can also be a ritual humiliation for single guests, you don't have to put them through it if you don't want to.
6. Spending the night before apart
This dates back to when every night before the wedding was spent apart. You don't have to go through the hassle and expense of sleeping in separate rooms if you don't want to. Waking up together and having a "we're getting married today" moment alone with your future spouse might be the best way to start your big day.
7. Matching wedding party outfits
Usually, there is a stigma around matching outfits. Why is the tradition to have matching bridesmaids and groomsmen? Let your wedding party have a say in what they wear and are comfortable in. You can keep similar colors based on the wedding theme but still be unique.
8. A traditional cake
You don't have to have a traditional tiered wedding cake. There are many wedding cake alternatives like donuts, cheesecake, or an ice cream sundae bar. You can even have a savory option for all those non-sweet tooths attending your wedding.
9. Following the usual timings
Most weddings start around midday/early afternoon and can go on until midnight. Especially for the couple, wedding party, and immediate family, this can feel like a marathon. Consider pushing your wedding back a little to twilight or having more of a brunch-style wedding depending on your wedding theme and venue.
10. Only having Human guests
Do you and your partner have a dog or pet together? Include your furry friend in your big day. Your wedding photos are a thousand times better when a dog (or pet) is present.
11. Garter Toss
Garters get a bad rap. It's a tradition that dates back to what typically happens on the wedding night. Not only is it a weird tradition but it can also be uncomfortable to wear throughout the day. Along with the act of your groom tossing it to his groomsman or single guys attending the wedding. If its not for you, don't feel like you have to include this tradition.
12. Serving a post-wedding breakfast
This is traditionally named the "farewell breakfast", and is used as a way to say goodbye to guests after a night of celebrating. Unless you're hosting a destination wedding, a post-wedding breakfast isn't always necessary. It can add to the expenses for the rest of the weekend events.
13. Diamond Rings
An engagement ring doesn't have to be a diamond ring. A piece of jewelry is more traditional, especially from a woman's perspective. You can use a watch or even a tattoo to symbolize your marital status. Your engagement ring or wedding band can be something untraditional that is more reflective of you and your partner.
14. First Looks
First looks have become more popular over the years, but that doesn't mean you have to keep up with this modern-day tradition. Some couples want a more genuine reaction as they walk down the aisle, don't feel like you have to see your betrothed before the ceremony.
On the other hand, first looks are a great way to have some alone time to soak up your wedding day before walking down the aisle. It's also a great time to capture photos of just the bride and groom to cut down on photos after the ceremony.
15. Mixed Gender Wedding Parties
The recent trend of having mixed-gender wedding parties is revolutionizing the wedding industry. If wanting to have someone in the wedding party of the opposite sex is important to you, make it happen. An example would be with siblings and maybe the groom wants his sister to be his best woman vs. traditionally standing on the bride's side. Or vice-versa. Mixed-gender wedding parties can still achieve a cohesive look among the wedding party as a whole.
16. Having a Receiving Line
Because this tradition dates back to your parent's and grandparent's weddings, many people have come to expect it. This is your guest's chance to say congratulations, shake your hand and give unsolicited advice, etc. Yet, greeting all your guests immediately after your ceremony can get long for both the bride and groom and your guests. Especially if you opted into a larger wedding. It's okay to skip the receiving line and opt to greet your guest throughout the reception.
17. Dollar Dances
In some parts of the United States, it is tradition to host a dollar dance at the reception. The guest pays $1 to dance with the bride and groom, and then the guests get to use the money on their honeymoon. If you don't want to ask your guests for money at your reception, feel free to opt-out. Also, if the idea of dancing with whatever acquaintance or relative comes up to you at the reception is equally as weird, both are fair reasons to exclude this tradition.
18. Bride Side vs. Groom Side
We have all been to weddings where one side seems a little, empty. Because of the unity of marriage, many couples are choosing to ditch the division. You may have seen signs at the start of the ceremony stating "Choose a seat, not a side". This also makes it easier for guests who are friends with both the bride and groom vs. having to choose a side.
19. The Hen & Stag do
This is a very deep-rooted tradition but its namesake is a bit sexist – doesn't mean the events have to be. You don't have to follow traditional party streams like strip clubs and penis decorations. In fact, they can even be held together.  A mixed "sten" party is becoming more traditional with wedding parties of the same friend groups. Another example is same-sex couples will often host joint "fox" parties.
Now that you know some of the wedding traditions it's OK to break, tell us: what traditions are you breaking – or implementing – on your wedding day? 
Featured photo by @karlychristinephotography
Related Posts: