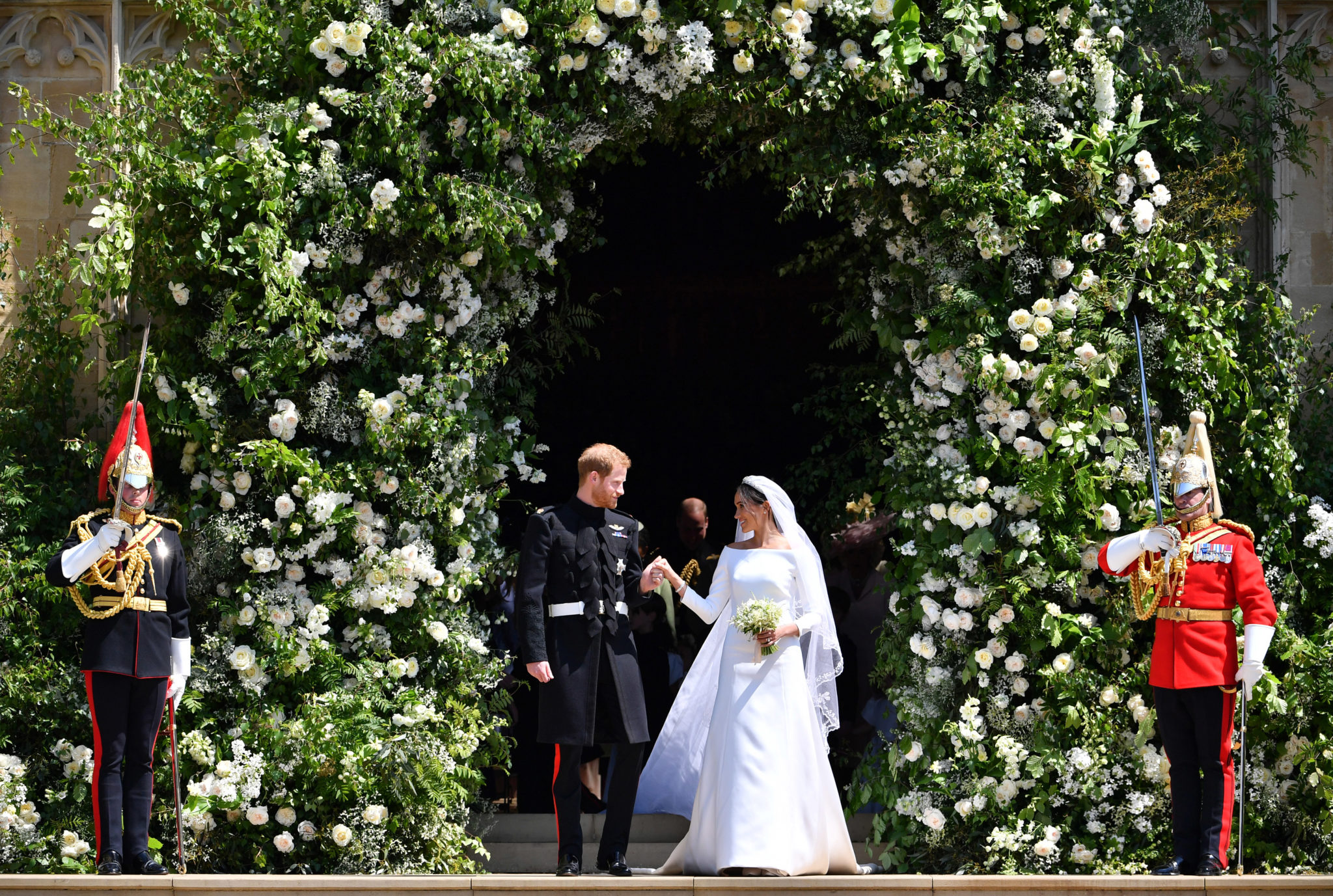 21 May

Get The Look: Meghan Markle's Wedding Dress and Look-alike Styles
Introducing the Duchess of Sussex!
The royal wedding has finally arrived, and the world waited in bated breath for the reveal of Meghan Markle's wedding dress after months of speculation. And the newly dubbed Duchess of Sussex did not disappoint! She graced the aisle of St George's Chapel in a timeless Givenchy gown and statement veil, a look to be coveted by brides-to-be for ages to come. Keep reading for ways you can recreate Meghan Markle's wedding dress to be perfect for your royal inspired day.
The Dress
Meghan Markle's wedding dress featured a few key bridal trends: an off-the-shoulder neckline, an A-line silhouette, long sleeves, and a clean, unembellished, structured fabric.
Our closet match is this regal Oleg Cassini gown. This emulates Meghan's wedding dress with its long sleeves, off-the-shoulder neckline, and A-line silhouette. Our version is decorated with opulent beaded lace and finished with a scallop edge neckline and hemline.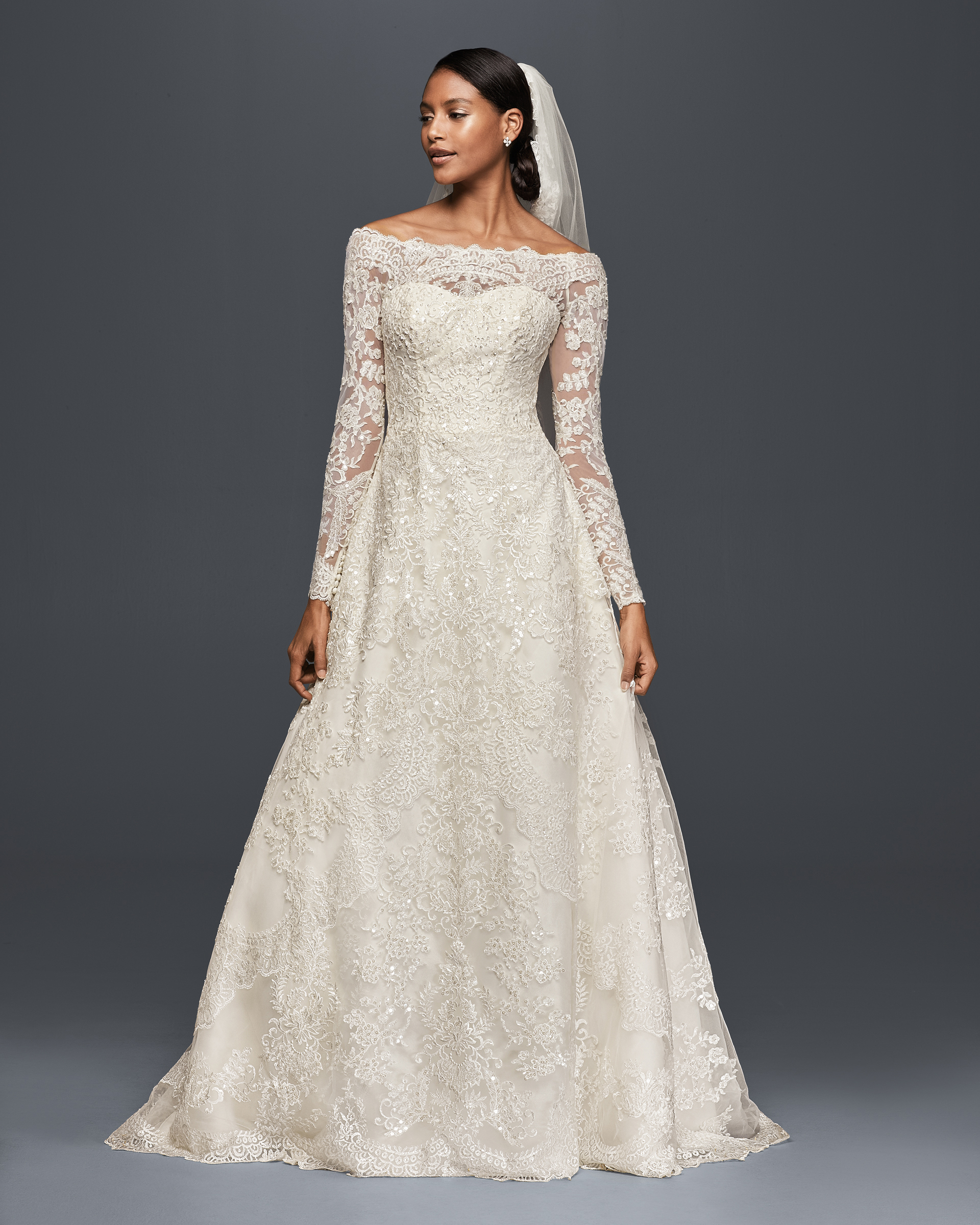 We couldn't take our eyes off the collarbone-baring neckline on the duchess's wedding dress. This neckline allowed the perfect hint of skin in an understated, tasteful fashion. Opt for this dress detail for your wedding day look with some shoulder-showing styles. Try on: 2037X, WG3880 and WG3943.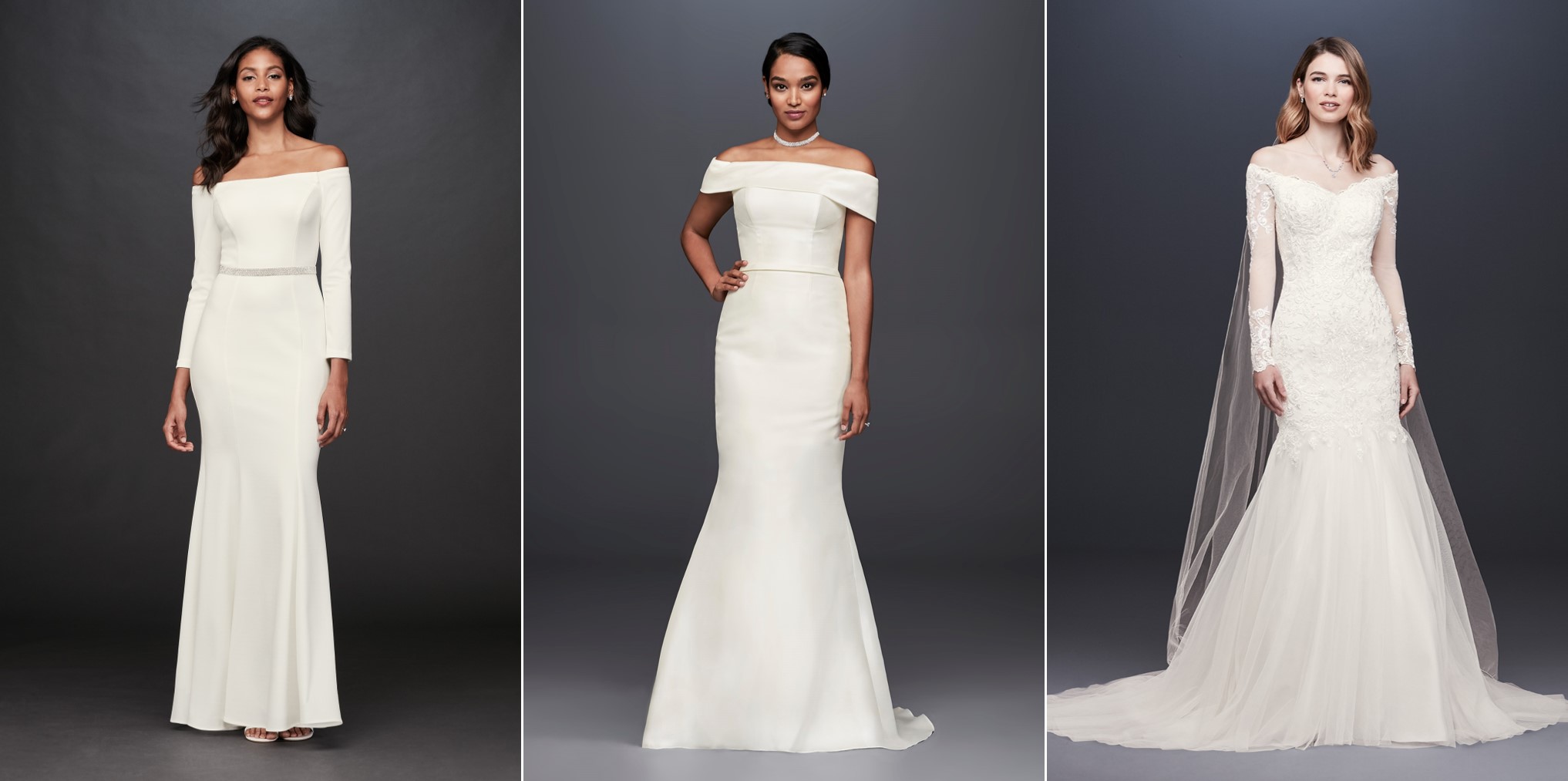 The unembellished, structured fabric on Meghan Markle's wedding dress was a fresh take on what's considered royal and traditional. The clean lines and pure white hue made a bold, elegant statement for her I will's. Make this feature your own with satin, Mikado, or crepe gowns. Try on: V3848, INT19673 and 390X.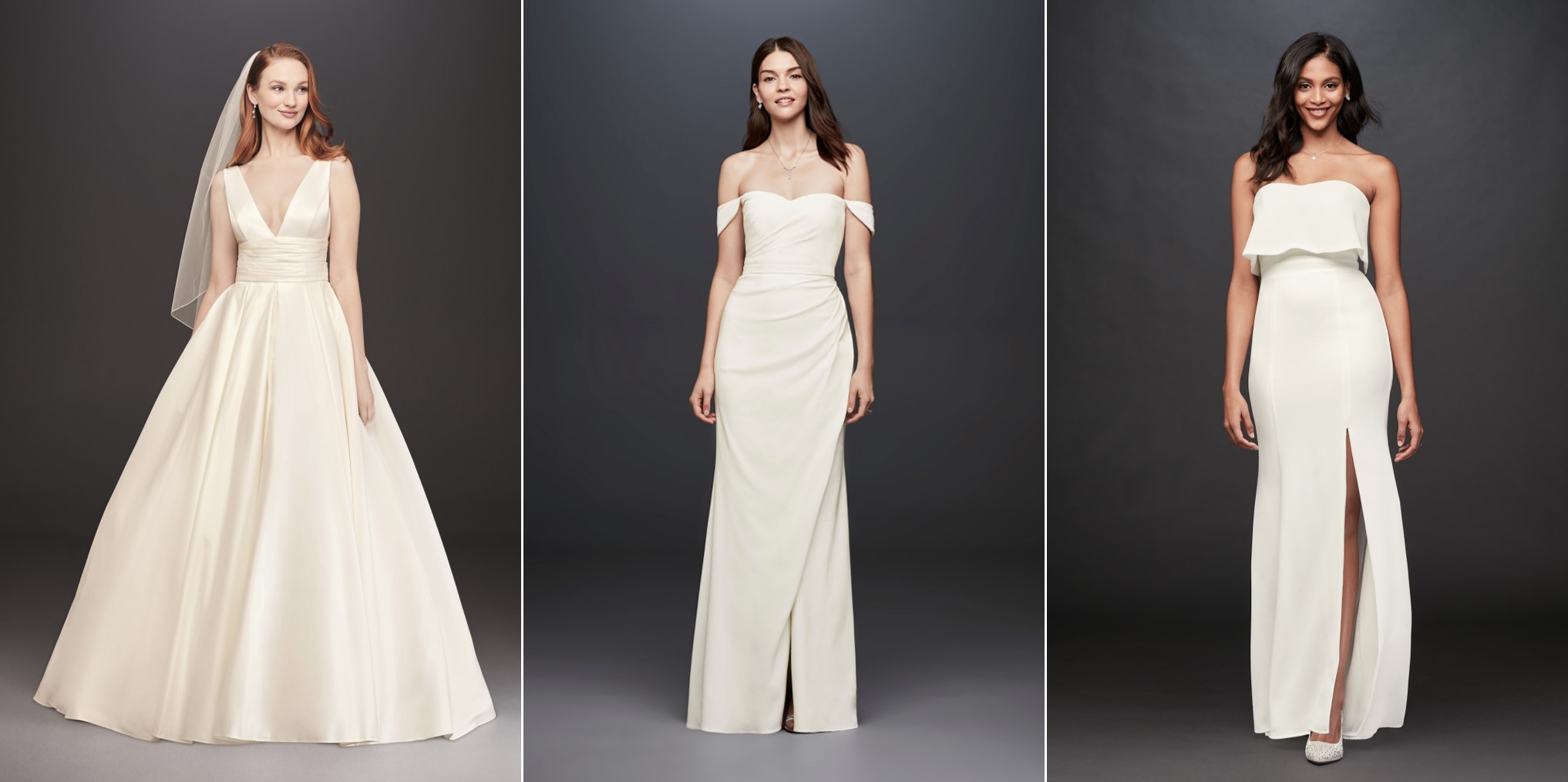 The Accessories
Almost as talked about as the dress were Meghan's 16-foot veil and diamond bandeau tiara. Let's start with the veil: the longer-than-long cathedral trailed behind Meghan in the utmost royal fashion. The silk tulle fabric adorned with delicate floral embroidery along the edges. Try styles V2018, WPD20244, V704 and V2030.

Atop her signature bun she wore a tiara full of history. Originally belonging to Queen Mary, the statement headpiece is encrusted in diamonds set in platinum for ultimate sparkle. For your crowning moment, try these tiaras: H30213, T8138, 727 and VW37HP25.

The Flower Girls
Following behind Meghan were the sweet page boys and gaggle of flower girls. In line with Meghan's wedding dress, the flower girls donned styles with some structure and lustrous shine. Recreate their looks for your tiniest 'maids with dress styles CR1392, OP218, OP228 and S1038. Complete their look with a satin jacket and flower crown.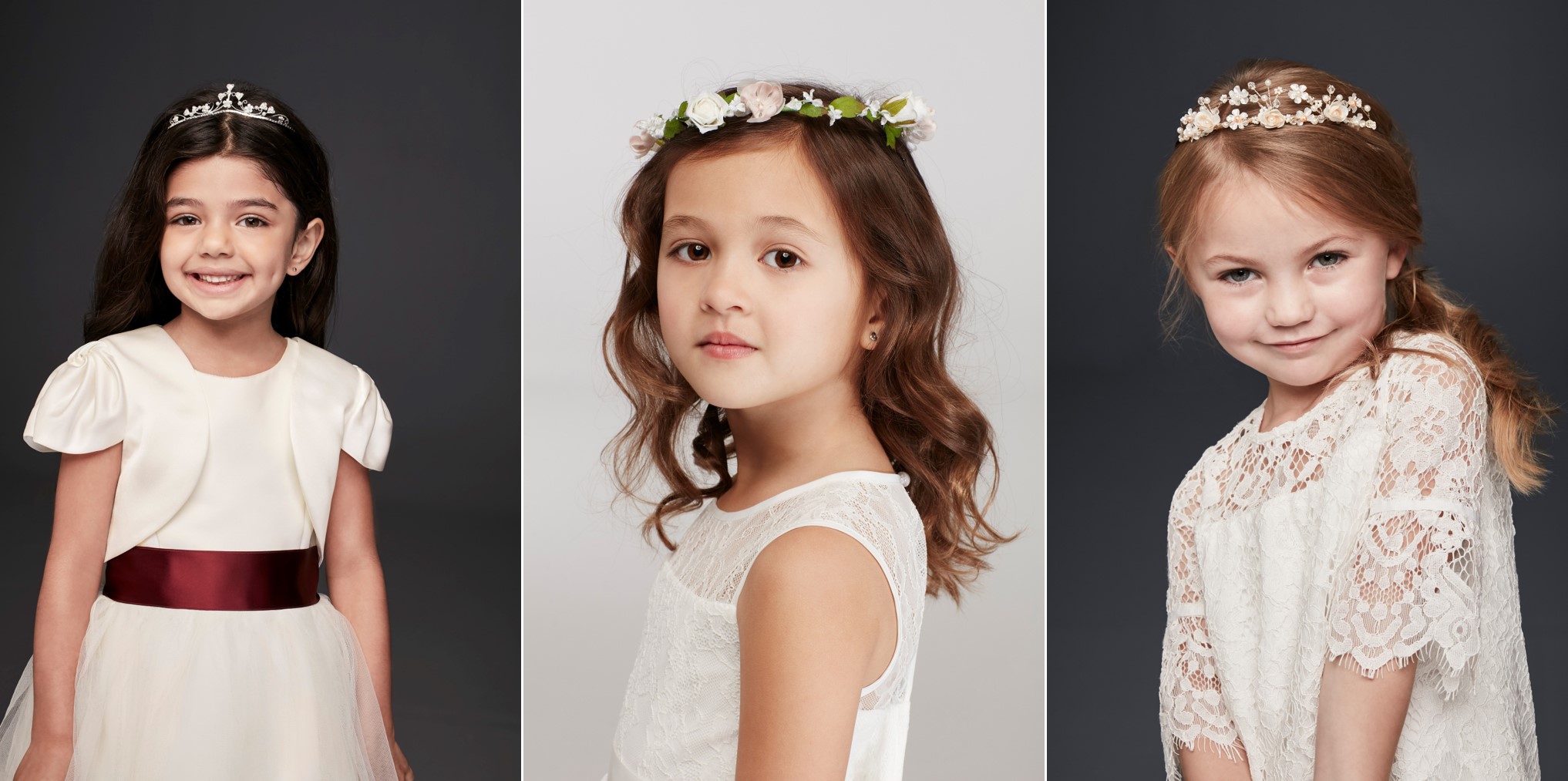 The Second Dress
After the ceremony comes the evening reception hosted by Prince Charles. Meghan stepped out in this chic Stella McCartney high-neck gown for the celebratory soiree. The clean lines and refined modernity continued from her ceremony style to the after-party. We especially love the high neckline and body-skimming shape. Channel this look for your wedding day with these WHITE by Vera Wang or Melissa Sweet styles.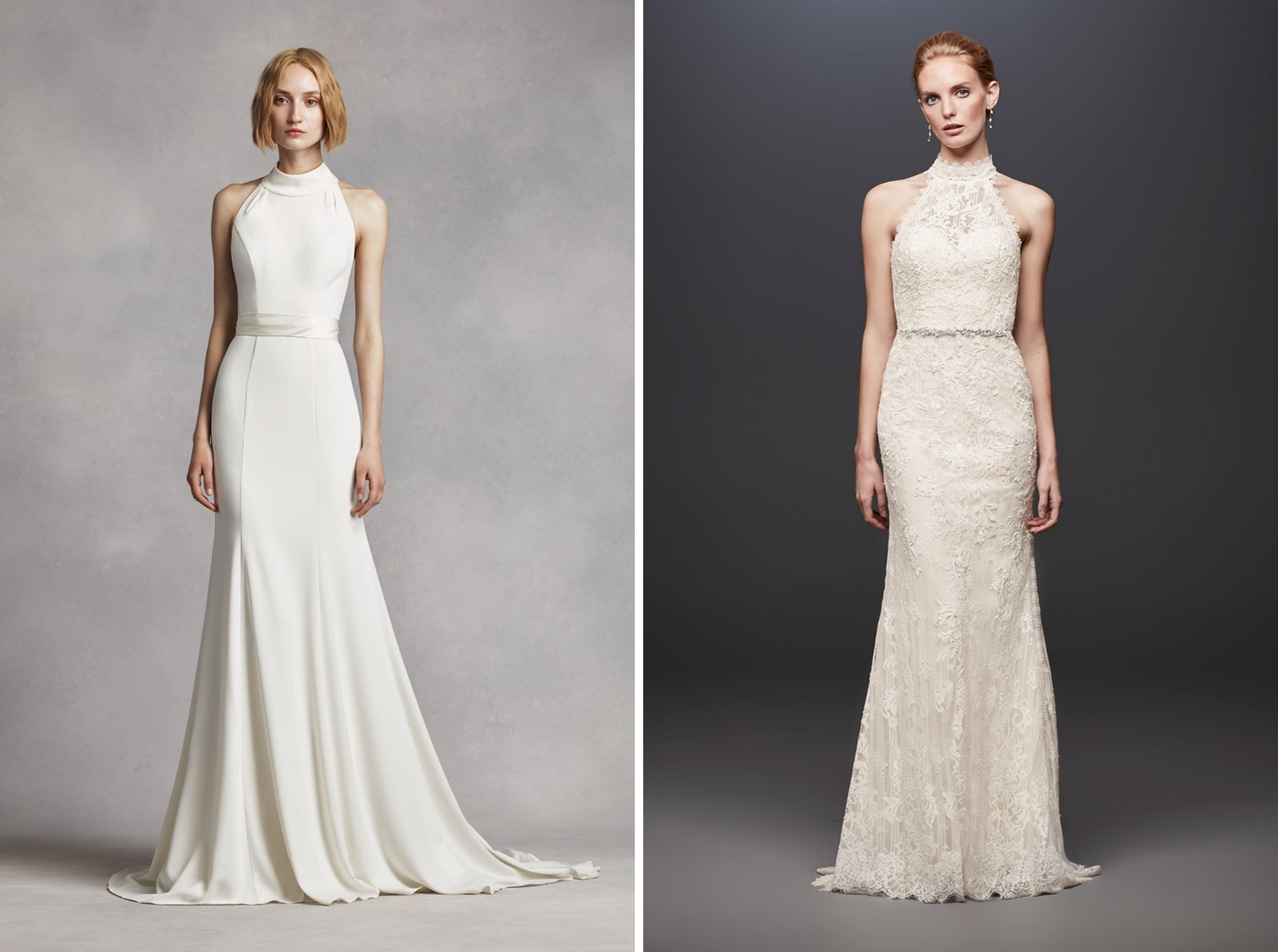 And just like that, another historic wedding in the books! What were your thoughts on Meghan Markle's wedding dress, accessories, and reception style? Book an appointment to find the gown for your magical wedding day.
If you, like Meghan, are moving on to the next stages in life, shop maternity dresses or start your baby registry with Blueprint Registry.
Related Posts: