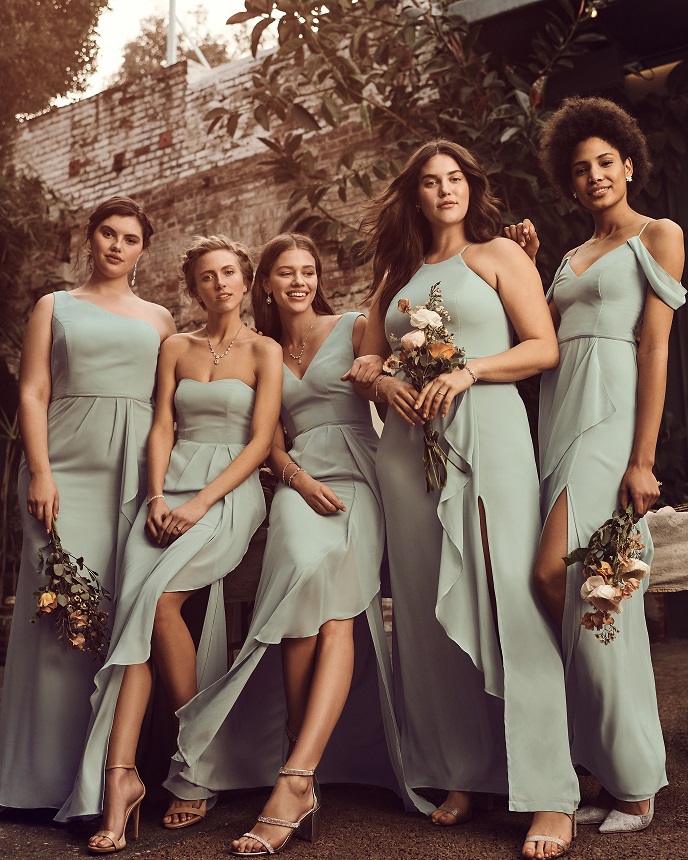 25 Sep

How to find Bridesmaid Dresses that Look Good on Everyone
Flattering from Head to Toe
So, you've found the one for you, but now it's time to find dresses for your wedding party! Whether you have 2 or 20 bridesmaids, finding a dress that flatters each person can seem like quite a feat. Your ladies should feel confident about their look as they stand beside you on that special day! Need some help finding that perfect dress or color options that look amazing on literally everyone? Look no further, we've got you covered with tips for finding the most flattering bridesmaid dresses!
Consider Your Color Palette
When deciding on the color of your bridesmaids' dresses, it's important to keep in mind the women who will be wearing them. Not every hue is flattering on everyone. However, there are some universal colors to keep in mind no matter your girls' skin or hair color. Try shades of pink (think Blush, Quartz or Ballet), navy (our version Marine is the perfect blue), rich to deep reds (like Apple to Wine), and even eggplant (have them all try on Plum).
A great way to flatter all your ladies is to choose a mix and match color palette, so the question of 'does this color look good on me?' is never an issue. Begin by choosing your color family (for example: grey), then allow your bridesmaids to choose their DB shade that they look and feel their best in (like Mercury, Mystic and Graphite). Consider some of our newest colors such as Dusty Blue, Sedona, Dusty Sage, and Gem to round out your palette.
Styles for Everyone
If you prefer all your bridesmaids to wear the same dress, there are some universal styles to keep in mind that will flatter all body types. The key is finding a dress with the most flattering shape, neckline, and fabric. Look for an A-line shape, which is specifically designed to accentuate all body types by accentuating the waist and widening gradually. A V-neckline helps to elongate your neck, flattering everyone's decolletage. Finally, a lightweight fabric makes for a comfortable fit all night long. Take a look at some of our most complimentary styles: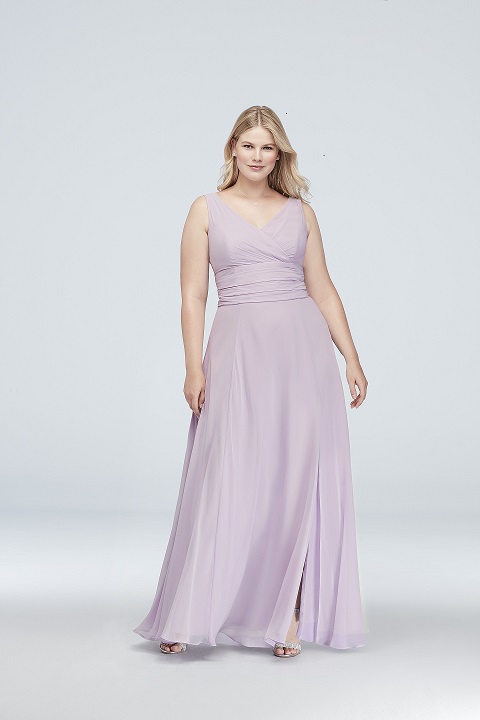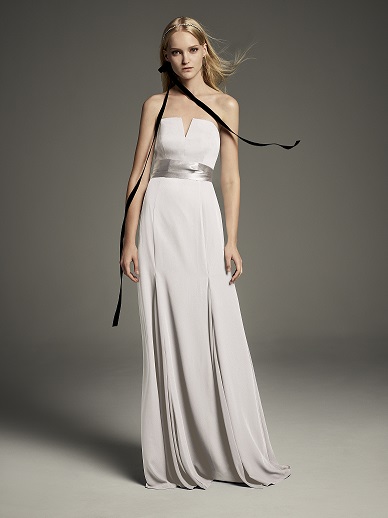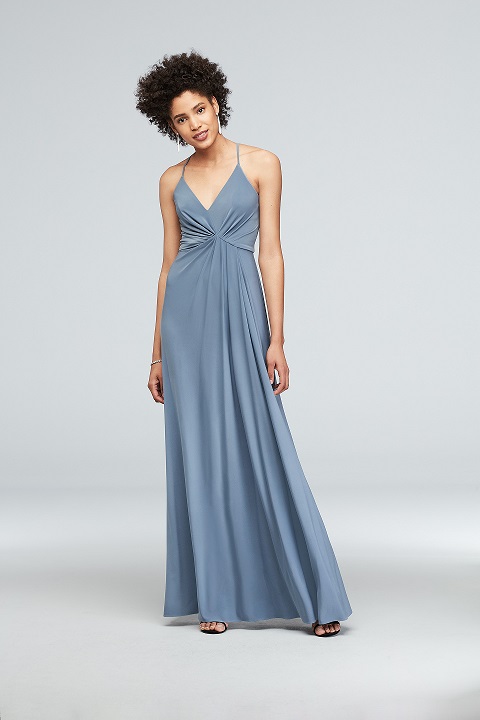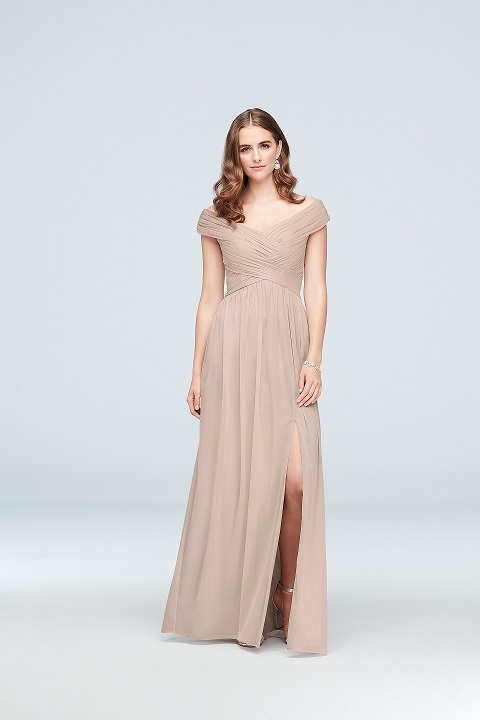 Mix and Match Made Easy
While having your bridesmaids match is a lovely option, another popular trend we've seen is for maids to wear completely different dress styles. This way each of your girls can choose the silhouette, neckline or sleeve that highlight their best features. We've made recreating this trend easy with collections of dresses that will always look good together. Each collection has the same silhouette and fabrication, then offers various necklines and straps/sleeves options for effortless, cohesive, and flattering pairing. Here are the new mix and match looks we are loving:
This true wrap style allows your bridesmaids to adjust the fit however they want so they can feel their most comfortable! Flutter sleeves and cold-shoulder styles for your ladies are available and a long sleeve will be introduced soon!
These dresses have a full mesh skirt with a crisscross waist line, that both fits and flatters beautifully. Sleeve options vary from one shoulder to strapless to short sleeves, with a long sleeve version coming next season.
We love chiffon and you should too! The lightweight fabric flows beautifully on everybody. This online exclusive (only $99!) has a a wide range of necklines and straps so everyone can feel their best. Plus, the spaghetti strap dresses are complete with an adjustable strap for a comfortable and flattering fit.
Book an Appointment
Come check out these dresses for yourself! With over 300 locations, all of your ladies can head into their local store and find the most flattering bridesmaid dresses for your wedding day. Want to get the squad together to see the party in practice? Book your bridal party appointment so we can give your girls the time and attention they need to find the most flattering dress for them.
Start exploring more bridesmaids dresses online or in-store!
Related Posts: