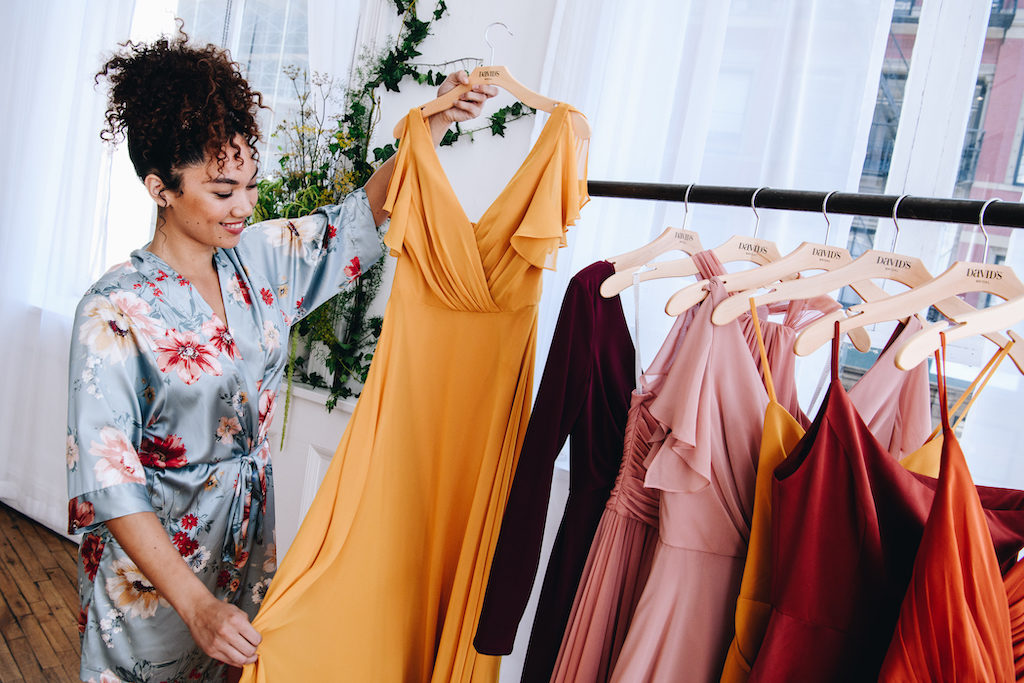 13 Nov

Bridesmaid Fabrics 101
All about fabrics for your maids
When it comes to picking bridesmaid dresses, there are a lot things you'll want to consider: everything from color to style to fabric! Yes, you read that right! The fabric of a bridesmaid dress can completely transform a bridal party and help you achieve a certain aesthetic. So we're breaking down all things bridesmaid fabrics for different wedding-day vibes.
Soft & Romantic
Soft hues, fresh flowers, and delicate details typically capture the style of a romantic bride. These bridesmaid dress fabrics are the perfect way to add a touch of whimsy to your bridal party!
Glam & Luxe
It's the biggest and best night of a bride's life! There's no holding back when it comes to the glam and luxe vibes and these fabrics are a great way for your maids to embody that elevated look.
Satin – Lustrous and structured, satin is such a versatile fabric, think a flattering fit-and-flare or a full ball gown. You can never go wrong with this classic fabric!
Crepe Back Satin – The luxurious feel and subtle sheen of this fabric will make anyone feel like royalty. A silky outer layer is glam, while the crepe offers built-in comfort.
Sequin – We can't think of anything more glamorous than some sequins! Have you ladies shine inside and out from allover sequins to just a shimmering bodice. The micro-sequins catch the light so beautifully, allowing your maids to shine from all angles.
Trendy & Modern
A modern theme knows no bounds and can truly be altered to fit the bride's style. Whether it leans more towards minimalistic chic or towards trendy, these bridesmaid dress fabrics are the perfect way to put a personal spin on the bride's big day!
Velvet – Velvet is a trend we are loving right now, especially with colder months on the way! The butter-y smooth texture is rich to the touch and looks great with jewel tones.
Novelty – A novelty fabric, such as a floral print or a 'wallpaper' sequin technique (like DS270021), is a great option if you are looking to add multiple colors and designs into your wedding party. This is especially great if you want your MOH to stand out!
Lace – An all time favorite, lace adds so much surface interest and has unlimited patterns to choose from! Lace can add a great deal of dimension with the use of cording and texture.
We absolutely love all these fabrics for their own unique qualities and you can't go wrong with picking any one of them to build your bridal party. Book an appointment in store to shop all kinds of fabrics, silhouettes, and colors in person or shop them now online!
Related Posts: