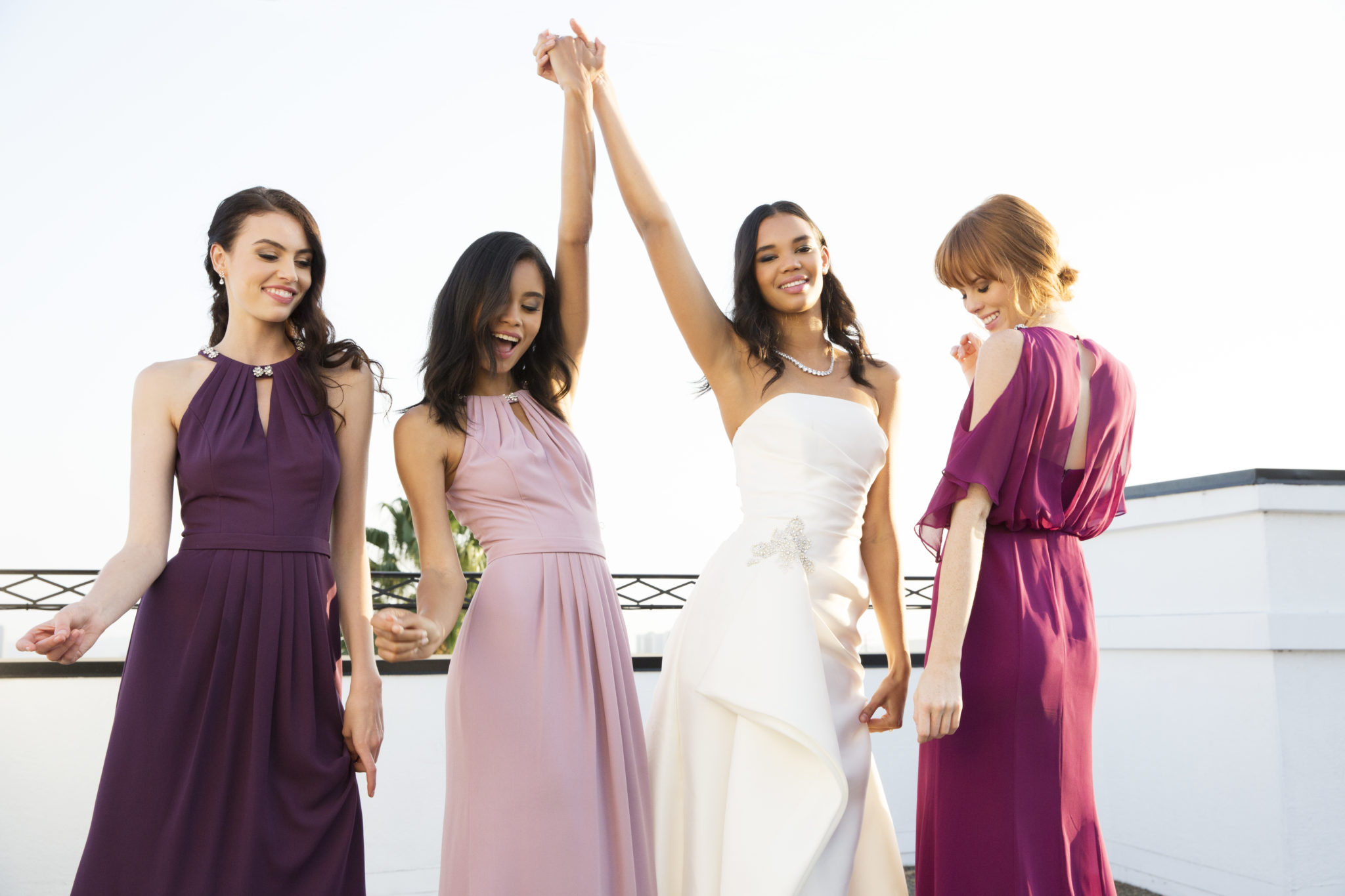 04 Dec

Bridesmaid Looks We Love for Spring 2018
Bridesmaid trends you will see all over weddings next year.
We've all been there – friend meets that someone special, friend falls in love, friend gets engaged, friend asks you to wear a dress that just isn't you on her big day. Ugh. If that's you, don't worry, we're here to help. Our newest collection features dresses that have all of the ladies at our home office begging to be in a wedding. Yes, they're that good. We are so excited to share the Spring 2018 bridesmaid trends with you, so what are you waiting for – keep reading!
Clean Slate
Bridesmaid trends seem to come and go, but we are here to tell you that clean, classic, and structured bridesmaids dresses are back in a big way! If the wedding is black tie required, you should take a look at our Mikado dresses. Elevated and elegant, the clean lines and updated silhouettes make a traditional look a bit more modern (did we mention this style has pockets?!).
Cool & Casual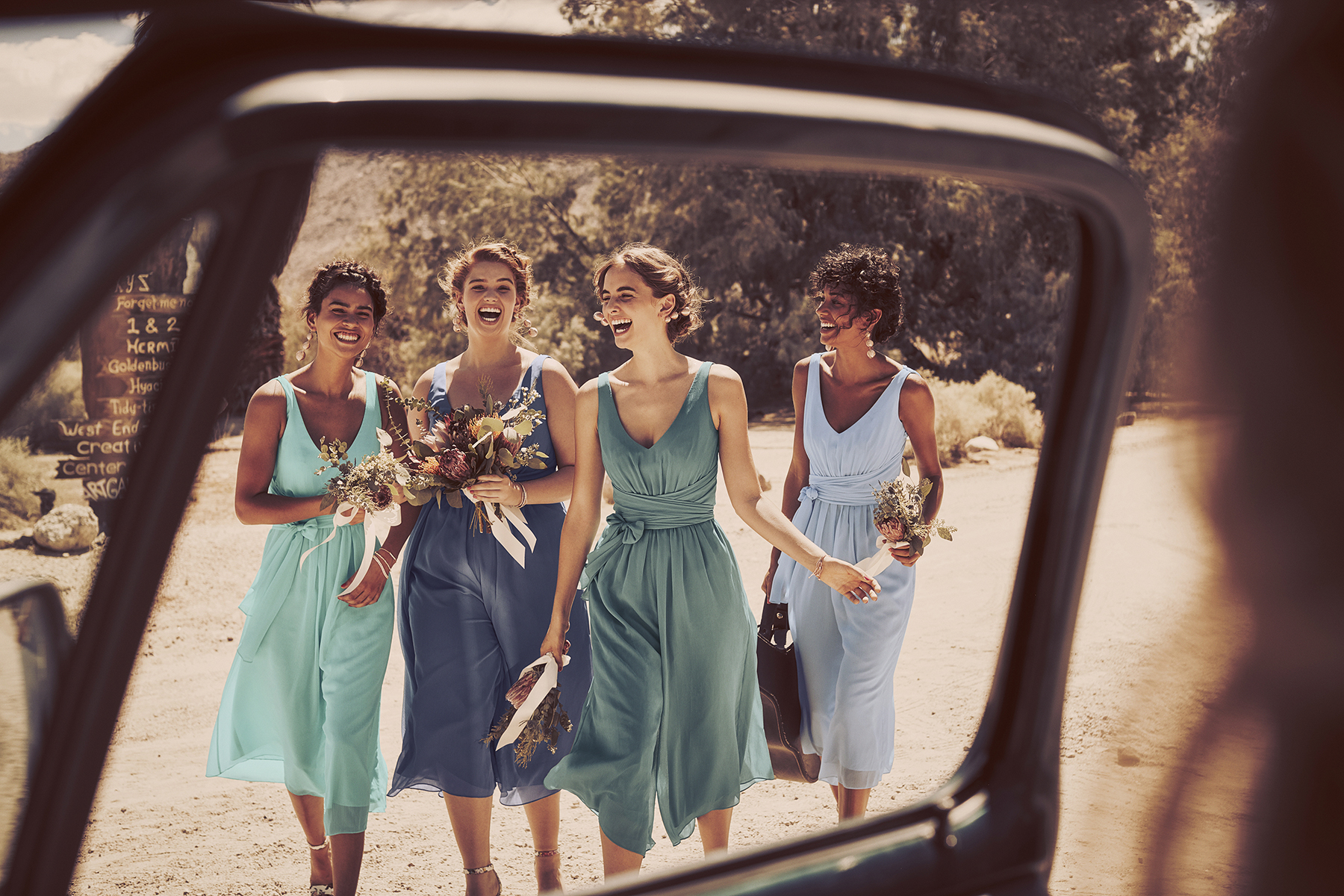 We all have that one friend who is just too cool, but we love her anyways. She would never be caught in anything traditional and she would definitely never let her maids wear a flowy frock. Opting for a cool and trendy jumpsuit like this one is a sure way to stand out from the crowd.
Statement Skirts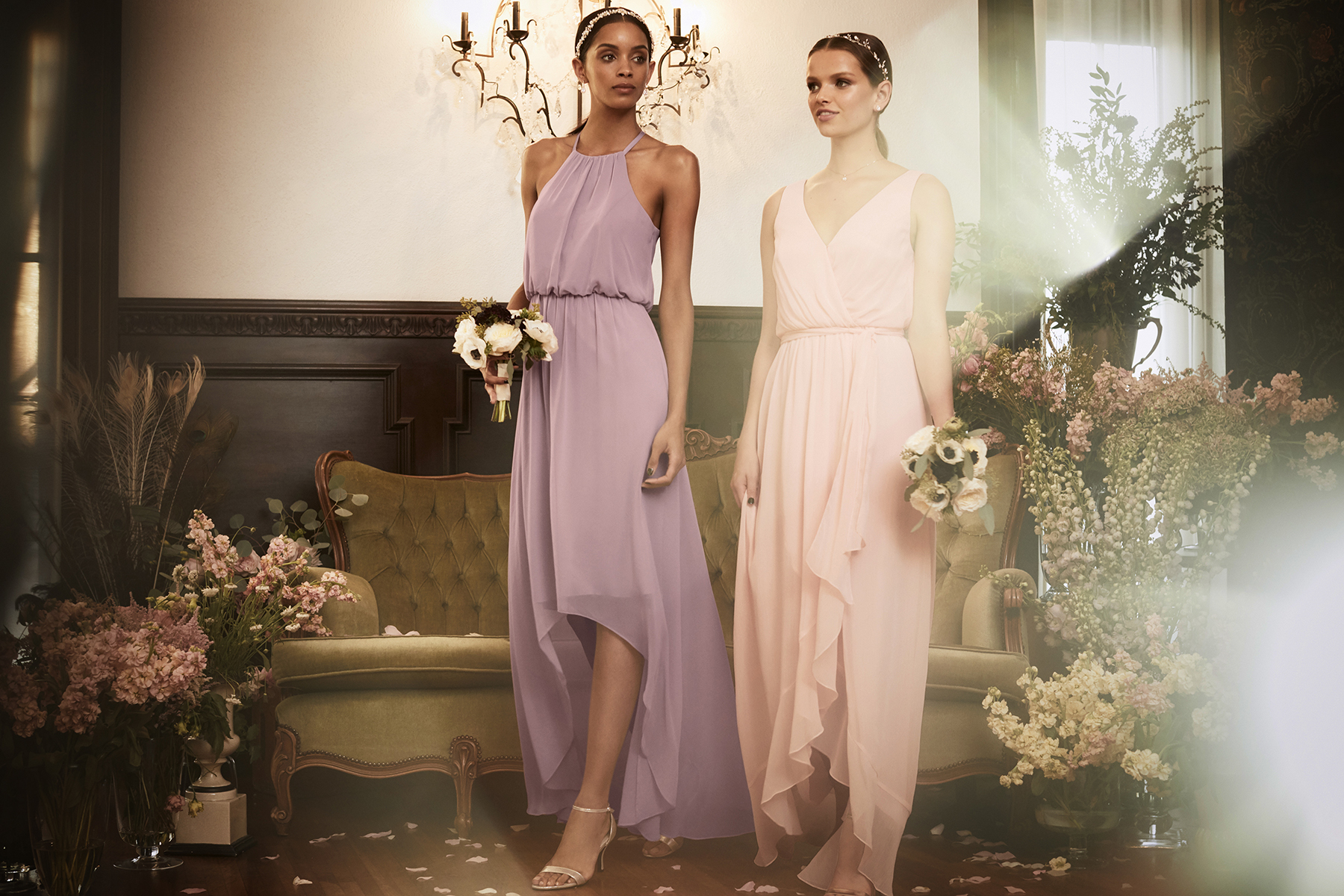 Looking to show off your shoes but still want to wear a long dress? Us too. Say hello to our new best friends, the high low dress and the faux wrap dress! We guarantee that you'll love having a statement to make from skirt to shoe.
Florals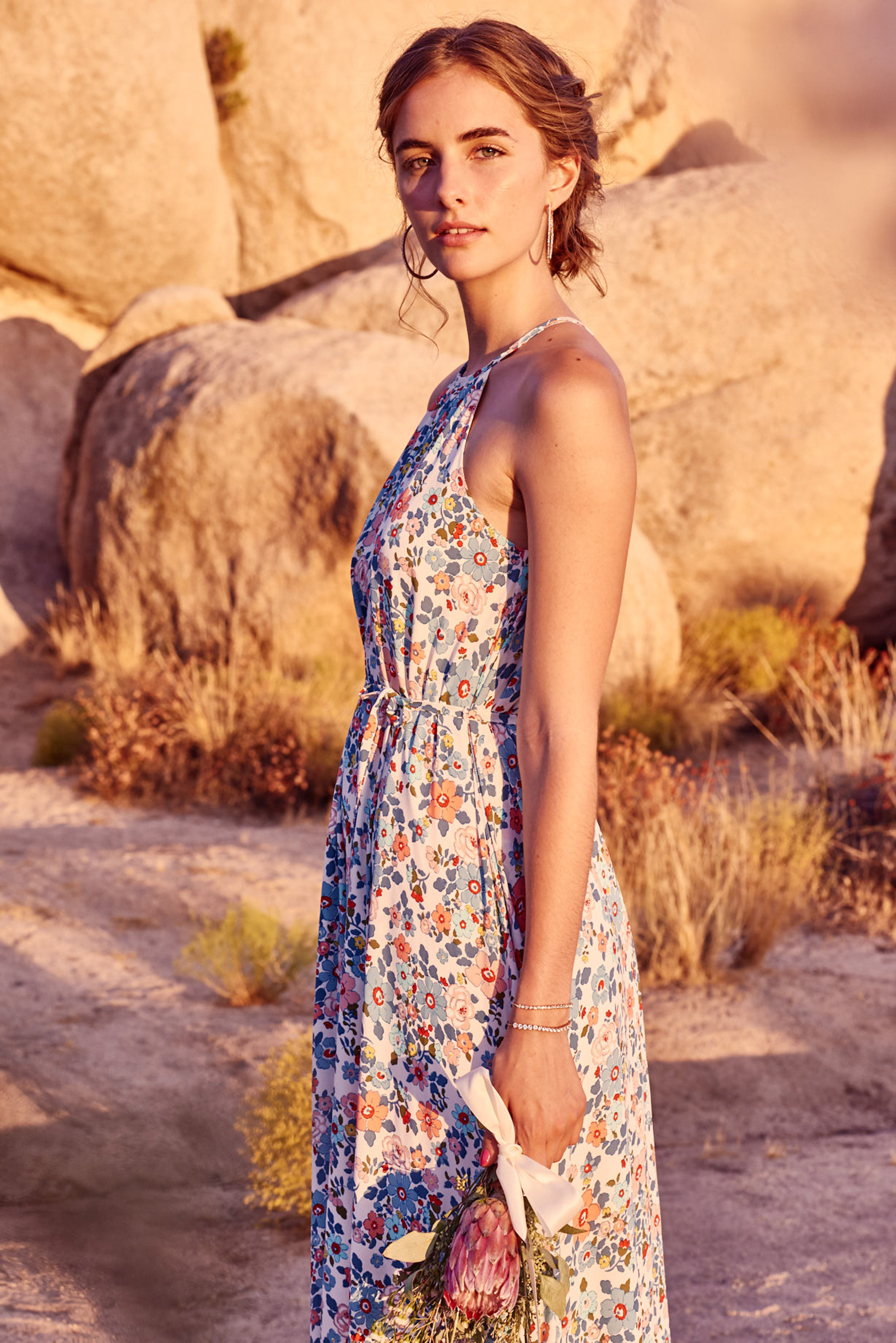 We can hear it now, "Florals for Spring? Shocking." But honestly, what's Spring without a good floral? This season we are introducing a new, exclusive micro floral print that is Bride and Bridesmaids approved! Worried that an all-over print may be too much? Reserve this one if you're part of a smaller party.
Bright & Bold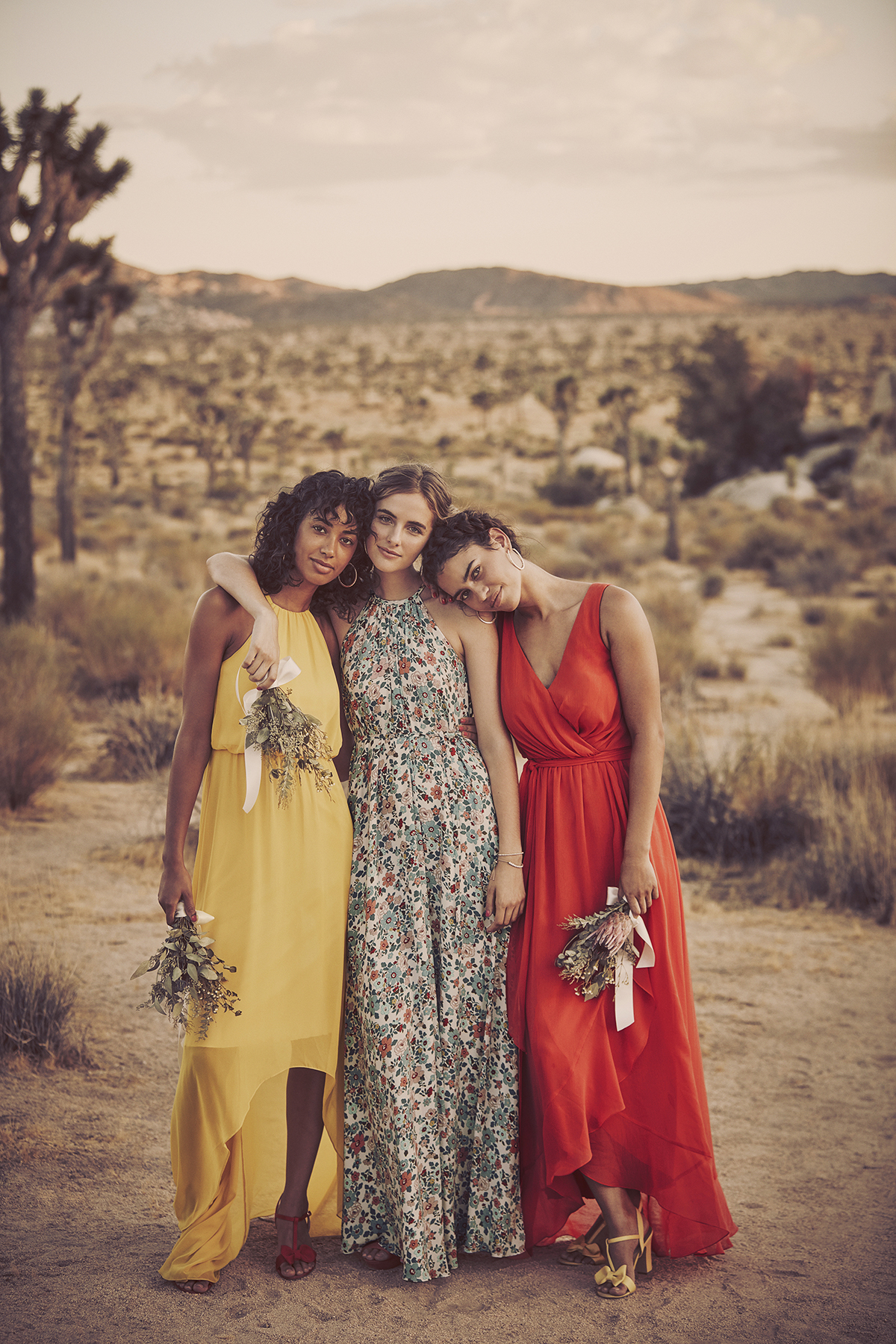 If you can't imagine the entire bridal party in florals, try incorporating some bright hues that complement it. This is a great update to last season's mix and match trend. The floral print acts as the anchor for the party (perhaps the Maid of Honor?) while the rest of the girls don various colors pulled from the print.
Neckline Diversity
Just like uniformity in fabric and color have taken a turn, now it's time to try mixing up necklines. We are all built differently, so it's important to choose a style that complements your shape. A bit more modest? Opt for a style with a higher neck. If you're a little more trendy, choose a cold shoulder dress with a bit of bling. There's no wrong combo, just make sure you make it your own!
If you want to be the #1 bridesmaid in your friend's bridal party, offer to help make an appointment at your nearest David's Bridal. We guarantee she will thank you! And while you're at it, send your favorite bride-to-be this post as a subtle reminder that David's Bridal has all of the hottest bridesmaid's trends for Spring 2018! You can thank us later.
Featured photo: Stephanie Williams // Production & Styling: Jillian Clark of 100 Layer Cake  // Flowers: Of the Flowers // Hair: Trace Henningsen // Makeup: KC Witkamp // Venue: Palihouse West Hollywood
Related Posts: