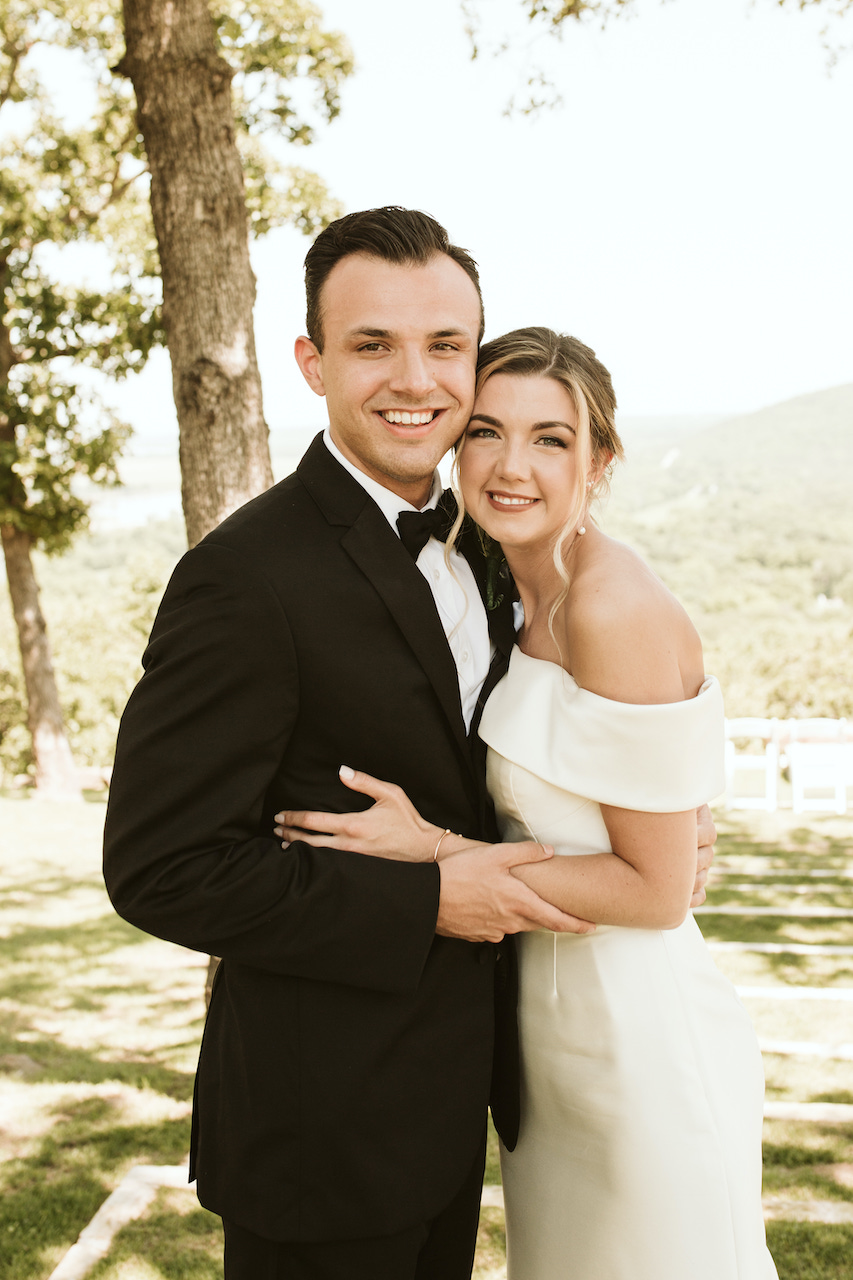 08 Sep

Real Wedding: Meredith & Duncan
Timeless & Classic Wedding
Real weddings are so inspiring! To get you in the mood to plan, we asked real brides to spill the details on everything from getting engaged and finding their wedding dresses to the special touches and surprising moments that made their celebrations completely one-of-a-kind. Today's real wedding story features newlyweds Meredith and Duncan. They tied the knot with a love-filled ceremony that was timeless, classic, and elegant. Keep reading to see more details from their special day!
Briefly tell us how you and your fiancé met!
My husband and I were actually set up through mutual friends! Which is ironic to me because I always thought I would end up spending the rest of my life with someone I've known for years and years. So, I lead worship at my church and one Sunday he visited with our friends who attend the church. He saw me singing and started asking about me, which is when our friend got the idea into her head that "hey, they're both single!" So for several months she spoke to each of us about the other before we actually met in person, then Duncan asked me out for our first date. Obviously we hit it off really well, and the rest is history!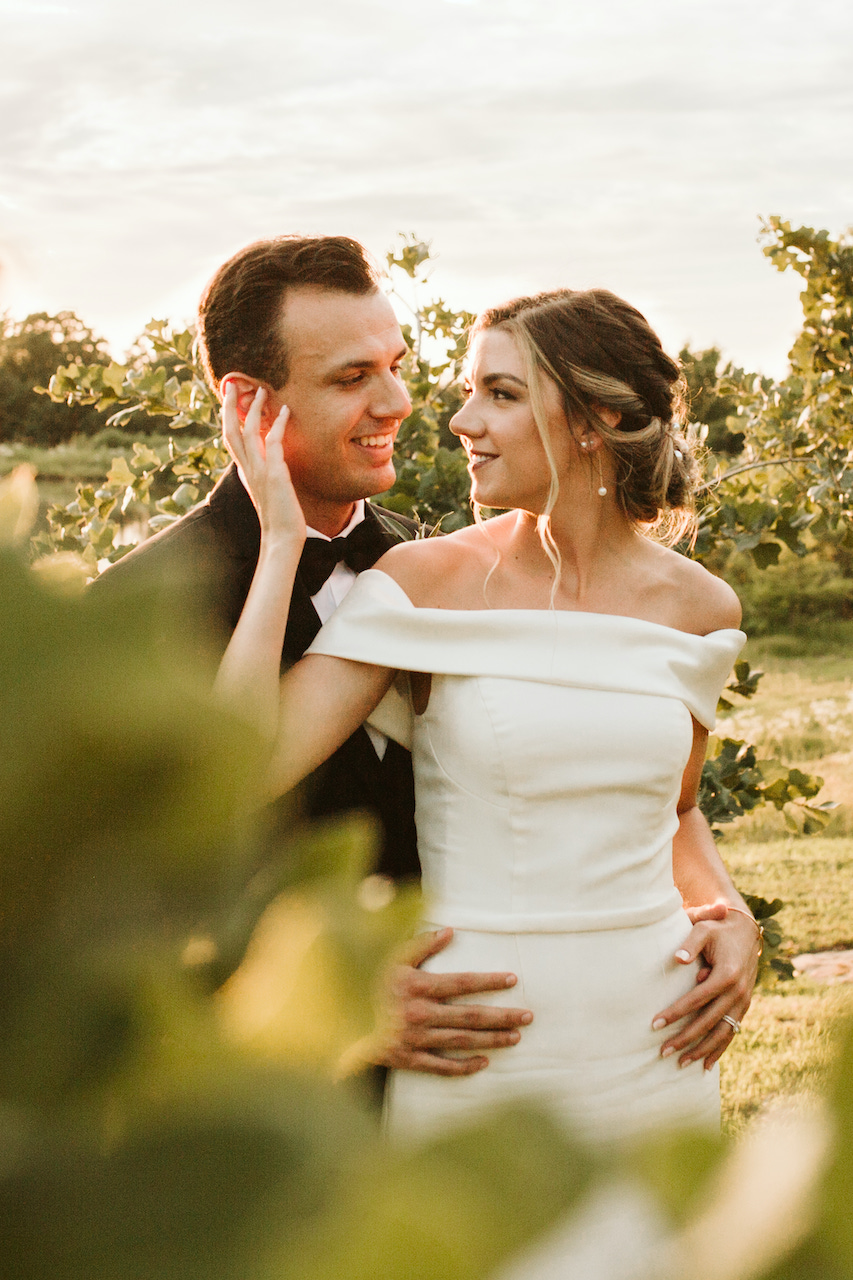 How did you know that he was the one?
I personally don't believe that God designed me (or you!) for just "one" person to spend the rest of our lives with. If God created only "one" person out there for me that was to be "the one" I'd marry and spend forever with, I think I'd probably spend my whole life looking for him! But there are definitely qualities within Duncan that absolutely showed me that he was the person I wanted to spend my forever with. With Duncan, I didn't overthink things, which was a big deal for me because I overthink everything. He gave me confidence in us by dreaming big and not being afraid to talk about the future. I can't imagine spending a day without him, and I feel so honored that he chose me to be his wife.
Tell us your proposal story!
Duncan proposed to me right before Christmas on December 19th. Because we knew we wouldn't get to be together for Christmas, we had been planning on doing a "Christmas date" before parting ways for the holidays, though he had kept the details a surprise. Duncan had convinced me he would be busy all day finalizing things at work before the holidays, so I knew I'd be spending the day alone getting ready for our surprise date.
That evening Duncan picked me up and told me he wanted to be more spontaneous in our date, and asked if he could blindfold me so I wouldn't know where we were going. I agreed and off we went. We jammed to music as he drove us around to who knows where! It felt like forever and we finally parked (I was still blindfolded) and I opened up the car door. He guided me to the door and we step inside to a room that was way more quiet than I expected. He took off my blindfold and I gasped because we ended up being in our church's lobby which was lined with rose petals and lit candles. It was so romantic, and he walked me to the end of the aisle where I immediately started crying. He got down on one knee and asked me to marry him and the rest is history! We got to celebrate that evening with our closest friends and family who had gotten to watch the whole thing from a room off from the lobby of the church.
How did you both decide on your wedding day look?
I felt that I wanted something very simple that represented the love Duncan and I share—nothing overly complicated or flashy. That may sound silly, but I didn't feel the need to go over the top to impress Duncan because he chose me already. So I decided to go without any pattern, and keep it very classy! Duncan's classic look followed along with my timeless dress.
Do you have any shopping advice for future brides?
Only take who you absolutely need with you, and don't be afraid to tell people "no". Because I went shopping during covid, there were restrictions on how many people I was allowed to bring with me and I am honestly thankful that was the case. I didn't need lots of extra opinions the room when it came to picking out a wedding dress. I brought my twin sister and my mom with me, that's it! Go in with 2-3 ideas of what you want to try on (I personally looked through the website first and chose a few styles I wanted to try on), then be willing to take the advice of your stylist! In all honesty, my stylist is the one that put my wedding dress on the rack for me to try on and I am so glad she did. Be sure to communicate honestly and openly. Ask whoever comes with you to share their opinion about a look with you only after you have had the chance to voice your own. In the end, it's your opinion that counts the most. You want to feel fully confident in your dress.
What was your favorite detail about your look?
I loved neckline! Which is something I was so worried about. I have scoliosis and my collar bones are not even, and so I've always been concerned about how noticeable that may be if I tried any type of strapless or off the shoulder look. The neckline on my dress made me go "wow!" And I felt absolutely confident in showing off my shoulders in it.
How did you feel when you knew that you #foundtheone?
I randomly chose an order to try on dresses, and the dress I said yes to was actually the first one I put on. I feel like a cliche, but it's true! I was totally blown away and my jaw was on the floor when I walked out of that dressing room (and my mom and sister were too). I had no words. At first I thought I was reacting that way because it was the first wedding dress I was trying on ever, but after trying on the others I just had to go back to that first one. It took my breath away. It was a very easy yes and me, my mom, and my sister bawled our eyes out.
Tell us about your wedding day!
Duncan and I got married on a Sunday evening in June with all of our close friends and family. We had a beautiful ceremony officiated by my husband's father with (almost) all of our friends and family present. The ceremony was everything we wanted it to be and was so special. We laughed, we cried, we smiled until our cheeks hurt. It was the best. After, the incredible Dream Point Ranch team flipped the ceremony space into our reception space for guests to enjoy dinner. We shared our first dance, quickly followed by the father-daughter dance, and then of course my husband and his mom. To help get everyone else out onto the dance floor, my photographer requested to take a giant group photo, forcing everyone out of their seat and onto their feet! I know I'm biased because it was my own wedding, but I've seriously never had so much fun before at a wedding! And it meant so much to me that everyone was having such a good time. After a bouquet toss and more dancing, it was time for us to leave. While the guests lined up outside, the lights were dimmed and my husband and I danced to the song "So this is Love" from Cinderella. We were able to reflect on a day full of so much love and joy before running out into a sparkle exit and into our future as a husband and wife.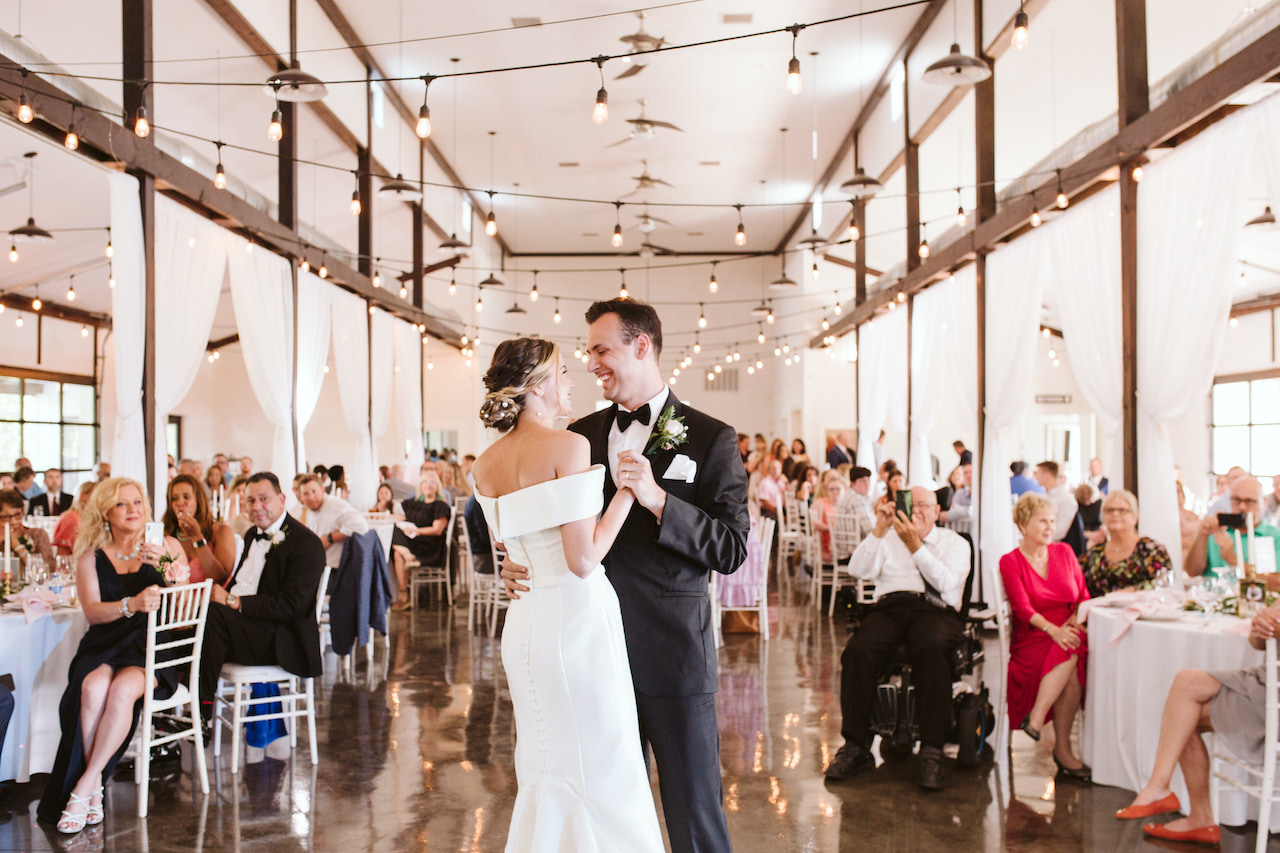 Was there a highlight or most memorable moment of the day?
A major highlight for us was all of the dancing—our friends, coworkers, family and even grandparents were all in on the fun! But when our photographers snuck us away during all that dancing for some intimate shots of just us two during the sunset, that was a major highlight for us and now we have beautiful photos to remember that moment forever. One of the most memorable moments of the day for me was our last dance. Our DJ had asked everyone to step outside as we prepared for our big send off, and during that moment all the lights were dimmed and our favorite love song called "So This is Love" came on, and Duncan and I were able to share one last moment together, just us slow dancing in the middle of our venue to reflect on the day in joy and love. We looked at each other and said "we did it!". I will never forget that moment.
Did anything funny or unexpected happen?
The best man dropped my ring when passing it to our officiant, and we won't let him live it down to this day!
Is there something you wish you had known before the big day/while you were planning the wedding?
Really make sure you know what you're doing when signing the marriage license. That part was way more stressful than it should have been for us!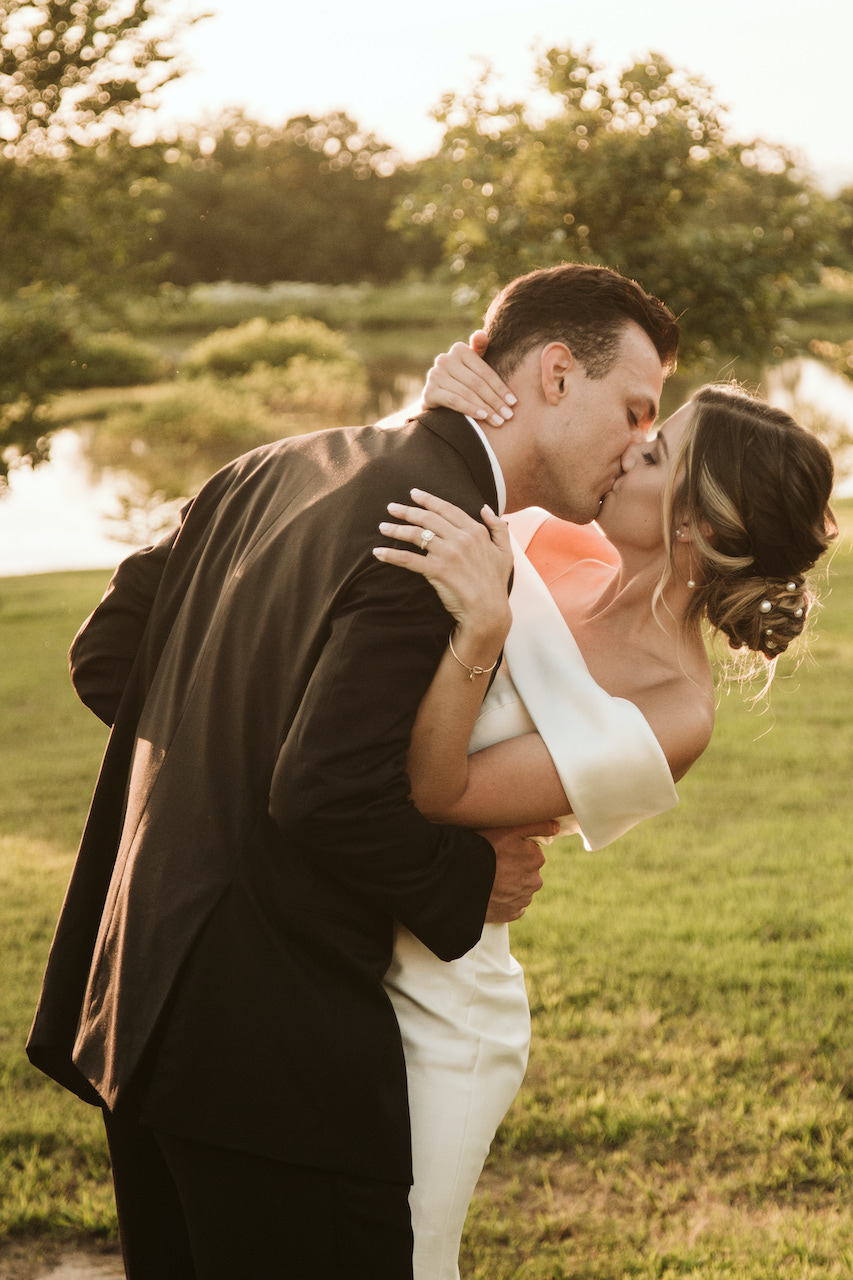 What was your favorite DIY or personal touch?
Having photos of me and my husband at different ages with the corresponding table numbers! For example, table 1 had a picture of me and a picture of my husband at the age of 1. Table 17 had a picture of me at age 17 and Duncan at age 17. It was so fun to have our mom's involved in picking out photos!
What did you do to stay stress free on your wedding day?
I created a schedule with my coordinator and photographer before the day of the wedding and delegated various jobs out to various people to accomplish that day, so I was able to sit back and watch my dream come to life and be stress free! I also scheduled in a segment of time 30 minutes right before the start of the ceremony where me and my bridesmaids were able to just be together in our suite waiting for things to start. Having that down time to just be with my girls was just what I needed.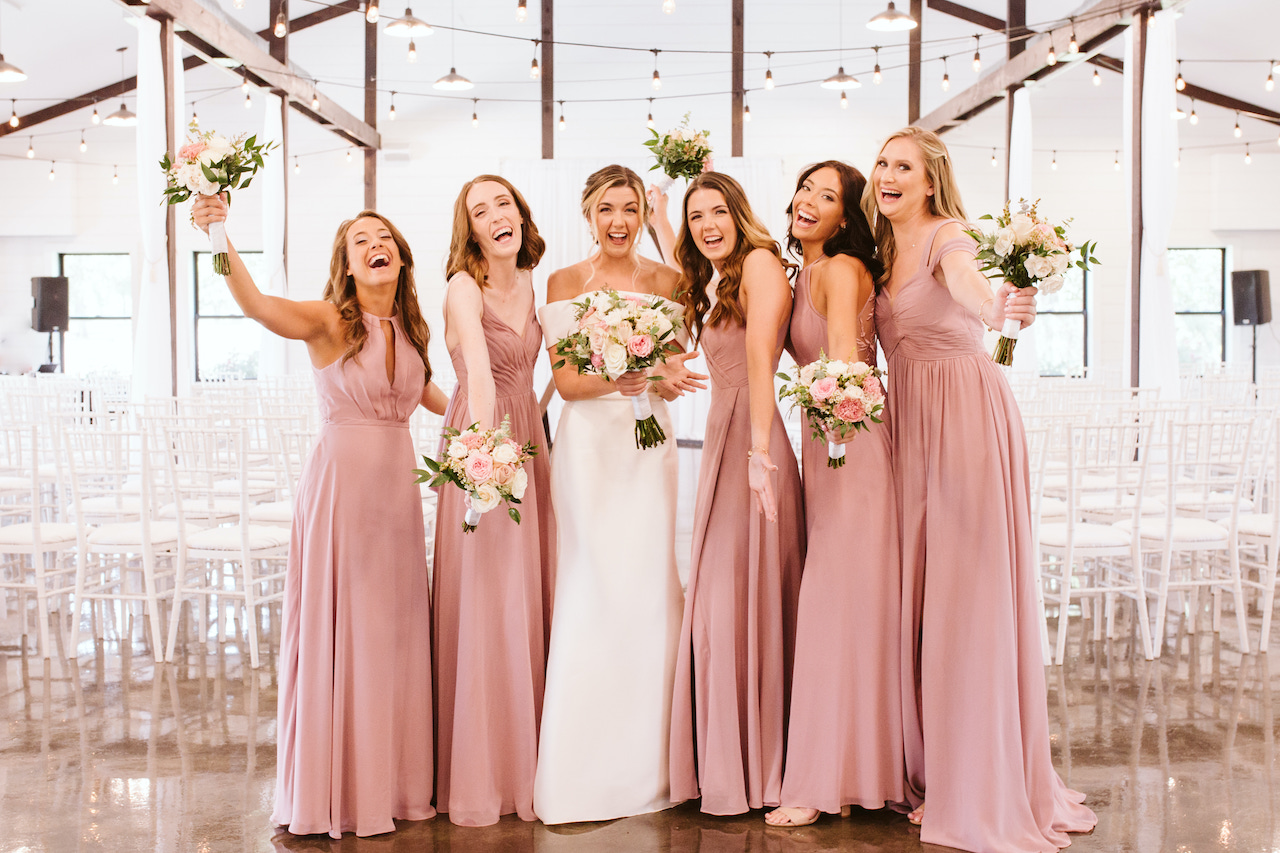 What is your best wedding planning advice? And what advice do you have for brides that are planning their weddings right now?
My best wedding planning advice would be don't do it alone! Don't be afraid to ask for help from people you trust and delegate tasks out to them. Believe me when I say that there are so many people in your life that love you and want to help along the way! Additional advice would be to have an organized wedding coordinator, or at least a day of coordinator (which is what I did!)
Anything else you'd like to share?
Don't be fooled—although engagement season is fun and full of exiting things like wedding showers and parties, it's not all as enchanting as social media makes it appear. I don't say that to be a debbie-downer, I say that to be realistic and to let you know that you are not alone if you feel like there are moments that are more tedious than magical. But don't hesitate to take it all in! Enjoy it—it goes by fast! And don't be afraid to treat yourself to a massage.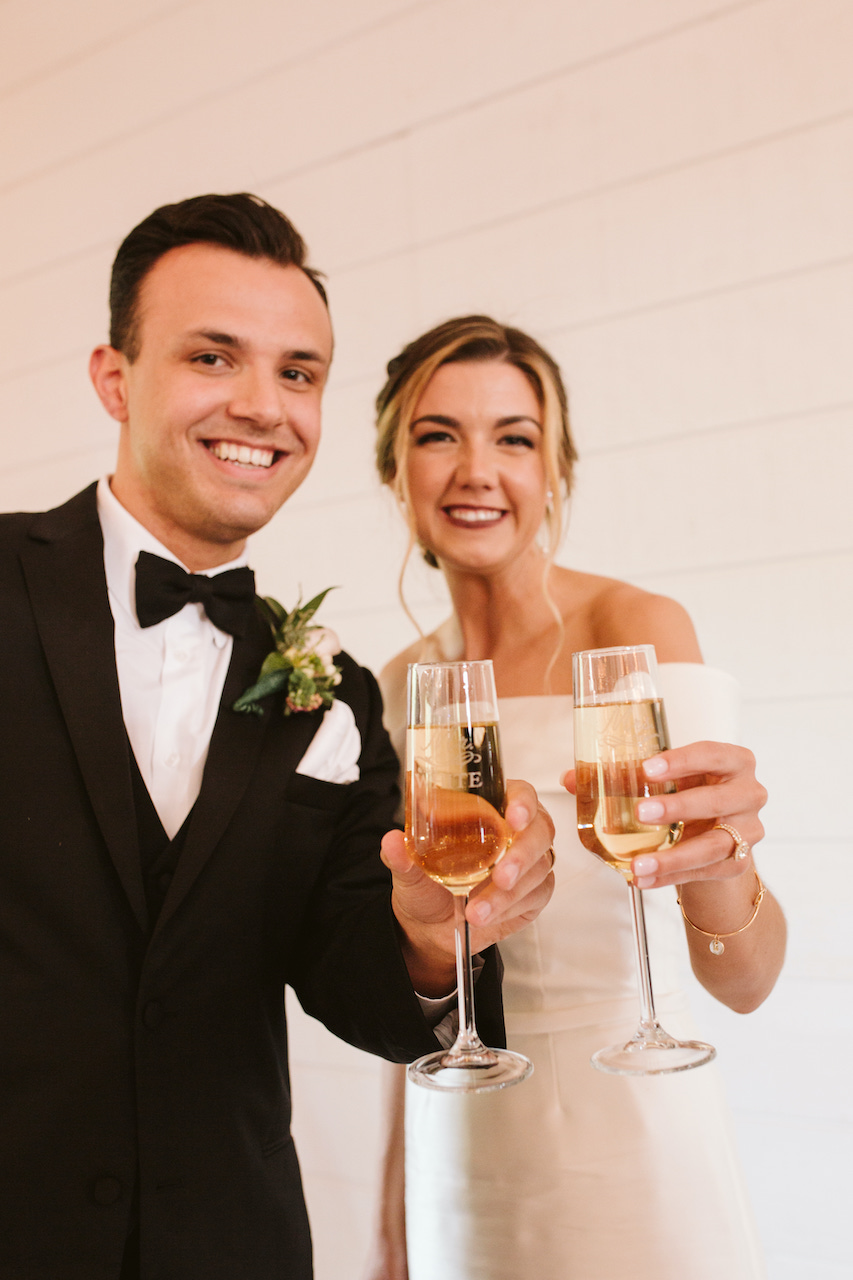 More Details:
Wedding Date: June 13, 2021
Wedding Location: Dream Point Ranch
Wedding Cake Flavor: It was vanilla! But the part we cut into was actually chocolate…that was a surprise!
Wedding Song: "Rest of our Lives" By Faith Hill & Tim Mcgraw
Wedding Dress style: Off the shoulder Mikado Trumpet Wedding Dress
Photographer: Aimee Dianne Photography
Love this timeless and classic wedding? Read more real wedding stories here!
We know how important your wedding day and special events are to you and we are doing everything in our power to serve you! You can shop with us 24/7 at davidsbridal.com or come see us at your local David's Bridal. Plus we are here for you to help guide you through your wedding planning! See tips for starting to plan your wedding at home, shopping for your wedding dress online with confidence, and more on the blog.
Planning a wedding? Sign up for our Diamond Loyalty program—it's free! Follow us on Instagram, Pinterest, and Facebook for more real wedding inspiration, or click here to book an appointment.
Related Posts: