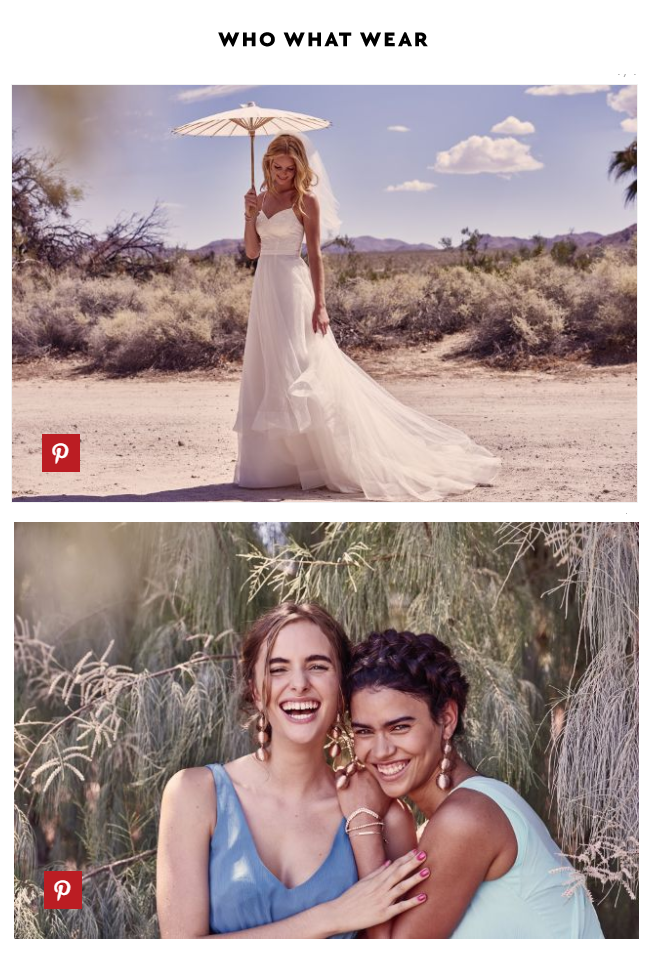 19 Sep

In the News: Spring 2018 Galina Campaign Preview
Who What Wear shares the inspiration for our Spring 2018 Galina campaign.
Who What Wear, the elevated online destination for aspirational yet accessible fashion content, shared an exclusive behind-the-scenes look at our Spring 2018 Galina Collection campaign shoot in Joshua Tree National Park. The editors at Who What Wear speak with our design team about inspiration behind this season's collection. They discuss adventure, travel, bridal trends and who we see as our Galina girl.
Dan Rentillo, Vice President of design and product development, explains that this season's campaign was inspired by a couple seeking adventure, experience, and travel. Hosting the photo shoot at Joshua Tree seemed so fitting to our team. A dramatic desert with the expansive open sky and amazing natural light is the perfect backdrop to narrate the Spring 2018 Galina story and highlight new Galina wedding dresses.
Defining our Galina bride as eclectic, free-spirited, playful, and fresh, this season we address her style evolution. Focusing on the ease of this collection, Spring 2018 offers the Galina bride flowier shapes, lighter fabrics and plenty of vintage Boho wedding dress styles. Although Galina is a cohesive collection, each dress is individual and has unique fabric accents.
Read more about Galina Spring 2018 Collection and check out Who What Wear's behind the scenes look here.
Related Posts: