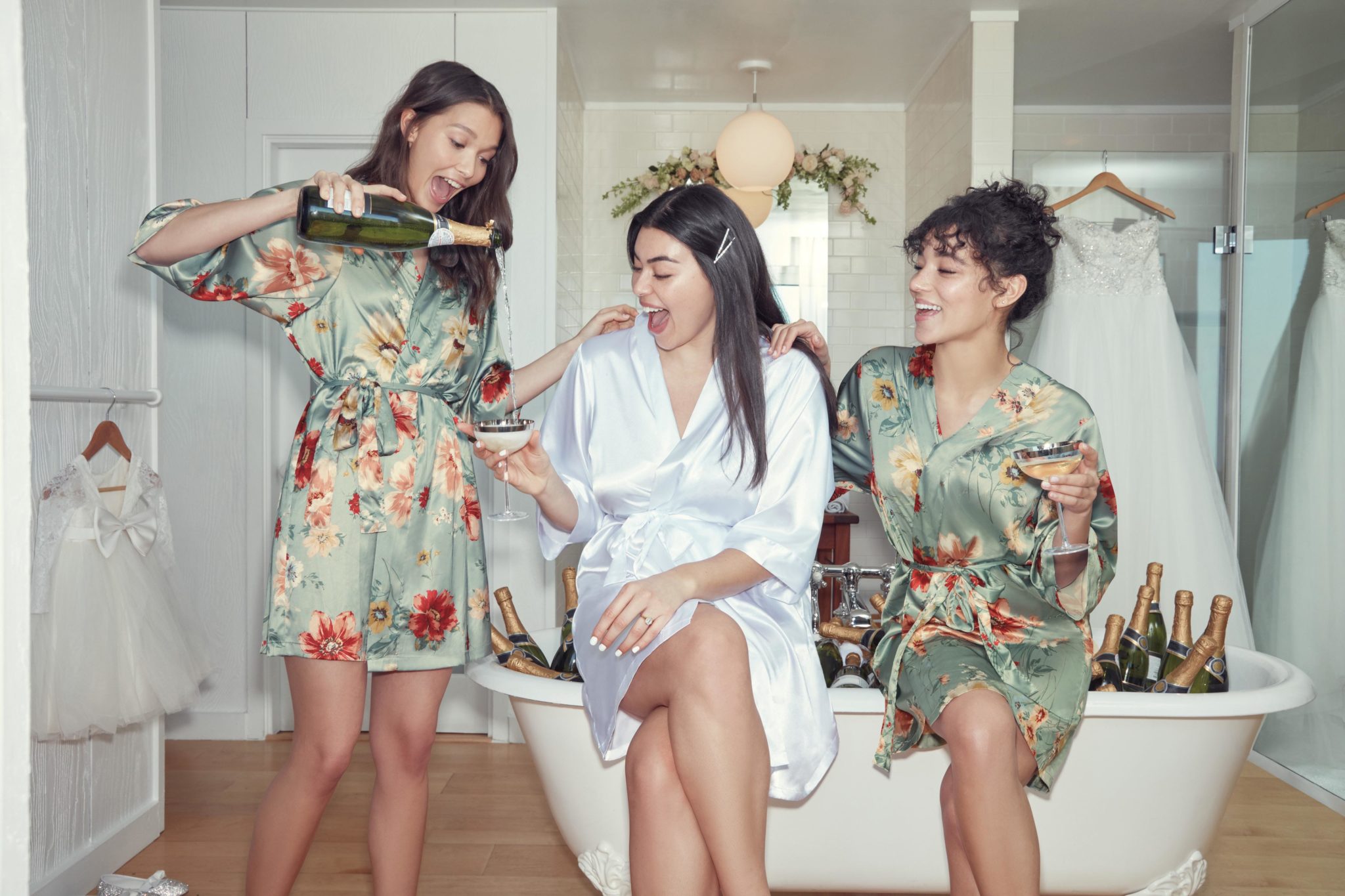 13 Mar

The Perfect Wedding Day Beauty Timeline
The Wedding Beauty Timeline: A Step by Step Process
It's your wedding day! After months and months of planning, the day you've been waiting for is finally here! But, before you take those first steps down the aisle, prepare yourself for a busy morning of prep for you and your maids. Should you do your hair or makeup first? Should you wash your hair the day-of the wedding? You have questions and we have the answers! Keep reading for the perfect wedding day beauty timeline and some expert tips for a stress-free day!
Before the Big Day…
You shouldn't wash your hair on your wedding day, especially depending on your hair type and desired style. Dirtier hair (think 1-2 days old) is easier to work with and hold styles. So, if you're going for an updo, plan to do your final hair wash a few days before the wedding.
Fill a cute tote with some getting-ready essentials so you're ready for the busy morning! Your robe, slippers, phone chargers, and even a minimergency kit will be right on hand when the day starts!
In the AM…
If there's one thing a bride needs on their wedding day, it's less stress. Having a plan set up to make sure the day goes seamlessly and without a hitch will be crucial for you and your maids! Expect an early morning to ensure enough time for you, your maids, MOB, and even flower girls to get their hair and makeup done. Evening brides have a little bit of flexibility but a 7am wake up call is typical for most afternoon or early evening weddings.
Hang Up Your Dress & Veil
Hanging up your dress and veil should be one of the first things that you do! Give your dress some space to breath and time to let any wrinkles fall out. This will also make it it easier to see what needs to be steamed before putting it on.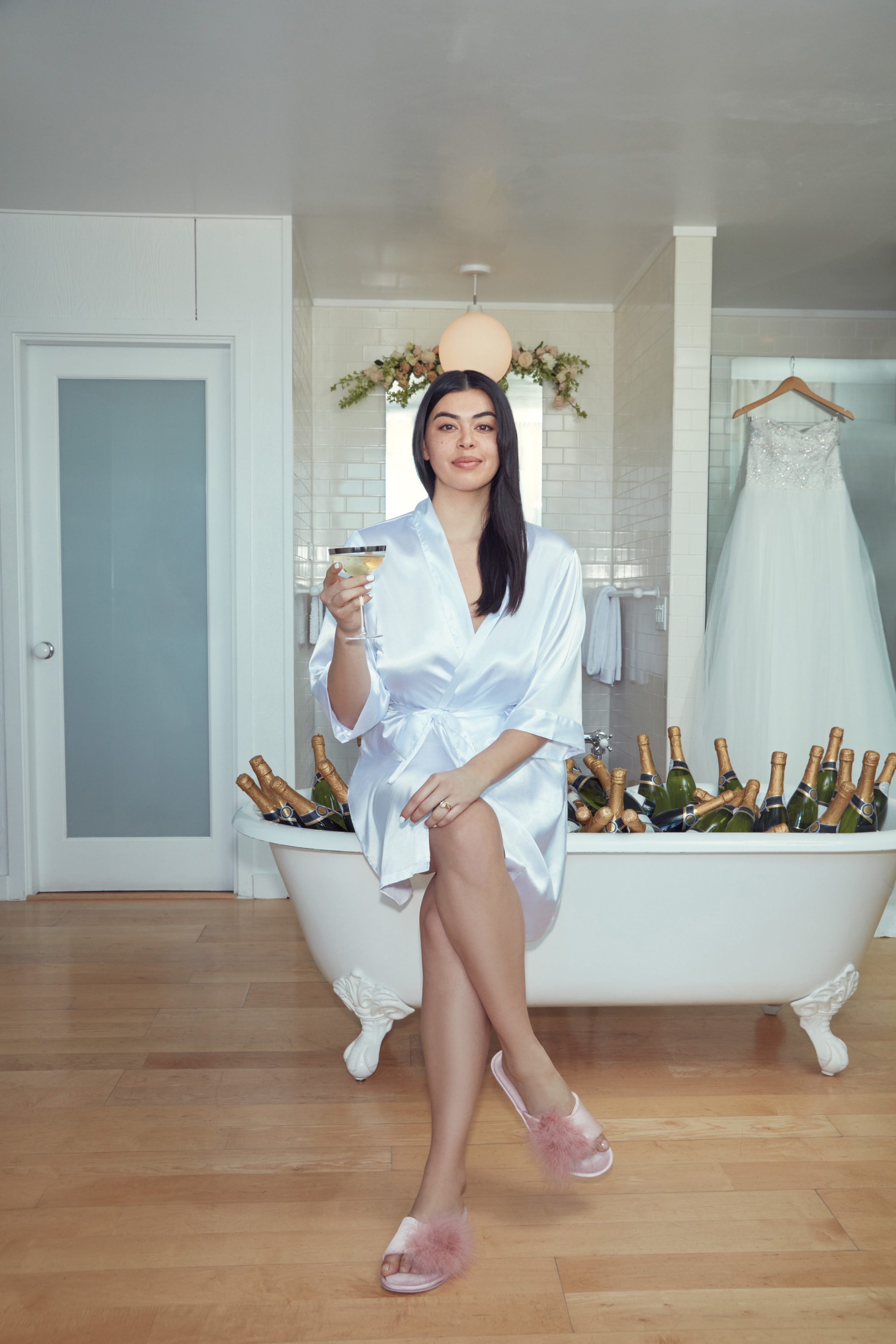 Get the Party Started!
Once everyone arrives, it's time to get the party started! Task one of your maids to create a fun playlist going to set the mood for the rest of the day. Now's also the perfect time to hand out any bridesmaid gifts – like matching robes – for a fun getting ready photo-op! Finally, sip some bubbly and toast to your soon-to-be Mrs. status and everything your maids have done to help make the day happen!
Pro Tip: It's going to be a long day, so plan to have light snacks or lunch during the getting-ready portion of the day, especially if you and your party will be drinking!
Start Hair and Makeup
How many bridesmaids you have will determine when you should get started on the prep! Generally, you should plan for about 45 minutes for each of your maids to get hair and makeup ready!
Pro tip: wear a robe or a top that buttons up so you don't mess up your hair or makeup when you change into your dress!
As the bride, you will have already have had your makeup trials done before the big day so you and your makeup artist will have an idea of what the process is. Coordinate with your photographer to arrive around this time so they are there to capture the final getting ready moments. While the bride is finishing getting ready, the photographer will be able to capture dress or detail shots before group photos.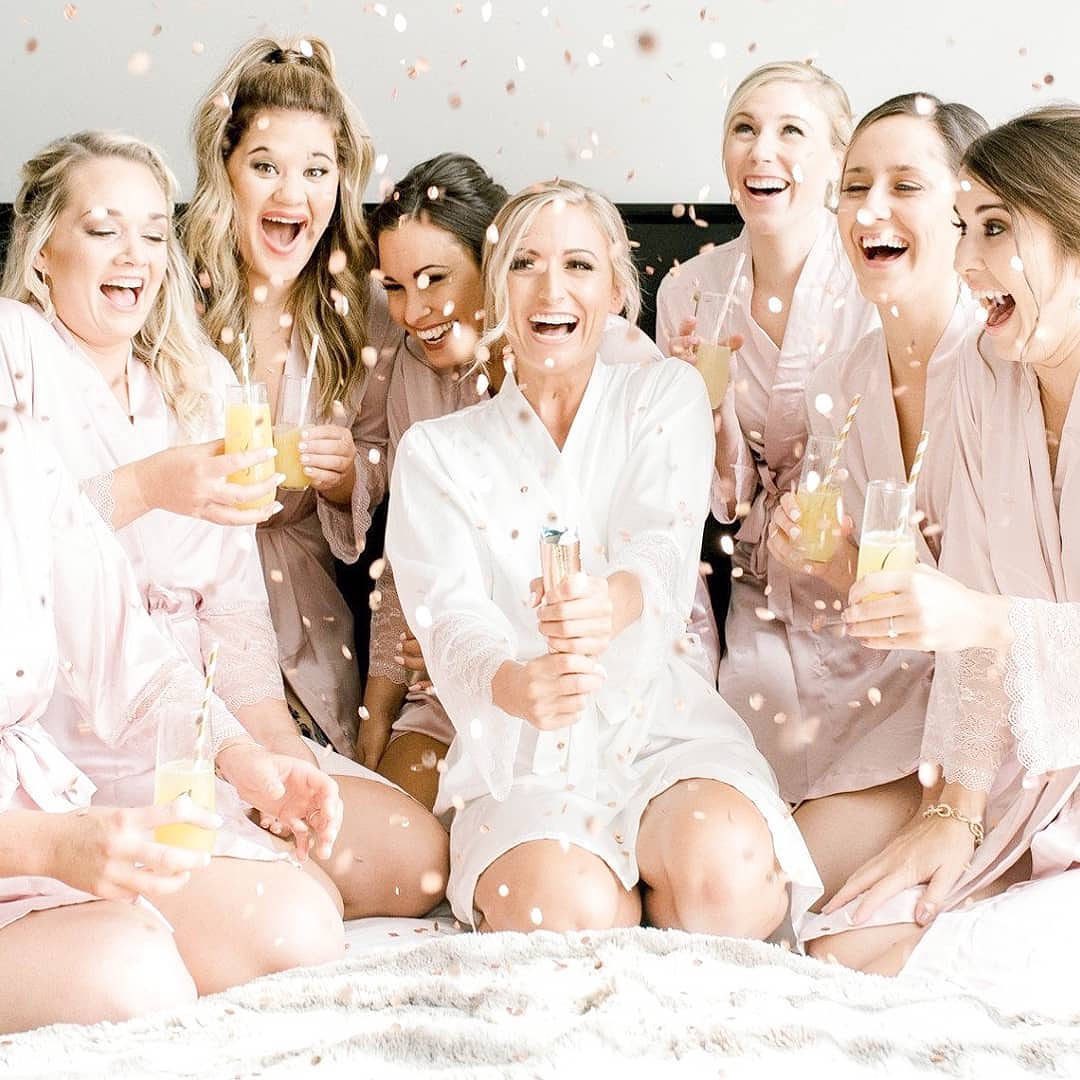 In the Afternoon…
It's Picture Time!
Do you have an idea of what kind of shots you'd like to get? Maybe it's one of your MOB helping you into the dress, or a maid putting on your veil, or even a first look moment with your entire bridal party.
Are you and your soon-to-be spouse exchanging gifts? Have your photographer capture the moment when you open their thoughtful gift or read their heartfelt letter – you'll want to remember this moment!
Pro Tip: Have someone that's not part of your bridal party with you while you're all getting ready to help with any last minute to-do's!
Final Touch Ups
After pictures but before the walk down the aisle, do any final touch ups to your hair, makeup, or dresses! Before you leave the room, make sure you have everything you need for the rest of the day!
The moment is here and you look and feel your best! Following a wedding day beauty timeline is crucial for a making it a totally stress free day! Now, you're ready to say "I Do." Still looking for some finishing touches for the big day? Make an appointment or head to DavidsBridal.com to make your dream day come true!
Related Posts: