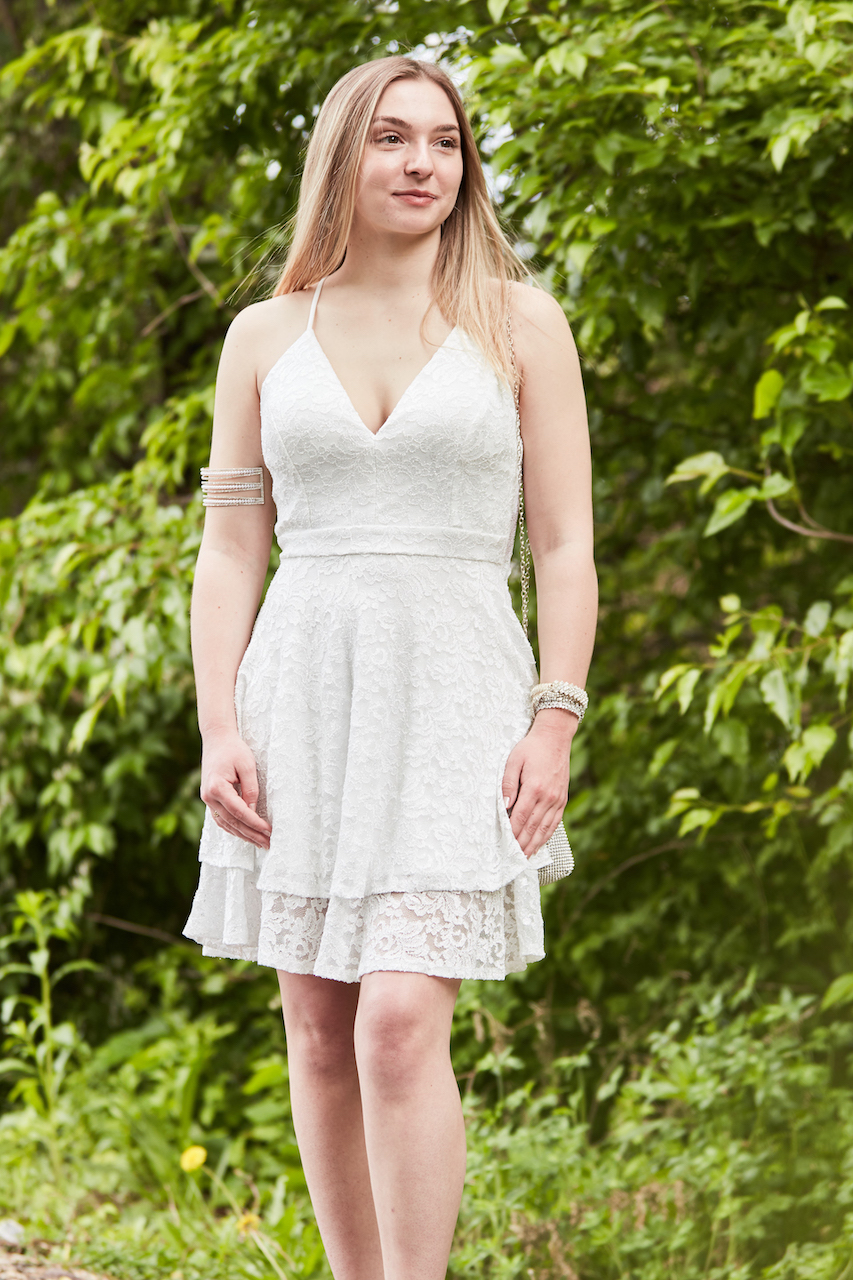 15 Aug

What to Wear: High School Dances, Parties & More
Dress to Impress
From birthdays, homecomings, proms and even graduations, there are so many chances to dress up while in high school! Not sure what to wear for your next event? We're here to help! Keep reading for your guide to dresses for teens, designed for every special occasion!
What to Wear to Sweet Sixteens
Our favorite sweet 16 looks bring all the sparkle and shine! Picture something that'll fit in with the candles and confetti. A dress with trendy metallic touches will catch the light beautifully as you twirl around the dance floor. For shoes, you can never go wrong with a classic black pair of heels! To pull the entire look together highlight the metallics in your dress with a matching gold or silver handbag!
Style C83941DDA74, ARYA, OMZ0391
What to Wear to Bar or Bat Mitzvahs
For a bar or bat mitzvah guest, we love a sophisticated style with trendy sparkling details. Add a pair of fun strappy heels and matching handbag for a look that will never go out of style! If you're going to the ceremony (the party is usually later in the day), you'll want to bring a coordinating cardigan or shawl to wear in the synagogue.
Style HTF340512, LEXA, HBG7006
What to Wear to Cotillion
Debutante dresses are usually long and often white. Look for fabrics that feel good—you'll have to sit, stand, and dance in it—and pretty touches like lace or sequins. Some cotillions have special dress-code requirements, like white gloves or certain types of jewelry, so find out the fine print ahead of time.
What to Wear to School Semiformals
For semiformal dresses, think one step less fancy than a prom dress. (At most schools, homecoming is a semiformal dance.) Your look can be short or long, whichever you like! Can't decide? Get the best of both worlds with a high low dress! When it comes to your finishing touches, silver accessories match everything—invest in a few, and you'll wear them all the time, even with everyday outfits.
Style C39811DDNE, BRITT, HBZURI
What to Wear to Graduation
A little white dress is so stylish for spring or summer graduations. Choose a look that's light and breezy so you don't get too warm under your cap and gown. Pair with some simple jewelry pieces and a comfortable pair of shoes that are easy to walk across the stage in, like block heels, wedges, or flats!
Style HTX3473100, ARYA, 20070726
What to Wear to Weddings
What to wear to a wedding depends on the wedding's dress code. If it's black tie or black tie optional, a floor-length dress is smart. If not, you can never go wrong with a fun floral printed dress! Pair with some trendy rose gold accessories and you're ready to go! The only real rule to keep in mind when dressing for a wedding: Avoid all-white dresses, since matching the bride is considered a no-no.
Style HTX4105960, VW95826, HBSTEVIE
No matter what your next event is, we're here to help you find the perfect dress! Find long, short, casual, and formal dresses for teens, suited for any occasion! Start shopping for your next event in store or online at davidsbridal.com!
Related Posts: