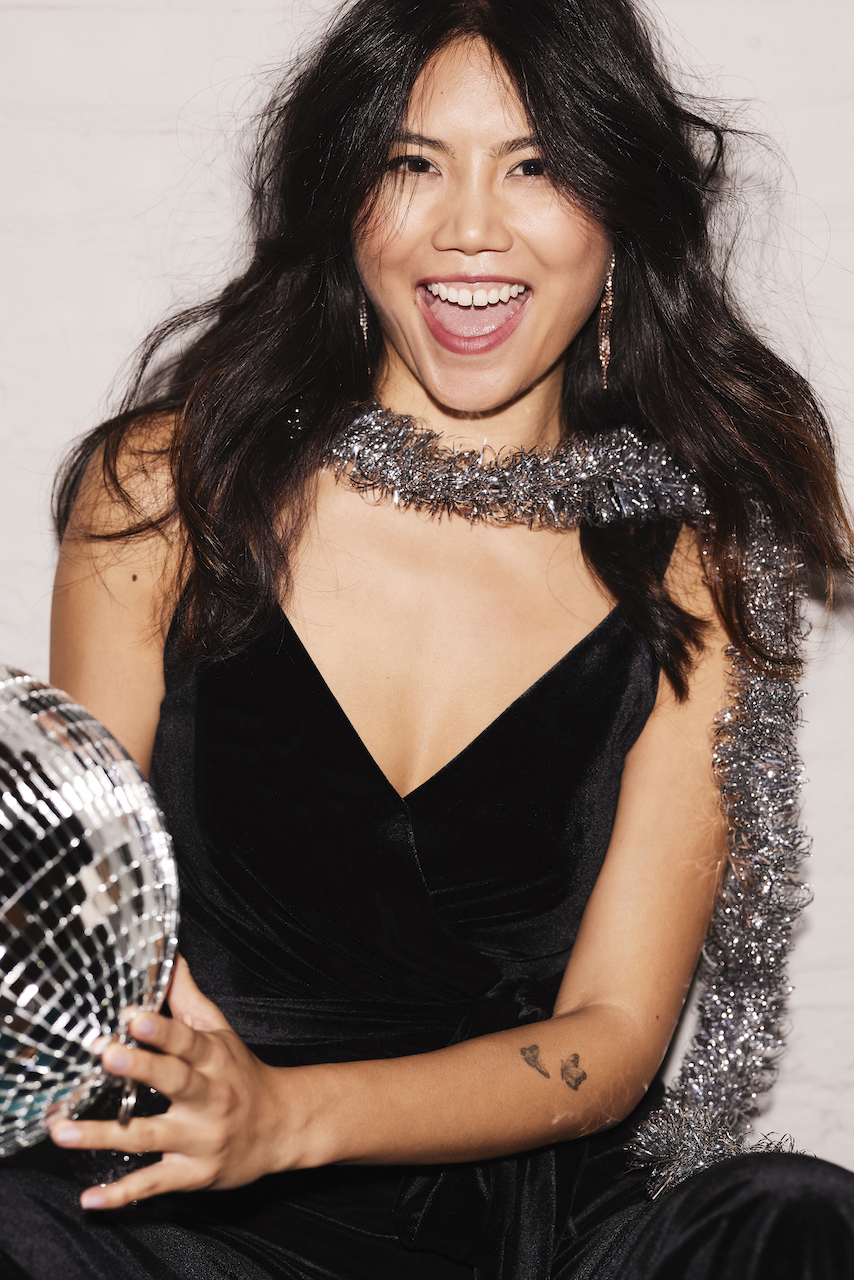 06 Dec

New Year's Eve Outfit Inspiration
Ring In The New Year In Style!
The start of a new year is something worth celebrating – and here at David's Bridal, we like to do so in style! Whether you'll be watching the ball drop on the dance floor or throwing a party of your own at home, here are some Insta-worthy New Year's Eve outfit inspiration for wherever the night might take you!
Embellished Elegance
Style WBM2404 & D28NY22028
With the new year rolling in, there's bound to be some sparkle. Capture the glitz and glam of the holiday season with these Art-Deco-inspired gowns! You'll be turning heads in these beaded masterpieces and owning the dance floor with their airy, twirl-worthy skirts and sexy necklines!
Complete the look
These embellished dresses deserve some eye-catching accessories to complete the look! Go for a fashion-forward stiletto and a statement earring that complements the beads and sequins on your gown. And you can't forget your phone & lip gloss, so pair a matching handbag for a final touch.
Styles LARSA / OMZ0391 / SP22EB1962321
Sparkle & Shine
Style D21NY2121, WBM2808 & D21NY2122
A little sparkle & shine is what New Year's is all about! Find a dress that celebrates the magic and excitement of the start of the year with some serious shine. Trending this season – metallics! Go for all-over gold to make a statement, or keep it classy with a dress made from metallic lace. Want something a little more subtle? Try a patterned dress with hints of metallic fabric for an on-trend style that fits your vibe.
Complete the Look
Go all out with your accessories to maximize your sparkle & shine level. We're currently crushing on this pair of rose gold mules with adorable bows. A shimmering clutch to hold your necessities and a statement piece of jewelry (like this chic and simple pair of earrings) pull everything together for a head-to-toe look!
Styles VERONA38 / HBLENNON / E21187
Allover Velvet
Velvet is a year-round favorite over here, but there's something about the holiday season that has us gravitating towards this elegant and comfortable fabric with even more frequency. Play it cool with a jewel-toned halter gown, or take your look to the next level with a black velvet jumpsuit. The simplicity of all-over velvet gives you the opportunity to accessorize!
Complete the Look
If you're going with a velvet look, use your accessories as a way to complement the colors and add a little sparkle. We're loving this pair of shoes & the matching handbag with AB crystals. Instead of one color, they shine like a rainbow and pair beautifully with any dress.
Styles FRANKA / HBZURI / EW403036
Little Black Dress
Style 55079DB2, D21NY2106 & VW21012D
Want to keep it simple or not sure what to wear? Opt for a classic black dress. It's a charming option that allows you to accessorize your look to fit your style! But it's more than just a simple dress; from romantic ruffles and velvet touches to cool cutouts, you can find the an LBD perfect for any New Year's party.
Complete the Look
No look is complete without a little bit of glitz and glam! If you want to sparkle and shine under the disco ball this NYE, grab a pair of metallic heels and some statement bling to complete the look! And for those last-minute touchups throughout the night, pop your lipstick into a fun metallic clutch!
Style CHAYA3 / HBG7006 / FA216702
End the year on a high note with the perfect outfit. Can't stop thinking about one of these looks? Visit your local store to try on styles, and shop our site for the finishing touches on your final fit.
Planning a wedding? Sign up for our Diamond Loyalty program—it's free! Follow us on Instagram, Pinterest, and Facebook for more inspiration, or click here to book an appointment.
Related Posts: