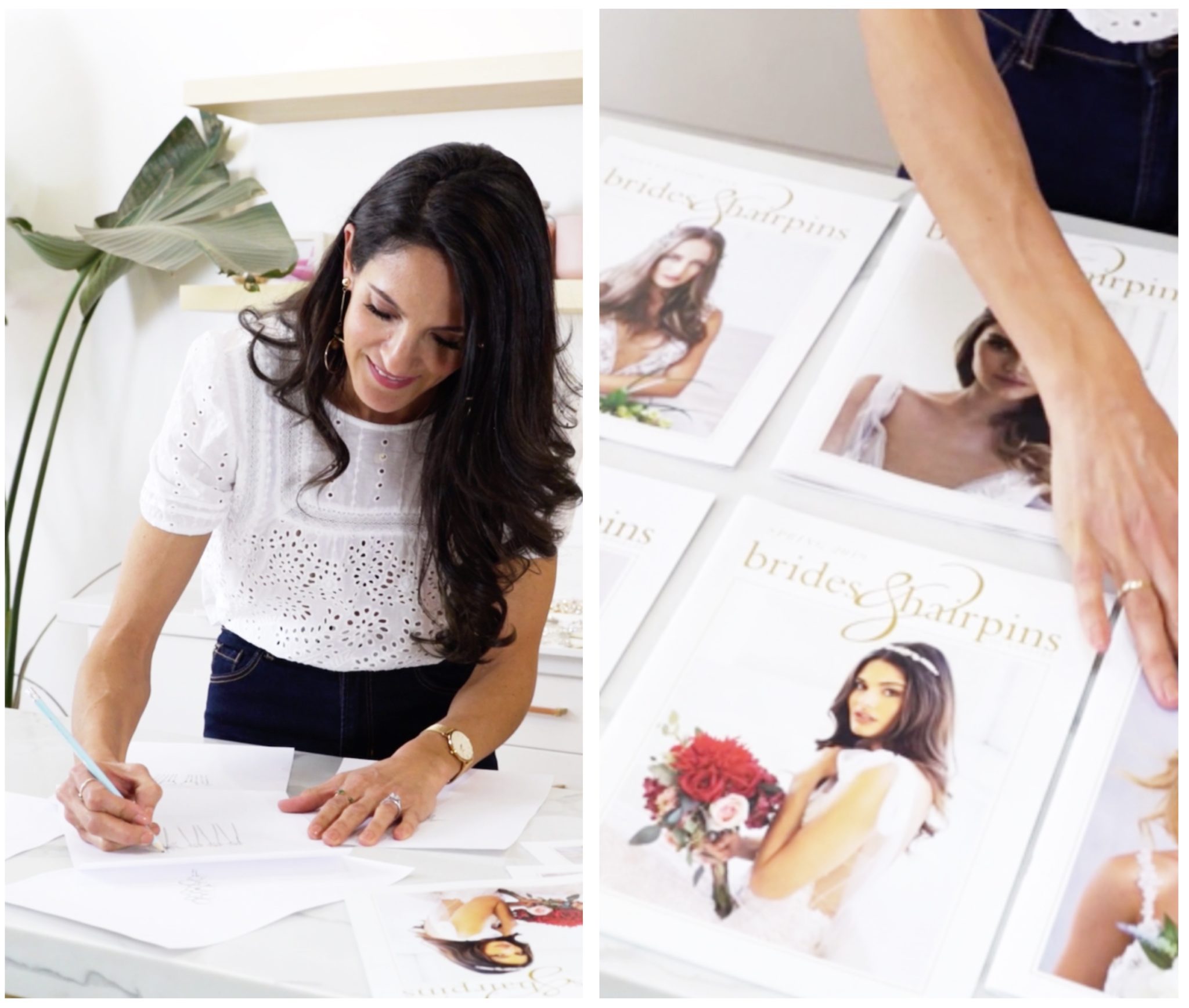 17 Feb

Behind the Brand: Brides & Hairpins
Take a peek at how these Brides & Hairpins accessories are brought to life
Finishing touches bring your wedding day look to life! The moment when you finally put on your veil and add those final, sparkling accessories, is when your bride-to-be status becomes a reality! Take a peek behind the effortlessly chic accessories brand you know and love: Brides & Hairpins! Nicoletta Daskalakis, designer and CEO, shares her journey from corporate to creative and how her pieces are brought to life! Keep reading to get inspired for your big day!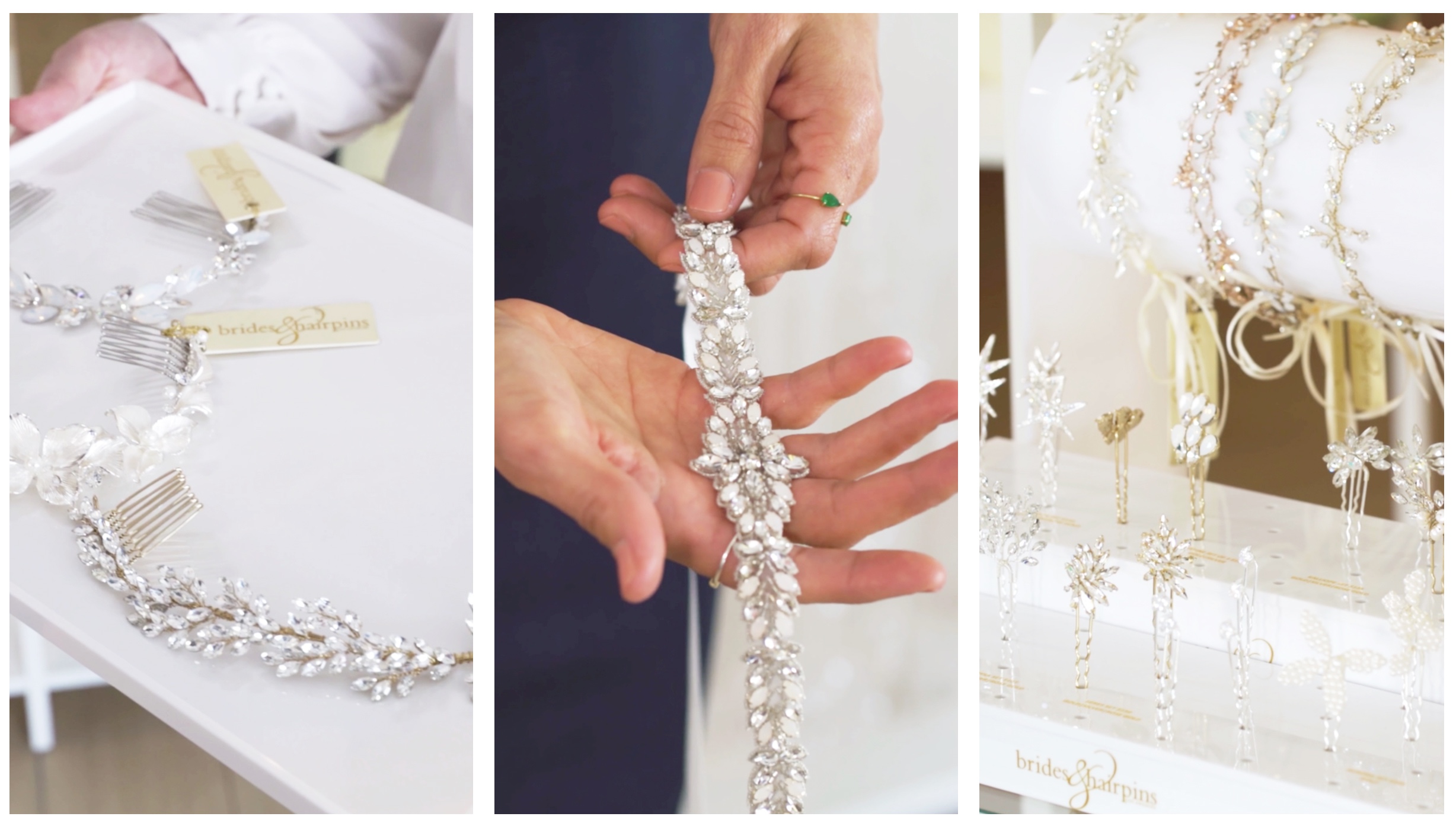 Opal and Leaf Comb, Sash, Double Halo Headband, Halo Headband
Your career story is so inspiring! Can you share a little bit more about your journey from the corporate to bridal world?
I wasn't always a jewelry designer. Once I got my degree in business and economics, I got a great banking job that enabled me to live and travel in other countries. I started in London, England, traveled Europe ,then ended up living in Kuala Lumpur in Malaysia. After a year of working in South East Asia, it wasn't until I got back to the UK and stared at my spreadsheets and the four grey walls of the massive building, that I yearned to be creative and follow my passion. The reality is I'm a creative and I am not a corporate cookie cutter.
Where it all began…
I grew up in South Africa and as a 9-year old I paint and sold ceramics at my local flea market. I had insane attention to detail to every stroke and I could sit and paint for hours. So, while I was in my corporate job, I put myself through beauty school, got my cosmetology license and went to makeup school in Hollywood. I jumped right into doing makeup and hair. The irony is that before I went to makeup school; I didn't even know what eyeliner was!
After a ton of hard work and dedication, things took off like a rocket. I built a team, travelled the world, and was doing makeup and hair for celebrities and TV and red carpets. I was constantly booked out, even a year in advance, and as I was doing more wedding, I fell in love with my brides and weddings. So, I guess it was always a no-brainer to become a jewelry designer. In 2013, I jumped into designing accessories and haven't looked back.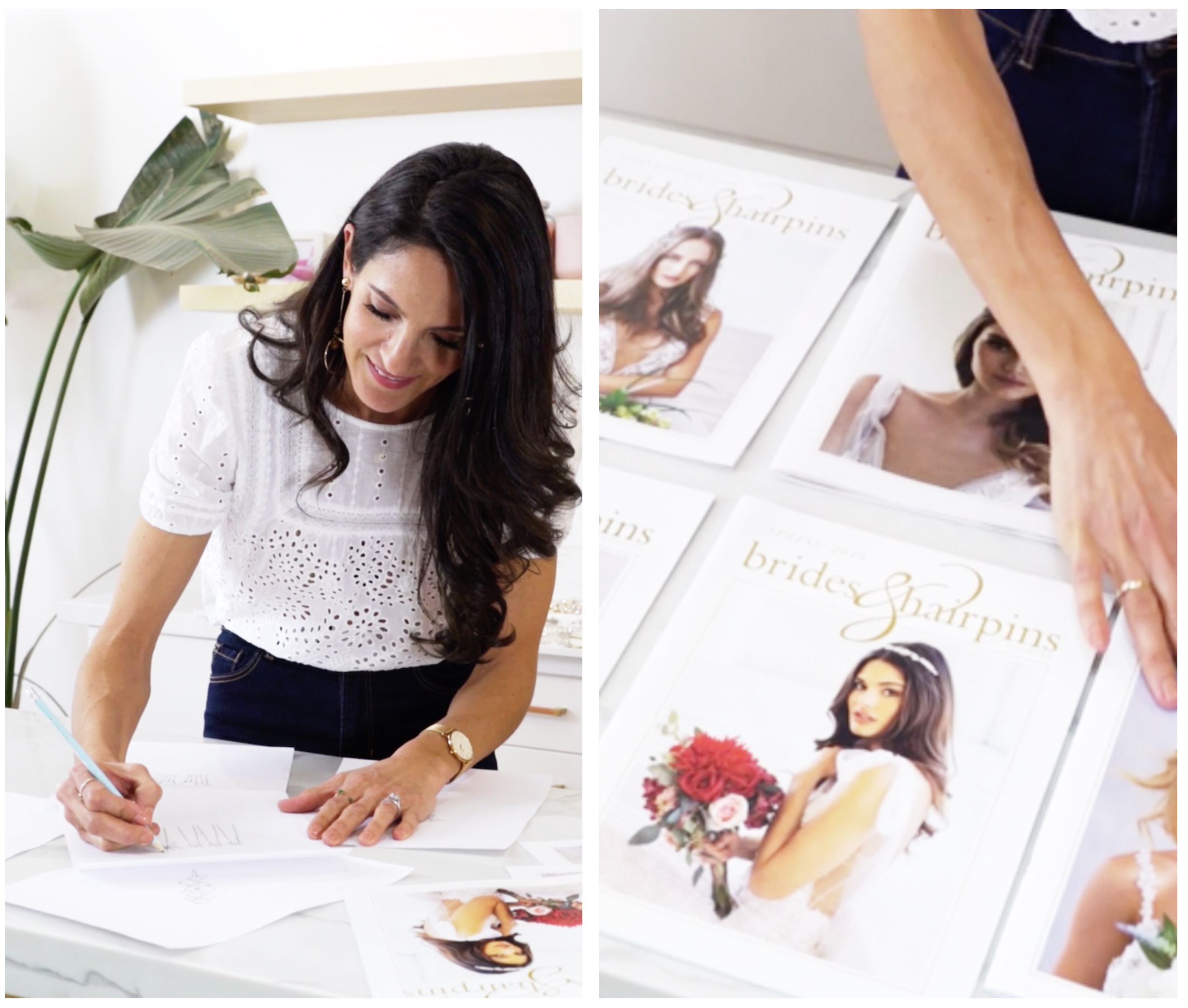 Are there any lessons or practices that you learned from the corporate world that you still use today?
The corporate world taught me professionalism, how to conduct myself correctly and how to deliver on time and deliver well. I have an extremely hard work ethic and this was ingrained into me when I was working in the competitive Investment Banking world in London. I was the first person in the office and the last to leave and I have carried this with me – being an entrepreneur can be challenging!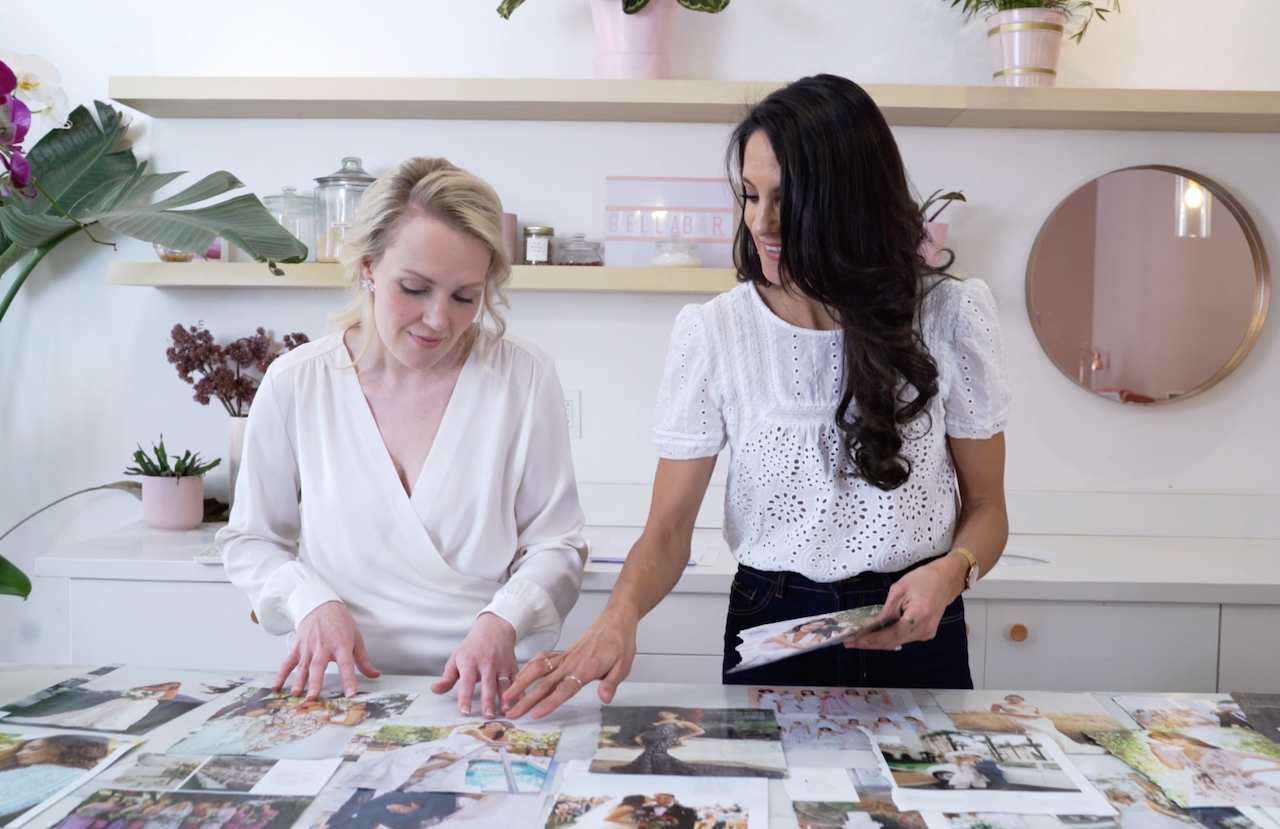 What inspired you to focus on bridal hair accessories?
I was a bridal hair and makeup artist and I would love to create gorgeous hairstyles on my brides but I really felt there was a gap in the market for the changing, modern day bride who wasn't looking to have flowers in her hair or that wanted very flowery accessories. I wanted to create something lightweight, that could be worn throughout the day, and that wouldn't compromise the hairstyle or comfort on the day. What I love most about our pieces is that they are timeless, contemporary, and can literally be worn again for a night out or to different events and functions.
Nefeli Halo, Florence Headband
How and where do you source inspiration for each collection?
My family and my Greek heritage inspired my latest 2020 collection. Greece has some of the most incredible jewelry and accessories. When vacationing over there in the summer, I was so inspired by everything I saw and experienced. Greece is alive and buzzing with beautiful people and beautiful places and this has honestly been my most favorite collection to date. We also get a lot of inspiration from wedding blogs, magazines, runway shows, and of course social media. Our hair stylist friends also inspire us daily! We love to see where hair trends are going. Those styles run parallel to any new designs we want to create!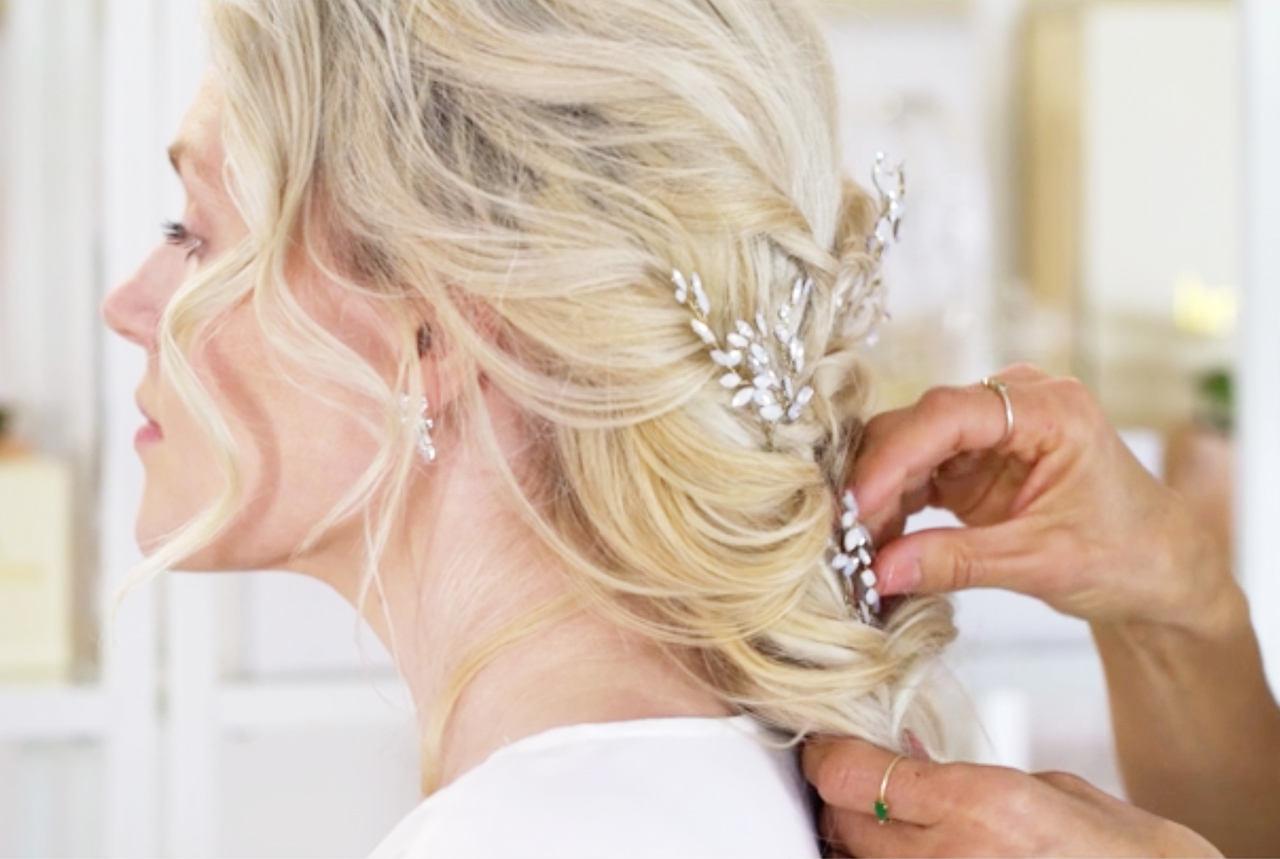 Can you walk us through how a piece comes to life?
I start with hand drawn designs. I change up my drafts several times and always have 2nd, 3rd, 4th opinions on every piece. My team and I get together and do a ton of brainstorming when it comes to new trends and ideas. I also have an amazing team of designers that all work together to create each new seasonal collection. We are an all-female team based in Orange County, CA and we know what is working in the bridal world and what is going to be a game changer for the next season. It's challenging and so exciting at the same time.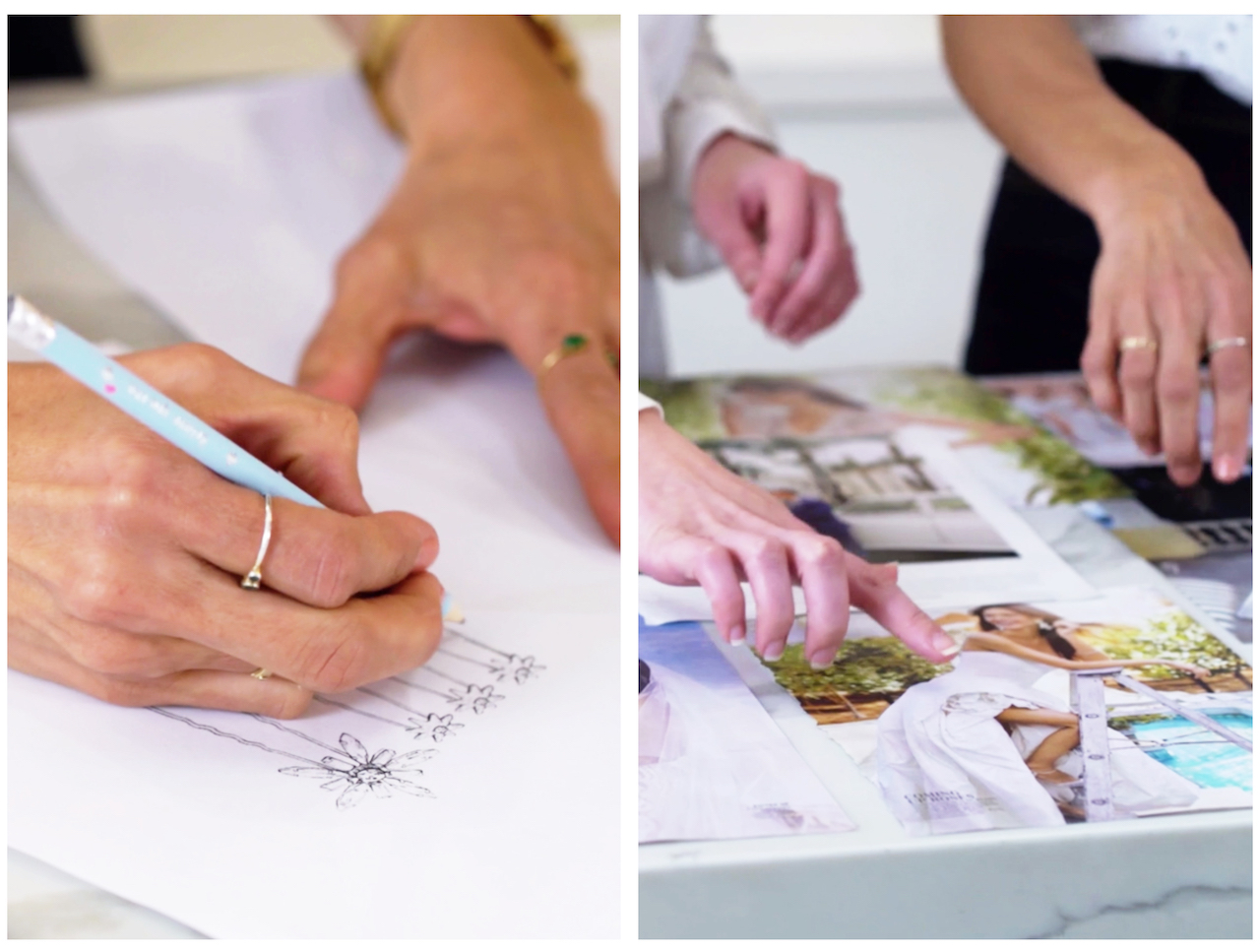 From your experience as a professional hairstylist, do you have any recommendations for how brides can incorporate hair accessories into their wedding day look?
Have a look through Pinterest and other magazines to get a feel for what stands out for you. You always want to feel like yourself on your wedding day but it is also the only day you are able to wear whatever you want and get away with it. Look for an accessory that completes your look, whether its a comb, a halo or even a pair of earrings. Don't be afraid to shine! Wedding have so many opportunities to spend money! The venue, the dress, the food, the flowers – it all adds up! What really matters is that you feel your most beautiful. Your hairpiece, earrings and veil are the accent that draws the focus to how beautiful you look. It creates the wow-factor and takes people's breath away!
Look for an accessory that completes your look, whether its a comb, a halo or even a pair of earrings. Don't be afraid to shine!
We know that wedding day accessories hold a special place in a bride's heart! Are you seeing your brides wear these pieces after the big day?
Absolutely! Our accessories are timeless pieces and can be reworn. I have designed so many different pieces from simple and modern to intricate and elaborate. There are pieces for every style and every occasion or event!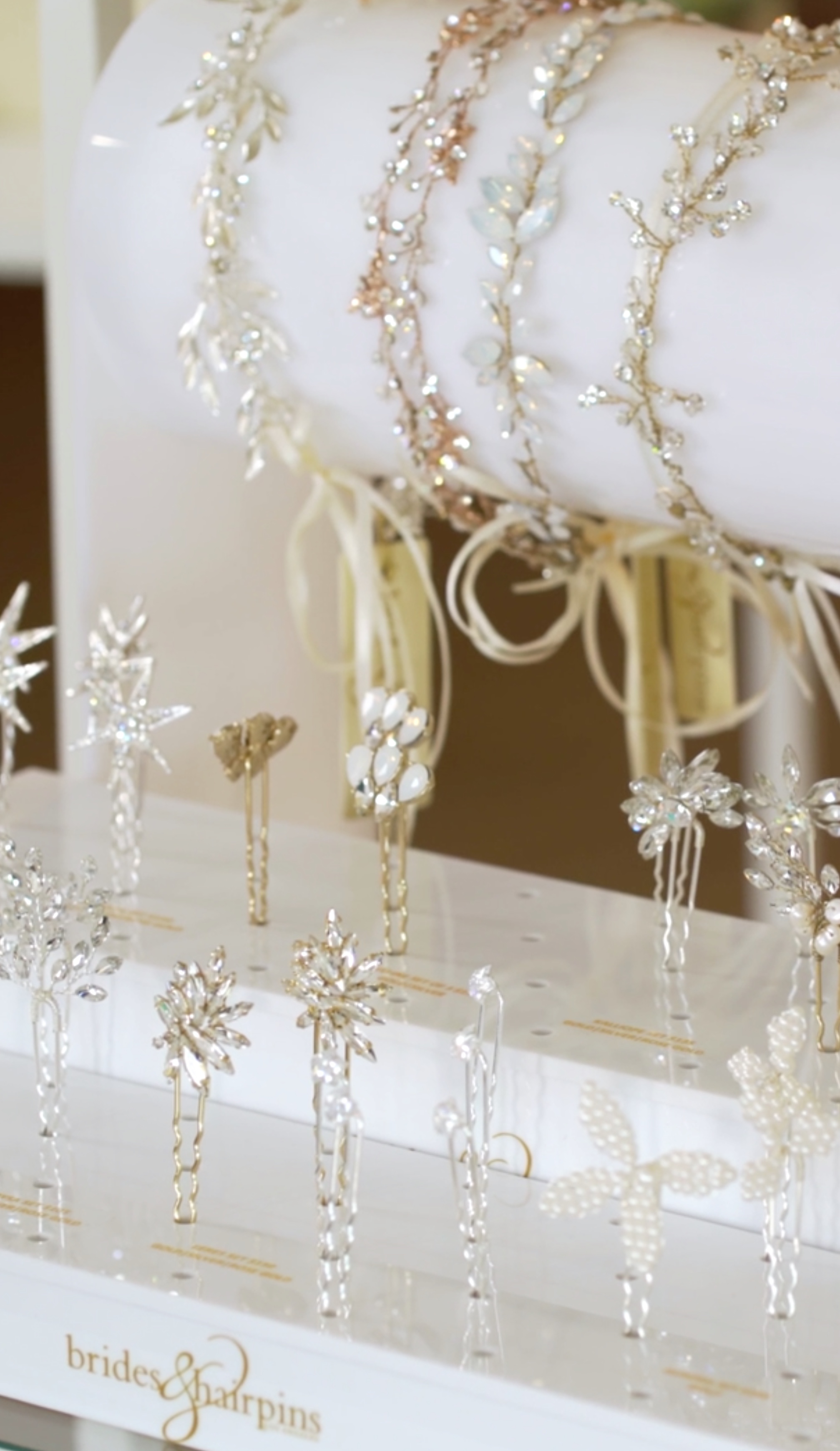 Can you share any bridal trends you're forecasting for 2020?
This year it's all about layering! From layering simple pins, more elaborate retro clips or dainty bobby pins. Layering your headpieces has become an art that our favorite brides and bloggers have quickly mastered. This is more a boho-chic look which can look extremely elegant or have an edgy appeal.
Need even more inspiration? Head to our Instagram for more behind the scenes stories of the magic behind the brand: Brides & Hairpins! Or, watch the full interview below! Ready to complete your bridal style? Shop more timeless Brides & Hairpins accessories at DavidsBridal.com.
Related Posts: